Agreth the Nether Spider is the new boss in Doom Tower Rotation 1 and 2 in Raid Shadow Legends, where she and her spiderlings has the ability to inflict Poison debuff on your champions. These Poison debuff are unblockable nor unresistable. To make things worse, these Poison debuffs will all activate at once upon the boss taking her turn, which could lead to massive damage on your champions if the Poison debuff are not cleansed regularly and promptly. Apart from that, the Nether Spiderlings has counterattack buff, and attacking them will trigger them retaliate and heal the boss simultaneously. Check out the guide below to learn more about the her game mechanics!
Agreth the Nether Spider and Spiderling Skills
Agreth the Nether Spider Skills
A1 Envenomed Strand [ATK] Attacks all enemies. Places 5% [Poison] debuff for 4 turns. Will repeat the attack 1 time for each Spiderling without any active buffs. The [Poison] debuffs cannot be resisted or blocked. (Damage Multiplier: 2.5 ATK)
A2 Brood Feast [ATK] (Cooldown: 3 turns) Spawns 4 spiderlings then places a [Counterattack] buff on all Spiderlings for 3 turns. Will team up with all Spiderlings to attack all enemies if a Spiderling is spawned by this skill. Agreth will attack with this Skill at the beginning of the round. Agreth can have a maximum of 4 Spiderlings in battle at any time.
Elder Lurker [Passive] Counterattacks when enemy decreases Agreth Turn Meter. The damage inflicted is equal to the amount of Turn Meter lost. Will ignore 100% of DEF.
Tide of Toxins [Passive] Attacks all enemies at start of each turn. Deals damage from all [Poison] debuffs on each enemy instantly. When attacked by an enemy under a [Poison] debuff, increases the duration of all debuffs on the attacker by 1 turn, then places a 25% [Poison Sensitivity] debuff on them for 3 turns. When attacked by an enemy that has no [Poison] debuff, places a 5% [Poison] debuff on the attacker for 4 turns. This debuff cannot be blocked or resisted.
Almighty Immunity [Passive] Immune to [Stun], [Freeze], [Sleep], [Provoke], [Block Active Skills], [Fear] and [True Fear] debuffs. Also immune to HP exchange effects, HP balancing effets and cooldown increasing effects.
Almighty Strength [Passive] Damage from skills that scale based on enemy MAX HP cannot esxceed 10% of the Boss's MAX HP when attacking the Boss.
Almighty Persistence [Passive] All Turn Meter reduction effects are decreased by 50% when used against the Boss.
Nether Spiderling Skills (4 Minions)
Juvenile Venom [ATK] Attacks all enemies. Places 5% [Poison] debuff for 2 turns. Cannot be resisted or blocked. (Damage Multiplier: 2 ATK)
Mother's Grace [Passive] Heals Agreth the Nether Spider by 10% of her MAX HP each time this Spiderling counterattacks. Places [Ally Protection] buff on Agreth for 2 turns whenever a [Counterattack] buff on this Spiderling is removed or expires. This [Ally Protection] buff cannot be removed. If Agreth already has an [Ally Protection] buff, increases the duration by 1 turn instead.
Agreth the Nether Spider Stats
Tower Rotation 1 (Spirit): Floors 20, 60, 90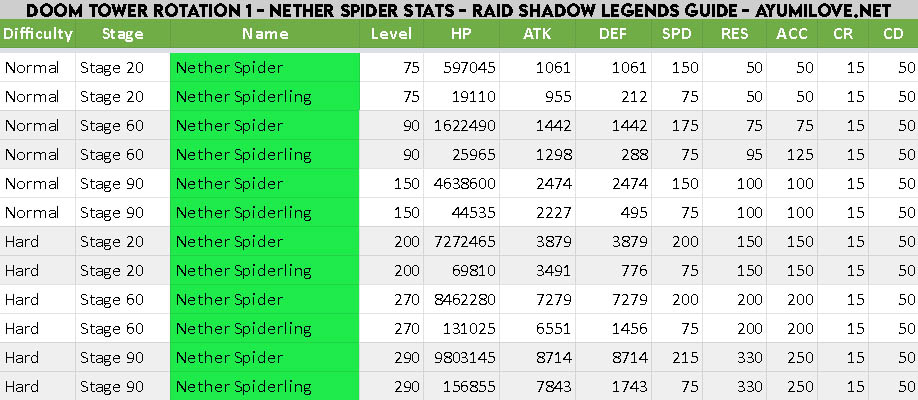 Tower Rotation 2 (Magic): Floors 30, 70, 110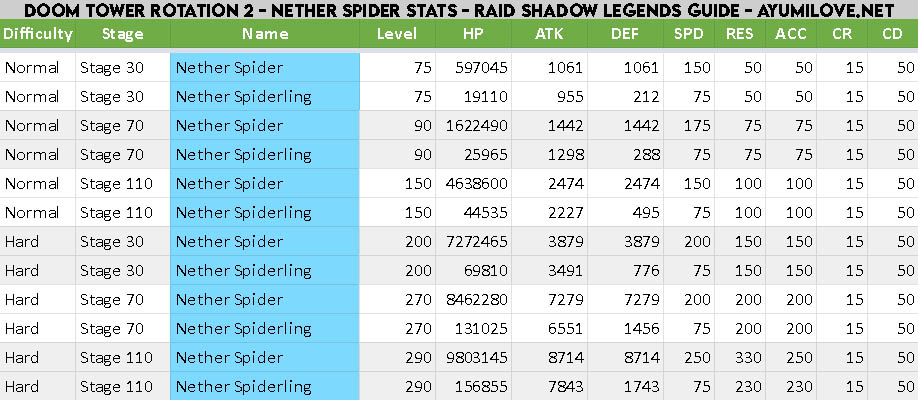 Agreth the Nether Spider Guide
How much Accuracy and Resistance needed for Nether Spider?
How much Accuracy required to apply debuff on Nether Spider?
To apply debuff Agreth the Nether Spider, your champions will need to have a minimum of 100 Accuracy for Doom Tower Normal or 330 Accuracy for Doom Tower Hard for all floor stages! However, these minimum requirements can be halved if you have champions who can consistently provide your champions with Increase Accuracy buff! In addition, you can also use Accuracy Aura champions in the Leader position to fill in the missing Accuracy gap if you do not have sufficient Accuracy substats on your equipment nor having an Accuracy banner.
How much Resistance required to resist Nether Spider debuff?
The Poison debuff inflicted by Nether Spider and Nether Spiderling are unresistable and unblockable. Hence, it's recommended to focus on beefing up your champions with high amount HP (Hit Points aka Health), Defense and Speed.
What are the main things to avoid on Nether Spider?
Avoid Champions with AoE A1 Ability
Avoid champions who has the ability to attack multiple enemies on their default attack (A1 Skill) such as Bad-el-Kazar. This is to prevent Nether Spiderling from counterattacking your champion and healing the Nether Spider boss simultaneously! If a champion who has AoE skill other than their A1 Skill, their default AI will not use those skills. Apart from that, you can disable your champion AoE skill in Team AI Preset, so they will not use it!
Turn Meter Reduction
Avoid using Champions who has Decrease Turn Meter skill in your team. Nether Spider will counterattack your champion based on the amount of Turn Meter she lost and the damage inflicted ignore defense. It could lead to 1 hit knockout your champion in your team. However, if the champion Turn Meter reduction is little and has sufficient survivability skill, then the champion is still viable for Nether Spider (e.g. Scyl of the Drakes)
How to defeat Nether Spider and her minions?
How to defeat Nether Spider Boss?
The easiest approach to takedown Nether Spider is to use HP Burn and Poison debuff. MVP champions for this damage dealer role is Drexthar Bloodtwin. This method is much more efficient especially for higher stages in Doom Tower as it deals damage based on the Enemy MAX HP! The traditional strategy would be to dwindle the boss health with Tier 6 Offense Mastery such as Warmaster and Giant Slayer.
How to defeat Nether Spiderling?
You can use Stun and Freeze to crowd control Nether Spiderling to prevent them from counterattacking and healing Nether Spider boss. It's recommended to use champions who has a guarantee 100% to apply those debuff to avoid any chances of them from retaliating, else it makes the run much more slower and dangerous! Alternatively, you can just avoid them all together and use passive skills such as Drexthar Bloodtwin to apply HP Burn debuff on them. This approach is much more efficient to take down the boss quickly!
How to survive against Nether Spider? Utilize Remove Debuff Champions
I highly recommend having at least 2 cleanser champions who is able to remove debuff from allies in your team. The MVP champions for remove Poison and Poison Sensitivity debuff inflicted by Nether Spider are Melga Steelgirdle, Mausoleum Mage, Reliquary Tender and Runekeeper Dazdurk. It's preferable to have champions who can also heal allies while simultaneously removing the debuffs to quickly recover from Nether Spider Poison detonation whenever she takes her turn!
Engage Reviver Champions
Alternatively, if you do not have any cleanser champions in your roster, the next best strategy is to rely on reviver. It's recommended to choose champions who can perform revive all allies who died due to Poison debuff and Poison detonation. If the skill is only dedicated to reviving, it will be much better for auto-battle as it will only use for emergency cases. MVP Revive champions are Duchess Lilitu and Rector Drath. Both of these champions have abilities to perform revive, healing and reduce damage intake from enemy attacks with Veil buff.
Use Transfer Debuff Champions
You could also use champion who can transfer debuff from allies to the enemy, to take advantage of their Poison debuff to takedown the enemy quickly! MVP champion for transfering debuff role is Helior.
Employ Healing Champions
Healer champion is necessary to combat against the depreciation of health caused by the damage dealt by Poison debuff whenever your champions takes their turn. It's advisable to have at least 1 dedicated healer in your team who can perform AoE healing. MVP champions who can perform healing efficiently is Vrask and Cardiel as they can heal whenever they perform their default attack! You can also supplement the healing with Continuous Heal buff to speedily recover your champions who are on the verge of death.
Using Unkillable or Block Damage Buff
Paragon is one of the champion that is commonly used to cheese a difficult stage in the game as he has the lowest skill cooldown for applying Unkillable buff. You can use Paragon to clear Nether Spider boss floor by having him self-applying the Unkillable Buff to himself to survive the entire battle! The best equipment for Paragon would be to use Deflection Set to transfer the Poison debuff to Nether Spider to take her down quickly. If you have him ascended 6-star, then having Tier 6 Warmaster mastery can help to reduce the time taken to clear this boss too. Other than that, you can use Block Damage buff champions to prevent allies from taking damage such as Roshcard the Tower.
Agreth the Nether Spider Strategy
StewGaming: Nether Spider is the EASIEST BOSS!
BGE: "EASY AUTO TEAM" Agreth The Nether Spider
Soda Dragon Gaming: Paragon Speed Run Nether Spider
Nether Spider Champion Tier List
Champion by Rarity: Legendary | Epic | Rare | Uncommon | Common
Legendary Champions Ranking
5★ Nether Spider | Legendary Champion
4★ Nether Spider | Legendary Champion
3★ Nether Spider | Legendary Champion
2★ Nether Spider | Legendary Champion
1★ Nether Spider | Legendary Champion
Epic Champions Ranking
5★ Nether Spider | Epic Champion
4★ Nether Spider | Epic Champion
3★ Nether Spider | Epic Champion
2★ Nether Spider | Epic Champion
1★ Nether Spider | Epic Champion
Rare Champions Ranking
5★ Nether Spider | Rare Champion
4★ Nether Spider | Rare Champion
3★ Nether Spider | Rare Champion
2★ Nether Spider | Rare Champion
1★ Nether Spider | Rare Champion
Uncommon Champions Ranking
5★ Nether Spider | Uncommon Champion
4★ Nether Spider | Uncommon Champion
3★ Nether Spider | Uncommon Champion
2★ Nether Spider | Uncommon Champion
1★ Nether Spider | Uncommon Champion
Common Champions Ranking
5★ Nether Spider | Common Champion
4★ Nether Spider | Common Champion
3★ Nether Spider | Common Champion
2★ Nether Spider | Common Champion
1★ Nether Spider | Common Champion