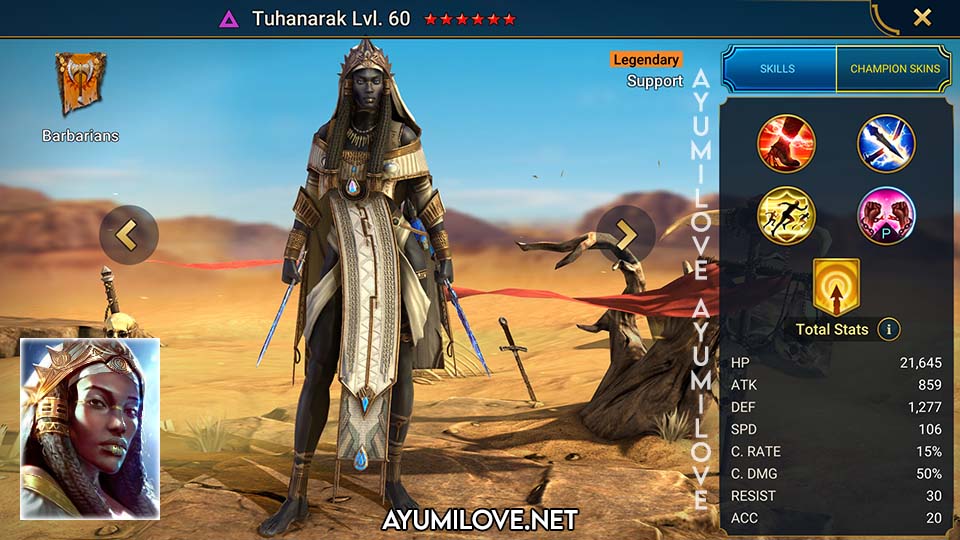 Overview

NAME: Tuhanarak
FACTION: Barbarians
RARITY: Legendary
ROLE: Support
AFFINITY: Void
RANK: S
USABILITY: Early-Mid-Late Game
TOMES: 11 (A2 A3)

Abilities

RSL_AllBattles_AccuracyAura
RSL_AoE_IncreaseDefense_60%
RSL_AoE_IncreaseSpeed_30%
RSL_AoE_Passive_Ally
RSL_AoE_RemoveDebuffs_Passive
RSL_LowestHp_ContinuousHeal_15%
RSL_Self_ContinuousHeal_15%
RSL_Target_BlockBuffs
RSL_Target_DebuffSpread
RSL_Target_DecreaseAttack_50%
RSL_Target_DecreaseSpeed_30%

Obtain from

Void Shard

Blessings Recommendation

Brimstone (Debuffer)
Cruelty (Debuffer)
Intimidating Presence (Aura Lead)
Polymorph (Arena)

Grinding

★★★★★ Campaign
★★★★★ Arena Defense
★★★★★ Arena Offense
★★★★★ Clan Boss
★★★★★ Hydra
★★★★★ Faction Wars

Dungeons

★★★★★ Minotaur
★★★★★ Spider
★★★★★ Fire Knight
★★★★★ Dragon
★★★★★ Ice Golem
★★★★★ Iron Twins
★★✰✰✰ Sand Devil
★★✰✰✰ Phantom Shogun

Potion

★★★★★ Arcane Keep
★★★★★ Void Keep
★★★★★ Force Keep
★★★★★ Spirit Keep
★★★★★ Magic Keep

Doom Tower

★★★★★ Floors
★★★★★ Magma Dragon
★★★★★ Nether Spider
★★★★★ Frost Spider
★★★★★ Scarab King
★★★★★ Celestial Griffin
★★★★★ Eternal Dragon
★★★★★ Dreadhorn
★★★★✰ Dark Fae
Tuhanarak Skills
Sun's Kiss
Attacks 1 enemy. Has a 30% chance of placing a 30% [Decrease SPD] debuff for 2 turns. Places a 15% [Continuous Heal] buff on this champion for 1 turn. Also places a 15% [Continuous Heal] buff for 1 turn on the ally with the lowest HP.
Level 2: Damage +5%
Level 3: Damage +5%
Level 4: Buff/Debuff chance +10%
Level 5: Buff/Debuff chance +10%
Damage Multiplier: 4.1 DEF
Radiant Suffering [DEF] (Cooldown: 4 turns)
Attacks 1 enemy. Has a 75% chance of placing a 50% [Decrease ATK] debuff and a [Block Buffs] debuff for 2 turns. Also applies a [Debuff Spread] effect, taking 2 random debuffs from the target and placing them on all enemies.
Level 2: Damage +5%
Level 3: Damage +5%
Level 4: Buff/Debuff chance +10%
Level 5: Buff/Debuff chance +15%
Level 6: Cooldown -1
Damage Multiplier: 5.6 DEF
Desert Fitness (Cooldown: 5 turns)
Places a 60% [Increase DEF] buff and a 30% [Increase SPD] buff on all allies for 2 turns.
Level 2: Cooldown -1
Level 3: Cooldown -1
Inviolable (Passive)
Removes 1 random debuff from all allies at the start of each turn. Removes 2 random debuffs instead from allies under [Continuous Heal]
Aura
Increases Ally ACC in all battles by 70.
Tuhanarak Equipment Guide
Arena, Campaign, Clan Boss, Dungeons, Doom Tower, Faction Wars

Recommended Artifacts

Life, Immortal, Guardian, Speed, Retaliation

Recommended Stats

HP%, DEF%, C.RATE, SPD, ACC
Weapon (ATK)
Helmet (HP)
Shield (DEF)
Gauntlets (DEF% / C.RATE)
Chestplate (DEF%)
Boots (SPD)
Ring (HP / DEF)
Amulet (HP / DEF)
Banner (ACC)
Tuhanarak Mastery Guide
Arena, Campaign, Clan Boss, Dungeons, Doom Tower, Faction Wars
Offense

Deadly Precision
Keen Strike
Life Drinker
Bring it Down
Methodical
Warmaster

Support

Steadfast
Lay on Hands
Exalt in Death
Healing Savior
Swarm Smiter
Evil Eye
Merciful Aid
Evil Eye
Lasting Gifts
Master Hexer
Tuhanarak Reviews
Tuhanarak is a Legendary Support Void champion from Barbarians faction in Raid Shadow Legends, where she can be obtained from Ancient Shards and Sacred Shards. Tuhanarak was added to the game in Patch 4.40. She applies Increase Speed and Increase Defense Buff on her allies and inflicts Decrease Attack and Block Buff debuffs on enemies as well as spreading those debuffs to other enemies. In addition, Tuhanarak has a passive skill similar to Doompriest where she can remove debuff from allies upon reaching her turn. This makes her a formidable champion as she can provide both support and debuffing capabilities, making her viable in many areas of the game from the early-mid-late games. The best part is she can help boost your game progression significantly regardless of where you are at in your game account!
Tuhanarak Updates
Tuhanarak Videos
Raid Shadow Legends Tuhanarak Champion Guide by Cold Brew Gaming
Raid Shadow Legends Tuhanarak Champion Guide by DeadwoodJedi
Raid Shadow Legends Tuhanarak Champion Guide by Skratch
Champion Name Reference
English: Tuhanarak
French: Tuhanarak
Deutsch:
Italian:
Spanish:
Chinese:
Korean:
Japanese:
Ukranian:
Russian:
Turkish:
Portuguese: