Raid Shadow Legends Promo Codes are a mixture of number and letters that make up a specific code. This code is entered into the Promo Code section within the game to gain in-game resources such as Energy, Arena Tokens and Gems. It's a marketing strategy that offer players another reason to play the game!
There are 2 types of Promo Codes: Time-Limited and Account Progression Promo Codes.
Time-Limited Promo Codes are special codes that works within a specific time frame. It's usually done as a partnership with other company/game-content-creators to advertise Raid Shadow Legends. Account Progression Promo Codes are unique codes that only work for a specific account level to help early-mid game players who are just starting out the game. See below for the list of promo codes!
List of Raid Promo Codes 2021
December 1st 2021 Promo Code – S1mple
Rewards: 4 Energy Refills, 1 3-Days 100% XP Boost, 20 Magic XP Brews, 350K Silver
November 12th 2021 Promo Code – realhell
Rewards: 2 Epic Skill Tome, 3 x 50 Auto-Battles, 500 Energy, 1M Silver
October 25th 2021 Promo Code – Spooky13
Rewards: 3 Energy Refills, 1 XP-1 day, 1 Epic Skill Tome, 2 x 50 Multi-Battle
Description: Halloween Promo Code in Raid Shadow Legends. Expires after October 31st!
October 6th 2021 Promo Code – gift1
Rewards: 5 Arena Token Refill, 1 XP-3days, 500 Energy, 1 Clan Boss Key
August 14th 2021 Promo Code – ESLPRO
Rewards: 3 Rare Skill Tomes, 3 Energy Refill
Note: Works only for brand-new account.
July 16th 2021 Promo Code – ninja
Rewards: 3X 50 Multi Battle, 1X 100% XP Boost for 3 Days, 5 Energy Refill, 500K Silver
Note: This is a Time-Limited Promo Code that was released in conjunction with Ninja (SK-LAM) being introduced into the game!
How to Redeem Raid Shadow Legends Gift Codes?
Step 1: Login to your game account. Click the left menu bar to display the menu options. Next, click "Promo Codes" to view the Promo Code window.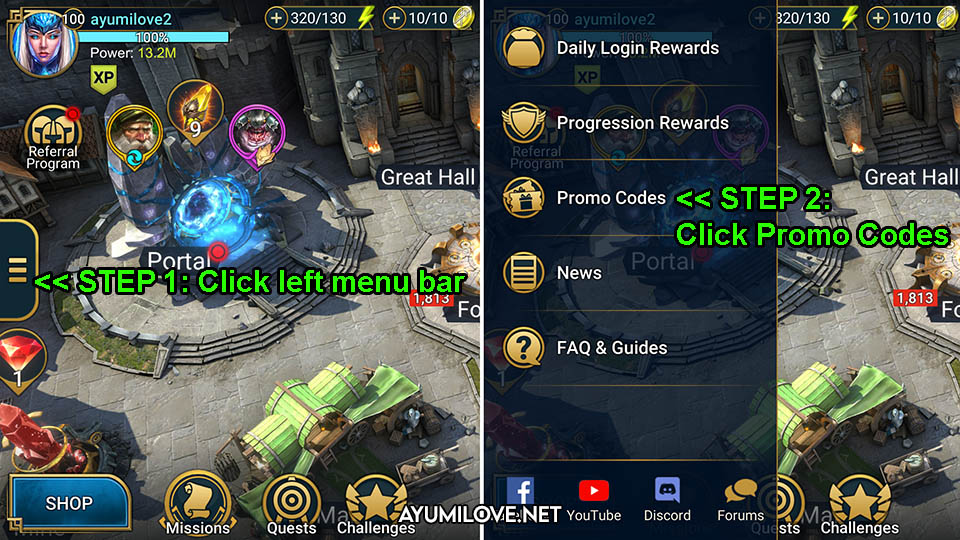 Step 2: Enter the Promo Code into the text-field and click Confirm. The rewards are sent to your mailbox. Collect them before they expire! There will be a 24 hours waiting period before you can redeem reward of a different Promo Code!