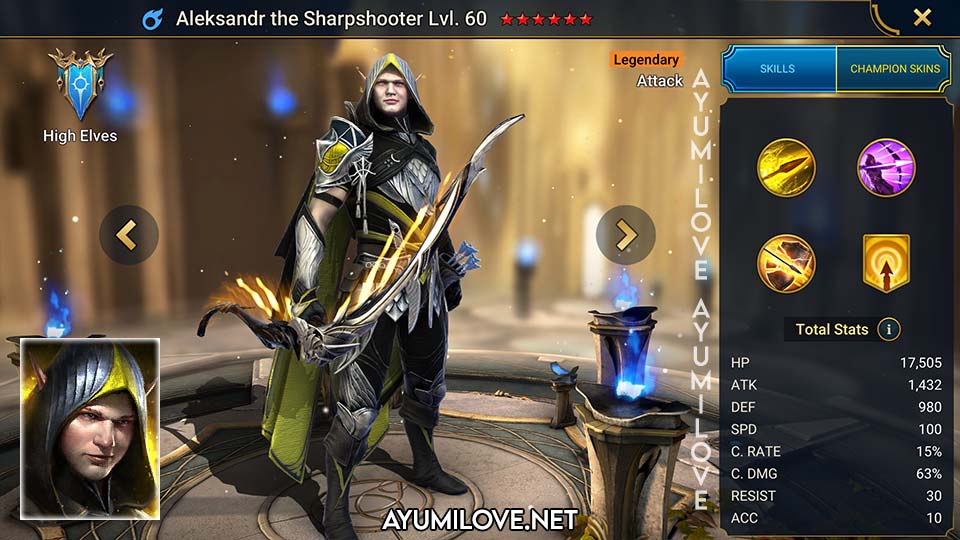 Overview

NAME: Aleksandr the Sharpshooter
FACTION: High Elves
RARITY: Legendary
ROLE: Attack
AFFINITY: Magic
RANK: B
USABILITY: Situational
TOMES: 11 (A2)

Abilities

RSL_AllBattles_AccuracyAura
RSL_1Hit_BasicAttack_Target
RSL_AoE_DecreaseDefense_60%
RSL_AoE_Weaken_25%
RSL_Target_Freeze
RSL_Target_RemoveBuff

Obtain from

Time-Limited Event

Grinding

★★★★★ Campaign
★★★★✰ Arena Defense
★★★★✰ Arena Offense
★★★✰✰ Clan Boss
★★★✰✰ Hydra
★★★★✰ Faction Wars

Dungeons

★★★★✰ Minotaur
★★★★✰ Spider
★★★✰✰ Fire Knight
★★★★✰ Dragon
★★★★✰ Ice Golem

Potion

★★★★✰ Arcane Keep
★★★★✰ Void Keep
★★★✰✰ Force Keep
★★★★✰ Spirit Keep
★★★★✰ Magic Keep

Doom Tower

★★★★✰ Floors
★★★★✰ Magma Dragon
★★✰✰✰ Nether Spider
★★★★✰ Frost Spider
★✰✰✰✰ Scarab King
★★★✰✰ Celestial Griffin
★★✰✰✰ Eternal Dragon
★✰✰✰✰ Dreadhorn
★★★✰✰ Dark Fae
Aleksandr the Sharpshooter Review
Aleksandr the Sharpshooter is a Legendary Attack Magic champion from High Elves faction in Raid Shadow Legends. Aleksandr was introduced in Patch 4.90 on December 1st, 2021 as a special collaboration with Oleksandr Olegovich Kostyliev aka S1mple who is a professional CSGO (Counter-Strike: Global Offensive) Player for Natus Vincere aka NAVI.
Use Promo Code "S1mple" to gain sweet in-game resources while the event is running!
Aleksandr can only be obtained for a limited time to all players for free by logging into the game for 7 days between December 1st, 2021 and January 28th, 2022 to acquire him! He will not be available to be summoned from Ancient Shards and Sacred Shards. Previously, Plarium released 2 champions based on a popular streamer who are Ninja and Saito!
Arctic Warfare (A1 Skill) is Aleksandr's default attack that has a chance to freeze a single target enemy. This freezing chance increases if the enemy is from either Orcs or Ogryn Tribes faction, which is useful in stopping the enemy in their tracks.
Spraydown (A2 Skill) is Aleksandr's AoE Attack (Area of Effect) that deals damage to all enemies in the battlefield while simultaneously inflicting Decrease Defense and Weaken debuff. However, the Weaken debuff is only applicable for the Orcs and Ogryn Tribes faction, which is a letdown as his potential to be used till the late game is restricted as there are better champions who can replace him in his role.
Born to Win (A3 Skill) is Aleksandr's nuking attack that deals a high amount of damage to a single target enemy and then removes their buffs. However, it works the opposite when attacking enemies who are from Orcs and Ogryn Tribes faction. The latter approach is much more sense since it's important to remove the enemy protection buffs before dealing damage, so the enemy would have a slimmer chance of surviving that hit. Fun Facts: This skill name is obtained from the Latin translation of Natus Vincere, which means Born to Win!
Last but not least, Aleksandr has an Accuracy Aura that is essential for early-mid game players as Accuracy stat is the staple for debuffer to inflict their debuffs and negative effects. It's difficult to farm Accuracy Banner from Spider's Den especially when you first start in the game.
Overall, Aleksandr is a decent Legendary champion who can help early-mid game players to speed up their game progression. However, his full potential is confined against champions from Orcs and Ogryn Tribes faction. If you do not have a dedicated Decrease Defense champion for Faction Wars (e.g. Tayrel), then Aleksandr will be an excellent candidate to fill this gap! It is a disappointment that Plarium did not take this opportunity to implement new mechanics to this champion skill to make him a one-of-a-kind champion like Ninja since he can only be obtained from a Time-Limited event.
Champion Improvement Ideas: There are a couple of ideas to buff this champion. For example, having his default attack "Arctic Warfare" apply Decrease Speed debuff if Freeze is not applied. Secondly, his special ability should be extended to Gaellen Pact that consists of Orcs, Ogryn Tribes, Lizardmen, and Skinwalkers rather than only 2 factions. His A3 Skill "Born to Win" has the potential to implement a new mechanic where Aleksandr is able to steal the enemy buff if they are from Gaellen Pact and apply Buff Spread to all allies. His A2 Skill "Spraydown" should apply both debuffs to the enemy regardless of faction and deal extra hit to those under the specified faction. This significantly improves the uniqueness of this champion and spices up this game!
Aleksandr the Sharpshooter Skills
Arctic Warfare [ATK]
Attacks 1 enemy. Has a 50% chance of placing a [Freeze] debuff for 1 turn. The chance increases to 75% against enemies from the Orc and Ogryn Tribe Factions.
Level 2: Damage +5%
Level 3: Damage +5%
Level 4: Damage +5%
Level 5: Damage +5%
Damage Multiplier: 3.7 ATK
Overall Grading: Godlike
Spraydown [ATK] (Cooldown: 4 turns)
Attacks all enemies. Has a 75% chance of placing a 60% [Decrease DEF] debuff for 2 turns. Also has a 75% chance of placing a [Weaken] debuff against enemies from the Orc and Ogryn Tribe Factions for 2 turns.
Level 2: Damage +5%
Level 3: Damage +10%
Level 4: Buff/Debuff Chance +10%
Level 5: Buff/Debuff Chance +15%
Level 6: Cooldown -1
Damage Multiplier: 4.6 ATK
Overall Grading: Godlike
Born to Win (Cooldown: 5 turns)
Attacks 1 enemy. Removes all buffs from the target. Removes all buffs from the target before attacking when targeting enemies from the Orc and Ogryn Tribe Factions.
Level 2: Damage +10%
Level 3: Damage +10%
Level 4: Cooldown -1
Damage Multiplier: 7 ATK
Overall Grading: Godlike
Aura
Increases Ally ACC in all Battles by 60
Aleksandr the Sharpshooter Equipment Guide
Arena, Campaign, Clan Boss, Dungeons, Doom Tower, Faction Wars

Recommended Artifacts

Lifesteal, Accuracy, Perception, Speed, Savage, Cruel, Offense, Bloodthirst

Stats Allocation

Weapon (ATK)
Helmet (HP)
Shield (DEF)
Gauntlets (C.RATE / C.DMG)
Chestplate (ATK%)
Boots (SPD)
Ring (ATK)
Amulet (C.DMG)
Banner (ACC / ATK)

Stats Priority

ATK%, C.RATE, C.DMG, SPD, ACC
Aleksandr the Sharpshooter Mastery Guide
Arena, Campaign, Clan Boss, Dungeons, Doom Tower, Faction Wars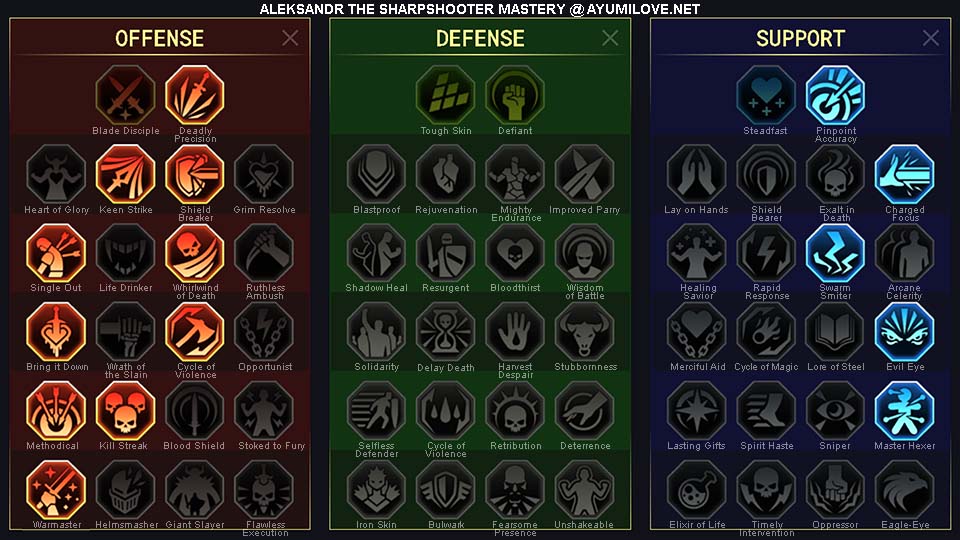 Offense

Deadly Precision
Keen Strike
Shield Breaker
Whirlwind of Death
Single Out
Cycle of Violence
Bring it Down
Methodical
Kill Streak
Warmaster

Support

Pinpoint Accuracy
Charged Focus
Swarm Smiter
Evil Eye
Master Hexer
Aleksandr Storyline
The man Aravia knows today as Aleksandr the Sharpshooter was not born a legend. None would have imagined the only child of humble merchants to be destined for heroic deeds, but fate had many cruel trials in store. And where hardship would have broken a lesser mortal, Aleksandr faced those challenges head-on and was forged into something far greater than he was meant to be.
As a babe, he saw his family slaughtered before his very eyes by savage Orc raiders who had descended upon their trade caravan like vultures. They spared none in their bloodthirsty fury, and had Aleksandr's mother not hidden him under an upturned wagon, he too would have perished by the blade. By a stroke of luck, local farmers found the trembling child amid the carnage when they investigated the attack and took him in as their own.
Named Aleksandr by his foster father, the young elf spent his early years in relative peace. He learned the peasant's craft and worked the land, helping his new family eke a living in the harsh hinterlands of Kaerok. Alas, that would not last for long. The Dark Elves of Durham learned that an elven child had been adopted by humans and brought up as a peasant – an insult to their noble race. One of their cohorts invaded the farmstead and demanded the boy be surrendered to them. Otherwise, everyone's life would have been forfeit. Though it pained him greatly to abandon home, Aleksandr went with the Dark Elves willingly in exchange for sparing the peasants' lives.
Thus began the most harrowing period of his life. His new masters sought to purge the "taint of human weakness" from him and reforge Aleksandr into a weapon to serve their will. He went through arduous, downright sadistic training until he excelled with the bow, learned to hunt and kill without remorse. The Dark Elves were canny and stoked the flames of hatred in Aleksandr's heart, directing his fury at the Orсs and Ogryns who had deprived him of his true kin. Fortunately, those savages bred like rats, and Aleksandr had no lack of prey. He took no small amount of pleasure in honing his skill and hunting Gaellen Pact raiding parties.
However, one final twist of fate was yet in store for the Sharpshooter. A twist that took him back to the path he never thought to tread again. One night, Aleksandr cleared out an Orc encampment in the forest and found a prisoner the raiders had held – a priest of Lumaya. Intrigued, Aleksandr chose to free him, but he could not imagine that talking to the old man would resonate so profoundly with half-forgotten memories in his heart.
After that meeting, Aleksandr fled his previous life and sought acceptance in the kingdom of the High Elves. Many adventures and perils awaited him, but his skill and determination never wavered. The ruthless assassin was dead, and in his place, Aleksandr the Sharpshooter, captain of the Aravian Rangers and protector of the weak was born. To this day, he keeps his vigil, ever-ready to battle evil no matter what form it takes.
Aleksandr the Sharpshooter Updates
Aleksandr the Sharpshooter Videos
ASH: Aleksandr crushing it – RAID SHADOW LEGENDS Aleksandr the sharpshooter guide
Stewgaming: Aleksandr crushing it – RAID SHADOW LEGENDS Aleksandr the sharpshooter guide
Raid: Shadow Legends RAID x S1mple | Champion Material (Official Commercial)