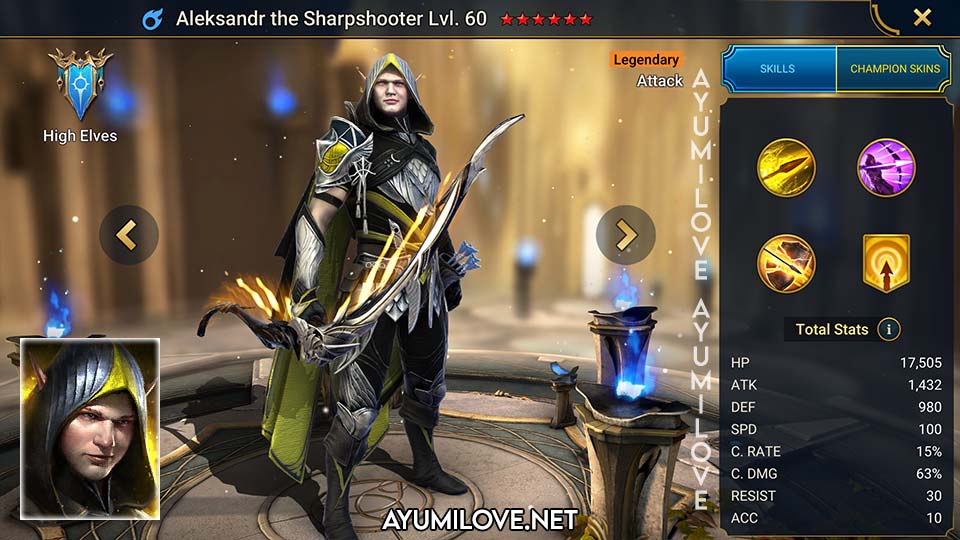 Overview

NAME: Aleksandr the Sharpshooter
FACTION: High Elves
RARITY: Legendary
ROLE: Attack
AFFINITY: Magic
USABILITY: Early-Mid Game
TOMES: 11 (N/A)

Total Stats (6★)

Health Points (HP): 17,505
Attack (ATK): 1,432
Defense (DEF): 980
Speed (SPD): 100
Critical Rate (C.RATE): 15%
Critical Damage (C.DMG): 63%
Debuff Resistance (RESIST): 30
Debuff Accuracy (ACC): 10

Obtain from

Time-Limited Event

Grinding

★★★★★ Campaign
★★★★✰ Arena Defense
★★★★✰ Arena Offense
★★★★✰ Clan Boss
★★★★✰ Faction Wars

Dungeons

★★★★✰ Minotaur
★★★★✰ Spider
★★★✰✰ Fire Knight
★★★★✰ Dragon
★★★★✰ Ice Golem

Potion

★★★★✰ Arcane Keep
★★★★✰ Void Keep
★★★✰✰ Force Keep
★★★★✰ Spirit Keep
★★★★✰ Magic Keep

Doom Tower

★★★★✰ Floors
★★★★✰ Magma Dragon
★★✰✰✰ Nether Spider
★★★★✰ Frost Spider
★✰✰✰✰ Scarab King
★★★✰✰ Celestial Griffin
★★✰✰✰ Eternal Dragon
★✰✰✰✰ Dreadhorn
★★★✰✰ Dark Fae
Aleksandr the Sharpshooter Review
Aleksandr the Sharpshooter is a Legendary Attack Magic champion from High Elves faction in Raid Shadow Legends. Aleksandr was introduced in Patch 4.90 on December 1st 2021 as special collaboration with Oleksandr Olegovich Kostyliev aka S1mple who is a professional CSGO (Counter-Strike: Global Offensive) Player for Natus Vincere aka NAVI.
Use Promo Code "S1mple" to gain sweet in-game resources while the event is running!
Aleksandr can only be obtained for a limited time to all players for free by logging into the game for 7 days between December 1st 2021 and January 28th 2022 to acquire him! He will not be available to be summoned from Ancient Shards and Sacred Shards. Previously, Plarium released 2 champions based on a popular streamer who are Ninja and Saito!
Artic Warfare (A1 Skill) is Aleksandr's default attack that has a chance to freeze a single target enemy. This freezing chance increases if the enemy is from either Orcs or Ogryn Tribes faction, which is useful in stopping the enemy in their tracks.
Spraydown (A2 Skill) is Aleksandr's AoE Attack (Area of Effect) that deals damage to all enemies in the battlefield while simultaneously inflicting Decrease Defense and Weaken debuff. However, the Weaken debuff is only applicable for Orcs and Ogryn Tribes faction, which is a let down as his potential to be used till late game is restricted as there are better champions who can replace his role.
Born to Win (A3 Skill) is Aleksandr's nuking attack that deals high amount of damage to a single target enemy and then removes their buffs. However, it works the opposite when attacking enemies who are from Orcs and Ogryn Tribes faction. The later approach is much more sense since its important to remove the enemy protection buffs before dealing damage, so the enemy would have a slimmer chance of surviving that hit. Fun Facts: This skill name is obtain from the Latin translation of Natus Vincere, which means Born to Win!
Last but not least, Aleksandr has an Accuracy Aura that is essential for early-mid game players as Accuracy stat is the staple for debuffer to inflict their debuffs and negative effects. It's difficult to farm Accuracy Banner from Spider's Den especially when you first start in the game.
Overall, Aleksandr is a decent Legendary champion who can help early-mid game players to speed up their game progression. However, his full potential is confined against champions from Orcs and Ogryn Tribes faction. If you do not have a dedicated Decrease Defense champion for Faction Wars (e.g. Tayrel), then Aleksandr will be an excellent candidate to fill this gap! It is a disappointment that Plarium did not take this opportunity to implement new mechanics to this champion skill to make him one-of-a-kind champion like Ninja since he can only be obtained from Time-Limited event.
Champion Improvement Ideas: There are a couple of ideas to buff this champion. For example, having his default attack "Artic Warfare" to apply Decrease Speed debuff if Freeze is not applied. Secondly, his special ability should be extended to Gaellen Pact that consists of Orcs, Ogryn Tribes, Lizardmen and Skinwalkers rather than only 2 factions. His A3 Skill "Born to Win" has the potential to implement a new mechanic where Aleksandr is able to steal the enemy buff if they are from Gaellen Pact and apply Buff Spread to all allies. His A2 Skill "Spraydown" should apply both debuff to enemy regardless of faction and deal extra hit to those under the specified faction. This significantly improves the uniqueness of this champion and spice up this game!
Aleksandr the Sharpshooter Skills
Arctic Warfare [ATK]
Attacks 1 enemy. Has a 50% chance of placing a [Freeze] debuff for 1 turn. The chance increases to 75% against enemies from the Orc and Ogryn Tribe Factions.
Level 2: Damage +5%
Level 3: Damage +5%
Level 4: Damage +5%
Level 5: Damage +5%
Damage Multiplier: 3.7 ATK
Spraydown [ATK] (Cooldown: 4 turns)
Attacks all enemies. Has a 75% chance of placing a 60% [Decrease DEF] debuff for 2 turns. Also has a 75% chance of placing a [Weaken] debuff against enemies from the Orc and Ogryn Tribe Factions for 2 turns.
Level 2: Damage +5%
Level 3: Damage +10%
Level 4: Buff/Debuff Chance +10%
Level 5: Buff/Debuff Chance +15%
Level 6: Cooldown -1
Damage Multiplier: 4.6 ATK
Born to Win (Cooldown: 5 turns)
Attacks 1 enemy. Removes all buffs from the target. Removes all buffs from the target before attacking when targeting enemies from the Orc and Ogryn Tribe Factions.
Level 2: Damage +10%
Level 3: Damage +10%
Level 4: Cooldown -1
Damage Multiplier: 7 ATK
Aura
Increases Ally ACC in all Battles by 60
Aleksandr the Sharpshooter Equipment Guide
Arena, Campaign, Clan Boss, Dungeons, Doom Tower, Faction Wars

Recommended Artifacts

Lifesteal, Accuracy, Perception, Speed, Savage, Cruel, Offense, Bloodthirst

Stats Allocation

Weapon (ATK)
Helmet (HP)
Shield (DEF)
Gauntlets (C.RATE / C.DMG)
Chestplate (ATK%)
Boots (SPD)
Ring (ATK)
Amulet (C.DMG)
Banner (ACC / ATK)

Stats Priority

ATK%, C.RATE, C.DMG, SPD, ACC
Aleksandr the Sharpshooter Mastery Guide
Arena, Campaign, Clan Boss, Dungeons, Doom Tower, Faction Wars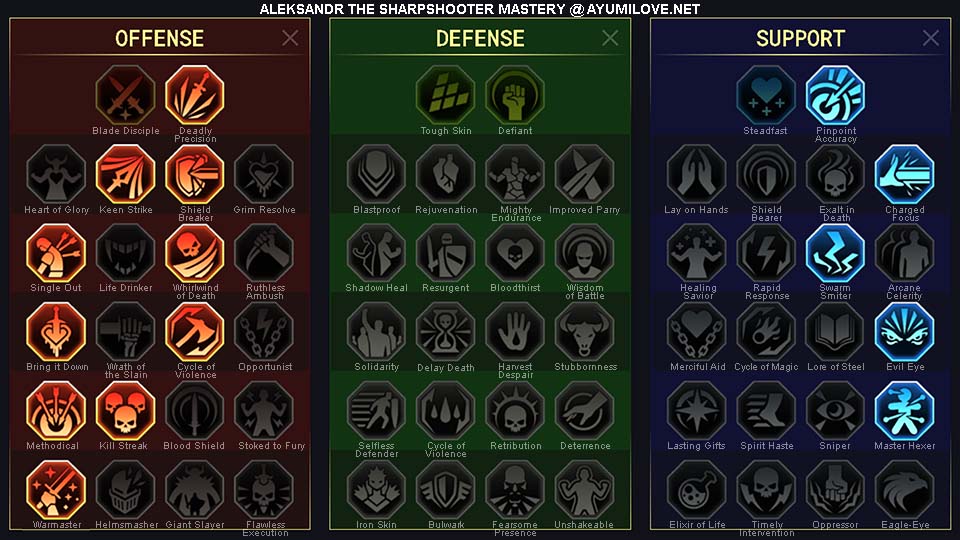 Offense

Deadly Precision
Keen Strike
Shield Breaker
Whirlwind of Death
Single Out
Cycle of Violence
Bring it Down
Methodical
Kill Streak
Warmaster

Support

Pinpoint Accuracy
Charged Focus
Swarm Smiter
Evil Eye
Master Hexer
Aleksandr the Sharpshooter Updates
Aleksandr the Sharpshooter Videos
ASH: Aleksandr crushing it – RAID SHADOW LEGENDS Aleksandr the sharpshooter guide
Stewgaming: Aleksandr crushing it – RAID SHADOW LEGENDS Aleksandr the sharpshooter guide
Raid: Shadow Legends RAID x S1mple | Champion Material (Official Commercial)