Sorath the Frost Spider is the new boss in Doom Tower Rotation 1 in Raid Shadow Legends, where she has the ability to freeze and remove buff from her enemies. Sorath has 2 spiderlings to support her in the battlefield by removing any debuff and applying Increase Attack buff to in boost her damage output. However, they do not inflict any damage to your team. In addition, Frost Spider has a unique passive skill that allows her to be revive when killed, which makes it quite challenging. She can only be defeated by HP Burn debuff or Block Revive champions. Check out the guide below to learn more about his game mechanics!
Sorath the Frost Spider Skills
Sorath the Frost Spider Stats
Stats of Sorath the Frost Spider and Frost Spiderling based on Doom Tower floors and difficulty.
Frost Spider gains additional stats on Defense and Resist when not under HP Burn!
Tower Rotation 1 (Void): Floors 40, 70, 120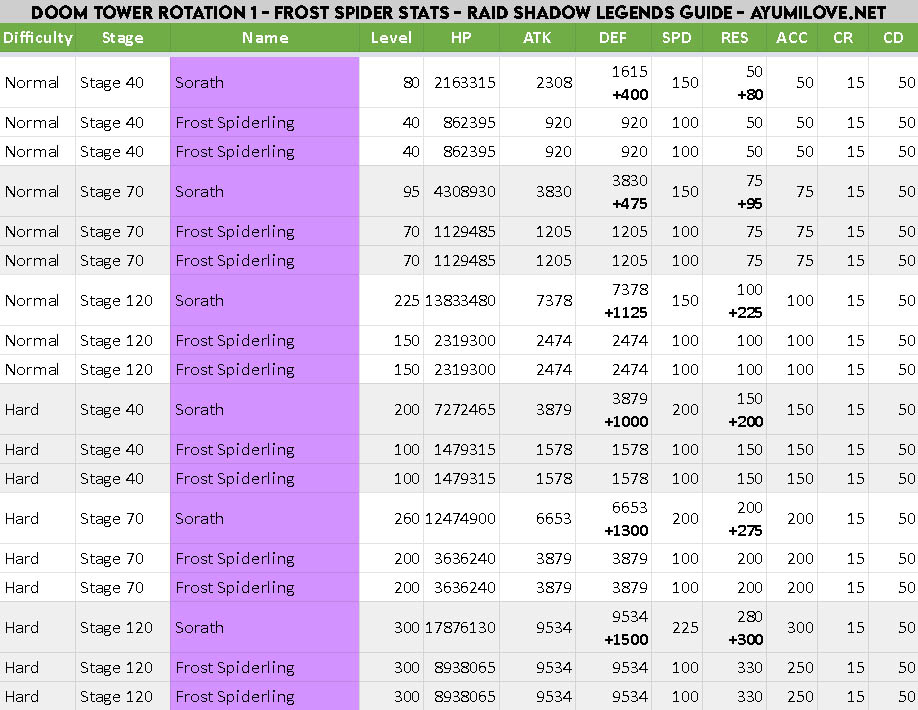 How to beat Sorath the Frost Spider Boss?
Sorath the Frost Spider Videos
StewGaming: Raid Shadow Legends Sorath the Frost Spider Guide
BGE: Raid Shadow Legends Sorath the Frost Spider Guide
Dirtbag Gaming: Raid Shadow Legends Sorath the Frost Spider Guide
Sorath Frost Spider Champion Tier List
Champion by Rarity: Legendary | Epic | Rare | Uncommon | Common
Mythical Champions Ranking
5★ Frost Spider | Mythical Champion
4★ Frost Spider | Mythical Champion
3★ Frost Spider | Mythical Champion
2★ Frost Spider | Mythical Champion
1★ Frost Spider | Mythical Champion
Legendary Champions Ranking
5★ Frost Spider | Legendary Champion
4★ Frost Spider | Legendary Champion
3★ Frost Spider | Legendary Champion
2★ Frost Spider | Legendary Champion
1★ Frost Spider | Legendary Champion
Epic Champions Ranking
5★ Frost Spider | Epic Champion
4★ Frost Spider | Epic Champion
3★ Frost Spider | Epic Champion
2★ Frost Spider | Epic Champion
1★ Frost Spider | Epic Champion
Rare Champions Ranking
5★ Frost Spider | Rare Champion
4★ Frost Spider | Rare Champion
3★ Frost Spider | Rare Champion
2★ Frost Spider | Rare Champion
1★ Frost Spider | Rare Champion
Uncommon Champions Ranking
5★ Frost Spider | Uncommon Champion
4★ Frost Spider | Uncommon Champion
3★ Frost Spider | Uncommon Champion
2★ Frost Spider | Uncommon Champion
1★ Frost Spider | Uncommon Champion
Common Champions Ranking
5★ Frost Spider | Common Champion
4★ Frost Spider | Common Champion
3★ Frost Spider | Common Champion
2★ Frost Spider | Common Champion
1★ Frost Spider | Common Champion