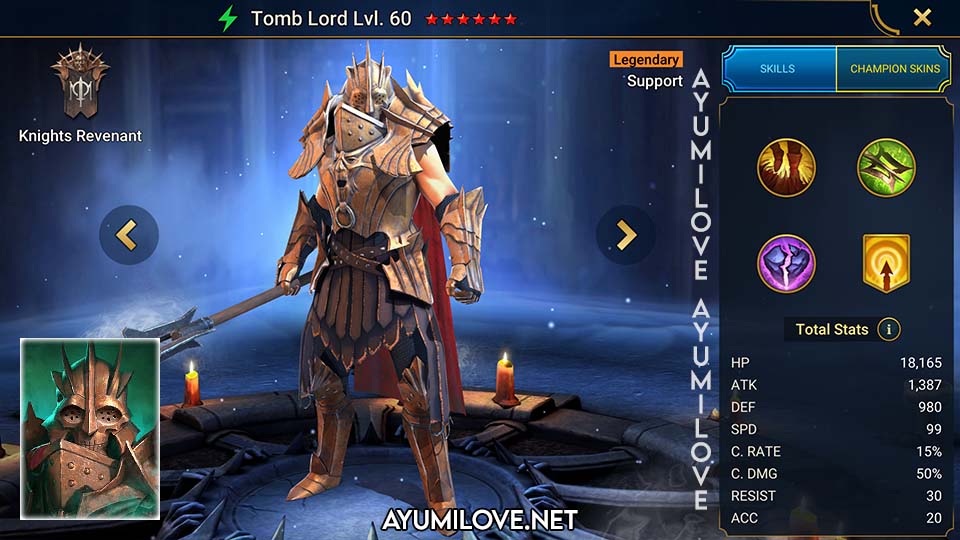 Obtain from

Ancient Shard
Sacred Shard

Overview

FACTION: Knight Revenant
RARITY: Legendary
ROLE: Support
AFFINITY: Spirit
USABILITY: Mid-Late Game
TOMES: 12 (A2 A3)

Total Stats (6★)

Health Points (HP): 18,165
Attack (ATK): 1,387
Defense (DEF): 980
Speed (SPD): 99
Critical Rate (C.RATE): 15%
Critical Damage (C.DMG): 50%
Debuff Resistance (RESIST): 30
Debuff Accuracy (ACC): 20

Grinding

★★★★✰ Campaign
★★★★✰ Arena Defense
★★★★✰ Arena Offense
★★★★✰ Clan Boss
★★★★★ Faction Wars

Dungeons

★★★★★ Minotaur's Labyrinth
★★★★✰ Spider's Den
★★★★★ Fire Knight's Castle
★★★★★ Dragon's Lair
★★★★★ Ice Golem's Peak

Potion

★★★★✰ Void Keep
★★★★★ Force Keep
★★★★✰ Spirit Keep
★★✰✰✰ Magic Keep

Doom Tower

★★★★✰ Magma Dragon
★★★✰✰ Nether Spider
★★★★✰ Frost Spider
★★★★✰ Scarab King
★★★✰✰ Celestial Griffin
★★★✰✰ Eternal Dragon
Tomb Lord Skills
Crippling Blows [ATK]
Attacks 1 enemy 3 times. Places a 30% [Decrease SPD] debuff on the target for 2 turns if this attack is critical.
Level 2: Damage +5%
Level 3: Damage +5%
Level 4: Damage +5%
Level 5: Damage +10%
Damage Multiplier: 1.1 ATK
Death Burst [ATK] (Cooldown: 4 turns)
Attacks 1 enemy. Has a 70% chance of placing two 5% [Poison] debuffs on all enemies for 1 turn. If the hit is critical, has a 70% chance of placing four 5% [Poison] debuffs on all enemies for 1 turn.
Level 2: Buff/Debuff Chance +5%
Level 3: Buff/Debuff Chance +10%
Level 4: Buff/Debuff Chance +10%
Level 5: Cooldown -1
Damage Multiplier: 4.8 ATK
Blight (Cooldown: 6 turns)
Decreases the Turn Meter of all enemies with less than 50% HP by 100%. Has an 80% chance of placing a 50% [Decrease ATK] debuff on all enemies for 2 turns. Also has an 80% chance of placing a 60% [Decrease DEF] debuff on all enemies for 2 turns. Gets an Extra Turn if an enemy's Turn Meter is decreased by this skill.
Level 2: Buff/Debuff Chance +5%
Level 3: Buff/Debuff Chance +5%
Level 4: Buff/Debuff Chance +10%
Level 5: Cooldown -1
Aura
Increases Ally DEF in the Arena by 42%
Tomb Lord Equipment Guide
Arena, Doom Tower, Faction Wars
Campaign, Clan Boss, Dungeons

Recommended Artifacts

Offense Set / Cruel Set / Fatal Set
Accuracy Set / Perception Set
Speed Set
Relentless Set

Recommended Artifacts

1 Lifesteal Set, 1 Accuracy Set
1 Lifesteal Set, 1 Speed Set

Recommended Stats

ATK%, C.RATE, C.DMG, SPD, ACC
Weapon (ATK)
Helmet (HP)
Shield (DEF)
Gauntlets (C.RATE / C.DMG)
Chestplate (ATK%)
Boots (SPD)
Ring (ATK)
Amulet (C.DMG)
Banner (ACC)

Recommended Stats

DEF%, HP%, SPD, ACC
Weapon (ATK)
Helmet (HP)
Shield (DEF)
Gauntlets (DEF% / HP%)
Chestplate (DEF% / HP% / ACC)
Boots (SPD)
Ring (DEF / HP)
Amulet (DEF / HP)
Banner (ACC)
Tomb Lord Mastery Guide
Arena, Doom Tower, Faction Wars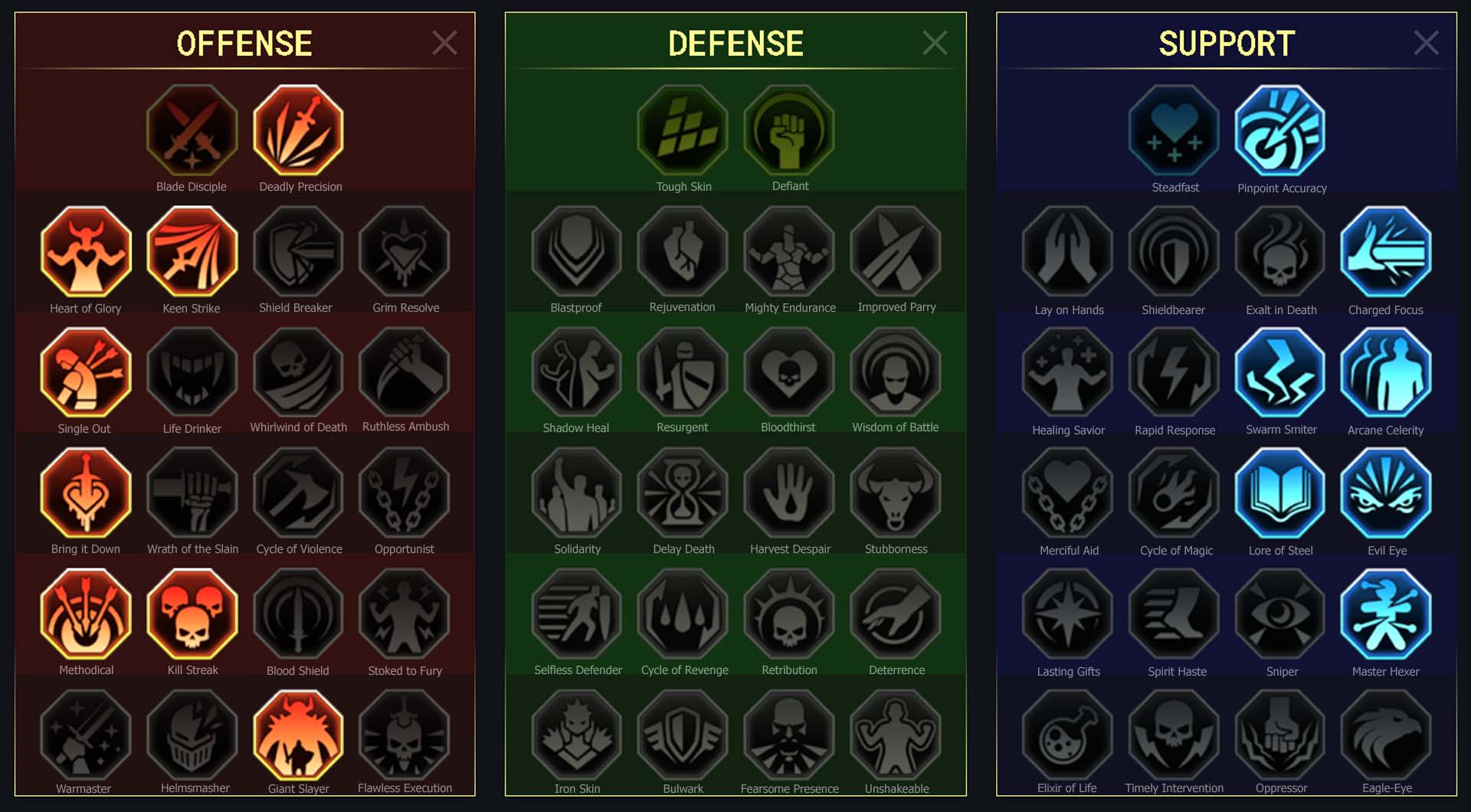 Offense

Deadly Precision
Keen Strike
Heart of Glory
Single Out
Bring it Down
Methodical
Kill Streak
Giant Slayer

Defense

N/A

Support

Pinpoint Accuracy
Exalt in Death
Arcane Celerity
Swarm Smiter
Evil Eye
Lore of Steel
Master Hexer
Tomb Lord Reference
Tomb Lord All-Rounder Build
Below is a reference of the artifacts equipped on Tomb Lord that is built to cater to all content of the game.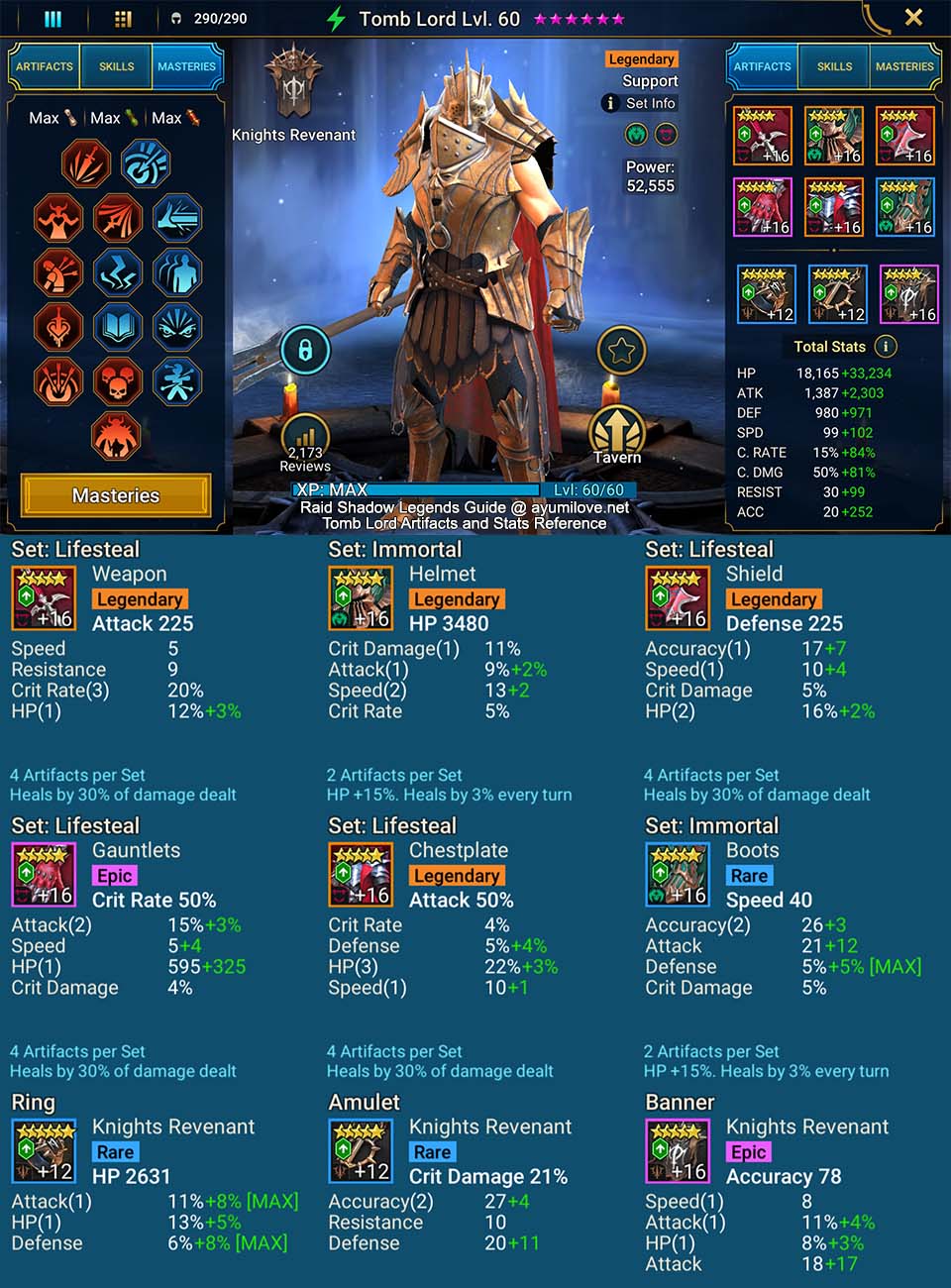 Tomb Lord Dungeon Solo Build
Below is a reference of the artifacts equipped on Tomb Lord optimized for high-level dungeon solo farming such as Dragon's Lair Dungeon Stage 21 or 25 (Force Affinity) and Ice Golem Dungeon with 4 fodders. This allows you to optimize the energy spent by leveling up fodder (food champions) and farming gears simultaneously! Regeneration Set and Immortal Set is recommended to Tomb Lord rather than using Lifesteal Set to recover HP is due to the skill synergy as well as the damage multiplier on Tomb Lord skills. Tomb Lord damage multiplier is pretty weak for a Legendary. Hence, it's difficult to deal a high amount of damage against enemies who have a high amount of HP and Defense at higher levels to recover quickly with Lifesteal Set. However, using Regeneration Set and Immortal Set allows Tomb Lord to sustain in battle easily since he has the skill that grants him Extra Turn and enables him to decrease enemy turn meter and speed. To make up for his damage output, Tomb Lord can rely on his Poison debuff to do the heavy lifting of clearing the waves of enemies quickly as it deals damage based on their MAX HP! It's similar to skills that inflict direct damage using ENEMY MAX HP as the damage multiplier! For dungeon solo farming, you will need at least 200 Speed, 100% Critical Rate, 45000 HP, 2000 Defense, 280 Resist, and 225 Accuracy to be able to resist enemy debuff, apply debuffs on enemies, and have sufficient Speed to go twice of the enemy turn.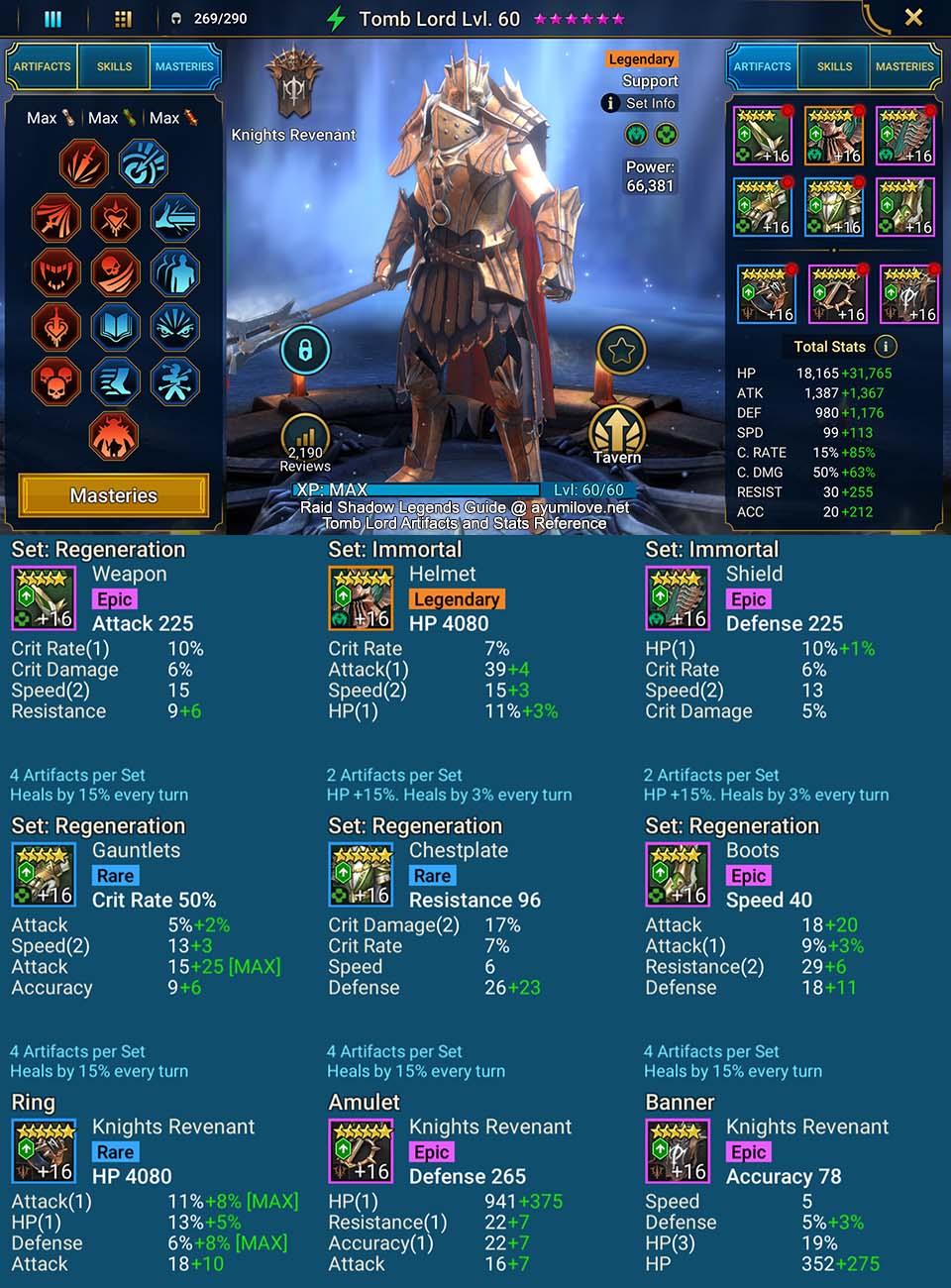 Tomb Lord Updates
Tomb Lord Videos
Raid Shadow Legends Tomb Lord Champion Guide by Verdy Gaming
Raid Shadow Legends Tomb Lord Champion Guide by Hell Hades
Raid Shadow Legends Tomb Lord Champion Guide by AliAlPlays