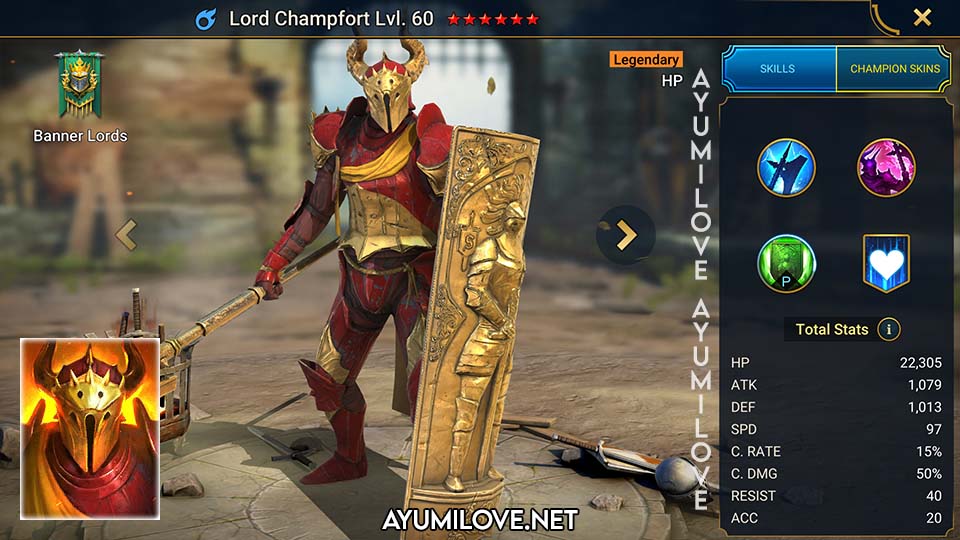 Overview

NAME: Lord Champfort
FACTION: Banner Lords
RARITY: Legendary
ROLE: HP
AFFINITY: Magic
RANK: B
USABILITY: Early-Mid Game
TOMES: 14 (A2 A3)

Abilities

RSL_AoE_DecreaseAccuracy_50%
RSL_AoE_DecreaseAttack_50%
RSL_Dungeons_HpAura
RSL_Passive_DecreaseSpeed_15%
RSL_Self_Passive
RSL_Self_Shield
RSL_Target_DecreaseDefense_60%
RSL_Target_DecreaseSpeed_15%
RSL_Target_Passive_Enemy

Obtain from

Ancient Shard
Sacred Shard
Primal Shard

Blessings Recommendation

Grinding

★★★✰✰ Campaign
★★★★✰ Arena Defense
★★★★★ Arena Offense
★★★✰✰ Clan Boss
★★★★✰ Hydra
★★★★★ Faction Wars

Dungeons

★★★★✰ Minotaur
★★✰✰✰ Spider
★✰✰✰✰ Fire Knight
★★★★✰ Dragon
★★★★★ Ice Golem
★★★★★ Iron Twins
★★✰✰✰ Sand Devil
★★★✰✰ Phantom Shogun

Potion

★★★★★ Arcane Keep
★★★★✰ Void Keep
★★✰✰✰ Force Keep
★★★★✰ Spirit Keep
★★★★✰ Magic Keep

Doom Tower

★★★★★ Floors
★★★★★ Magma Dragon
★★★★★ Nether Spider
★★★★★ Frost Spider
★★★★★ Scarab King
★★★★✰ Celestial Griffin
★★★★✰ Eternal Dragon
★★★✰✰ Dreadhorn
★★★✰✰ Dark Fae
Lord Champfort Skills
Annihilating Hit
Attacks 1 enemy. Has a 45% chance of placing a 60% [Decrease DEF] debuff for 2 turns.
Level 2: Damage +5%
Level 3: Damage +5%
Level 4: Damage +5%
Level 5: Damage +10%
Damage Multiplier: 0.2 HP
Earthshaker (Cooldown: 4 turns)
Attacks all enemies. Places a 50% [Decrease ACC] debuff and a 50% [Decrease ATK] debuff for 2 turns.
Level 2: Damage +5%
Level 3: Damage +5%
Level 4: Damage +5%
Level 5: Cooldown -1
Damage Multiplier: 0.23 HP
Thornsphere (Passive, Cooldown: 2 turns)
At the start of each turn, place a [Shield] buff on this Champion equal to 20% of their MAX HP for 2 turns. Will place a 15% [Decrease SPD] debuff for 1 turn on whichever enemy attacks this Champion.
Level 2: Cooldown: -1
Aura
Increases Ally HP in Dungeons by 50%
Lord Champfort Equipment Guide
Arena, Doom Tower, Faction Wars
Campaign, Clan Boss, Dungeons

Recommended Artifacts

3 Speed Set
2 Speed Set, 1 Immortal Set
2 Speed Set, 1 Life Set
2 Life Set, 1 Speed Set

Recommended Artifacts

1 Lifesteal Set, 1 Accuracy Set
2 Speed Set, 1 Immortal Set
2 Speed Set, 1 Life Set
2 Life Set, 1 Speed Set

Recommended Stats

HP%, C.RATE, C.DMG, SPD, ACC
Weapon (Attack)
Helmet (HP)
Shield (Defense)
Gauntlets (C.RATE)
Chestplate (HP%)
Boots (SPD)
Ring (DEF)
Amulet (C.DMG)
Banner (ACC)

Recommended Stats

HP%, C.RATE, C.DMG, SPD, ACC
Weapon (Attack)
Helmet (HP)
Shield (Defense)
Gauntlets (C.RATE)
Chestplate (HP%)
Boots (SPD)
Ring (DEF)
Amulet (C.DMG)
Banner (ACC)
Lord Champfort Mastery Guide
Arena, Campaign, Clan Boss, Dungeons, Doom Tower, Faction Wars
Offense

Deadly Precision
Keen Strike
Heart of Glory
Life Drinker
Whirlwind of Death
Cycle of Violence
Bring it Down
Kill Streak
Stoked to Fury
Flawless Execution

Support

Pinpoint Accuracy
Charged Focus
Arcane Celerity
Lore of Steel
Master Hexer
Lord Champfort Review
Lord Champfort, a Legendary HP Magic affinity champion from the Banner Lords in Raid Shadow Legends, had long been relegated to the confines of the vault, his shield gathering dust. However, in September 2020, Plarium finally recognized the potential of this underappreciated champion and granted him a well-deserved buff, making him a viable contender in the game. Lord Champfort's unique appearance and skill set truly embody the essence of the Banner Lord faction.
With his new and improved abilities, Lord Champfort has emerged as a valuable support champion, able to significantly reduce the damage your team takes in dungeon runs. His leadership aura provides a 50% increase in ally HP, making him an essential party lead. Additionally, he can cast AOE Decrease Attack and Decrease Accuracy debuffs, which prove useful in vanquishing dungeon runs.
Lord Champfort's prowess is particularly evident in Doom Tower vs. Borgoth, thanks to his unique passive ability that shields him at the start of each turn. He then places a Decrease Speed debuff on whoever attacks him, thereby making him a formidable adversary for Borgoth. Players struggling with newer content such as Iron Twins or the Hydra Clan Boss can benefit immensely from Lord Champfort's build. His impressive range of debuffs and support skills make him one of the strongest support champions available.
In conclusion, Lord Champfort's journey from being a neglected champion in the vault to a valuable asset in the game is a testament to his remarkable abilities. His Decrease Defense single target ability, combined with his other skills, make him a force to be reckoned with in most areas of content. With his unique appearance and skill set that embodies the Banner Lord faction, Lord Champfort is undoubtedly one of the most exciting champions in Raid Shadow Legends.
Lord Champfort Updates
Lord Champfort Videos
ASH: LORD CHAMPFORT Just had a MASSIVE VALUE SURGE!