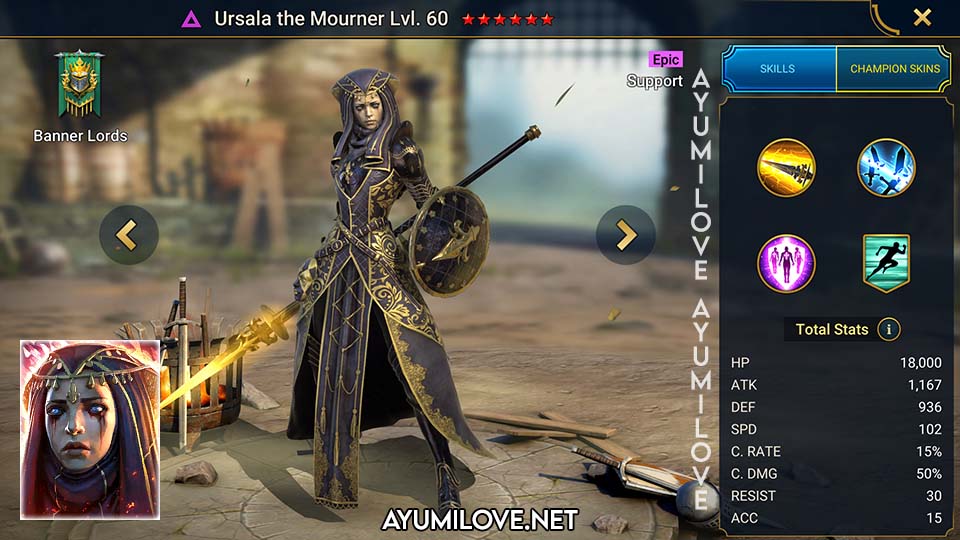 Overview

NAME: Ursala the Mourner
FACTION: Banner Lords
RARITY: Epic
ROLE: Support
AFFINITY: Void
RANK: S
USABILITY: Situational
TOMES: 14 (A2 A3)

Abilities

RSL_AoE_DecreaseAttack_50%
RSL_AoE_IncreaseAttack_50%
RSL_AoE_IncreaseDefense_60%
RSL_AoE_Revive
RSL_AoE_Strengthen_25%
RSL_DoomTower_SpeedAura
RSL_Revive_IncreaseTurnMeter
RSL_Target_DecreaseTurnMeter

Obtain from

Void Shard
Guaranteed Champion

Blessings Recommendation

Cruelty (Late Game)
Faultless Defense (Arena Defense)

Grinding

★★★★★ Campaign
★★★★★ Arena Defense
★★★★★ Arena Offense
★★★★★ Clan Boss
★★★★✰ Hydra
★★★★★ Faction Wars

Dungeons

★★★★★ Minotaur
★★★★✰ Spider
★★★★✰ Fire Knight
★★★★★ Dragon
★★★★★ Ice Golem
★★★★✰ Iron Twins
★★✰✰✰ Sand Devil

Potion

★★★★✰ Arcane Keep
★★★★✰ Void Keep
★★★★✰ Force Keep
★★★★✰ Spirit Keep
★★★★✰ Magic Keep

Doom Tower

★★★✰✰ Floors
★★★✰✰ Magma Dragon
★✰✰✰✰ Nether Spider
★★★✰✰ Frost Spider
★★✰✰✰ Scarab King
★★✰✰✰ Celestial Griffin
★★✰✰✰ Eternal Dragon
★✰✰✰✰ Dreadhorn
★★✰✰✰ Dark Fae
Ursala the Mourner Skills
Lance of Penitence
Attacks 1 enemy. Has a 40% chance of decreasing the target's Turn Meter by 10%.
Level 2: Damage +5%
Level 3: Damage +5%
Level 4: Buff/Debuff Chance +5%
Level 5: Buff/Debuff Chance +5%
Level 6: Buff/Debuff Chance +5%
Damage Multiplier: 3.4 ATK
Waves of Grief (Cooldown: 4 turns)
Attacks all enemies. Has a 75% chance of placing a 50% [Decrease ATK] debuff for 2 turns. Also places a 50% [Increase ATK] buff on all allies for 2 turns.
Level 2: Damage +5%
Level 3: Damage +5%
Level 4: Damage +10%
Level 5: Buff/Debuff Chance +5%
Level 6: Buff/Debuff Chance +5%
Level 7: Buff/Debuff Chance +5%
Level 8: Buff/Debuff Chance +10%
Level 9: Cooldown -1
Damage Multiplier: 3.2 ATK
Requiem (Cooldown: 6 turns)
Revives all dead allies with 75% HP, then fills their Turn Meters by 50%. Also places a 60% [Increase DEF] buff and a 25% [Strengthen] buff on all allies for 3 turns.
Level 2: Cooldown -1
Aura
Increases Ally SPD in Doom Tower Battles by 24%
Ursala the Mourner Equipment Guide
Arena, Doom Tower, Faction Wars
Campaign, Clan Boss, Dungeons

Recommended Artifacts

3 Immortal Set
2 Immortal Set, 1 Perception Set
2 Immortal Set, 1 Accuracy Set
2 Life Set, 1 Perception Set
2 Life Set, 1 Accuracy Set

Recommended Artifacts

3 Immortal Set
2 Immortal Set, 1 Perception Set
2 Immortal Set, 1 Accuracy Set
2 Life Set, 1 Perception Set
2 Life Set, 1 Accuracy Set

Recommended Stats

HP%, DEF%, SPD, ACC, RESIST
Weapon (ATK)
Helmet (HP)
Shield (DEF)
Gauntlets (HP% / DEF%)
Chestplate (HP% / DEF%)
Boots (SPD)
Ring (DEF / HP)
Amulet (DEF / HP)
Banner (ACC / RESIST)

Recommended Stats

HP%, DEF%, SPD, ACC, RESIST
Weapon (ATK)
Helmet (HP)
Shield (DEF)
Gauntlets (HP% / DEF%)
Chestplate (HP% / DEF%)
Boots (SPD)
Ring (DEF / HP)
Amulet (DEF / HP)
Banner (ACC / RESIST)
Ursala the Mourner Mastery Guide
Arena, Doom Tower, Faction Wars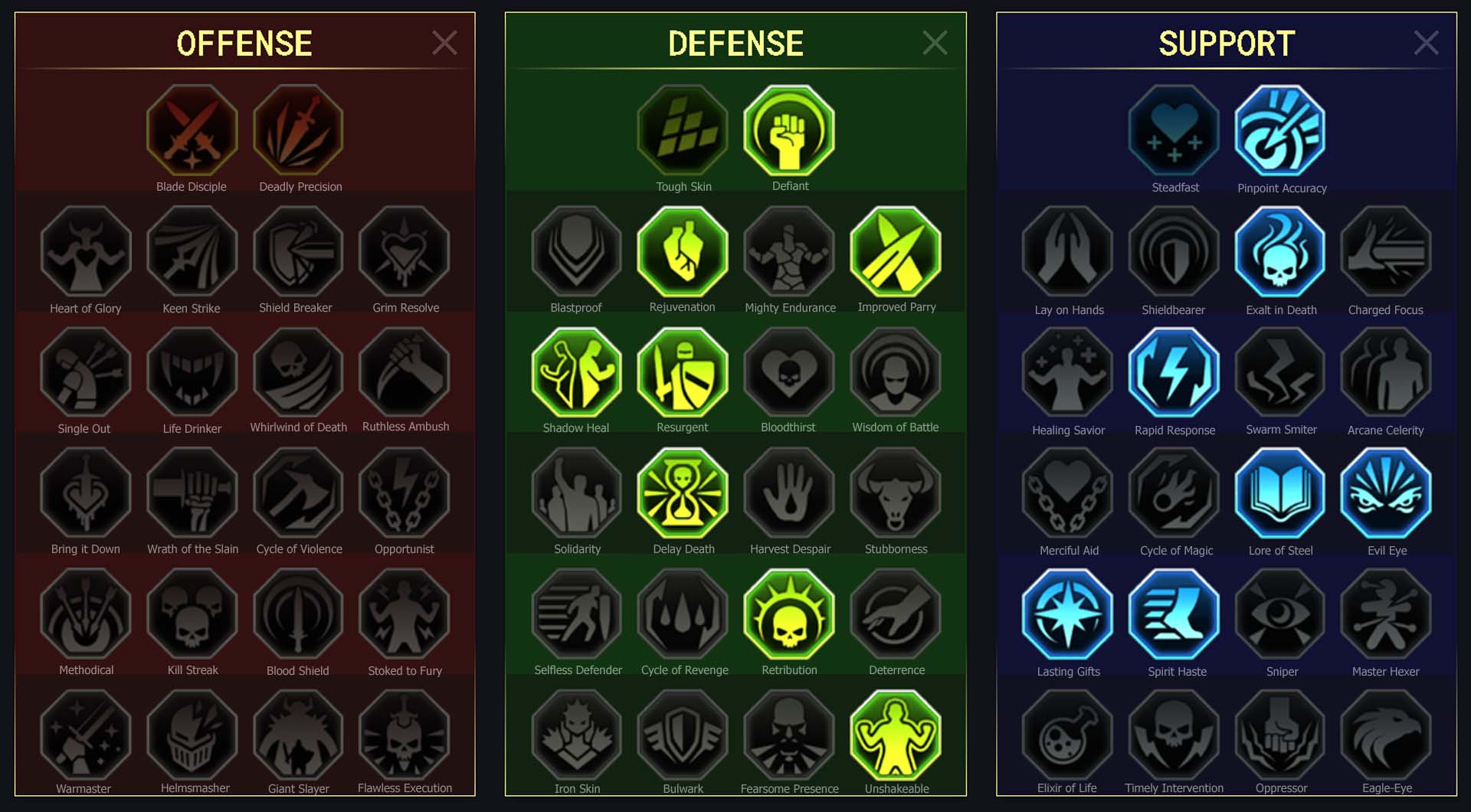 Defense

Defiant
Improved Parry
Rejuvenation
Resurgent
Shadow Heal
Delay Death
Retribution
Unshakeable

Support

Pinpoint Accuracy
Exalt in Death
Rapid Response
Lore of Steel
Evil Eye
Spirit Haste
Lasting Gifts
Campaign, Clan Boss, Dungeons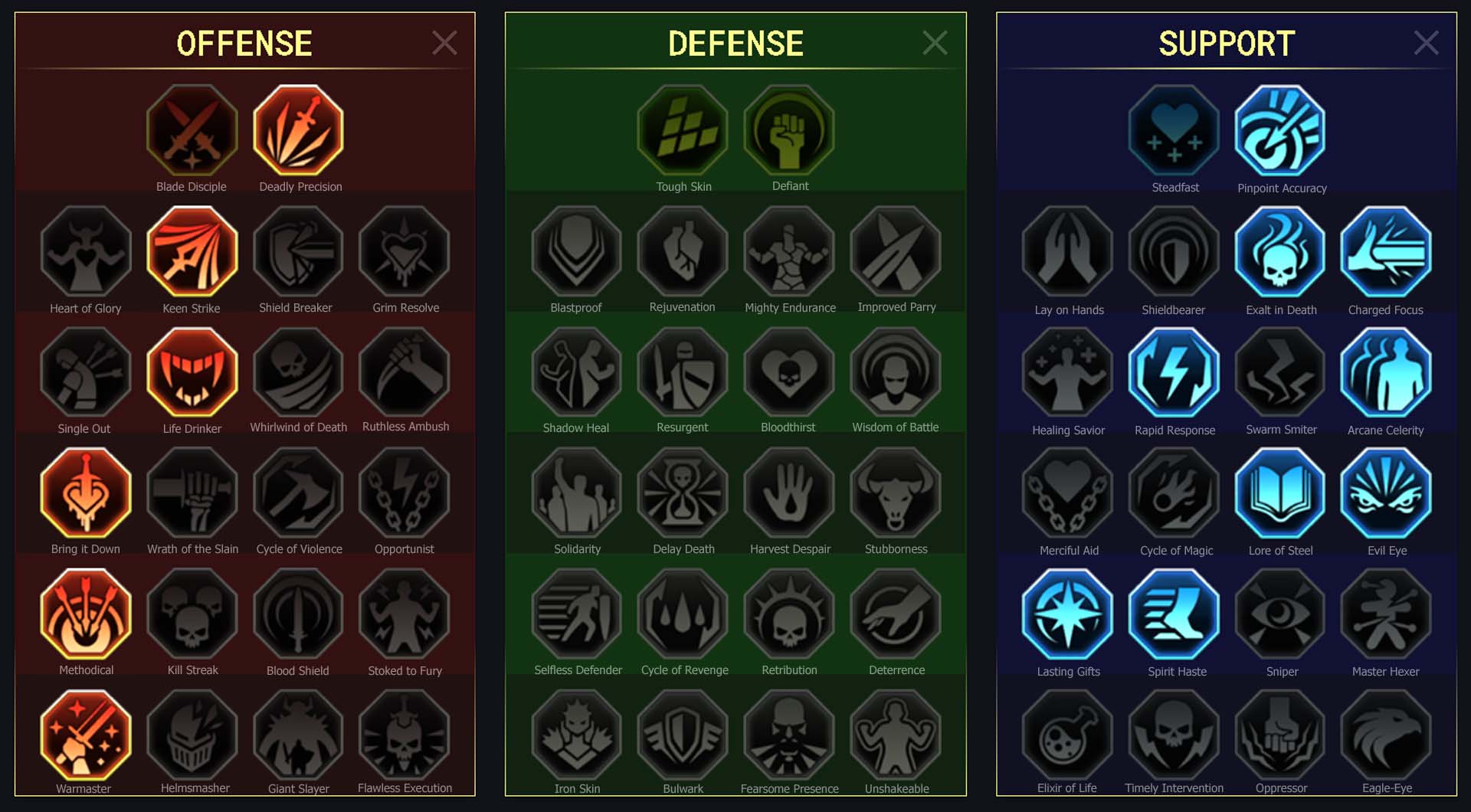 Offense

Deadly Precision
Keen Strike
Life Drinker
Bring it Down
Methodical
Warmaster

Support

Pinpoint Accuracy
Charged Focus
Exalt in Death
Rapid Response
Arcane Celerity
Lore of Steel
Evil Eye
Spirit Haste
Lasting Gifts
Ursala the Mourner Review
Ursala the Mourner is an Epic Support Void affinity champion from Banner Lords faction in Raid Shadow Legends. Ursala the Mourner was introduced in Patch 3.20 on January 2021 as a solid support champion who can carry your team in Faction Wars, Dungeons and Doom Tower.
Ursala's Requiem is her signature skill that revives all fallen allies and boost their Turn Meter to quickly put them back in action! It also applies Increase Defense buff and Strengthen buff to all allies to fortify their defenses, preventing them from falling out of battle again too quickly. In addition, Ursala's Waves of Grief is a great skill that improves ally's damage output while decreases enemy's damage output simultaneously, resulting in higher odds of winning the battle! Apart from that, Ursala's Lance of Penitence default attack skill is useful in slowing enemies by decreasing their Turn Meter to provide some breathing room for your champions to recuperate and recharge their cooldown skills.
The downside of Ursala the Mourner is she requires heavy investment in skill tomes to fully unleash her full potential. Moreover, her Requiem skill has a long skill cooldown and slightly troublesome on deciding whether to save it for emergency purposes or reinforce allies' defense. Still, Ursula is one of the very few champions in the game with a powerful AoE Revive skill that proves beneficial in tight situations.
Ursala the Mourner Updates
Ursala the Mourner Videos
Raid Shadow Legends Ursala the Mourner Champion Guide by StewGaming
Raid Shadow Legends Ursala the Mourner Champion Guide by Skratch
Raid Shadow Legends Ursala the Mourner Champion Guide by DeadwoodJedi
Raid Shadow Legends Ursala the Mourner Champion Guide by ValarGaming
https://youtu.be/ujDA3-h_Nug
Raid Shadow Legends Ursala the Mourner Champion Guide by Grumpy Jeff
Raid Shadow Legends Ursala the Mourner Champion Guide by Angreifer Gaming