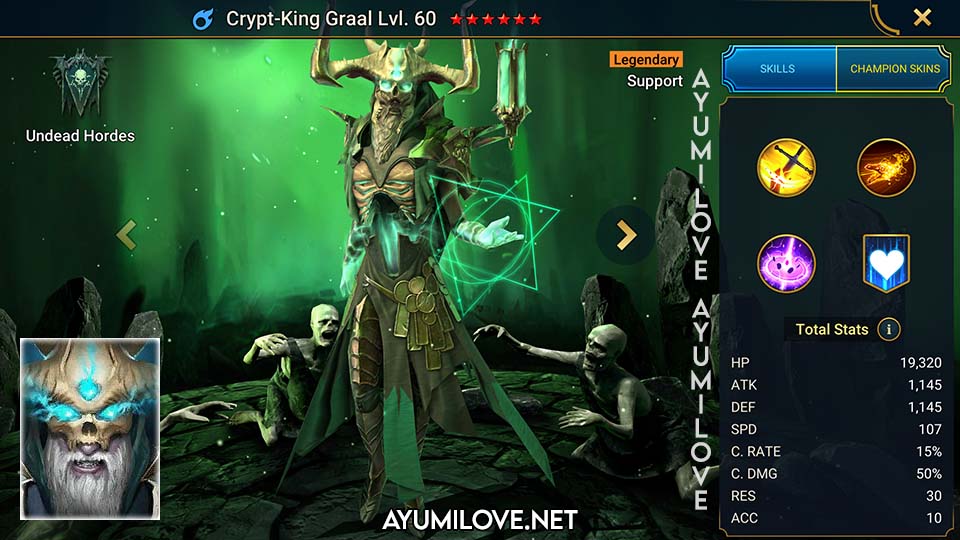 Overview

NAME: Crypt-King Graal
FACTION: Undead Hordes
RARITY: Legendary
ROLE: Support
AFFINITY: Magic
RANK: B
USABILITY: Situational
TOMES: 12 (A2)

Abilities

RSL_AllBattles_HpAura
RSL_AoE_Freeze
RSL_AoE_HpBurn
RSL_AoE_IncreaseDebuffDuration_Specific
RSL_Target_DecreaseAttack_50%
RSL_Target_HpBurn

Obtain from

Ancient Shard
Sacred Shard

Blessings Recommendation

Brimstone (Late Game)

Grinding

★★★★✰ Campaign
★★★✰✰ Arena Defense
★★★✰✰ Arena Offense
★★★★★ Clan Boss
★★★★✰ Hydra
★★★★★ Faction Wars

Dungeons

★★★★✰ Minotaur
★★★★★ Spider
★✰✰✰✰ Fire Knight
★★★★★ Dragon
★★★★★ Ice Golem
★★★✰✰ Iron Twins

Potion

★★★★✰ Arcane Keep
★★★★✰ Void Keep
★✰✰✰✰ Force Keep
★★★★✰ Spirit Keep
★★★★✰ Magic Keep

Doom Tower

★★★★★ Floors
★✰✰✰✰ Magma Dragon
★✰✰✰✰ Nether Spider
★★★★★ Frost Spider
★★✰✰✰ Scarab King
★★★★✰ Celestial Griffin
★★✰✰✰ Eternal Dragon
★✰✰✰✰ Dreadhorn
★★✰✰✰ Dark Fae
Crypt-King Graal Skills
Brittleness Bane
Attacks 1 enemy. Has a 60% chance of placing a 50% Decrease ATK debuff for 2 turns. Has a 100% chance instead if the target is under a [HP Burn] debuff or a [Freeze] debuff.
Level 2: Damage +5%
Level 3: Damage +5%
Level 4: Damage +5%
Level 5: Damage +5%
Damage Multiplier: 3.7 ATK
Overall Grading: Average
Death Fires (Cooldown: 4 turns)
Attacks all enemies. Has a 75% chance of placing a [HP Burn] debuff for 2 turns.
Level 2: Damage +5%
Level 3: Damage +5%
Level 4: Buff/Debuff Chance +10%
Level 5: Buff/Debuff Chance +15%
Level 6: Cooldown -1
Damage Multiplier: 3.9 ATK
Overall Grading: Average
Elemental Unity (Cooldown: 4 turns)
Attacks all enemies. Places a [Freeze] debuff on each target for 1 turn if they are under a [HP Burn] debuff. Extends the duration of any [HP Burn] debuffs to 3 turns. This effect cannot be resisted.
Level 2: Damage +5%
Level 3: Damage +5%
Level 4: Damage +5%
Damage Multiplier: 3.6 ATK
Overall Grading: Average
Aura
Increases Ally HP in all Battles by 33%
Crypt-King Graal Equipment Guide
Arena, Doom Tower, Faction Wars
Campaign, Clan Boss, Dungeons

Recommended Artifacts

2 Speed Set, 1 Immortal Set
2 Speed Set, 1 Life Set
1 Life Set, 1 Accuracy Set, 1 Speed Set

Recommended Artifacts

2 Speed Set, 1 Immortal Set
2 Speed Set, 1 Life Set
1 Lifesteal Set, 1 Accuracy Set
1 Lifesteal Set, 1 Speed Set

Recommended Stats

ATK%, C.RATE, C.DMG, SPD, ACC
Weapon (ATK)
Helmet (HP)
Shield (DEF)
Gauntlets (C.RATE)
Chestplate (ATK%)
Boots (SPD)
Ring (ATK)
Amulet (C.DMG)
Banner (ACC)

Recommended Stats

DEF%, HP%, SPD, ACC
Weapon (ATK)
Helmet (HP)
Shield (DEF)
Gauntlets (DEF% / HP%)
Chestplate (DEF% / HP%)
Boots (SPD)
Ring (DEF / HP)
Amulet (DEF / HP)
Banner (ACC)
Crypt-King Graal Mastery Guide
Arena, Campaign, Clan Boss, Dungeons, Doom Tower
Offense

Deadly Precision
Keen Strike
Heart of Glory
Single Out
Ruthless Ambush
Bring it Down
Methodical
Warmaster

Support

Pinpoint Accuracy
Charged Focus
Swarm Smiter
Lore of Steel
Cycle of Magic
Master Hexer
Sniper
Crypt-King Graal Storyline
"Listen, boy. I don't give a rat's arse about how much silver you're offering, I ain't going back there. Heck, you could toss a bag of gems in my face and I'd still refuse. Yeah, yeah, I know. Ancient crypts, untold treasures, yadda-yadda. Terrible guardians and secrets best left forgotten – old fishwives' tales, right? Thought so too. Me and my mates – ten of them – decided to poke about the old bastard Graal's tomb. Used to be some great wizard-king, died centuries ago, locals say he was a horrible Siroth-worshipper and turned their grandmas into frogs. You know how these stories go. Anyway, the place's been quiet save for a few drunken tales of skeletons walking about on the darkest nights. But we figured with dead folk rising all over Teleria this isn't anything new. So in we go, each man's a veteran of the craft. We traveled far and wide, picked barrows clean of things you'd never dream of, faced bandits, beasts, competition – you name it! And sure, there's a ghoul here, a reanimated skeleton there. Usual problems in our business, we cut through them easily. Only when we reached the sarcophagus… Well, HE woke up. Can you imagine, boy? Arrows, spearheads, swords, all useless! Mine was good Aravian steel, forged by the Elves. No, don't ask me how I got it. But the moment I struck that thing's carcass, the blade rusted away and crumbled. Just like that! So we did the only thing we could – run. Don't remember much of what happened then, just the screams of my mates as they burst into flames or turned to ice. I was the only one to get out in the end, never ran that fast in my life. So no, I ain't going to stick my neck under the axe again. In fact, I'm getting as far away as I bloody can. And if you're smart, you'll do the same." – Unknown grave robber
Crypt-King Graal Review
Crypt-King Graal, the legendary support magic affinity champion hailing from the Undead Hordes faction in Raid Shadow Legends, is no stranger to fear. He rules the Undead with an iron fist, but even he trembles at the mere mention of Bad-El-Kazaar, the first of the Undead. Seeking to master the powers of ice and fire, the Crypt King vanished into the shadows for over a millennium. Now, he returns, more powerful and feared than ever before.
For many years, Graal's kit was outdated and challenging to wield, relegating him to the status of a mere vault lord. However, with the release of Dungeon 21-25, Graal finally found his footing alongside Sicia Flametongue, who did much of the heavy lifting.
Yet, it was Patch 4.70 that transformed Graal's fortunes. He went from being a vault lord to a Telerian God in the blink of an eye. His A2 became a 100% AoE HP Burn, while his A3 unleashed a 100% AoE Freeze, extending the burns, and making him one of the strongest HP burners and ideal for Spider 25. Furthermore, his A1 now boasts a 100% Decrease ATK against bosses in Doom Tower, which, when coupled with the HP burn or freeze, makes him an unwavering force against the Clan Boss.
With a robust base speed, admirable HP, and defense, Graal can slot into any team with ease. He possesses the strongest set of buffs in the patch and is guaranteed to deliver results.
Crypt-King Graal Updates
Crypt-King Graal Videos
Raid Shadow Legends Crypt-King Graal Champion Guide by Chofly
Raid Shadow Legends Crypt-King Graal Showcase by BBN