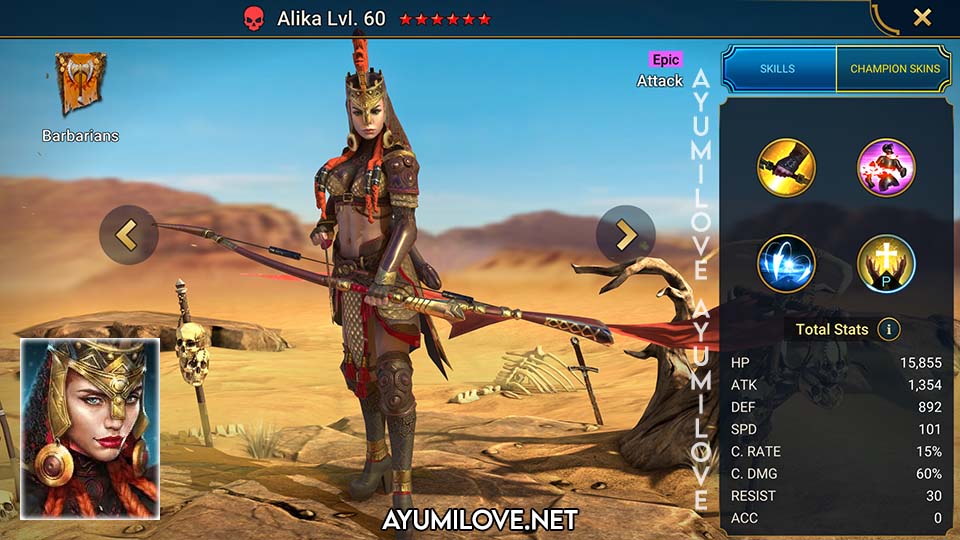 Overview

NAME: Alika
FACTION: Barbarians
RARITY: Epic
ROLE: Attack
AFFINITY: Force
RANK: C
USABILITY: Situational
TOMES: 20 (A2 A3)

Abilities

RSL_50%_IgnoreDefense
RSL_AoE_IncreaseSkillCooldown
RSL_Partner_Passive
RSL_Self_ExtraHit
RSL_Self_Revive
RSL_Target_BasicAttack_1Hit
RSL_Target_IgnoreDefense

Obtain from

Ancient Shard
Sacred Shard
Primal Shard
Alika Fusion

Blessings Recommendation

Crushing Rend (Arena)
Phantom Touch (Damage Dealer)

Grinding

★★★✰✰ Campaign
★★★★✰ Arena Defense
★★★★★ Arena Offense
★★★★✰ Clan Boss
★✰✰✰✰ Hydra
★★★★✰ Faction Wars

Dungeons

★★★★✰ Minotaur
★✰✰✰✰ Spider
★✰✰✰✰ Fire Knight
★★★✰✰ Dragon
★★★✰✰ Ice Golem
★✰✰✰✰ Iron Twins
★★✰✰✰ Sand Devil
★★✰✰✰ Phantom Shogun

Potion

★★★✰✰ Arcane Keep
★★★✰✰ Void Keep
★★★✰✰ Force Keep
★✰✰✰✰ Spirit Keep
★★★✰✰ Magic Keep

Doom Tower

★★★✰✰ Floors
★✰✰✰✰ Magma Dragon
★✰✰✰✰ Nether Spider
★✰✰✰✰ Frost Spider
★✰✰✰✰ Scarab King
★★✰✰✰ Celestial Griffin
★★★★✰ Eternal Dragon
★✰✰✰✰ Dreadhorn
★★★✰✰ Dark Fae
Alika Skills
Gap Shot
Attacks 1 enemy. Has a 30% chance of placing an extra hit. This hit is always critical.
Level 2: Damage +5%
Level 3: Damage +5%
Level 4: Buff/Debuff Chance +5%
Level 5: Damage +5%
Level 6: Damage +10%
Level 7: Buff/Debuff Chance +5%
Level 8: Buff/Debuff Chance +10%
Damage Multiplier: 4.2 ATK
High Value Target (Cooldown: 4 turns)
Attacks 1 enemy. Ignores 50% of the target's DEF if their MAX HP is higher than this Champion's MAX HP.
Level 2: Damage +5%
Level 3: Damage +5%
Level 4: Damage +5%
Level 5: Damage +5%
Level 6: Cooldown -1
Level 7: Cooldown -1
Damage Multiplier: 6.3 ATK
Disorient (Cooldown: 4 turns)
Attacks all enemies. Has a 75% chance of increasing the cooldowns of all enemy skills by 1 turn.
Level 2: Damage +5%
Level 3: Damage +5%
Level 4: Buff/Debuff Chance +5%
Level 5: Buff/Debuff Chance +5%
Level 6: Damage +10%
Level 7: Buff/Debuff Chance +15%
Level 8: Cooldown -1
Damage Multiplier: 4 ATK
Devoted Sister (Passive, Cooldown: 7 turns)
Revives this Champion with 75% HP when killed. [Only available when Sikara is on the same team]
Alika Equipment Guide
Arena, Campaign, Clan Boss, Dungeons, Doom Tower, Faction Wars

Recommended Artifacts

PvE & PvP: Savage, Lethal, Cruel, Offense, Speed

Stats Allocation

Weapon (ATK)
Helmet (HP)
Shield (DEF)
Gauntlets (C.RATE / C.DMG)
Chestplate (ATK%)
Boots (SPD / ATK%)
Ring (ATK)
Amulet (C.DMG)
Banner (ATK)

Stats Priority

PvE & PvP: ATK%, C.RATE, C.DMG, SPD
Alika Mastery Guide
Arena, Doom Tower, Faction Wars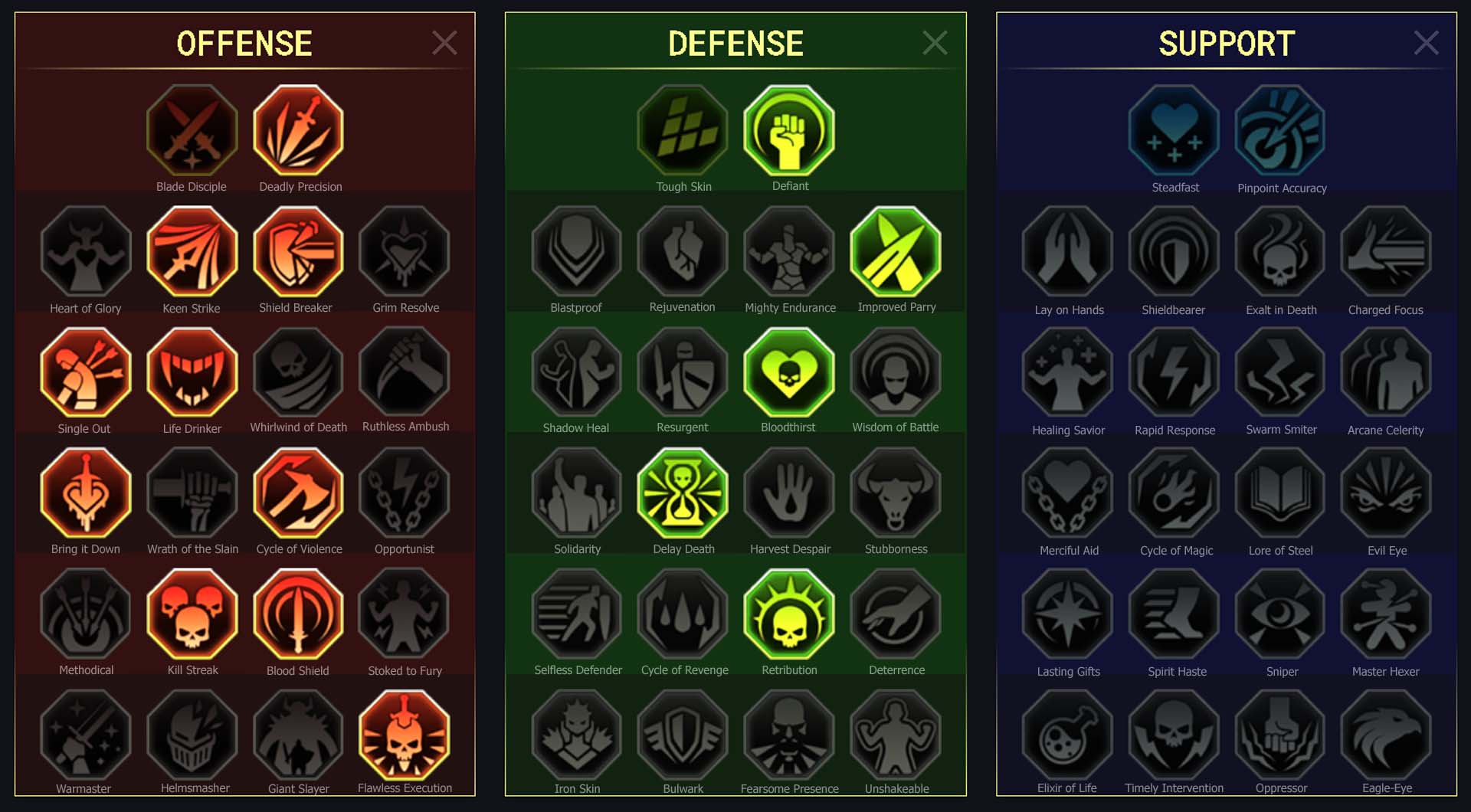 Offense

Deadly Precision
Keen Strike
Shield Breaker
Single Out
Life Drinker
Bring it Down
Cycle of Violence
Kill Streak
Blood Shield
Flawless Execution

Defense

Defiant
Improved Parry
Bloodthirst
Delay Death
Retribution
Campaign, Clan Boss, Dungeons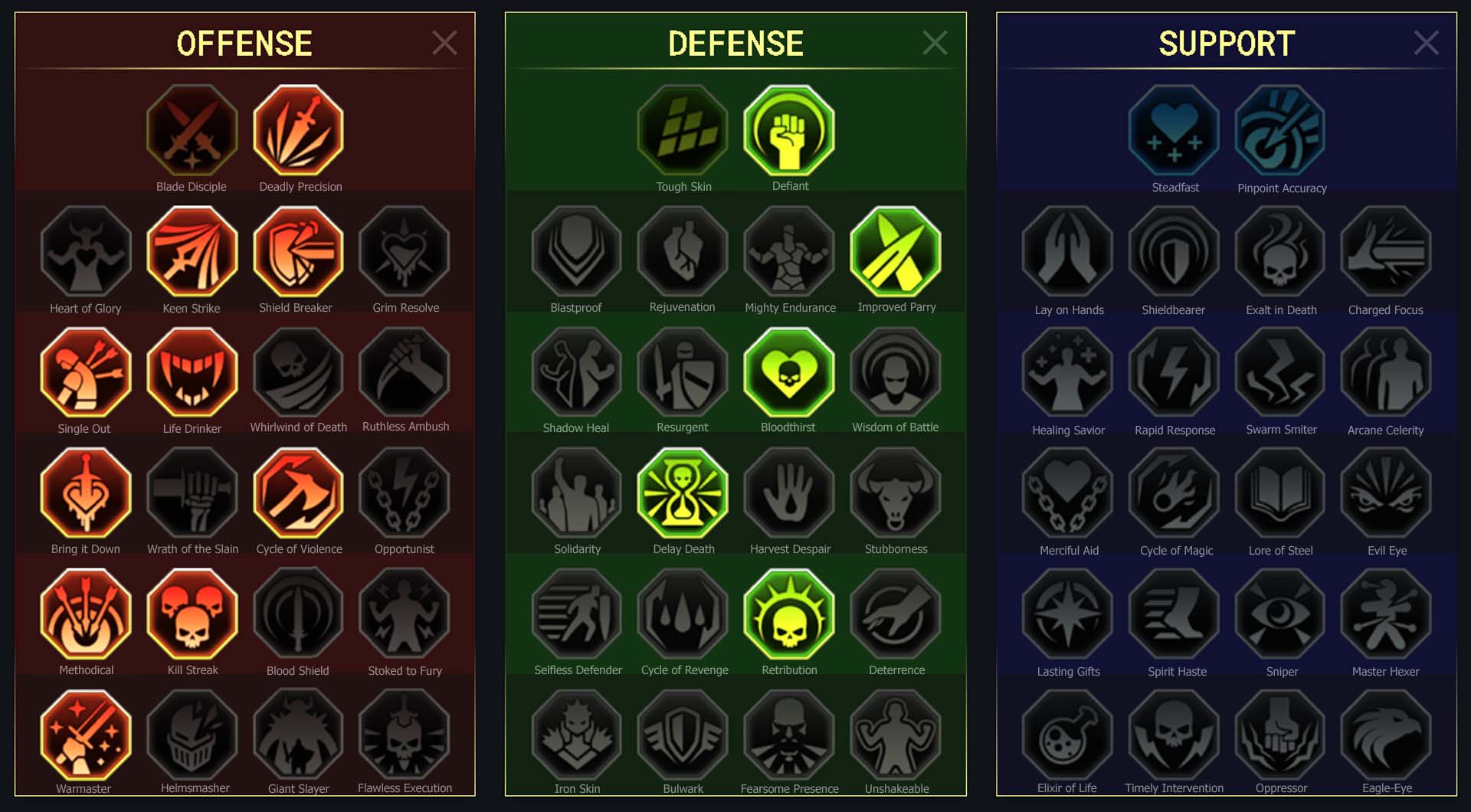 Offense

Deadly Precision
Keen Strike
Shield Breaker
Single Out
Life Drinker
Bring it Down
Cycle of Violence
Kill Streak
Methodical
Warmaster

Defense

Defiant
Improved Parry
Bloodthirst
Delay Death
Retribution
Alika Storyline
Personifying the tactics of many nomadic Barbarian tribes, Alika comes from the ranks of Ambushers – a somewhat basic, but very apt name – are an elite cadre of warriors that specialize in hit-and-run tactics both on horseback and on foot. These usually come from the ranks of tribal nobility, or warriors that have been granted the trust of the chieftain for their deed on the battlefield. Granted with some of the best armour the nomads can create – both sturdy and richly adorned to display status – and state-of-the-art bows, they can make any invasion into a hellish experience. Alika is a master archer, capable of identifying priority targets at a moment's notice and taking advantage of even the smallest weaknesses her hawk-like eyes spot. The only thing that can match her skill with the bow is her fierce loyalty to her blood kin, Sikara, for whom she will face the direst of foes and survive against all odds.
Alika Updates
Alika Videos
StewGaming: ALIKA LVL60 REVIEW GUIDE SPOTLIGHT MASTERIES
ASH: ALIKA = S TIER NUKER! I SLEPT ON HER WAY TOO LONG!
YASO: I maxed out ALIKA and brought her to clan boss! Her abilities hit so hard!!
Skratch: She Is BROKEN GOOD!! Alika The Hidden Gem! Champion Spotlight