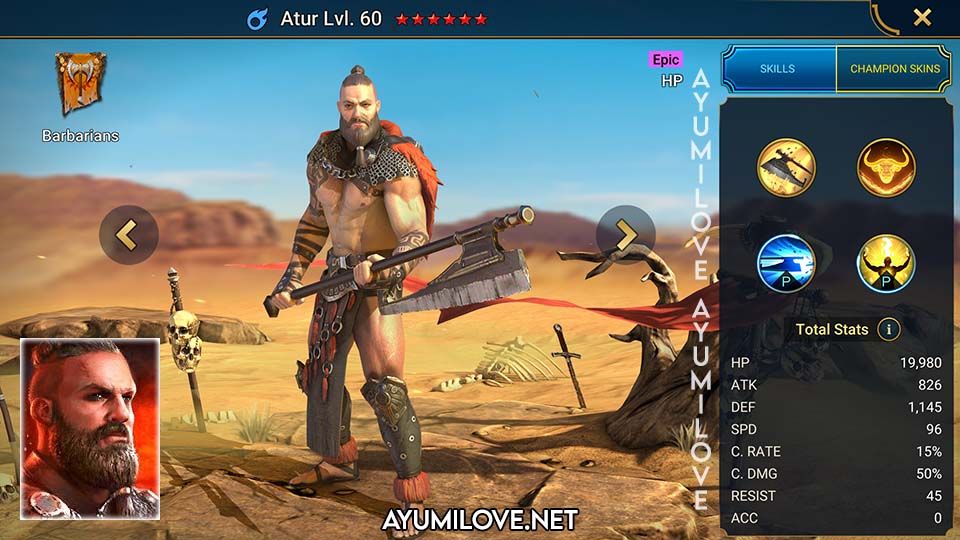 Obtain from

Ancient Shard
Sacred Shard

Overview

NAME: Atur
FACTION: Barbarians
RARITY: Epic
ROLE: HP
AFFINITY: Magic
USABILITY: Mid Game
TOMES: 10 (A1 A2 A3)

Total Stats (6★)

Health Points (HP): 19,980
Attack (ATK): 826
Defense (DEF): 1,145
Speed (SPD): 96
Critical Rate (C.RATE): 15%
Critical Damage (C.DMG): 50%
Debuff Resistance (RESIST): 45
Debuff Accuracy (ACC): 0

Grinding

★★★✰✰ Campaign
★★★★★ Arena Defense
★★★★★ Arena Offense
★✰✰✰✰ Clan Boss
★★★★✰ Faction Wars

Dungeons

★★★★✰ Minotaur
★✰✰✰✰ Spider
★✰✰✰✰ Fire Knight
★★★★✰ Dragon
★★★★✰ Ice Golem

Potion

★★★✰✰ Void Keep
★✰✰✰✰ Force Keep
★★★✰✰ Spirit Keep
★★★✰✰ Magic Keep

Doom Tower

★★★★✰ Magma Dragon
★✰✰✰✰ Nether Spider
★★★★✰ Frost Spider
★✰✰✰✰ Scarab King
Atur Skills
Roaring Leap [DEF]
Attacks 1 enemy. Has a 40% chance of placing a [Provoke] debuff for 1 turn.
Level 2: Damage +5%
Level 3: Damage +5%
Level 4: Buff/Debuff Chance +5%
Level 5: Buff/Debuff Chance +5%
Damage Multiplier: 4.3 DEF
Raging Bull [DEF] (Cooldown: 4 turns)
Attacks 2 times at random. Each hit has a 50% chance of placing a [Provoke] debuff for 1 turn.
Level 2: Damage +5%
Level 3: Damage +10%
Level 4: Buff/Debuff Chance +10%
Level 5: Buff/Debuff Chance +15%
Level 6: Cooldown -1
Damage Multiplier: 3.1 DEF
Adrenaline Rush [Passive] (Cooldown: 2 turns)
Heals this Champion by 15% of their MAX HP and places a [Counterattack] buff on this Champion for 2 turns when hit with a critical hit.
Level 2: Cooldown -1
Vigilant Partner [Passive]
Immune to [Stun], [Freeze], and [Sleep] debuffs. [Only available when Kallia is on the same team]
Atur Equipment Guide
Arena, Campaign, Faction Wars
Clan Boss, Dungeons, Doom Tower

Recommended Artifacts

Life, Immortal, Defense, Resilience, Speed, Accuracy, Perception

Recommended Artifacts

Life, Immortal, Defense, Resilience, Speed, Accuracy, Perception

Recommended Stats

HP%, C.RATE, C.DMG, SPD, ACC
Weapon (ATK)
Helmet (HP)
Shield (DEF)
Gauntlets (C.RATE / C.DMG)
Chestplate (HP%)
Boots (SPD)
Ring (HP / DEF)
Amulet (C.DMG)
Banner (ACC)

Recommended Stats

HP%, C.RATE, C.DMG, SPD, ACC
Weapon (ATK)
Helmet (HP)
Shield (DEF)
Gauntlets (C.RATE / C.DMG)
Chestplate (HP%)
Boots (SPD)
Ring (HP / DEF)
Amulet (C.DMG)
Banner (ACC)
Atur Mastery Guide
[Non-Boss] Arena, Campaign, Faction Wars, Doom Tower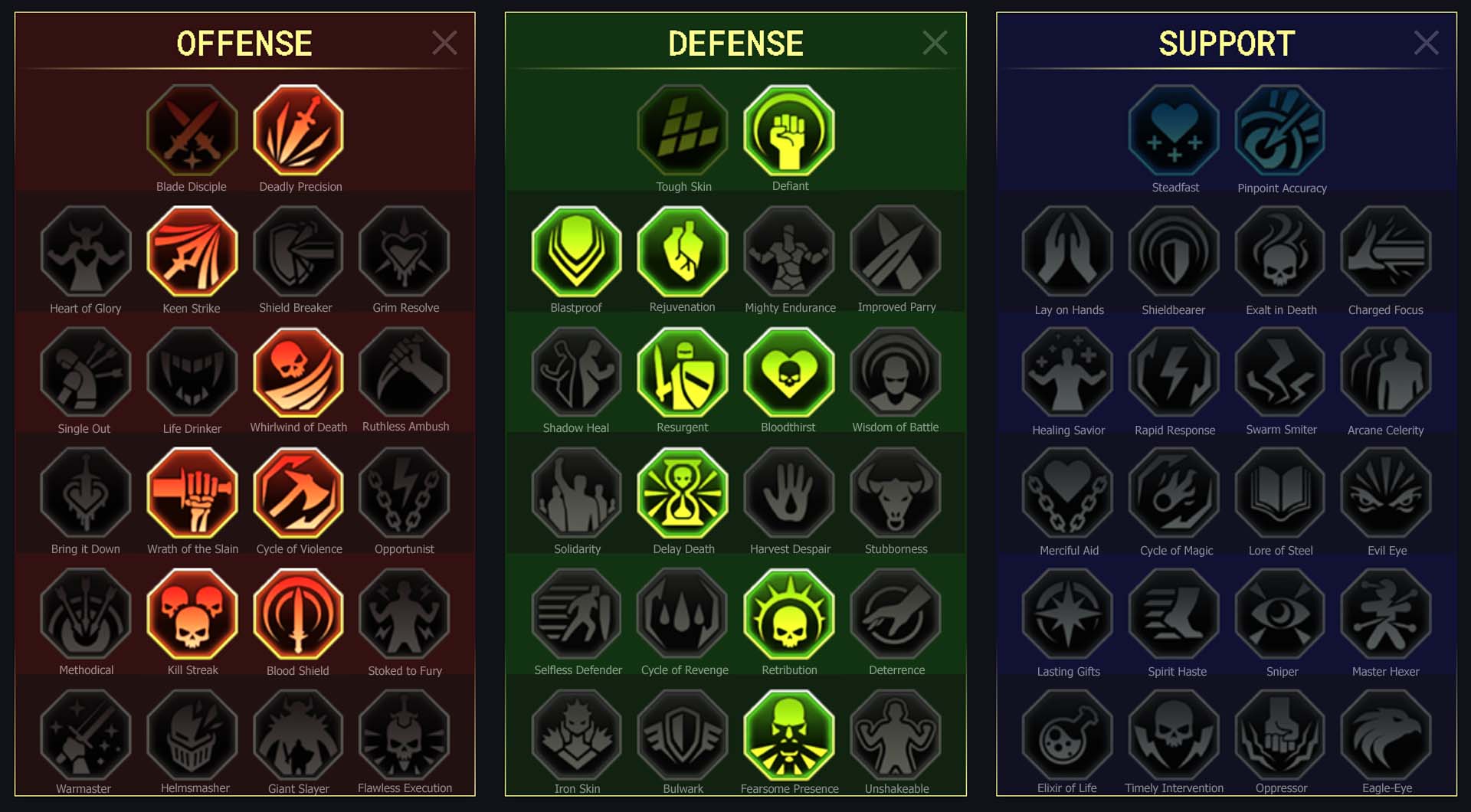 Offense

Deadly Precision
Keen Strike
Whirlwind of Death
Cycle of Violence
Wrath of the Slain
Kill Streak
Blood Shield

Defense

Defiant
Rejuvenation
Blastproof
Bloodthirst
Resurgent
Delay Death
Retribution
Fearsome Presence

Support

N/A
Atur Review
Raid Shadow Legends – Atur is an Epic HP Magic champion from the Barbarians faction where he can be obtained from Ancient Shards and Sacred Shards.
Champion Purpose
Atur specializes in crowd controlling enemies with his Provoke skill. Both "Roaring Leap" (A1 Skill) and "Raging Bull" (A2 Skill) are used to taunt enemies to target him rather than his allies, which helps protects squishy champions on your team. Hence, it's recommended to gear him with decent amount of HP and Defense to be able to tank the damage inflicted by the provoked enemies.
Atur excels in Arena as most of the champions in the Arena Defense will have high Critical Rate, which helps activate his passive skill "Adrenaline Rush". When the passive activates, it heals him and applies a Counterattack buff. This buff allows Atur to constantly provoke enemies, resulting in a lockown of the opponent team.
In addition, Atur has a partner skill who is "Kallia". Having her in the same team as Atur unlocks his second passive skill "Vigiliant Partner" that makes him immune to Freeze, Sleep and Provoke debuff! This makes him quite formidable against enemy champions who specializes in these crowd control debuffs.
How to counter Atur?
In faction wars, there is a stage that consists of Kallia and multiple Atur who has high HP and Defense. If your champion has multiple champions who has high critical rate, they can easily lockdown your entire team. There are 4 ways to counter Atur, which are applying Block Debuff to your team to prevent from being Provoked, applying Block Buff on Atur to prevent the Counterattack Buff from being applied on Atur, having a champion who can cleanse aka remove all debuff from your team and finally having everyone in high Resist stat (+300 Resist)
Atur Updates
Atur Videos
Raid Shadow Legends Atur Champion Guide by Lam's tutorials