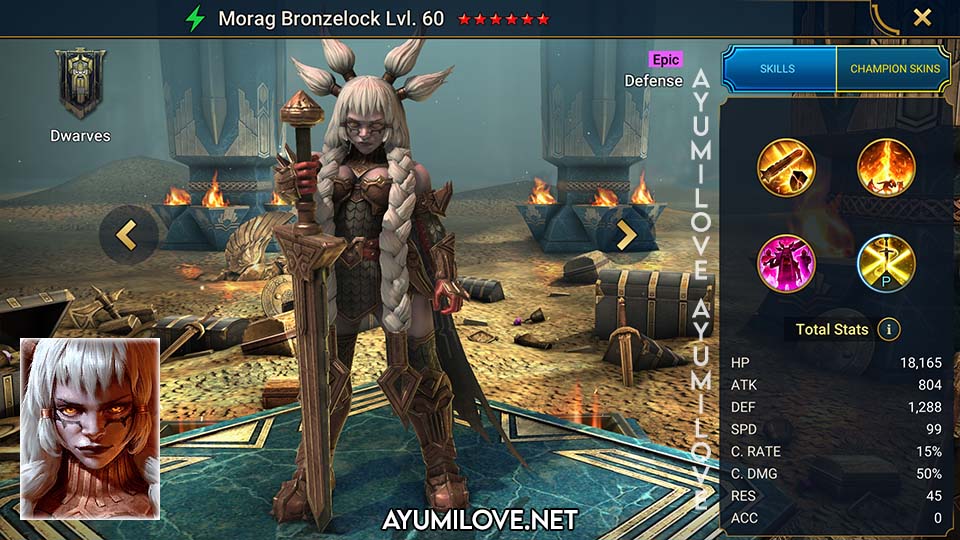 Overview

NAME: Morag Bronzelock
FACTION: Dwarves
RARITY: Epic
ROLE: Defense
AFFINITY: Spirit
RANK: C
USABILITY: Mid Game
TOMES: 11 (A2 A3)

Abilities

RSL_AoE_Strengthen_25%
RSL_2_AllyJoinAttack
RSL_Self_CounterAttack_Passive
RSL_Self_ExtraTurn
RSL_Target_BasicAttack_2Hits
RSL_Target_IgnoreShield

Obtain from

Ancient Shard
Sacred Shard
Gnishak Verminlord Fusion

Blessings Recommendation

Cruelty (Late Game)
Crushing Rend (Damage Dealer)

Grinding

★★★✰✰ Campaign
★★★✰✰ Arena Defense
★★★★✰ Arena Offense
★★✰✰✰ Clan Boss
★★★✰✰ Hydra
★★★✰✰ Faction Wars

Dungeons

★★★✰✰ Minotaur
★★✰✰✰ Spider
★★★✰✰ Fire Knight
★★★✰✰ Dragon
★★✰✰✰ Ice Golem
★✰✰✰✰ Iron Twins

Potion

★★★✰✰ Arcane Keep
★★✰✰✰ Void Keep
★★✰✰✰ Force Keep
★★✰✰✰ Spirit Keep
★★★✰✰ Magic Keep

Doom Tower

★★★✰✰ Floors
★✰✰✰✰ Magma Dragon
★✰✰✰✰ Nether Spider
★✰✰✰✰ Frost Spider
★★✰✰✰ Scarab King
★✰✰✰✰ Celestial Griffin
★✰✰✰✰ Eternal Dragon
★✰✰✰✰ Dreadhorn
★✰✰✰✰ Dark Fae
Morag Bronzelock Skills
Raw Iron Slab
Attacks 1 enemy 2 times. Each hit will ignore [Shield] buffs.
Level 2: Damage +5%
Level 3: Damage +5%
Level 4: Damage +5%
Level 5: Damage +5%
Damage Multiplier: 1.85 DEF
Outrage (Cooldown: 4 turns)
Attacks all enemies. Places a 25% [Strengthen] buff on all allies for 2 turns.
Level 2: Damage +10%
Level 3: Damage +10%
Level 4: Cooldown -1
Damage Multiplier: 3.9 DEF
Raider Captain (Cooldown: 6 turns)
Teams up with 2 random allies to attack a single enemy. The allies joining the attack will always use their default skills. Grants an Extra Turn if any enemy is killed.
Level 2: Cooldown -1
Level 3: Cooldown -1
Test This Might (Passive)
Counterattacks when hit while under a [Strengthen] buff placed by this Champion
Morag Bronzelock Equipment Guide
Arena, Campaign, Clan Boss, Dungeons, Doom Tower, Faction Wars

Recommended Artifacts

PvE: Protection, Savage, Lethal, Defiant, Fortitude
PvP: Stoneskin, Protection, Savage, Lethal, Defiant, Fortitude

Stats Allocation

Weapon (ATK)
Helmet (HP)
Shield (DEF)
Gauntlets (C.RATE / C.DMG)
Chestplate (ATK%)
Boots (SPD / ATK%)
Ring (ATK)
Amulet (C.DMG)
Banner (ATK)

Stats Priority

PvE & PvP: DEF%, C.RATE, C.DMG, SPD
Morag Bronzelock Mastery Guide
Arena, Faction Wars, Doom Tower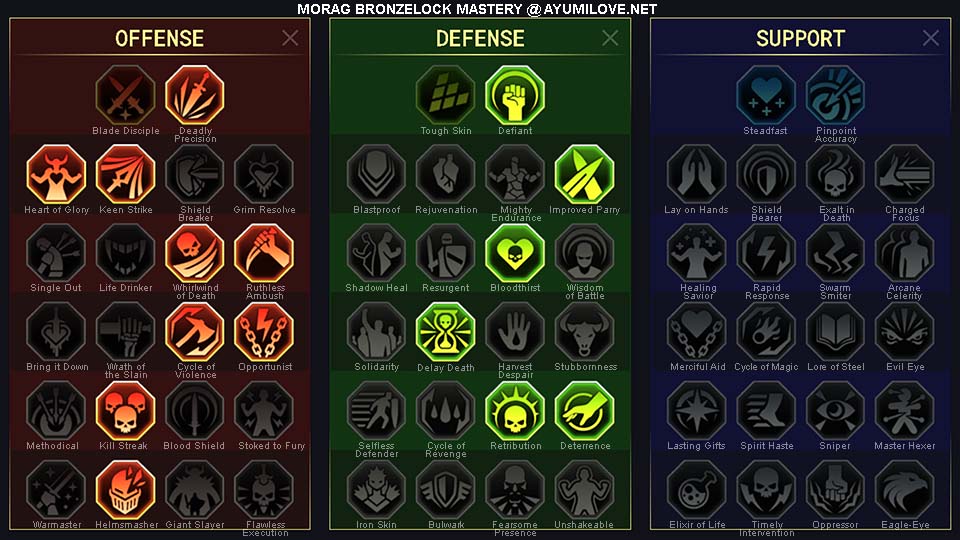 Offense

Deadly Precision
Keen Strike
Heart of Glory
Whirlwind of Death
Ruthless Ambush
Cycle of Violence
Opportunist
Kill Streak
Helmsmasher

Defense

Defiant
Improved Parry
Bloodthirst
Delay Death
Retribution
Deterrence
Campaign, Clan Boss, Dungeons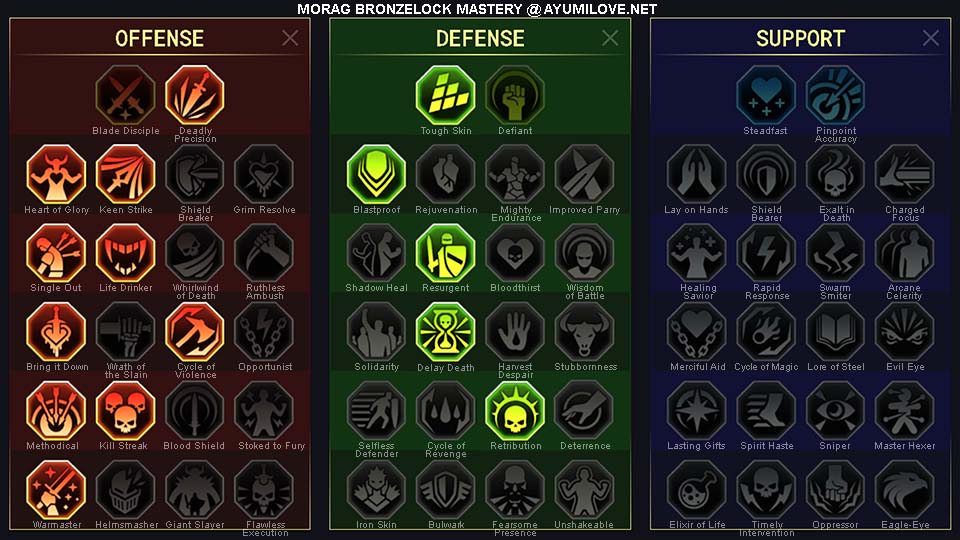 Offense

Deadly Precision
Keen Strike
Heart of Glory
Single Out
Life Drinker
Cycle of Violence
Bring it Down
Kill Streak
Methodical
Warmaster

Defense

Tough Skin
Blastproof
Resurgent
Delay Death
Retribution
Morag Bronzelock Review
Morag Bronzelock is an Epic Defense Spirit champion from Dwarves faction in Raid Shadow Legends. Morag Bronzelock was released on December 2022 in Patch 6.30.2 as part of Gnishask Verminlord Christmas Champion Fusion Event. Morag Bronzelock along with Aeshma, Endalia, and Trumborr are required for the fusion to obtain Gishak Vermindlord! Morag Bronzelock can be obtained by fusing 4 copies of Riscarm during this event.
Morag Bronzelock is a formidable force to be reckoned with. Her spiky hair and great sword are a clear indication of her readiness for battle as she steps into the realms of the Dwarven Kingdoms. One of her unique passives is her ability to counter-attack whenever she is attacked under Strengthen. This passive has no cooldown and can be incredibly powerful, making her a significant defensive damage dealer. Morag's A1 only deals damage, so it doesn't bring a great deal of utility, but it helps her to withstand attacks.
Morag also possesses an AoE Strengthen buff on her A2, which is unusual for an epic champion. This buff can be extremely effective in keeping your team alive, making her an essential champion for prolonged battles. However, her ally attack is not one of the best in the game, as it only involves two champions. Despite this, Morag hits very hard and can inflict a significant amount of damage in the right situation. Her defensive skills and passive abilities make her a valuable asset for any team that requires a durable and hard-hitting champion.
Morag Bronzelock is undoubtedly one of the most effective defensive damage dealers in Raid Shadow Legends. Her unique passive abilities, coupled with her ability to hit hard and keep her team alive, make her a force to be reckoned with in any battle. Whether you're fighting in the Dwarven Kingdoms or any other realm, having Morag on your team is sure to give you a fighting chance of victory.
Morag Bronzelock Updates