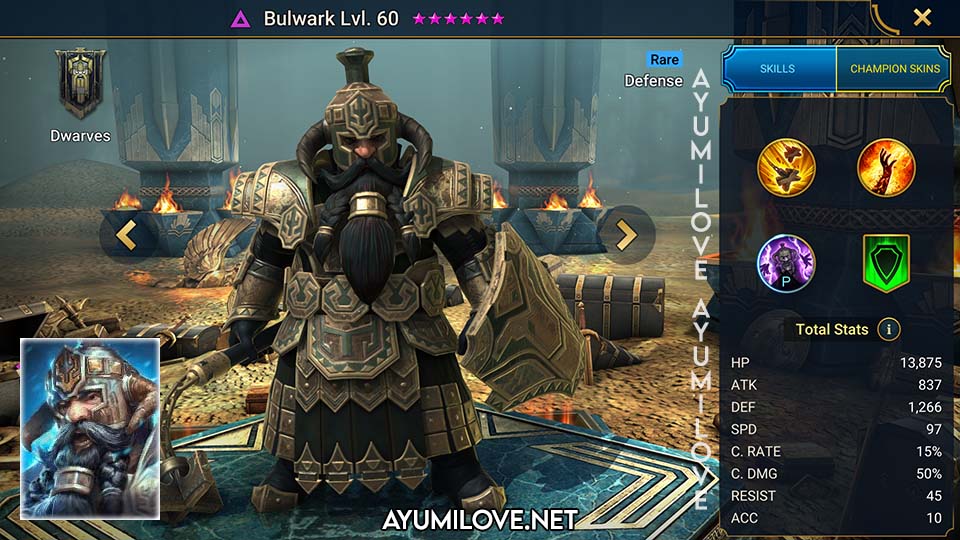 Overview

NAME: Bulwark
FACTION: Dwarves
RARITY: Rare
ROLE: Defense
AFFINITY: Void
RANK: C
USABILITY: Mid-Late Game
TOMES: 13 (A1 A2)

Abilities

RSL_AllBattles_DefenseAura
RSL_Target_BasicAttack_2Hits
RSL_Target_HpBurn
RSL_Target_IncreaseDebuffDuration
RSL_Target_Weaken_15%

Obtain from

Void Shard
Gurptuk Moss-Beard Fusion
Tormin the Cold Fusion

Blessings Recommendation

Faultless Defense (Clan Boss)

Grinding

★✰✰✰✰ Campaign
★✰✰✰✰ Arena Defense
★✰✰✰✰ Arena Offense
★★★★★ Clan Boss
★★✰✰✰ Hydra
★★✰✰✰ Faction Wars

Dungeons

★★★✰✰ Minotaur
★✰✰✰✰ Spider
★✰✰✰✰ Fire Knight
★★★✰✰ Dragon
★★★✰✰ Ice Golem
★★★★✰ Iron Twins
★✰✰✰✰ Sand Devil

Potion

★★★✰✰ Arcane Keep
★★★✰✰ Void Keep
★★★✰✰ Force Keep
★★★✰✰ Spirit Keep
★★★✰✰ Magic Keep

Doom Tower

★★✰✰✰ Floors
★✰✰✰✰ Magma Dragon
★★★✰✰ Nether Spider
★★★★✰ Frost Spider
★✰✰✰✰ Scarab King
★★★✰✰ Celestial Griffin
★★★✰✰ Eternal Dragon
★★★✰✰ Dreadhorn
★✰✰✰✰ Dark Fae
Bulwark Skills
Hefty Flail
Attacks 1 enemy 2 times. Each hit has a 15% chance of placing a 15% [Weaken] debuff for 2 turns.
Level 2: Damage +5%
Level 3: Buff/Debuff Chance +5%
Level 4: Damage +5%
Level 5: Buff/Debuff Chance +5%
Level 6: Damage +5%
Level 7: Buff/Debuff Chance +5%
Damage Multiplier: 1.5 DEF
Overall Grading: Average
Meteoric Ignition (Cooldown: 4 turns)
Attacks 1 enemy. Has a 75% chance of placing a [HP Burn] debuff for 2 turns.
Level 2: Damage +5%
Level 3: Buff/Debuff Chance +5%
Level 4: Damage +5%
Level 5: Buff/Debuff Chance +10%
Level 6: Damage +10%
Level 7: Buff/Debuff Chance +10%
Level 8: Cooldown -1
Damage Multiplier: 5.5 DEF
Overall Grading: Average
Punishing Defenses (Passive)
When attacked, has a 30% chance of extending the duration of all debuffs on the attacker by 1 turn.
Aura
Increases Ally DEF in all Battles by 17%
Bulwark Equipment Guide
Arena, Campaign, Clan Boss, Dungeons, Doom Tower, Faction Wars

Recommended Artifacts

PvE & PvP: Speed, Accuracy, Perception, Lifesteal, Bloodthirst

Stats Allocation

Weapon (ATK)
Helmet (HP)
Shield (DEF)
Gauntlets (C.RATE / C.DMG)
Chestplate (DEF%)
Boots (SPD / DEF%)
Ring (DEF)
Amulet (DEF / C.DMG)
Banner (ACC)

Stats Priority

PvE & PvP: DEF%, C.RATE, C.DMG, SPD, ACC
Bulwark Mastery Guide
Arena, Campaign, Clan Boss, Dungeons, Doom Tower, Faction Wars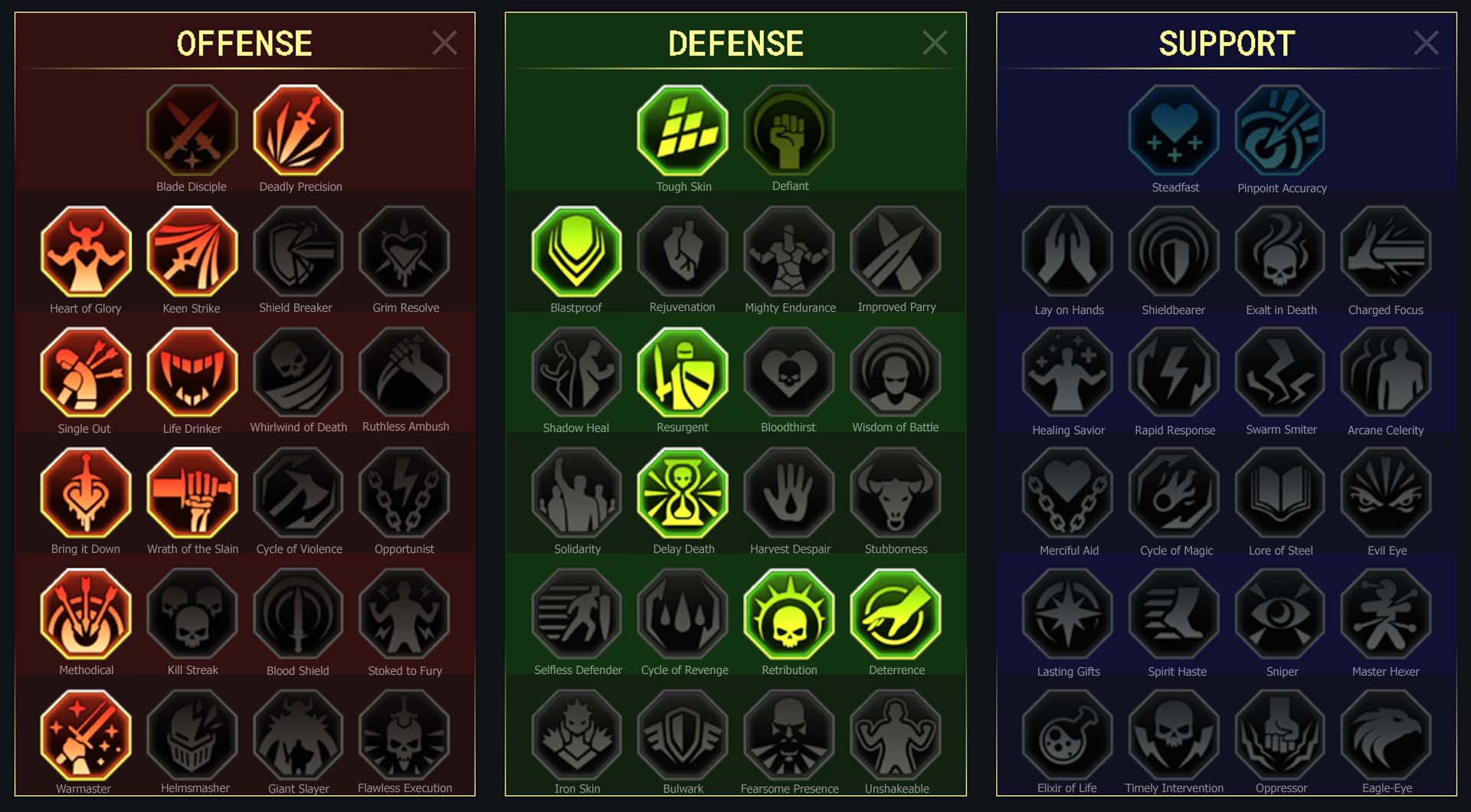 Offense

Deadly Precision
Keen Strike
Heart of Glory
Life Drinker
Single Out
Bring it Down
Wrath of the Slain
Methodical
Warmaster

Defense

Tough Skin
Blastproof
Resurgent
Delay Death
Retribution
Deterrence
Bulwark Storyline
Dwarven heavy infantry is notorious for holding the line against impossible odds, standing firm like a cliff before the onslaught of waves. Their armour can take the mightiest of blows without as much as denting, their shields form an impenetrable wall, and as their foes retreat exhausted, the line marches forth in perfect formation to the sounds of drums and horns. When their flails land, they cripple and weaken the foe. Some are even fitted with braziers of alchemic fire, allowing a precise blow to set its target ablaze. The main weapon of the Bulwark, however, is his discipline and defensive tactics that not only repel the enemy but also keep them at a disadvantage for as long as possible.
Bulwark Updates
Bulwark Videos
Raid Shadow Legends Bulwark Champion Guide by YASO
Raid Shadow Legends Bulwark Champion Guide by Chronus Fallz
Raid Shadow Legends Bulwark Champion Guide by AliAlPlays
Raid Shadow Legends Bulwark Champion Guide by StewGaming
Raid Shadow Legends Bulwark Champion Guide by Branden Hubler
Raid Shadow Legends Bulwark Champion Guide by LokiMagics
Raid Shadow Legends Bulwark Champion Guide by Cold Brew Gaming