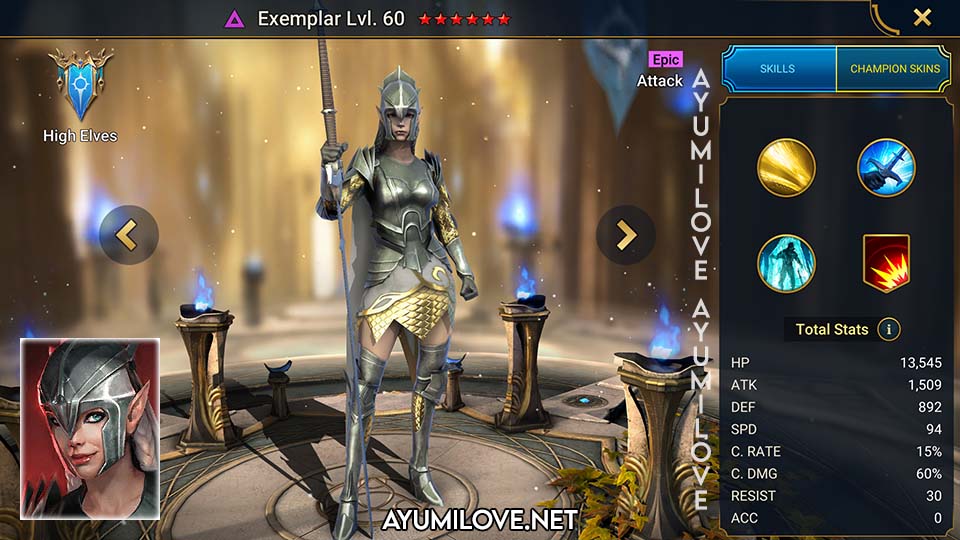 Overview

NAME: Exemplar
FACTION: High Elves
RARITY: Epic
ROLE: Attack
AFFINITY: Void
RANK: B
USABILITY: Situational
TOMES: 13 (A2 A3)

Abilities

RSL_Arena_CriticalRateAura
RSL_Random_Weaken_25%
RSL_Target_BlockActiveSkills
RSL_Target_Freeze
RSL_Target_IncreaseSkillCooldown
RSL_Target_PutSkillOnCooldown

Obtain from

Void Shard
Tormin the Cold Fusion

Blessings Recommendation

Cruelty (Debuffer)
Crushing Rend (Damage Dealer)

Grinding

★★★✰✰ Campaign
★★★✰✰ Arena Defense
★★★★✰ Arena Offense
★★★★✰ Clan Boss
★★✰✰✰ Hydra
★★★★✰ Faction Wars

Dungeons

★★★✰✰ Minotaur
★✰✰✰✰ Spider
★★★★★ Fire Knight
★★★✰✰ Dragon
★★★✰✰ Ice Golem
★★✰✰✰ Iron Twins

Potion

★★★✰✰ Arcane Keep
★★★✰✰ Void Keep
★★★✰✰ Force Keep
★★★✰✰ Spirit Keep
★★★✰✰ Magic Keep

Doom Tower

★★★✰✰ Floors
★★✰✰✰ Magma Dragon
★★✰✰✰ Nether Spider
★★✰✰✰ Frost Spider
★✰✰✰✰ Scarab King
★★✰✰✰ Celestial Griffin
★★★★★ Eternal Dragon
★✰✰✰✰ Dreadhorn
★★★✰✰ Dark Fae
Exemplar Skills
High Stance
Attacks 1 enemy 2 times. Places an extra hit if this attack is critical. Puts one of the target's skills on full cooldown if the first hit is critical and the target is under a [Weaken] debuff. Increases the cooldown of one of the target's skills by 2 turns if the first hit is critical and the target is not under a [Weaken] debuff.
Level 2: Damage +5%
Level 3: Damage +5%
Level 4: Damage +5%
Level 5: Damage +5%
Damage Multiplier: 1.7 ATK
Pincer Attack (Cooldown: 4 turns)
Attacks 3 times at random. Each hit has a 75% chance of placing a 25% [Weaken] debuff for 2 turns.
Level 2: Buff/Debuff Chance +5%
Level 3: Buff/Debuff Chance +10%
Level 4: Buff/Debuff Chance +10%
Level 5: Cooldown -1
Level 6: Cooldown -1
Damage Multiplier: 2.1 ATK
Capture (Cooldown: 5 turns)
Attacks 1 enemy. Has a 75% chance of placing a [Freeze] debuff for 1 turn and a [Block Active Skills] debuff for 2 turns.
Level 2: Buff/Debuff Chance +5%
Level 3: Buff/Debuff Chance +10%
Level 4: Buff/Debuff Chance +10%
Level 5: Cooldown -1
Damage Multiplier: 6.4 ATK
Aura
Increases Ally C.RATE in the Arena by 27%.
Exemplar Equipment Guide
Equipment Set for Arena, Campaign, Faction Wars
2 Offense Set, 1 Speed Set
Equipment Set for Clan Boss, Dungeons, Doom Tower
1 Lifesteal Set, 1 Speed Set
Equipment Stat Priority
Attack%, Critical Rate, Critical Damage, Speed, Accuracy
Weapon (Attack)
Helmet (HP)
Shield (Defense)
Gauntlets (Critical Rate)
Chestplate (Attack%)
Boots (Speed)
Ring (Attack)
Amulet (Critical Damage)
Banner (Accuracy)
Exemplar Mastery Guide
Arena, Campaign, Clan Boss, Dungeons, Doom Tower, Faction Wars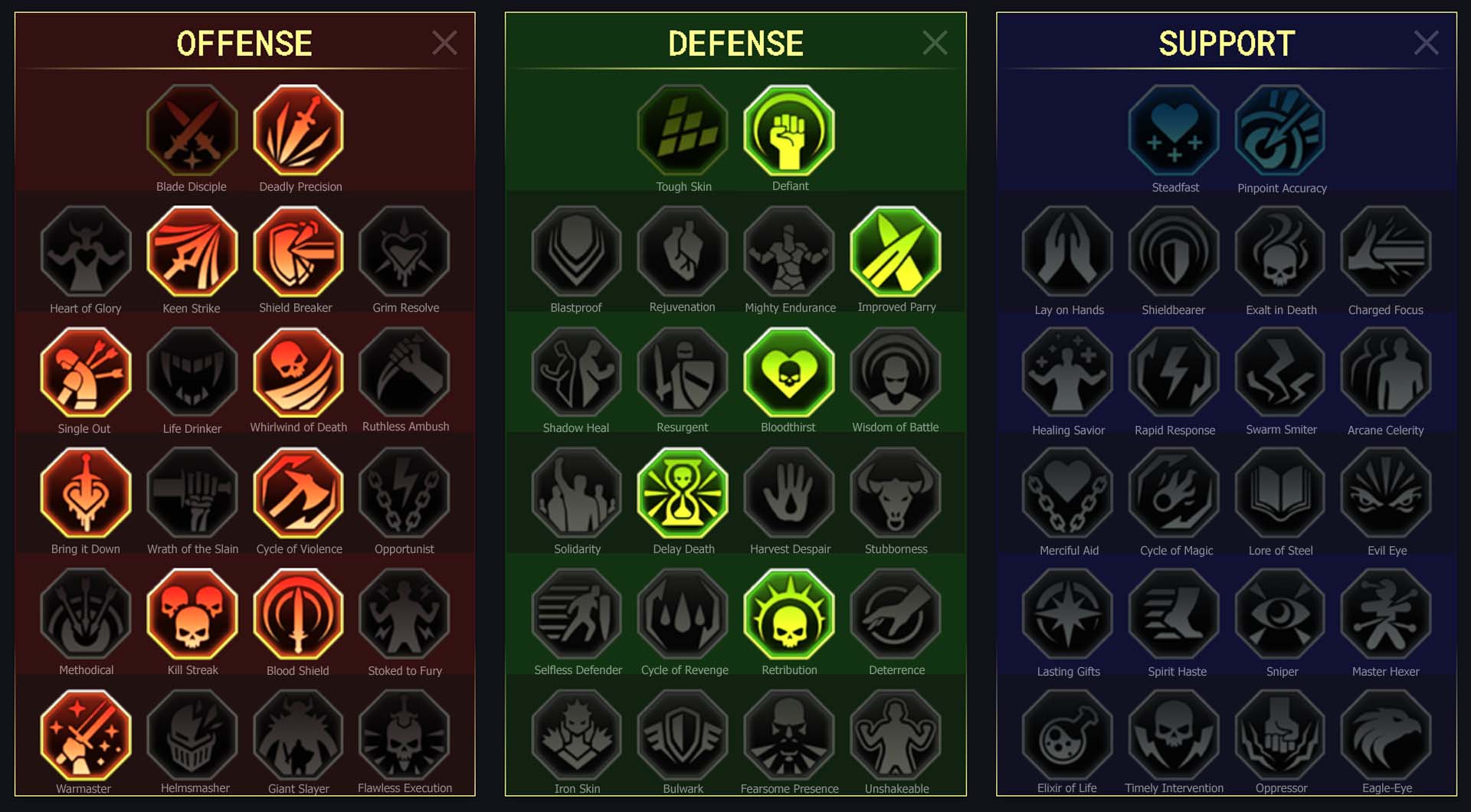 Offense

Deadly Precision
Keen Strike
Shield Breaker
Whirlwind of Death
Single Out
Cycle of Violence
Bring it Down
Kill Streak
Blood Shield
Warmaster

Defense

Defiant
Improved Parry
Bloodthirst
Delay Death
Retribution
Exemplar Review
Exemplar, an Epic Attack Void affinity champion from the High Elves faction in Raid Shadow Legends, isn't exactly what you'd call a poster child for greatness… But don't count her out just yet, folks! The latest Void Rebalance Patch 4.20 has given her a boost!
Now her A1 has newfangled mechanics that can come in handy in certain limited scenarios. While still not an all-around asset in the dungeons, you might just find Exemplar useful when taking on the irascible Iragoth, The Eternal Dragon in Doom Tower. Her A1 can straight-up disable enemy abilities and inflict a Weaken debuff, which could give you an edge in this grueling encounter. If that's not enough to convince you of her worth, then chew on this: her A2, with a 2-turn cooldown, could make her a suitable choice for Fire Knight. Plus, if you manage to slot her into your team, she could dish out a Weaken debuff to the clan boss.
Now, let's be honest: Exemplar's recent buff has opened up some doors for her, but she's still not a one-size-fits-all solution for most situations. Nonetheless, don't be too quick to dismiss her as a has-been. She may just surprise you with her niche abilities.
Exemplar Updates
Exemplar Videos
Raid Shadow Legends Exemplar Champion Guide by SecondStar Right
Raid Shadow Legends Exemplar Champion Guide by mAd Capper