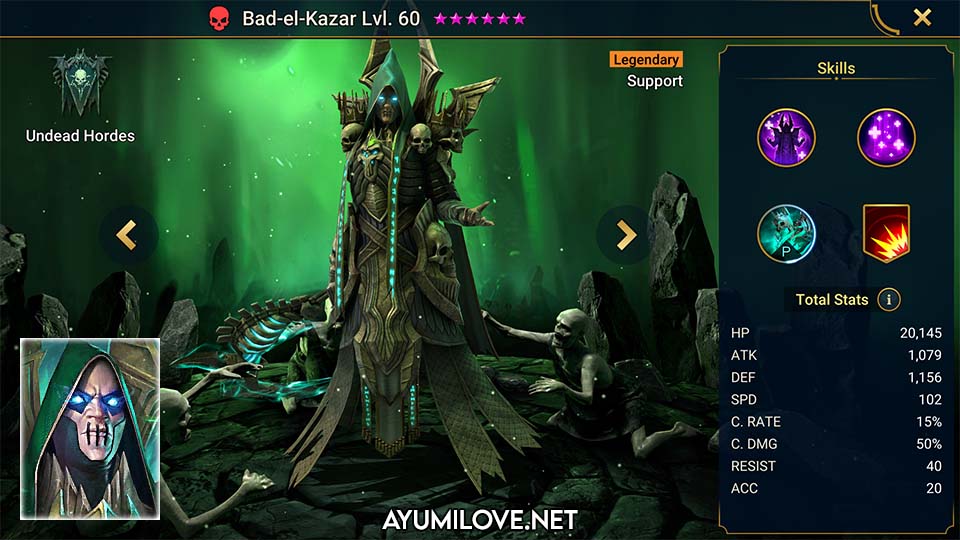 Overview

NAME: Bad-el-Kazar
FACTION: Undead Hordes
RARITY: Legendary
ROLE: Support
AFFINITY: Force
RANK: S
USABILITY: Dungeon Solo Farmer
TOMES: 7 (A2)

Abilities

RSL_1Hit_BasicAttack_AoE
RSL_AllBattles_CriticalRateAura
RSL_Ally_A1AoE
RSL_AoE_ContinuousHeal_15%
RSL_AoE_Heal
RSL_AoE_Passive_Ally
RSL_AoE_Poison_5%
RSL_AoE_RemoveDebuffs
RSL_Dependent_Poison_Special
RSL_Enemy_A1AoE
RSL_Self_Heal

Obtain from

Ancient Shard
Sacred Shard

Blessings Recommendation

Grinding

★★★★★ Campaign
★★★★★ Arena Defense
★★★★★ Arena Offense
★★★★★ Clan Boss
★★★★★ Hydra
★★★★★ Faction Wars

Dungeons

★★★★★ Minotaur
★★★★★ Spider
★★★★✰ Fire Knight
★★★★★ Dragon
★★★★★ Ice Golem
★★★★✰ Iron Twins
★★✰✰✰ Sand Devil

Potion

★★★★★ Arcane Keep
★★★★★ Void Keep
★★★★★ Force Keep
★★★★✰ Spirit Keep
★★★★★ Magic Keep

Doom Tower

★★★★★ Floors
★★★★★ Magma Dragon
★✰✰✰✰ Nether Spider
★★★★★ Frost Spider
★★★★★ Scarab King
★★★★★ Celestial Griffin
★★★★★ Eternal Dragon
★★★★★ Dreadhorn
★★★★✰ Dark Fae
Bad-el-Kazar Review
Bad-el-Kazar is a Legendary Support Force affinity champion from Undead Hordes faction in Raid Shadow Legends. Bad-el-Kazar is one of the top tier champion since 2019! Bad-el-Kazar is renowned for his healing and debuff cleansing skill, which makes him one of the best utility support champion in all areas of the game.
Bad-el-Kazar can heal all his allies whenever he attacks enemies using his default skill "Dark Sphere" as well as casting his A2 skill "Malice" to apply Continuous Heal buff to heal allies while inflicting Poison debuff on enemies to reduce their HP (Health Points) simultaneously! Bad-el-Kazar also has a unique passive skill "Prey Upon" that allows his allies to deal extra damage on enemies who has Poison debuff. However, this does not increases the damage from Warmaster or Giant Slayer. In addition, you can utilize Bad-el-Kazar for solo farming dungeons to level up fodders while farming for artifacts, which utilizes your energy much more efficiently! All of these can be achieved based on your needs and gear him to perform that role optimally.
Overall, this makes Bad-el-Kazar one of the formidable support champion who can help you progress you account immensely from early game to late game in Raid Shadow Legends. Also, checkout the Call of the Arbiter Series in Episode 9 where Bad-el-Kazar was highlighted as one of the main antagonist!
Bad-el-Kazar Skills
Dark Sphere
Attacks all enemies. Heals this Champion and all allies by 20% of the damage inflicted.
Level 2: Damage +5%
Level 3: Damage +5%
Level 4: Heal +10%
Level 5: Damage +10%
Level 6: Heal +10%
Damage Multiplier: 2.8 ATK
Overall Grading: Average
Malice (Cooldown: 5 turns)
Removes all debuffs from all allies. Places two 15% [Continuous Heal] buffs on all allies for 2 turns. Places two 5% [Poison] debuffs on all enemies for 2 turns.
Level 2: Cooldown -1
Level 3: Cooldown -1
Prey Upon (Passive)
All allies inflict 20% more damage against targets under [Poison] debuffs.
Aura
Increases Ally Critical Rate in all Battles by 25%
Bad-el-Kazar Equipment Guide
Arena, Doom Tower, Faction Wars
Campaign, Clan Boss, Dungeons

Recommended Artifacts

1 Retaliation Set, 1 Speed Set
1 Stun Set, 1 Speed Set
2 Speed Set, 1 Life Set

Recommended Artifacts

1 Lifesteal Set, 1 Accuracy Set
2 Speed Set, 1 Life Set

Recommended Stats

DEF%, HP%, SPD, ACC
Weapon (ATK)
Helmet (HP)
Shield (DEF)
Gauntlets (DEF% / HP%)
Chestplate (DEF% / HP%)
Boots (SPD)
Ring (DEF / HP)
Amulet (DEF / HP)
Banner (ACC)

Recommended Stats

DEF%, HP%, SPD, ACC
Weapon (ATK)
Helmet (HP)
Shield (DEF)
Gauntlets (DEF% / HP%)
Chestplate (DEF% / HP%)
Boots (SPD)
Ring (DEF / HP)
Amulet (DEF / HP)
Banner (ACC)
Bad-el-Kazar Mastery Guide
Arena, Campaign, Clan Boss, Dungeons, Doom Tower, Faction Wars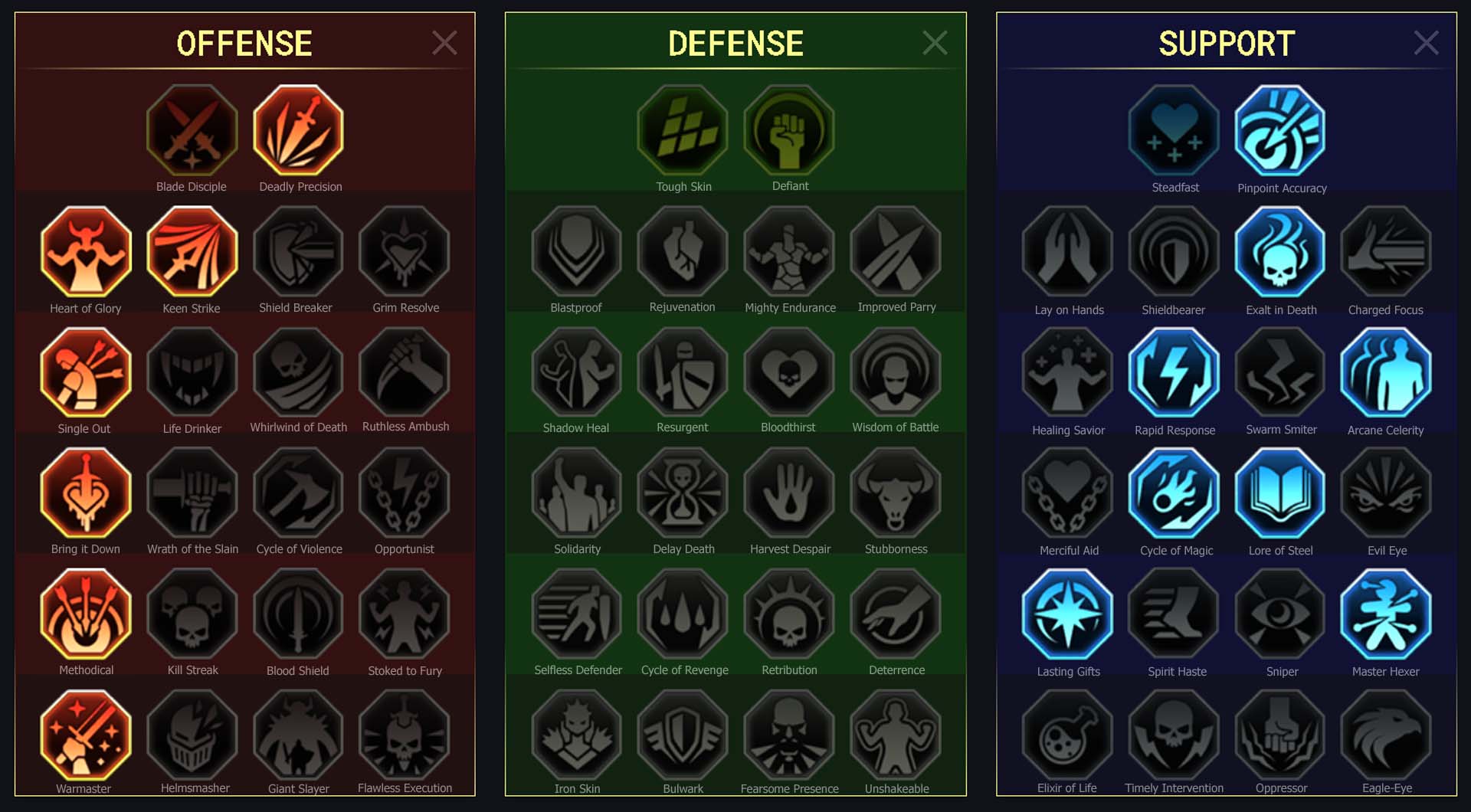 Offense

Deadly Precision
Keen Strike
Heart of Glory
Single Out
Bring it Down
Wrath of the Slain
Methodical
Warmaster

Support

Pinpoint Accuracy
Exalt in Death
Rapid Response
Arcane Celerity
Lore of Steel
Cycle of Magic
Lasting Gifts
Master Hexer
Clan Boss (Counterattack Setup)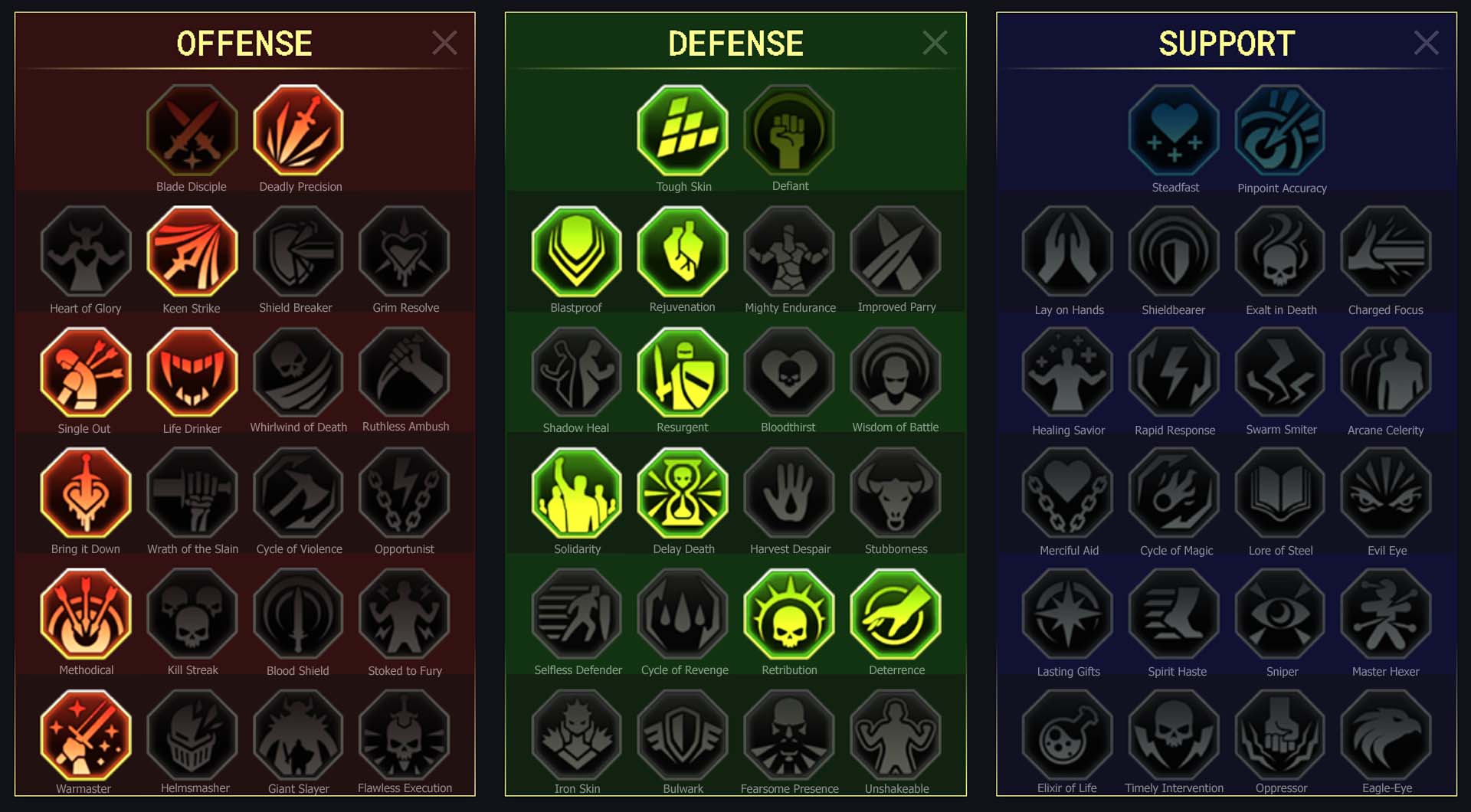 Offense

Deadly Precision
Keen Strike
Single Out
Life Drinker
Bring it Down
Methodical
Warmaster

Defense

Tough Skin
Blastproof
Rejuvenation
Resurgent
Delay Death
Solidarity
Retribution
Deterrence
Bad-el-Kazar Reference
Bad-el-Kazar Dungeon 20 & 25 Farming Build
The artifacts equipped on Bad-el-Kazar are optimised for Campaign, Dungeons, Faction Wars and Doom Tower content. Frenzy Set is used to enable Bad-el-Kazar to gain Turn Meter whenever he gets hit by enemies, so he can take his turn much faster to heal and cleanse himself from any debuffs, while Perception Set is used to provide additional Accuracy stats to be able to inflict the Poison debuff successfully on enemies with high resist stat! Frenzy Set is much better than Relentless Set and Reflex Set as it does not depend on RNG and works well against enemies who deals high amount of damage. The selected masteries for Bad-el-Kazar provides him additional speed, improve his healing efficiency as well as dealing more damage to bosses. Having this setup allows him to solo farm Nightmare Campaign, Minotaur's Labyrinth Stage 15 as well as solo farm Dungeon Stage 20 (e.g. Dragon's Lair) while leveling up fodder champions to utilize the energy much more efficiently. In addition, this setup can also be used for end-game content Dungeon Stage 25 (e.g. Ice Golem's Peak, Dragon's Lair) by pairing him with a champion such as Aox the Rememberer to apply Decrease Attack debuff and Healing.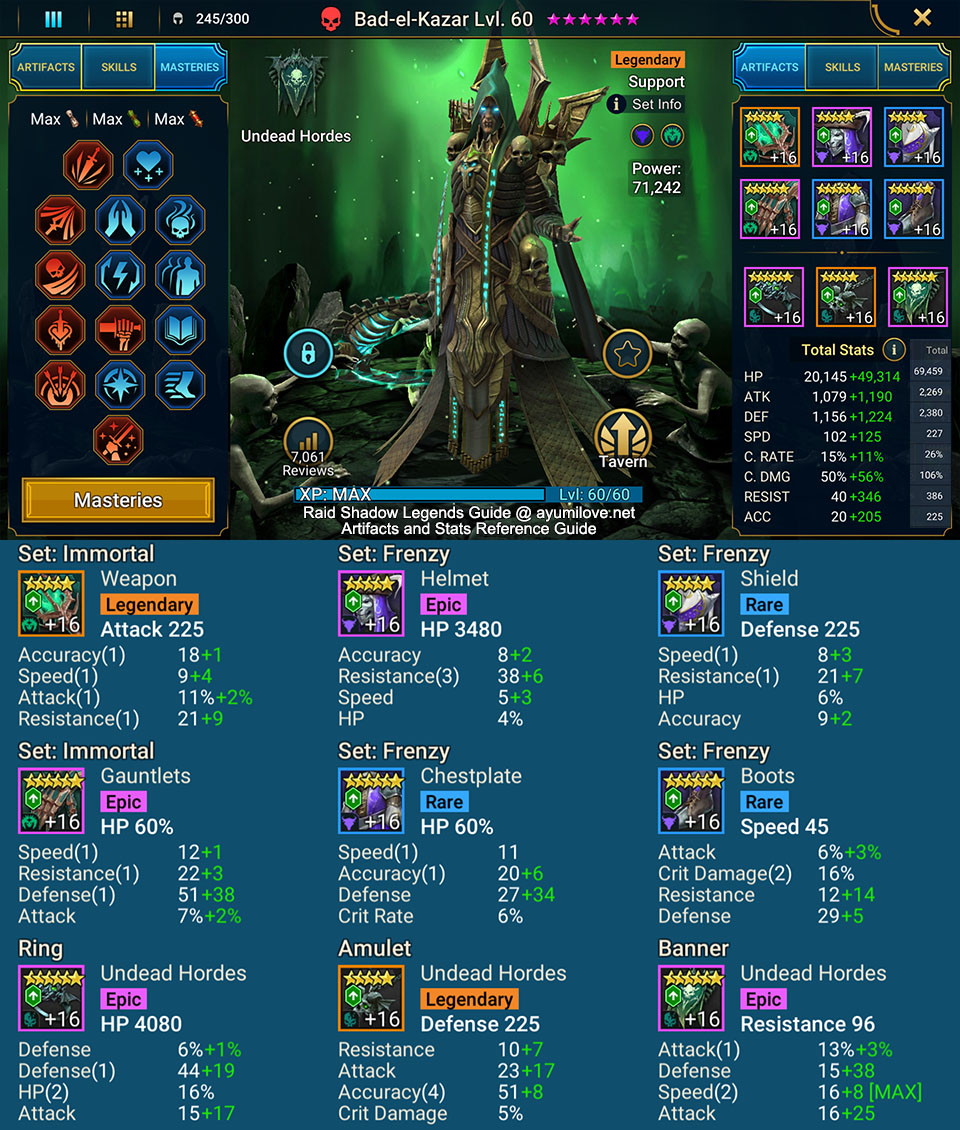 Bad-el-Kazar Dungeon 20 Solo Build
Below is a reference of artifacts equipped on Bad-el-Kazar optimized for solo-farming Dragon's Lair and Ice Golem's Peak with 4 fodders (levelling champions for ranking up). These artifacts have high SPD, RESIST, ACC, HP and DEF stats! You will need to achieve at least 260+ Speed to enable Bad-el-Kazar to go multiple turns of a single Dragon's turn. In addition, you need a balance of Resist and Accuracy stats. Resist stat is to prevent Bad-el-Kazar from receiving debuffs from enemies such as Decrease Defense and Weaken debuff that can substantially reduce his survivability. Accuracy is required to enable Bad-el-Kazar to apply his Poison debuff on the enemies. It's not required to build Bad-el-Kazar with a high amount of ATK%, Critical Rate and Critical Damage as his main damage output is from Poison debuff as it deals damage based on ENEMY MAX HP! Bad-el-Kazar will also need a decent amount of HP and DEF stats to tank Hellrazor's (Dragon's Lair Boss) "Scorch" skill as the boss's Scorch damage increases each time he uses this skill! (Bad-el-Kazar build from Chofly Dragon Solo Video)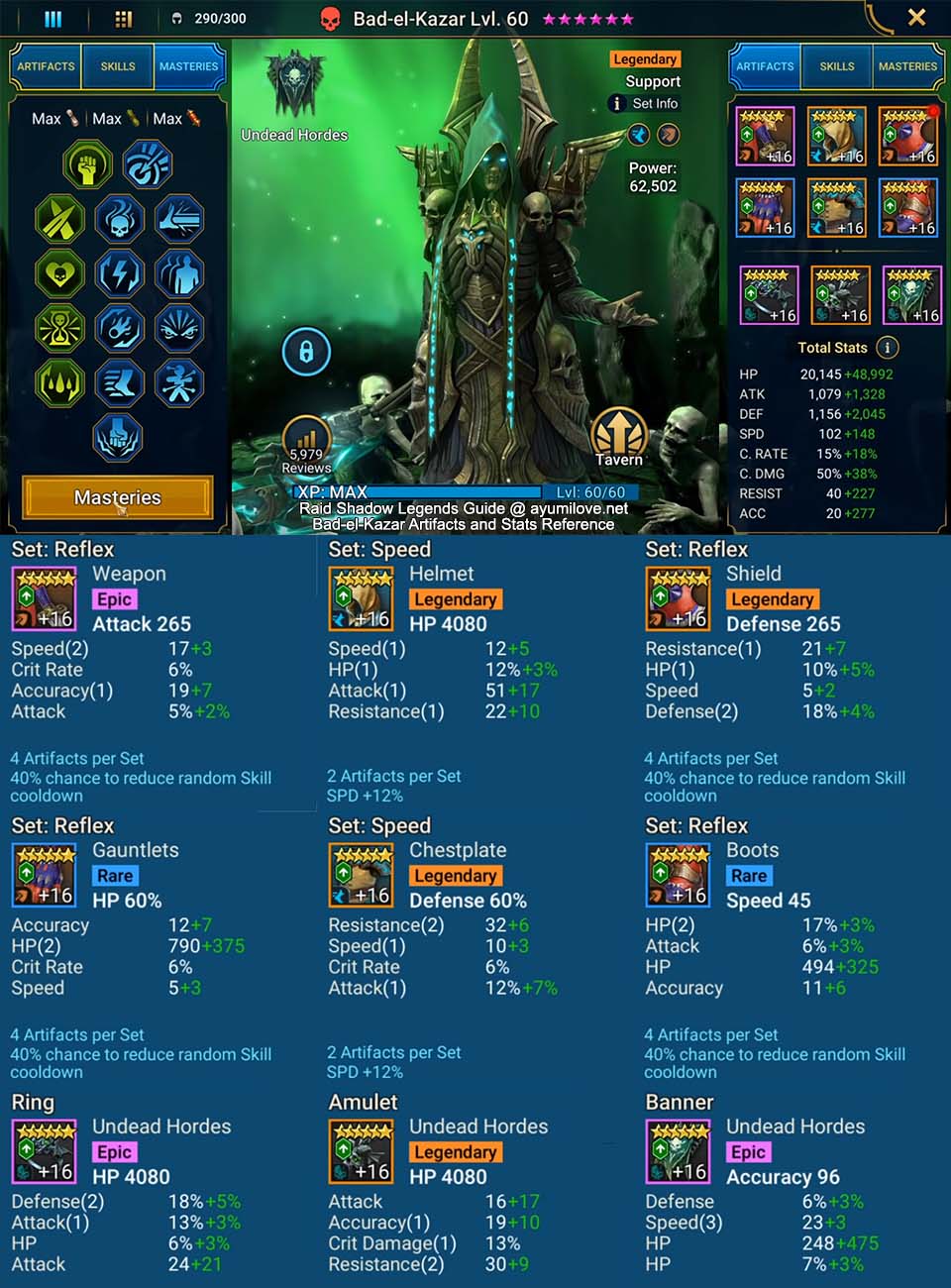 Bad-el-Kazar Champion Lore
The great city-state of lreth has existed for nearly all recorded history, and for most of its existence, it has been known for its legendary mage academy. But that lreth is long gone. In its place is a nightmare filled with monsters and madmen. The city's walls overflow with blood and violence, with the decay of corruption seeping into its very foundations. The blame for this transformation has been laid at the feet of the legendary Grandmaster of the mage academy: the powerful necromancer Bad-el-Kazar.
Kazar was not always an evil soul, but he was always ambitious and highly skilled. Little is known of his early life, beyond that his name was once Valkanen and that he eventually fell to the dark temptations of Siroth. Whether his fall was before or after he fled lreth following a bloody incident in which dozens of mages and scholars were slain, few know, but when Kazar returned to the city he was a changed man in mind and body. He swiftly took control, letting none stand in his way, even those he once counted as friends, though his victories were always political and peaceful, won with cunning. It seems he desired to keep his allegiance to Siroth to himself, though archived accounts tell of his skin growing more pallid, his veins darker, and his eyes more hollow, with each passing month.
A handful of more charitable scholars who have studied lreth's history dare suggest that Bad-el-Kazar's motives were not purely evil. They posit that they were – and may still be — partially rooted in desperation, in a desire to restore life to those slain in the disaster he fled the city after years earlier. Such claims have never been verified. Initially, Kazar's rule was, by most reports, highly successful. The numbers learning in the academy grew, the city's population rose, and each day new discoveries were made… until Kazar led a fateful expedition. Driven by visions supported by his research of archaic texts, Kazar orchestrated a grand voyage from lreth to the Winterlands in the far north. His goal was to find a site of ancient power, rumored to predate even the Gray Age. Kazar set sail with a fleet, promising to return by the following winter.
Six years passed, and all were assumed lost. Ireth's interim Grandmaster was fully inducted into the role. Funerals were held. Life moved on. And then Kazar's flagship appeared on the horizon, alone. As the vessel drew close, the onlookers gasped: the crew were little more than bone and rotting flesh. Undead. The most arresting sight of all was Bad-el-Kazar himself, standing at the prow, cloaked in tattered raiment, his flesh gray and dying. He had revealed himself as a necromancer.
When Kazar disembarked his vessel, the crowd parted, and the new Grandmaster approached him with trepidation. Would Bad-el-Kazar choose to punish the hubris of those who had doubted his return? If he did, would any be able to stop him? But Kazar was magnanimous in his victory. He accepted the Grandmaster's apology, reassumed the mantle of Grandmaster himself, and presented the mage academy with the fruits of his expedition: the cargo hold of his ship was filled with bottle after bottle of a mysterious liquid. It resembled water, but even the least magically sensitive person could sense the power radiating from it. Kazar called it the Water of Life, and claimed it would change the world. None argued. It certainly changed lreth.
Kazar maintained strict control over the substance, portioning it out carefully to the most powerful mages in the city. They experimented with it, creating potions of incredible power. Consuming these granted the imbiber unbelievable abilities, and hugely amplified their strengths. They called the process Ascension, but it had a dark side. It exaggerated personalities. The cautious became paranoid. The ambitious became obsessive. The agitated became furious. The proud became vain. Psychopathy ran rampant, and the mages' experiments took ever-darker turns. More and more of the academy's leading members undertook Ascension, and so there were fewer and fewer voices speaking out against the escalations. Test subjects were seized in their beds. Monsters were left to wander the streets. City guards were replaced with twisted mannequins, and the gates were barred to prevent the population from escaping. Madness gripped the city, and that grip has never loosened.
None know precisely what became of those trapped within the city's walls. Those few who escaped spoke of a nightmarish hellscape, as the city twisted itself to serve the mad designs of Ascended archmagi. Among it all was Bad-el-Kazar. Even as his city went mad around him, his subjects remained loyal. He was the undisputed Grandmaster of lreth. That was centuries ago. Since then, Bad-el-Kazar has been sighted beyond the city's walls, wandering the backroads of Teleria. What his goals are, none know.
Bad-el-Kazar Storyline
Tales of a powerful necromancer known as Bad-el-Kazar have long been whispered across Teleria. He is a shadowy figure, a mastermind who prefers to act through pawns and unwitting servants rather than engage his foes in person. Even when forced to take to the field directly, he stays behind the lines of his "allies" and brings the power of terrible magic to bear. Bad-el-Kazar's origins are shrouded in mystery and much had been lost due to his own efforts. The necromancer prefers it that way, for the less his foes know, the easier it is to baffle and mislead them. But there is reason enough to believe that he had once been a White Mage, serving Lumaya and the Sacred Order. Over the years, the lure of forbidden knowledge had driven Kazar further and further down a dark path, and his thirst for power proved to be his undoing. Surely enough, when Kazar sought to unravel the mysteries of life and death, it was the vile art of Necromancy that he turned to. He collected a wealth of dark artifacts in secret, learning from them until his soul was as twisted and withered as the pages of his spellbooks. Alas, his intellect and power remained as keen as ever, and the Dark Lord Siroth did not waste an opportunity to gain such a powerful follower. His minions whispered into Kazar's dreams, guiding him towards ever greater depths of damnation. In the end, Bad-el-Kazar disappeared, wiping out as many traces of his past life as he could. Guided by visions, he travelled to the Brimstone Path where a great portal had laid forgotten for centuries. It would be part of Kazar's grand role to ensure the portal would be reopened to allow the dread armies of Demonspawn into Teleria. In exchange, he would be granted life eternal and power beyond his dreams. Kazar accepted the terms of the deal and set out into the mortal kingdoms, a herald of Siroth's evil. But who can tell if the necromancer is truly a puppet of powers far beyond his reckoning, or if his cunning and ambition are directed at bringing his own nefarious schemes to fruition…
Bad-el-Kazar Videos
Raid Shadow Legends Bad-el-Kazar Champion Guide by ASH
Raid Shadow Legends Bad-el-Kazar Champion Guide by Ayumilove
Raid Shadow Legends Bad-el-Kazar Champion Guide by StewGaming
Raid Shadow Legends Bad-el-Kazar Champion Guide by Chofly
Raid Shadow Legends Bad-el-Kazar Solo Dragon Guide by Chofly
Champion Name Reference
English: Bad-el-Kazar
French: Bad-el-Kazar
Deutsch: Bad-el-Kazar
Italian:
Spanish:
Chinese:
Korean:
Japanese:
Ukranian:
Russian:
Turkish:
Portuguese: