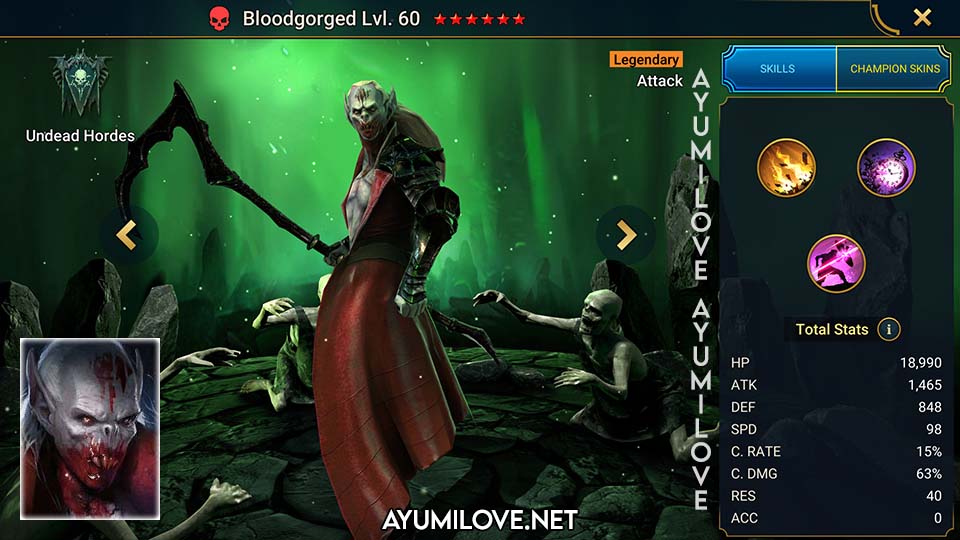 Overview

NAME: Bloodgorged
FACTION: Undead Hordes
RARITY: Legendary
ROLE: Attack
AFFINITY: Force
RANK: A
USABILITY: Late Game
TOMES: 11 (A1 A2 A3)

Abilities

RSL_100%_IgnoreDefense
RSL_AoE_PutSkillOnCooldown
RSL_Target_BlockRevive
RSL_Target_DecreaseDefense_60%

Obtain from

Ancient Shard
Sacred Shard
Primal Shard

Blessings Recommendation

Lightning Cage (Arena)
Soul Reap (Damage Dealer)

Grinding

★★★★★ Campaign
★★★★✰ Arena Defense
★★★★★ Arena Offense
★★★✰✰ Clan Boss
★★✰✰✰ Hydra
★★★★★ Faction Wars

Dungeons

★★★★✰ Minotaur
★★✰✰✰ Spider
★★★✰✰ Fire Knight
★★★★✰ Dragon
★★★★★ Ice Golem
★✰✰✰✰ Iron Twins
★✰✰✰✰ Iron Twins
★✰✰✰✰ Sand Devil
★✰✰✰✰ Phantom Shogun

Potion

★★★★★ Arcane Keep
★★★★★ Void Keep
★★★★★ Force Keep
★✰✰✰✰ Spirit Keep
★★★★★ Magic Keep

Doom Tower

★★★★★ Floors
★★★✰✰ Magma Dragon
★✰✰✰✰ Nether Spider
★★★✰✰ Frost Spider
★★✰✰✰ Scarab King
★★★✰✰ Celestial Griffin
★★★★★ Eternal Dragon
★✰✰✰✰ Dreadhorn
★★✰✰✰ Dark Fae
Bloodgorged Skills
Break Defense
Attacks 1 enemy 2 times. Has a 55% chance of placing a 60% [Decrease DEF] debuff for 2 turns.
Level 2: Damage +10%
Level 3: Buff/Debuff Chance +10%
Level 4: Buff/Debuff Chance +10%
Damage Multiplier: 2.2 ATK
Overall Grading: Godlike
Raging Beast (Cooldown: 4 turns)
Attacks all enemies. Puts one of each target's Skills on cooldown.
Level 2: Damage +5%
Level 3: Damage +5%
Level 4: Damage +10%
Level 5: Cooldown -1
Damage Multiplier: 4 ATK
Overall Grading: Godlike
Decapitate (Cooldown: 6 turns)
Attacks 1 enemy. Will ignore DEF. Enemies killed by this skill cannot be revived.
Level 2: Damage +5%
Level 3: Damage +5%
Level 4: Cooldown -1
Level 5: Cooldown -1
Damage Multiplier: 3.6 ATK
Overall Grading: Godlike
Bloodgorged Equipment Guide
Arena, Doom Tower, Faction Wars
Campaign, Clan Boss, Dungeons

Recommended Artifacts

2 Offense Set, 1 Speed Set

Recommended Artifacts

1 Lifesteal Set, 1 Speed Set

Recommended Stats

ATK%, C.RATE, C.DMG, SPD, ACC
Weapon (ATK)
Helmet (HP)
Shield (DEF)
Gauntlets (C.RATE)
Chestplate (ATK%)
Boots (SPD)
Ring (ATK)
Amulet (C.DMG)
Banner (ACC)

Recommended Stats

ATK%, C.RATE, C.DMG, SPD, ACC
Weapon (ATK)
Helmet (HP)
Shield (DEF)
Gauntlets (C.RATE)
Chestplate (ATK%)
Boots (SPD)
Ring (ATK)
Amulet (C.DMG)
Banner (ACC)
Bloodgorged Mastery Guide
Arena, Doom Tower, Faction Wars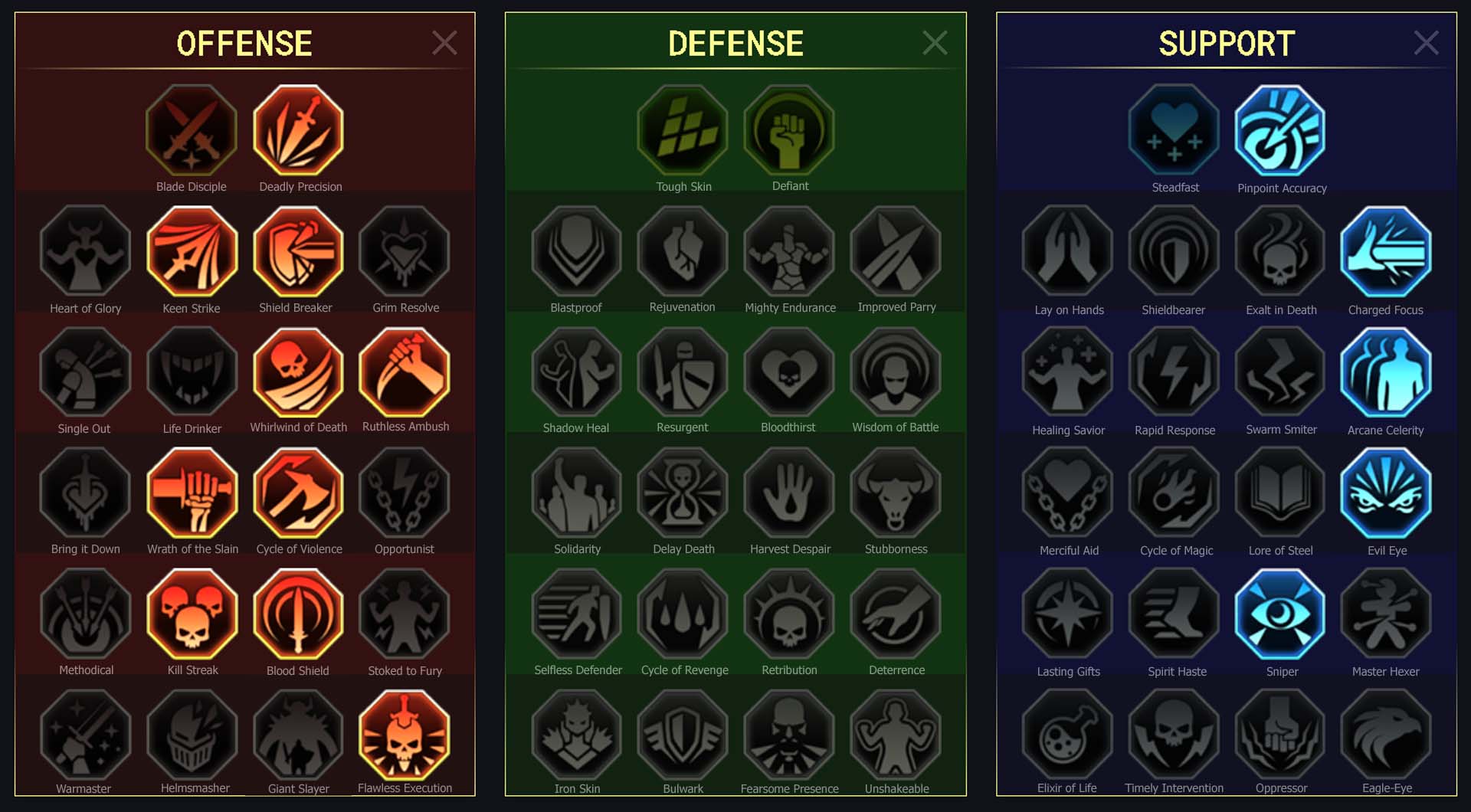 Offense

Deadly Precision
Keen Strike
Shield Breaker
Whirlwind of Death
Ruthless Ambush
Cycle of Violence
Wrath of the Slain
Kill Streak
Blood Shield
Flawless Execution

Support

Pinpoint Accuracy
Charged Focus
Arcane Celerity
Evil Eye
Sniper
Campaign, Clan Boss, Dungeons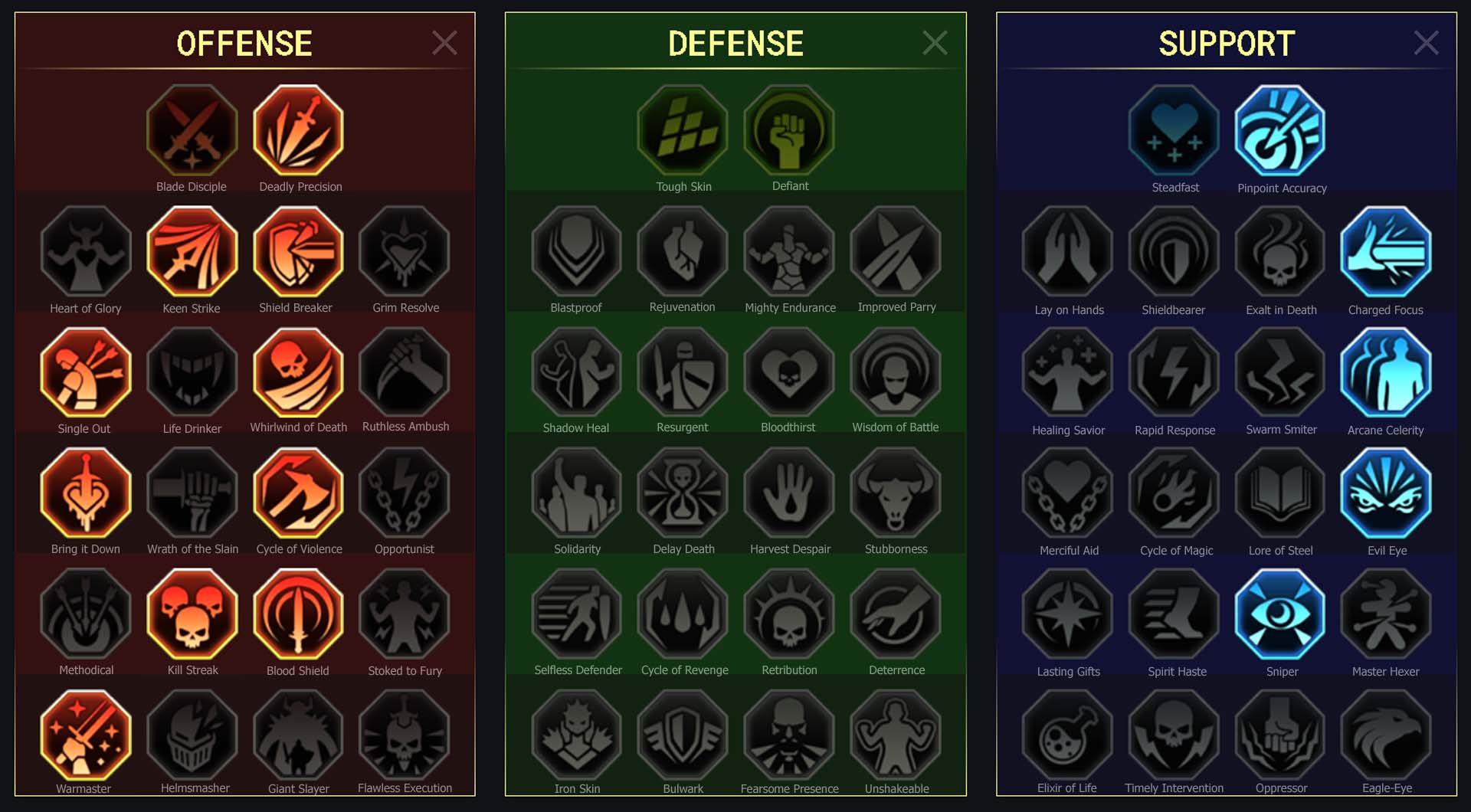 Offense

Deadly Precision
Keen Strike
Shield Breaker
Whirlwind of Death
Single Out
Cycle of Violence
Bring it Down
Kill Streak
Blood Shield
Warmaster

Support

Pinpoint Accuracy
Charged Focus
Arcane Celerity
Evil Eye
Sniper
Bloodgorged Review
Bloodgorged, a Legendary Attack Force affinity champion hailing from the Undead Hordes faction in the realm of Raid Shadow Legends, is a vampire of insatiable thirst, unmatched in his destructive power. His preternatural senses enable him to stalk his prey unnoticed, striking when they are most vulnerable and taking great care to block their transformation into the undead, never wishing to share his lifeless existence with another.
Within the annals of Raid Shadow Legends, Bloodgorged has carved out a fearsome reputation as a Force affinity legendary champion of unmatched lethality, renowned for his ability to unleash a one-shot strike from his A3. This devastating ability penetrates all defenses and precludes any possibility of revival, rendering him a true menace on the field of battle.
Yet, despite his prodigious power, Bloodgorged's fortunes were further elevated in July 2020, when he was imbued with an A2 that possessed the ability to unleash a widespread wave of destruction, locking out enemy skills on multiple waves in dungeons and raising his effectiveness in Arena, Dungeons, and Faction Wars to dizzying heights.
To unleash Bloodgorged's full potential and exploit his skills to their utmost, one must be cognizant of the need for accuracy when deploying his decrease def A1 and placing enemy skills on cooldown. However, those who desire to focus solely on his A3 nuke in the Arena may safely eschew accuracy and focus entirely on maximizing their crit rate and crit damage.
Bloodgorged Updates
Bloodgorged Videos
Raid Shadow Legends Bloodgorged Champion Guide by Farting Cows
Raid Shadow Legends Bloodgorged Champion Showcase v1.12 by Farting Cows
Raid Shadow Legends Bloodgorged Champion Guide by Nebuchadnezzar Chanel
Champion Name Reference
English: Bloodgorged
French: Gorgédesang
Deutsch:
Italian:
Spanish:
Chinese:
Korean:
Japanese:
Ukranian:
Russian:
Turkish:
Portuguese: