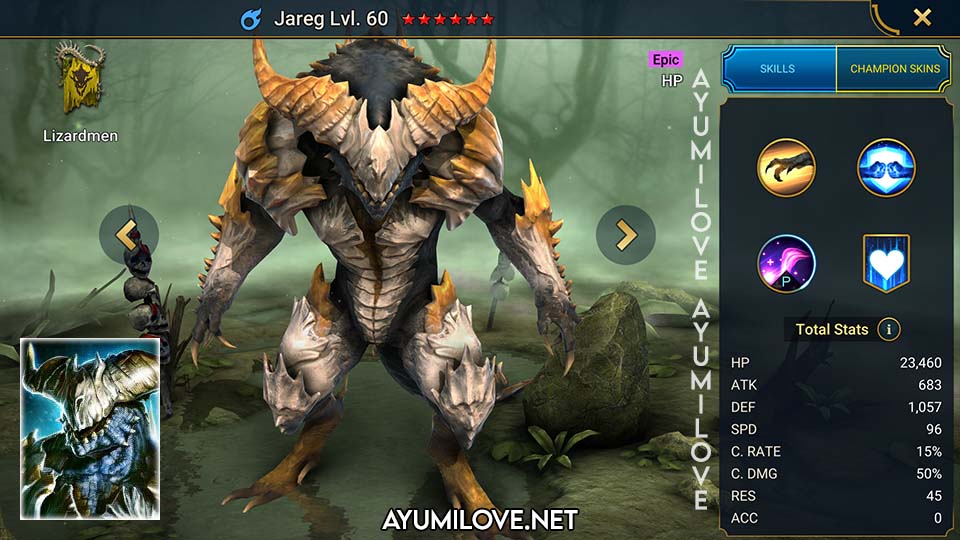 Obtain from

Ancient Shard
Sacred Shard

Overview

NAME: Jareg
FACTION: Lizardmen
RARITY: Epic
ROLE: HP
AFFINITY: Magic
RANK: B
USABILITY: Early-Mid-Late Game
TOMES: 7 (A1 A2 A3)

Total Stats (6★)

Health Points (HP): 23,460
Attack (ATK): 683
Defense (DEF): 1,057
Speed (SPD): 96
Critical Rate (C.RATE): 15%
Critical Damage (C.DMG): 50%
Debuff Resistance (RESIST): 45
Debuff Accuracy (ACC): 0

Grinding

★★★✰✰ Campaign
★★★★★ Arena Defense
★★★★✰ Arena Offense
★★★★★ Clan Boss
★★★★★ Faction Wars

Dungeons

★★★★✰ Minotaur
★★✰✰✰ Spider
★★✰✰✰ Fire Knight
★★★★✰ Dragon
★★★★✰ Ice Golem

Potion

★★★★✰ Arcane Keep
★★★★✰ Void Keep
★★★✰✰ Force Keep
★★★✰✰ Spirit Keep
★★★✰✰ Magic Keep

Doom Tower

★★★★✰ Magma Dragon
★★★✰✰ Nether Spider
★★★✰✰ Frost Spider
★★✰✰✰ Scarab King
★★★★★ Celestial Griffin
★★★★✰ Eternal Dragon
Jareg Skills
Rending Claws [ATK]
Attacks 1 enemy. Has an 35% chance of placing a 50% [Decrease ATK] debuff for 2 turns.
Level 2: Damage +5%
Level 3: Buff/Debuff Chance +5%
Level 4: Damage +5%
Level 5: Buff/Debuff Chance +10%
Level 6: Damage +10%
Level 7: Buff/Debuff Chance +10%
Damage Multiplier: 6.7 ATK
Pack Leader (Cooldown: 5 turns)
Places a 50% [Ally Protection] and a 60% [Increase DEF] buff on all allies for 2 turns.
Level 2: Cooldown -1
Sheltering Scales [Passive]
Places a 15% [Continuous Heal] buff on an ally for 1 turn whenever an ally loses 20% of their MAX HP in one hit.
Aura
Increases Ally HP in all battles by 33%.
Jareg Equipment Guide
Arena, Campaign, Clan Boss, Dungeons, Doom Tower, Faction Wars

Recommended Artifacts

Life, Immortal, Lifesteal, Accuracy, Perception, Speed

Recommended Stats

HP%, DEF%, C.RATE, SPD, ACC
Weapon (ATK)
Helmet (HP)
Shield (DEF)
Gauntlets (HP% / C.RATE)
Chestplate (HP%)
Boots (SPD)
Ring (HP / DEF)
Amulet (HP / DEF)
Banner (ACC)
Jareg Mastery Guide
Arena, Campaign, Clan Boss, Dungeons, Doom Tower, Faction Wars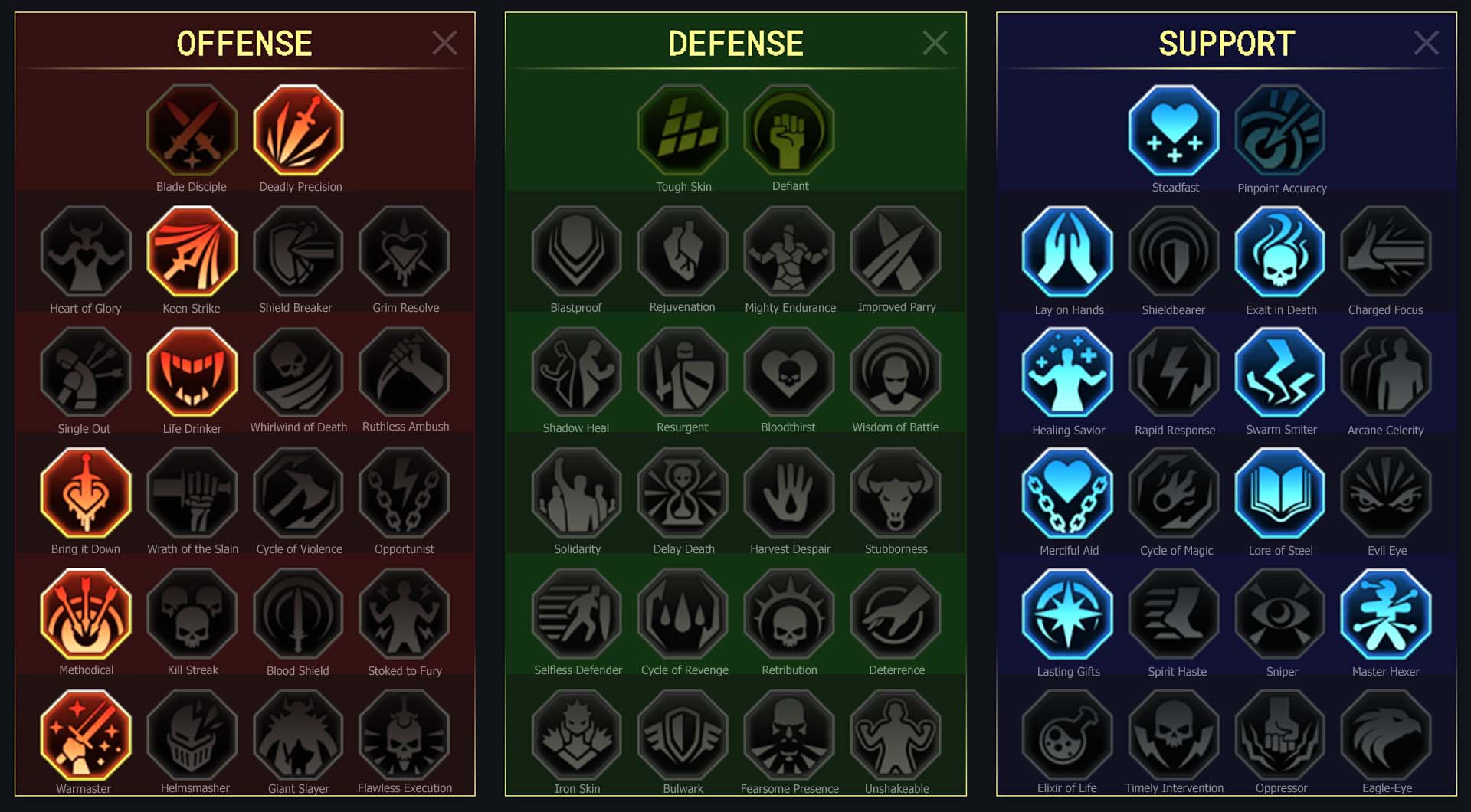 Offense

Deadly Precision
Keen Strike
Life Drinker
Bring it Down
Methodical
Warmaster

Defense

N/A

Support

Steadfast
Lay on Hands
Exalt in Death
Swam Smiter
Healing Savior
Lore of Steel
Merciful Aid
Lasting Gifts
Master Hexer
Jareg Review
Raid Shadow Legends – Jareg is an Epic HP Magic champion from the Lizardmen faction where he can be obtained from Ancient Shards and Sacred Shards.
Jareg Purpose
Jareg is one of the champion who could apply Decrease Attack debuff to a single target enemy to reduce their damage output. This lets your team to survive against fatal nuke attack! It's one of the most sought after debuff for Clan Boss to prevent enemy from destroying your team in 1 hit!
Jareg excels as a tank in protecting allies in battle. He has a skill called "Pack Leader", which applies Ally Protection buff and Increase Defense buff to all of his allies. Increase Defense buff reduces the incoming damage received by the allies before the damage is transfered to Jareg via Ally Protection, allowing squishy champions to be able to survive heavy AoE/single-target nuke damage especially battling aginst Clan Boss!
Jareg has a special passive skill called "Sheltering Scales" that applies Continuous Heal buff on any allies whenever they loses 20% of their MAX HP! This is really useful in situations where allies need to recover quickly after receiving a lethal attack from enemies such as Faction War boss that attacks champions while ignoring all of Champion's defense! If your team does not have any champion who has Revive ability, then having Jareg is a life saver especially in Faction Wars!
Jareg also provides an all-battle HP aura, enabling him to be useful in all areas of the game to boost champions HP to increase their survivability in battle.
Jareg Reference
Jareg All-Rounder Build
The artifacts equipped on Jareg are optimised for Arena, Campaign, Dungeons, Faction Wars and Doom Tower content. Immortal Set is used to enable Jareg to replenish his health that was lost from mitigating allies damage via Ally Protection. Perception Set is used to boost Jareg's accuracy stat, so he could apply his Decrease Attack debuff to reduce the enemy damage output. The stats prioritized for this build is HP, DEF, Speed and Accuracy. He needs a lot of HP to be able to tank the damage without getting knock-out whenever the enemy perform AoE nuke attacks while the Ally Protection buff is applied on his allies. If you are planning to use him for Clan Boss, swap the Immortal Set with Lifesteal Set to allow him to quickly replenish his health from Warmaster attacks against bosses!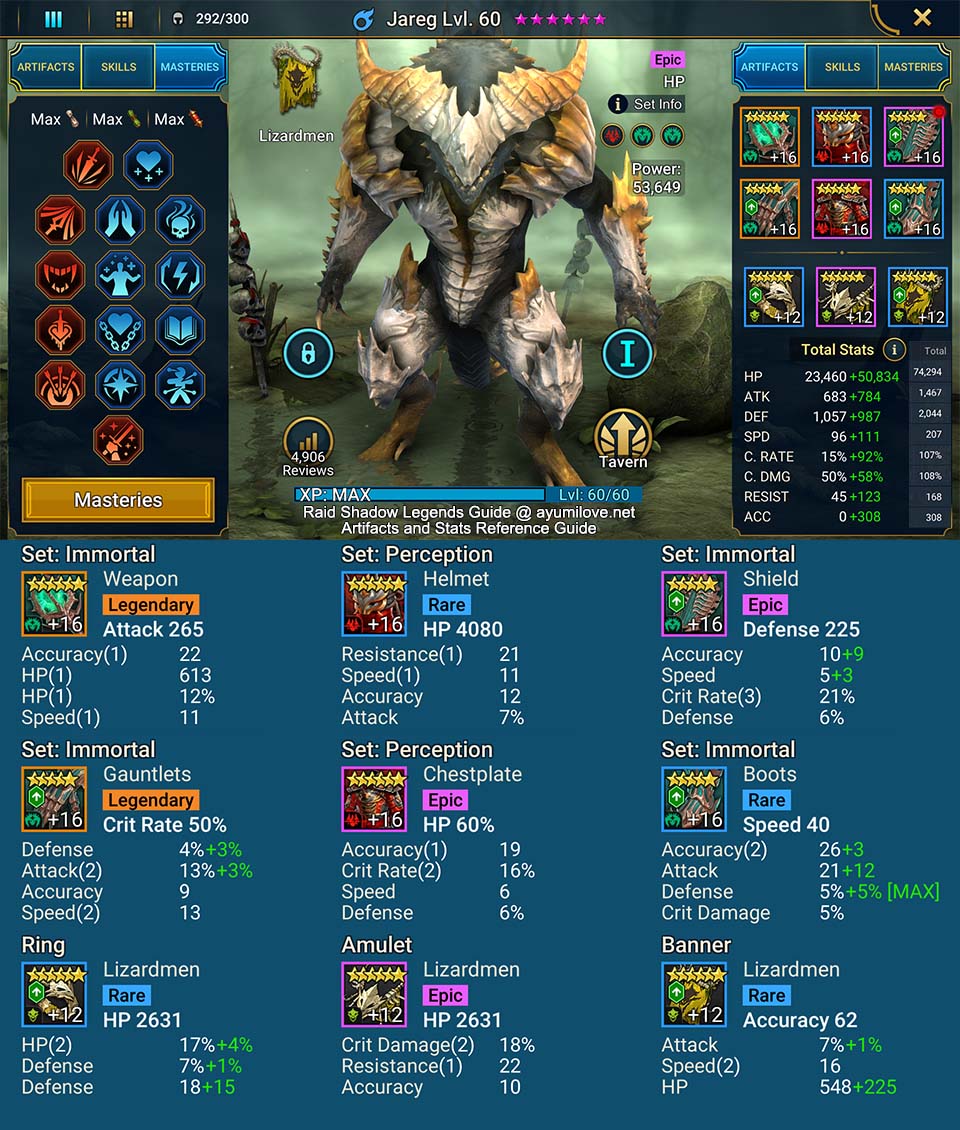 Jareg Storyline
The Lizardmen society is hardly homogenous. While some tribes live nearly as humans and elves of old did, building settlements and crafting tools, others are little more than intelligence predators that live and hunt in packs. Jareg is the leader of one such "family", having guided it for many decades. He may not be a peerless strategist or a weaponmaster, but there are two qualities forged by the hardships he had to endure that are invaluable – tenacity and instinct. As pack leader, it is Jareg's duty to defend his kin from whatever danger they might face as well as lead them in hunts and battle for more territory. Over decades of constant strife, he learned to protect those who depend on him, even if it means placing himself in harm's way. And, surprisingly, his knowledge of herms and their properties allows Jareg to provide basic but efficient relief to wounds and injuries that his allies might suffer.
Jareg Videos
Raid Shadow Legends Jareg Champion Guide by Chronus Fallz
Raid Shadow Legends Jareg Champion Guide by Cold Brew Gaming
Raid Shadow Legends Jareg Champion Guide by Chofly
Raid Shadow Legends Jareg Champion Guide by Uncle O.