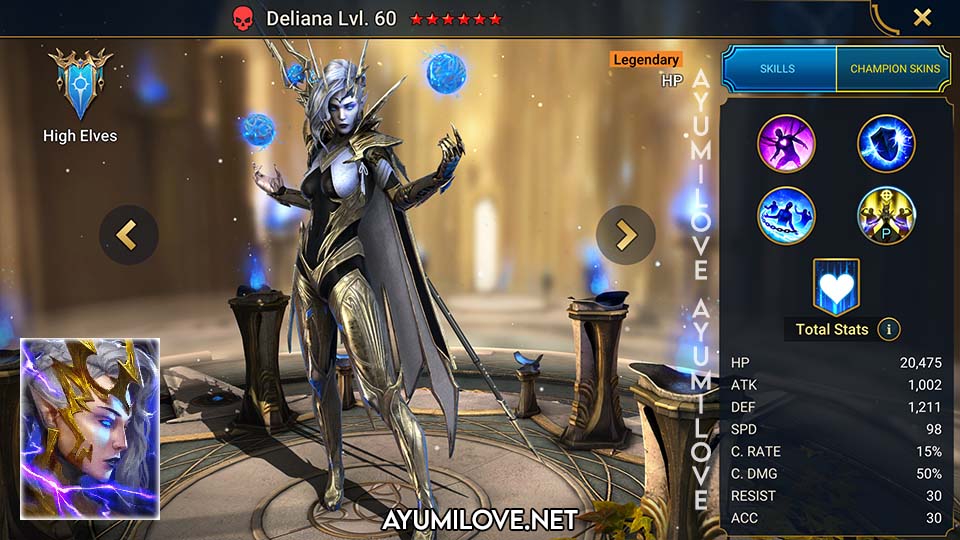 Overview

NAME: Deliana
FACTION: High Elves
RARITY: Legendary
ROLE: HP
AFFINITY: Force
RANK: B
USABILITY: Situational
TOMES: 12 (N/A)

Abilities

RSL_1Hit_BasicAttack_AoE
RSL_AllBattles_HpAura
RSL_AoE_BlockBuffs
RSL_AoE_Leech
RSL_AoE_Strengthen_25%
RSL_Enemy_A1AoE
RSL_Self_IncreaseAccuracy_Passive
RSL_Self_IncreaseTurnMeter
RSL_Target_DebuffSpread
RSL_Target_DecreaseResistance

Obtain from

Time-Limited Event

Blessings Recommendation

Grinding

★★★✰✰ Campaign
★★★✰✰ Arena Defense
★★★✰✰ Arena Offense
★★★✰✰ Clan Boss
★★★★✰ Hydra
★★★★✰ Faction Wars

Dungeons

★★★✰✰ Minotaur
★★★★★ Spider
★★★✰✰ Fire Knight
★★★✰✰ Dragon
★★★★✰ Ice Golem
★★✰✰✰ Iron Twins

Potion

★★★★✰ Arcane Keep
★★★★✰ Void Keep
★★★★✰ Force Keep
★★★✰✰ Spirit Keep
★★★★✰ Magic Keep

Doom Tower

★★★★✰ Floors
★★✰✰✰ Magma Dragon
★★★✰✰ Nether Spider
★★★✰✰ Frost Spider
★★✰✰✰ Scarab King
★✰✰✰✰ Celestial Griffin
★✰✰✰✰ Eternal Dragon
★✰✰✰✰ Dreadhorn
★✰✰✰✰ Dark Fae
Deliana Skills
Heart Stealer
Attacks all enemies. Has a 50% chance of placing a [Leech] debuff for 2 turns.
Level 2: Damage +10%
Level 3: Damage +10%
Level 4: Buff/Debuff Chance +10%
Damage Multiplier: 0.22 HP
Withering Scorn (Cooldown: 4 turns)
Attacks 1 enemy. Has a 75% chance of placing a 50% [Decrease RES] debuff for 2 turns. If the target is under a [Block Buffs] debuff, also apply a [Debuff Spread] effect, taking any [Decrease RES] debuff on the target and placing it on all enemies.
Level 2: Buff/Debuff Chance +10%
Level 3: Damage +10%
Level 4: Buff/Debuff Chance +15%
Level 5: Cooldown -1
Damage Multiplier: 0.35 HP
Know Your Place (Cooldown: 5 turns)
Attacks all enemies. Has a 75% chance of placing a [Block Buffs] debuff on each enemy for 2 turns. Heals all allies by 5% of their MAX HP for each [Block Buffs] debuff placed by this skill. Fills this Champion's Turn Meter by 10% for each [Block Buffs] debuff attempt blocked or resisted by the enemy team.
Level 2: Buff/Debuff Chance +10%
Level 3: Damage +5%
Level 4: Buff/Debuff Chance +15%
Level 5: Damage +10%
Level 6: Cooldown -1
Damage Multiplier: 0.3 HP
Magnificient [Passive] (Cooldown: 4 turns)
[Passive Effect] Increases this Champion's ACC by 2 for every 1,000 HP this Champion has.
[Active Effect] Places a 25% [Strengthen] buff on all allies for 2 turns every time this Champion's HP drops below 50%.
Aura
Increases Ally HP in all Battles by 33%
Deliana Equipment Guide
Arena, Campaign, Clan Boss, Dungeons, Doom Tower, Faction Wars

Recommended Artifacts

PvE: Stun, Perception, Accuracy, Regeneration, Reflex, Retaliation, Immortal
PvP: Stun, Stoneskin, Reaction, Immortal, Stalwart

Stats Allocation

Weapon (ATK)
Helmet (HP)
Shield (DEF)
Gauntlets (HP% / DEF%)
Chestplate (HP% / DEF%)
Boots (SPD)
Ring (HP / DEF)
Amulet (HP / DEF)
Banner (ACC / RESIST)

Stats Priority

Debuffer: HP%, DEF%, SPD, ACC, RESIST
Deliana Mastery Guide
Arena, Campaign, Clan Boss, Dungeons, Doom Tower, Faction Wars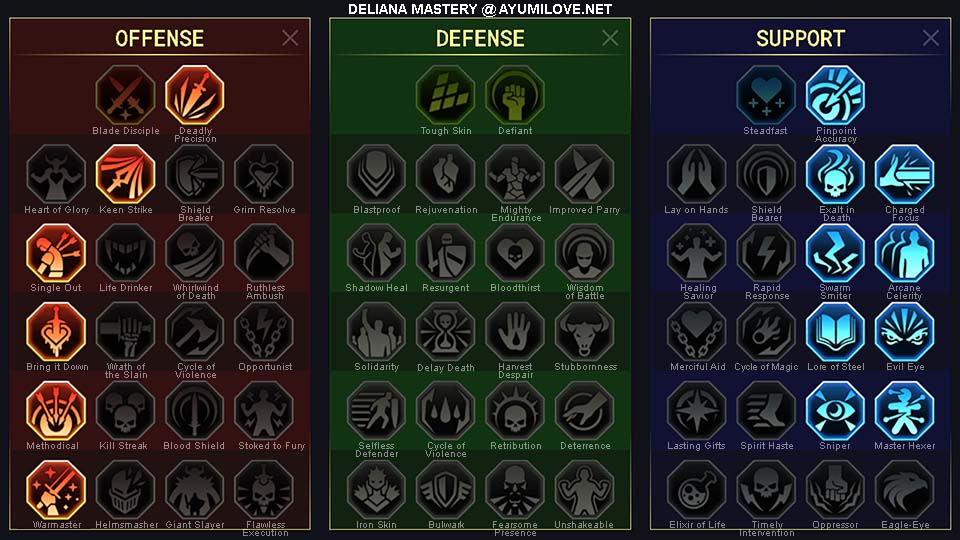 Offense

Deadly Precision
Keen Strike
Single Out
Bring it Down
Methodical
Warmaster

Support

Pinpoint Accuracy
Exalt in Death
Charged Focus
Swarm Smiter
Arcane Celerity
Lore of Steel
Evil Eye
Sniper
Master Hexer
Deliana Review
Deliana is a Legendary HP Force affinity champion from the High Elves faction in Raid Shadow Legends. She is known for her orbs of lightning and a cool-looking staff. Deliana is available for players to earn as part of the Deliana Chase Event from May 2022 through to July 2022. Players will need to log in for 7 days to earn Deliana for free. After this period, she can be summoned from shards.
Deliana is a classic support-based champion, but she has a few tricks up her sleeve. Her A1 brings an AOE with 2-turn Leech on a reasonably high chance, making her a perfect stun set healer for your early progression teams. The unique aspects of her kit revolve around her A3 and A2. Her A3 applies Block Buffs on each enemy for 2 turns, which is incredibly valuable against enemy support champions such as Duchess Lilitu or Siphi the Lost Bride and also in Hydra Clan Boss. In addition, she heals your allies for 5% of their MAX HP for each block buff that gets placed. This is quite significant in places like Spider for early-game accounts. She can then attack a single enemy with her A2 and place Decrease Resistance, which is then spread to all enemies if the target attacked has block buffs. This is a powerful pairing for late-to-end game content where stats become quite high.
With two AOE abilities, including one on her A1 basic skill, Deliana could be a great candidate for a stun set build or other control set builds. Her unique passive increases her Accuracy by 2 for every 1000 HP her build has, which will equate to around 150-200 extra accuracy depending on the quality of your gear. Deliana has an active effect that applies Strengthen to all allies when she drops below 50% HP, making her a strong option for a go 2nd team in the arena if you cannot make speed teams.
Overall, Deliana is an interesting champion that certainly looks good for early progression and has potential for Hydra end-game content. Her A3's Block Buffs are particularly valuable against enemy support champions and the Hydra Clan Boss, while her unique passive and active effects make her a strong addition to any team. With her AOE abilities, she is a versatile champion that can be used in a stun set build or other control set builds. Players should not miss out on the chance to earn her for free during the Deliana Chase Event.
Deliana Updates
Deliana Videos
Cold Brew Gaming: DELIANA FREE LEGENDARY – DAMAGE & SUPPORT SHOWCASE
MacChan: Deliana First Look.. an Average Lego?? | Raid Shadow Legends
Nub Raids: Deliana Guide (everything you need to know!) | Raid: Shadow Legends