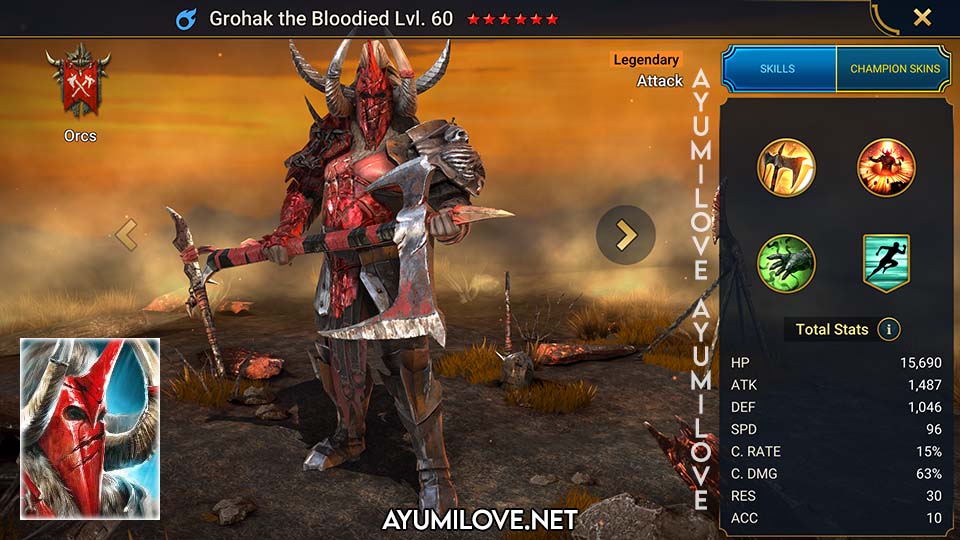 Overview

NAME: Grohak the Bloodied
FACTION: Orcs
RARITY: Legendary
ROLE: Attack
AFFINITY: Magic
RANK: B
USABILITY: Situational
TOMES: 11 (A2 A3)

Abilities

RSL_Dungeons_SpeedAura
RSL_Random_DecreaseSpeed_30%
RSL_Self_IncreaseTurnMeter
RSL_Target_StealTurnMeter
RSL_Target_Weaken_25%

Obtain from

Ancient Shard
Sacred Shard
Primal Shard

Blessings Recommendation

Crushing Rend (Damage Dealer)
Lightning Cage (Arena)
Soul Reap (Damage Dealer)

Grinding

★★★✰✰ Campaign
★★★✰✰ Arena Defense
★★★✰✰ Arena Offense
★✰✰✰✰ Clan Boss
★★★✰✰ Hydra
★★★★★ Faction Wars

Dungeons

★★★★✰ Minotaur
★★★★✰ Spider
★★★★✰ Fire Knight
★★★★✰ Dragon
★★★★✰ Ice Golem
★★★✰✰ Iron Twins
★✰✰✰✰ Sand Devil
★★✰✰✰ Phantom Shogun

Potion

★★★★✰ Arcane Keep
★★★★✰ Void Keep
★★★✰✰ Force Keep
★★★★✰ Spirit Keep
★★★★✰ Magic Keep

Doom Tower

★★★✰✰ Floors
★✰✰✰✰ Magma Dragon
★✰✰✰✰ Nether Spider
★★★✰✰ Frost Spider
★★★✰✰ Scarab King
★✰✰✰✰ Celestial Griffin
★✰✰✰✰ Eternal Dragon
★✰✰✰✰ Dreadhorn
★★★✰✰ Dark Fae
Grohak the Bloodied Skills
Sap Swiftness
Attacks 2 times at random. Each hit has a 35% chance of placing a 30% [Decrease SPD] debuff for 2 turns.
Level 2: Damage +5%
Level 3: Buff/Debuff Chance +5%
Level 4: Damage +10%
Level 5: Buff/Debuff Chance +10%
Damage Multiplier: 1.9 ATK
Unbound Anger (Cooldown: 3 turns)
Attacks all enemies. Each critical hit fills this Champion's Turn Meter by 20%.
Level 2: Damage +5%
Level 3: Damage +10%
Level 4: Damage +10%
Damage Multiplier: 3.7 ATK
Lord of War (Cooldown: 5 turns)
Attacks 1 enemy and steals the target's Turn Meter. Places a 25% [Weaken] debuff for 2 turns if this attack is critical.
Level 2: Damage +5%
Level 3: Damage +10%
Level 4: Damage +10%
Level 5: Cooldown -1
Damage Multiplier: 5.9 ATK
Aura
Increases Ally SPD in Dungeons by 24%
Grohak the Bloodied Equipment Guide
Arena, Campaign, Clan Boss, Dungeons, Doom Tower, Faction Wars

Recommended Artifacts

Accuracy, Perception, Speed, Savage, Lethal, Cruel, Critical Damage, Immunity

Stats Allocation

Weapon (ATK)
Helmet (HP)
Shield (DEF)
Gauntlets (C.RATE / C.DMG)
Chestplate (ATK%)
Boots (SPD)
Ring (ATK)
Amulet (C.DMG)
Banner (ACC / ATK)

Stats Priority

Damage Dealer: ATK%, C.RATE, C.DMG, SPD, ACC
Crowd Controller: ACC, C.RATE, SPD, ATK%
Grohak the Bloodied Mastery Guide
Arena, Campaign, Clan Boss, Dungeons, Doom Tower, Faction Wars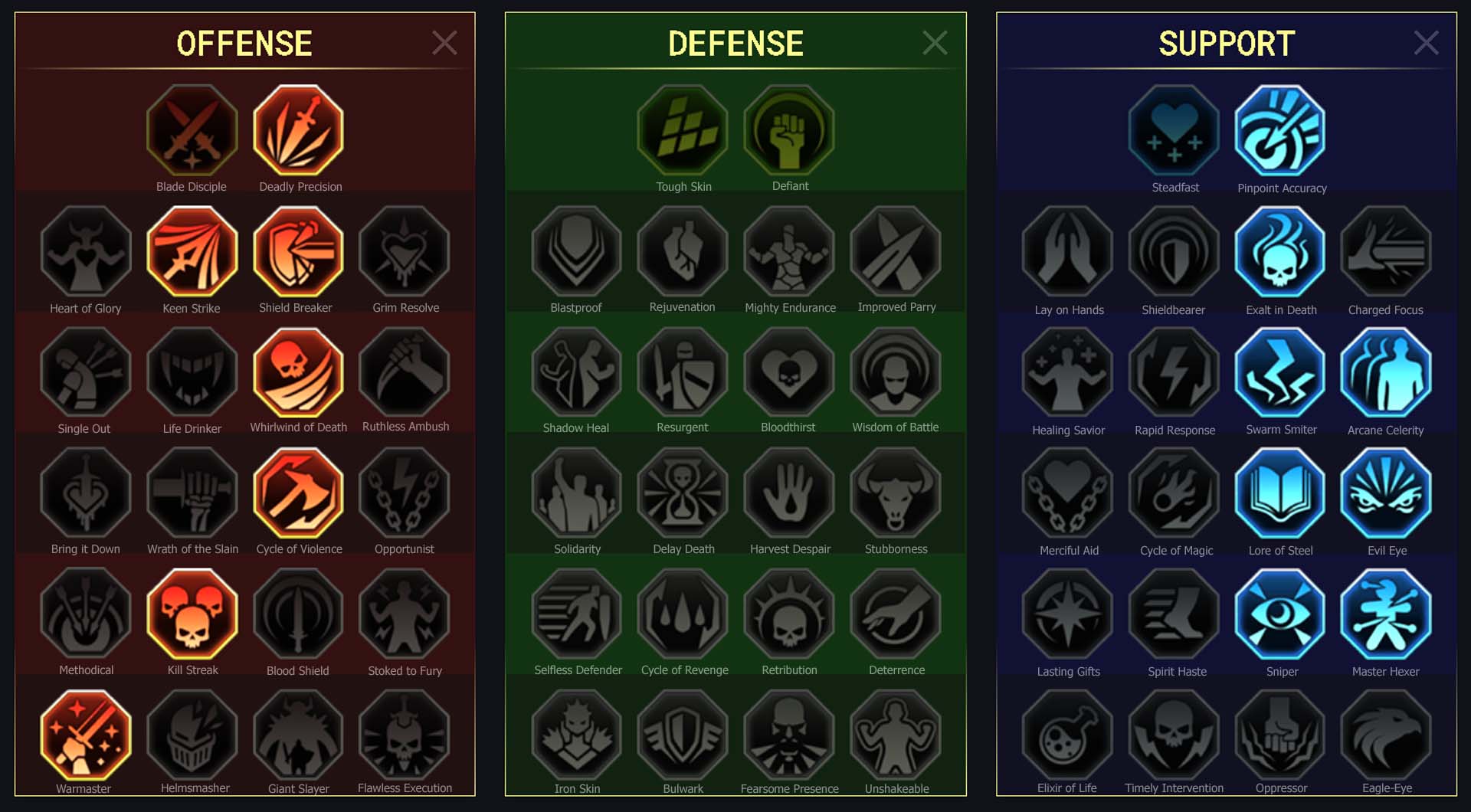 Offense

Deadly Precision
Keen Strike
Shield Breaker
Whirlwind of Death
Cycle of Violence
Kill Streak
Warmaster

Support

Pinpoint Accuracy
Exalt in Death
Arcane Celerity
Swarm Smiter
Lore of Steel
Evil Eye
Master Hexer
Sniper
Grohak the Bloodied Champion Lore
The pages of Teleria's history are soaked with the blood of countless conflicts, but few were as brutal as the Gaellen War. For fifteen years, there was little honor to be found in arms. The destruction wrought to all parties was cataclysmic, with every nation crawling out battered and broken.
This era of strife was a crucible for Captain Grohak, who fought for the Gaellen Pact. In command of one of hundreds of ships that sailed across the Valdemar Strait from Peltas to Anhelt, Grohak's confidence knew no bounds. He believed his Dwarven-built ship to be nigh-indestructible, and the huge Gaellen fleet to be all but unstoppable. As the Gaellens advanced the Aravian fleet arrayed to stop them, and he plowed his vessel right into the thick of the Elven ships, directly disobeying the orders of his superiors who demanded the armada to keep formation. Each broadside from Grohak's Skyiron arcanic bolt throwers ripped through enemy vessels left and right. His warship cut a swathe through Aravian ships, with each sinking only fueling Grohak's bloodlust. Other captains plunged their crews into the fray upon seeing Grohak's bloody success. It was then that the tide began to turn.
Grohak was drunk with desire for battle, and the nightmarish chaos of the battle was all but impossible to follow for his hard-pressed crew. None paid enough attention to the currents, waves, and landscape, and Grohak's ship fetched up on a sandbank on the northern mouth of Tilshire Bay. It was not alone. Dozens of Gaellen craft had done the same. Excitement turned to panic as Gaellen crews desperately tried to dislodge their vessels from the muck, while Aravian frigates and longships moved in for the kill. Magically hurled rocks, ballistae bolts, volleys of arrows, and torrents of emerald chem-fire came in from all sides. Gaellens burned, screaming in agony, or were riddled with Elven shot. Ships were punched through with holes. Boarding parties soon followed. Vengeful Elven warriors fell upon Grohak's remaining crew as they scrambled to battle stations. It was a slaughter. Blood stained the deck of Grohak's ship, as well as his fearsome panoply, crimson. In one last desperate attempt to throw off the assault, one of Grohak's warlocks fired a spell into the ship's magazine, disrupting the fragile spellwork holding the ammunition there together. The explosion ripped the ship to pieces, its thunderous boom echoing all the way to the southern mouth of the Valdemar Strait.
Later, the water foamed with blood, as chunks of ship, soldier, and metal washed out to sea. Grohak drifted in a lifeless daze as his body was carried away by the tide upon a slat of wood. He eventually washed up near one of the Gaellen landing sites — a small beach near Tilshire. There, he witnessed the utter failure of the landing, and the terror he felt in those final moments aboard his vessel fell upon him once again. He witnessed waves of Orcs mown down by rapidly repeating Elven bolt throwers. Skinwalkers, eager to take their revenge for the crimes of the Red Crusade walked headlong into fields of hidden caltrops, clutching paws and hooves pierced by the wicked steel. So crippled, they were easy targets for blocks of Sacred Order Yeomen. He smiled when he saw Ogryn literally ripping apart Kaerok Pikemen and Swordsmen, but it fell from his face when wedges of knights bearing family colors and coats of arms charged in. Lance after lance found its mark in Ogryn backs and necks, bringing down creature after creature. Clusters of Lizardmen faired little better. For each disciplined Elven spearman they mauled in their attempt to gain the high ground, two more were impaled upon Aravian steel. Grohak turned away from the sight, his armor dented and scarred, still stained by the blood of comrades and enemies. He found his way inland, but did not take up the fight. He swore he would never fight again. For as long as he drew breath, he would slay no mortal, not unless it was absolutely necessary.
Grohak turned away from the sight, his armor dented and scarred, still stained by the blood of comrades and enemies. He found his way inland, but did not take up the fight. He swore he would never fight again. For as long as he drew breath, he would slay no mortal, not unless it was absolutely necessary.
But there was one who listened to that oath, and found Grohak a convenient loophole. When the Arbiter came to him, seeking aid for the Third Great War she knew was coming, Grohak the Bloodied accepted. Perhaps, he hoped, he could find some kind of redemption. Demonspawn and the Undead were far from mortal.
Grohak the Bloodied Storyline
Grohak the Bloodied hails from a time of legends and tragedies long removed from Teleria's current war. Back then, the Orcish civilization had been at the peak of its power and threatened to overturn the might of the Elven Kingdom. All it would have taken was a single leader to unite the fractured clans, and the tide of savage steel would have swept away all in its path until it crashed against the very gates of the Palace of Aravia. Becoming that leader had been the goal of Grohak's life ever since he first tasted victory and heard the bellowing cries of his clansmen calling out his name. He sought out challenges worthy of a warrior of legend, learned to fight the hated Elves in a way that deprived them of their advantages. Indeed, Grohak – or most Orcs for that matter – would often struggle to match the speed and sheer dexterity of their foes. But the young warchief perfected fighting techniques that would cripple and slow down Elven warriors, making them easy prey for his unbound fury. Perhaps, he would have seen his dream realized eventually – or died gloriously in battle – were it not for the machinations of Siroth and the interference of the Arbiter. Just as the conflict between the High Elves and the Orcs reached its bloody crescendo, the dark legions of Siroth tore through the veil between realms. They invaded Teleria in force, massacring or subjugating anyone who dared to resist. It was then the Arbiter sought to recruit the mightiest mortal warriors, and Grohak had been one of the heroes to be called upon. He resisted, at first, crying out against the Arbiter's will as his destiny was snatched away from his very grasp. Eventually, however, Grohak accepted his new role and led countless Champions to do battle against Demonspawn hordes. He had triumphed in countless duels before the invasion was thwarted, laying many a demon low and surviving grievous wounds. Some of them could not be healed in full even by the Arbiter's power, thus Grohak emerged from this victory scarred and forever marked by the crimson colour of his skin – a colour he had gladly embraced and brought to display on his armour.
Grohak the Bloodied Updates
Grohak the Bloodied
ASH: I Maxed Raid's "WORST LEGENDARY" – Is he really that THAT bad?
MtgJedi: Grohak Can do What!?