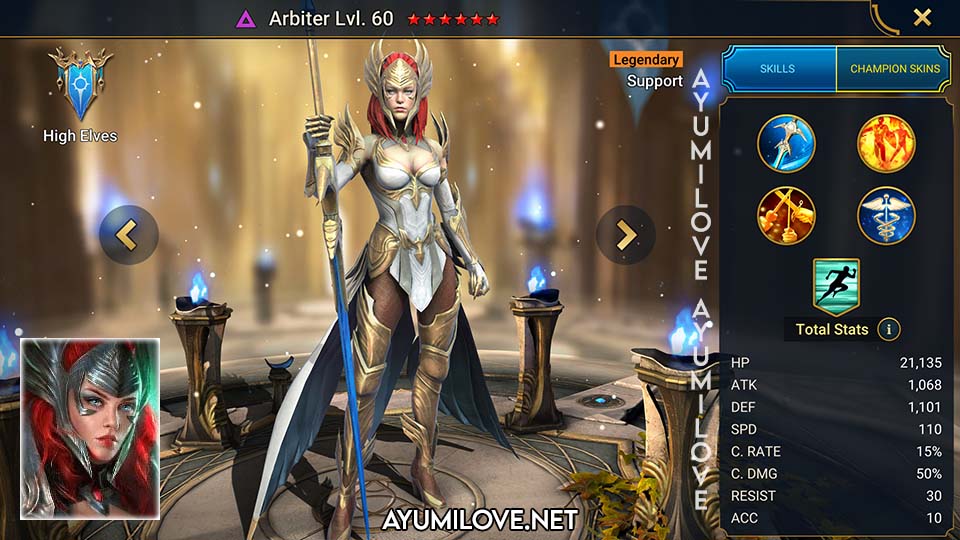 Overview

NAME: Arbiter
FACTION: High Elves
RARITY: Legendary
ROLE: Support
AFFINITY: Void
RANK: S
USABILITY: Early-Mid-Late Game
TOMES: 9 (A1 A2 A3 A4)

Abilities

RSL_Arena_SpeedAura
RSL_AoE_DecreaseBuffDuration
RSL_AoE_Heal
RSL_AoE_IncreaseAttack_50%
RSL_AoE_IncreaseTurnMeter_30%
RSL_AoE_Revive
RSL_Self_ExtraTurn
RSL_Target_BasicAttack_2Hits
RSL_Target_Weaken_25%

Obtain from

Void Shard
Progress Mission

Blessings Recommendation

Intimidating Presence (Aura Lead)

Grinding

★★★★★ Campaign
★★★★★ Arena Defense
★★★★★ Arena Offense
★★★★✰ Clan Boss
★★★★✰ Hydra
★★★★★ Faction Wars

Dungeons

★★★★★ Minotaur
★★★★★ Spider
★★★★★ Fire Knight
★★★★★ Dragon
★★★★★ Ice Golem
★★★★✰ Iron Twins

Potion

★★★★★ Arcane Keep
★★★★★ Void Keep
★★★★★ Force Keep
★★★★★ Spirit Keep
★★★★★ Magic Keep

Doom Tower

★★★★★ Floors
★★★★✰ Magma Dragon
★✰✰✰✰ Nether Spider
★★★★✰ Frost Spider
★★★★★ Scarab King
★✰✰✰✰ Celestial Griffin
★★★★✰ Eternal Dragon
★✰✰✰✰ Dreadhorn
★★★✰✰ Dark Fae
Arbiter Skills
Gaze of Justice
Attacks 1 enemy 2 times. Each hit has a 30% chance of placing a 25% [Weaken] debuff for 2 turns.
Level 2: Damage +10%
Level 3: Buff/Debuff Chance +10%
Level 4: Buff/Debuff Chance +10%
Damage Multiplier: 1.8 ATK
Enforced Humility (Cooldown: 4 turns)
Attacks all enemies 1 time. Has a 75% chance of decreasing the duration of all enemy buffs by 1 turn.
Level 2: Damage +10%
Level 3: Buff/Debuff Chance +10%
Level 4: Buff/Debuff Chance +15%
Damage Multiplier: 2.2 ATK
Mentor of Heroes (Cooldown: 4 turns)
Fills the Turn Meters of all allies by 30% and places a 50% [Increase ATK] buff on all allies for 2 turns. Heals all allies by 25% of their MAX HP if they have less than 50% HP.
Level 2: Cooldown -1
Destiny's Call (Cooldown: 7 turns)
Revives all dead allies to 35% HP, then fills the Turn Meters of all allies by 20%. Grants an Extra Turn to this Champion if an ally was successfully revived.
Level 2: Cooldown -1
Level 3: Cooldown -1
Aura
Increases Ally SPD in the Arena by 30%.
Arbiter Equipment Guide
Arena, Campaign, Clan Boss, Dungeons, Doom Tower, Faction Wars

Recommended Artifacts

PvE: Speed, Accuracy, Perception, Lifesteal
PvP: Speed, Immunity, Stoneskin

Stats Allocation

Weapon (ATK)
Helmet (HP)
Shield (DEF)
Gauntlets (DEF% / HP%)
Chestplate (DEF% / HP%)
Boots (SPD)
Ring (DEF / HP)
Amulet (DEF / HP)
Banner (ACC / RESIST)

Stats Priority

PvE & PvP: SPD, HP%, DEF%, ACC
Arbiter Mastery Guide
Arena, Doom Tower, Faction Wars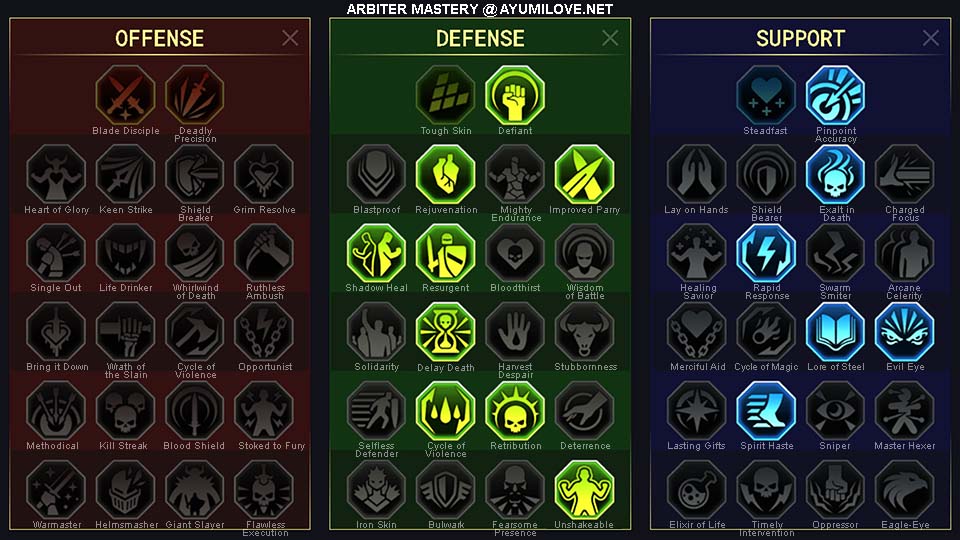 Defense

Defiant
Improved Parry
Rejuvenation
Shadow Heal
Resurgent
Delay Death
Cycle of Revenge
Retribution
Unshakeable

Support

Pinpoint Accuracy
Exalt in Death
Rapid Response
Lore of Steel
Evil Eye
Spirit Haste
Campaign, Clan Boss, Dungeons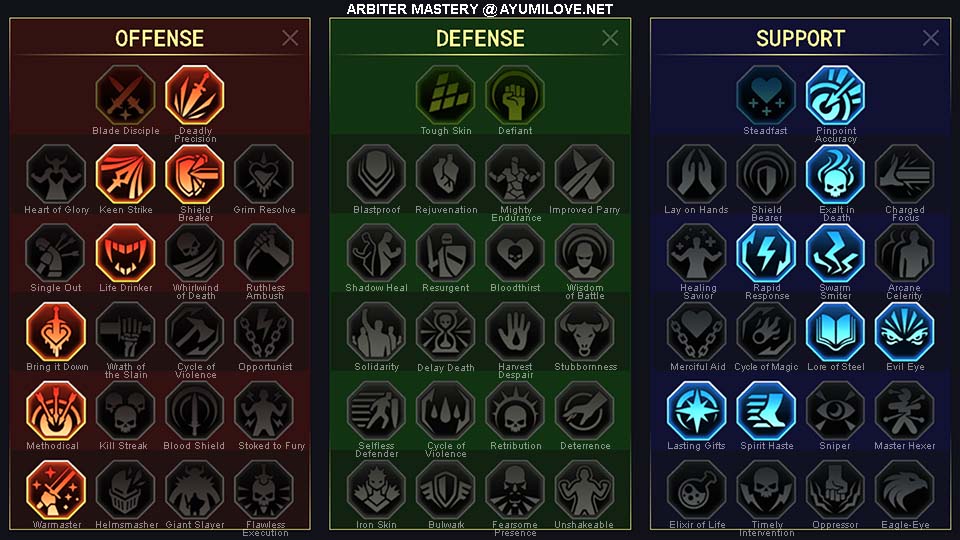 Offense

Deadly Precision
Keen Strike
Shield Breaker
Life Drinker
Bring it Down
Methodical
Warmaster

Support

Pinpoint Accuracy
Exalt in Death
Rapid Response
Swarm Smiter
Lore of Steel
Evil Eye
Spirit Haste
Lasting Gifts
Arbiter Reference
Arbiter All-Rounder Build
Here is Arbiter's artifacts and masteries by Ayumilove optimized as an all-rounder build to be used in all areas of the game. Arbiter is equipped with Speed Set and Divine Speed Set. Both of these sets provide additional Speed stats to enable Arbiter to start the round before the enemies could take their turn. The difference between Divine Speed Set and Speed Set is that the former provides a +15% HP Self Shield Buff for 3 turns, which grants her more survivability. If you have excellent Divine Speed Sets, you can replace the Speed Sets on your Arbiter. Divine Speed Set can only be obtained from Arena Weekly Rewards or by purchasing it from Divine Speed Artifact Offer Packs. These artifacts have high HP%, DEF%, SPD and ACC. HP% and DEF% stats allows Arbiter to survive in battle much longer. ACC is required for Arbiter to inflict her Weaken debuff and apply her instant negative effect of reducing enemy buff duration by 1 turn. SPD stat plays the most important role here to ensure Arbiter is able to start the round before any champion, so she can buff her allies with Increase Attack buff and boost their Turn Meter so they can their turn before the enemies.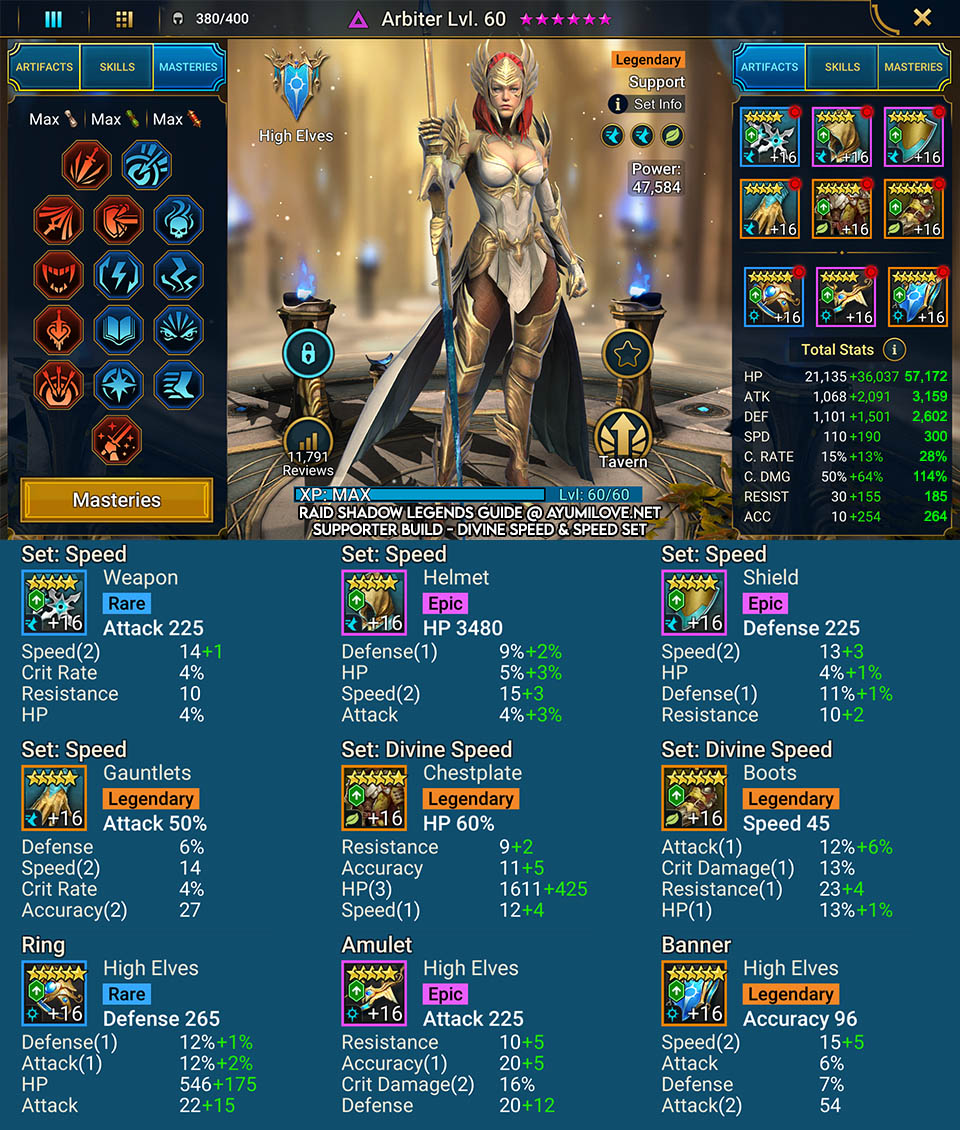 Arbiter Storyline
The Goddess of Light Lumaya has many servants, but none as powerful as the Arbiter. Created from the fabric of Light itself many millennia ago, she was to be the extension of Lumaya's will, her herald, and the protector of Teleria. That is a duty the Arbiter upheld with unflinching determination, for the Shadow is as relentless as it is insidious. Indeed, though she is a mighty warrior in her own right, the Arbiter's own strength alone would not be enough to win the day. As civilizations rose and fell, her solemn task remained unchanged – finding heroes worthy to lead this world's greatest Champions into battle. Countless generations of warriors rose to the Arbiter's call, and by their sacrifice, Siroth was held at bay. But now Teleria faces its greatest challenge yet. The Arbiter's power wanes and all hope seems lost. In this final moment, a sacrifice was made – the last of Lumaya's divine gift expended to summon forth a single Champion to lead the people of Teleria to victory over the forces of darkness. Though mortal now, the Arbiter yet retains considerable magical ability and skill, as well as the wealth of experience no other warrior can boast. She is still capable of guiding Champions to fulfill their destinies and shall serve Lumaya until her dying breath.
Arbiter Review
Arbiter is a Legendary Support Void affinity champion from High Elves faction in Raid Shadow Legends. Arbiter is obtainable from Void Shard and by completing all the Progress Missions! She is renowned for her excellent support skills where she could revive fallen allies, apply Increase Attack buff to allow champions to deal more damage, and provide an additional Turn Meter boost to allow her allies to have an advantage in performing the attack before the enemies. Her default attack is also able to apply Weaken debuff on a single target enemy, which allows her allies to deal extra damage to that target.
Arbiter Updates
Arbiter Videos
Raid Shadow Legends Arbiter Champion Guide by StewGaming
Raid Shadow Legends Arbiter Champion Guide by BGE
Raid Shadow Legends Arbiter Champion Guide by Chofly
Raid Shadow Legends Arbiter Champion Guide by Skratch
Raid Shadow Legends Arbiter Champion Guide by Kizzle
https://youtu.be/fl4PW6r3AIk
Raid Shadow Legends Arbiter Champion Guide by Dirtbag Gaming
Champion Name Reference
English: Arbiter
French: Arbitre
Deutsch: Arbiter
Italian:
Spanish: Mediadora
Chinese:
Korean:
Japanese:
Ukranian:
Russian:
Turkish:
Portuguese: