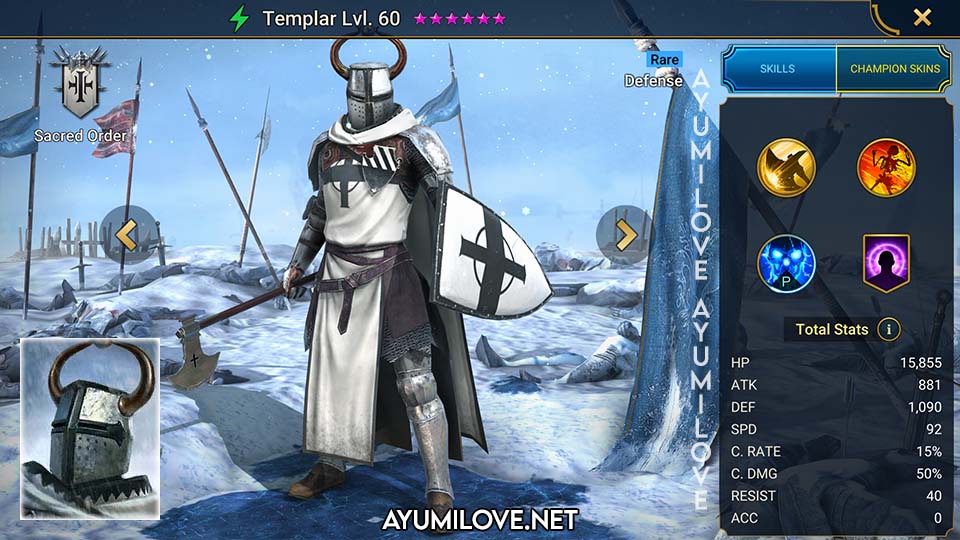 Overview

NAME: Templar
FACTION: Sacred Order
RARITY: Rare
ROLE: Defense
AFFINITY: Spirit
RANK: B
USABILITY: Early Game
TOMES: 14 (A1 A2 A3)

Abilities

RSL_Arena_ResistAura
RSL_Self_BlockDamage
RSL_Target_DecreaseSpeed_30%
RSL_Target_Passive_Enemy
RSL_Target_Provoke

Obtain from

Mystery Shard
Ancient Shard
Valdemar Strait
Harvest Jack Fusion
Relickeeper Fusion

Grinding

★★★✰✰ Campaign
★★★★✰ Arena Defense
★★★★✰ Arena Offense
★✰✰✰✰ Clan Boss
★★★✰✰ Faction Wars

Dungeons

★★★★✰ Minotaur
★★★✰✰ Spider
★★✰✰✰ Fire Knight
★★★★✰ Dragon
★★★★✰ Ice Golem

Potion

★★★✰✰ Arcane Keep
★★★✰✰ Void Keep
★★★✰✰ Force Keep
★★★✰✰ Spirit Keep
★✰✰✰✰ Magic Keep

Doom Tower

★★★★✰ Magma Dragon
★✰✰✰✰ Nether Spider
★✰✰✰✰ Frost Spider
★✰✰✰✰ Scarab King
★★★✰✰ Celestial Griffin
★✰✰✰✰ Eternal Dragon
Templar Skills
Charge
Attacks 1 enemy. Has a 30% chance of placing a 30% [Decrease SPD] debuff for 2 turns.
Level 2: Damage +5%
Level 3: Damage +5%
Level 4: Buff/Debuff Chance +10%
Level 5: Damage +10%
Level 6: Buff/Debuff Chance +10%
Damage Multiplier: 3.9 DEF
Righteous Challenge (Cooldown: 4 turns)
Attacks 4 times at random. Each hit has a 25% chance of placing a [Provoke] debuff for 1 turn. Places a [Block Damage] buff on this Champion for 1 turn.
Level 2: Damage +5%
Level 3: Buff/Debuff Chance +5%
Level 4: Buff/Debuff Chance +10%
Level 5: Buff/Debuff Chance +10%
Level 6: Cooldown -1
Damage Multiplier: 1.7 DEF
Contempt (Passive)
Attacks with this Champion's default skill whenever an enemy places a debuff on this Champion.
This passive skill is not triggered when an enemy counter attacks Templar's attack, while applying debuff simultaneously.
Aura
Increases Ally RESIST in the Arena by 50.
Templar Equipment Guide
Equipment Set for Arena, Campaign, Faction Wars
1 Frost Set, 1 Speed Set
2 Defense Set, 1 Speed Set
Equipment Set for Clan Boss, Dungeons, Doom Tower
1 Lifesteal Set, 1 Accuracy Set
1 Lifesteal Set, 1 Speed Set
Equipment Stat Priority
DEF%, C.RATE, C.DMG, SPD, ACC
Weapon (ATK)
Helmet (HP)
Shield (DEF)
Gauntlets (C.RATE)
Chestplate (DEF%)
Boots (SPD)
Ring (DEF)
Amulet (C.DMG)
Banner (ACC)
Templar Mastery Guide
Arena, Doom Tower, Faction Wars
Pre-requisite: Templar to be equipped with Taunting Set to increase his chances of landing the Provoke debuff on enemies when attacking enemies. It's highly recommended to have him with high Accuracy stats, so his Provoke debuff inflicted through his "Taunt" skill is not resisted by enemies based on the enemy difficulty (e.g. Dungeon 20).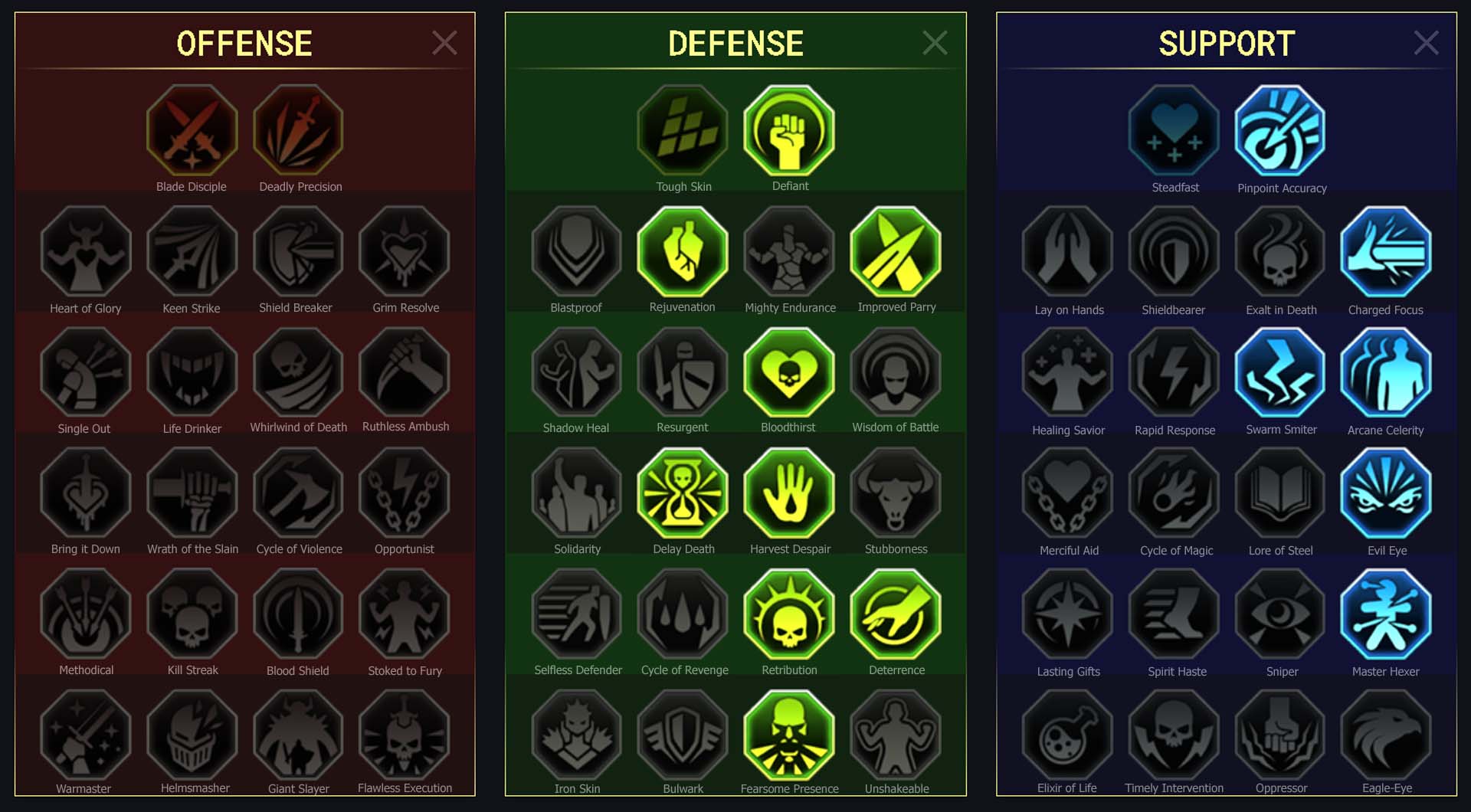 Defense

Defiant
Improved Parry
Rejuvenation
Bloodthirst
Delay Death
Harvest Despair
Retribution
Deterrence
Fearsome Presence

Support

Pinpoint Accuracy
Charged Focus
Swarm Smiter
Arcane Celerity
Evil Eye
Master Hexer
Campign, Dungeons, Bosses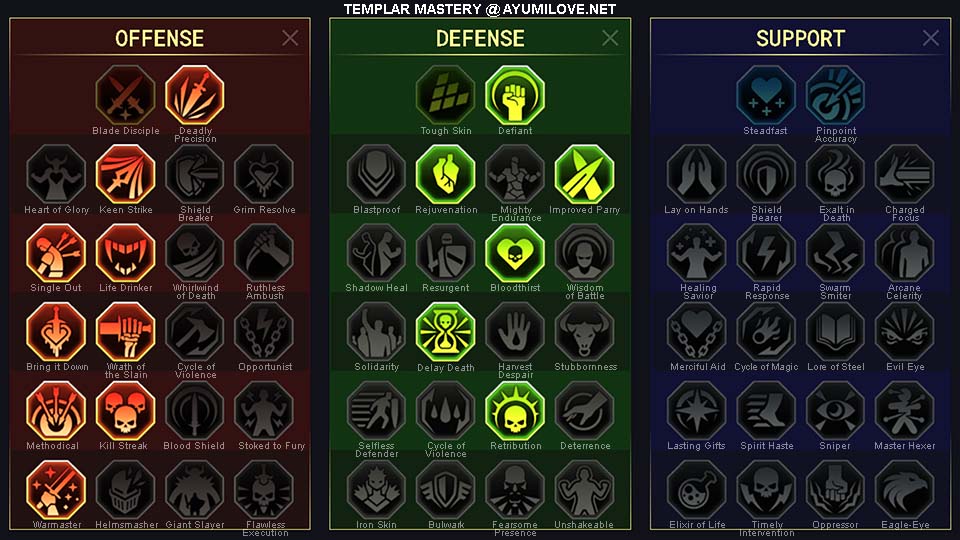 Offense

Deadly Precision
Keen Strike
Single Out
Life Drinker
Bring it Down
Wrath of the Slain
Methodical
Kill Streak
Warmaster

Defense

Defiant
Improved Parry
Rejuvenation
Bloodthirst
Delay Death
Retribution