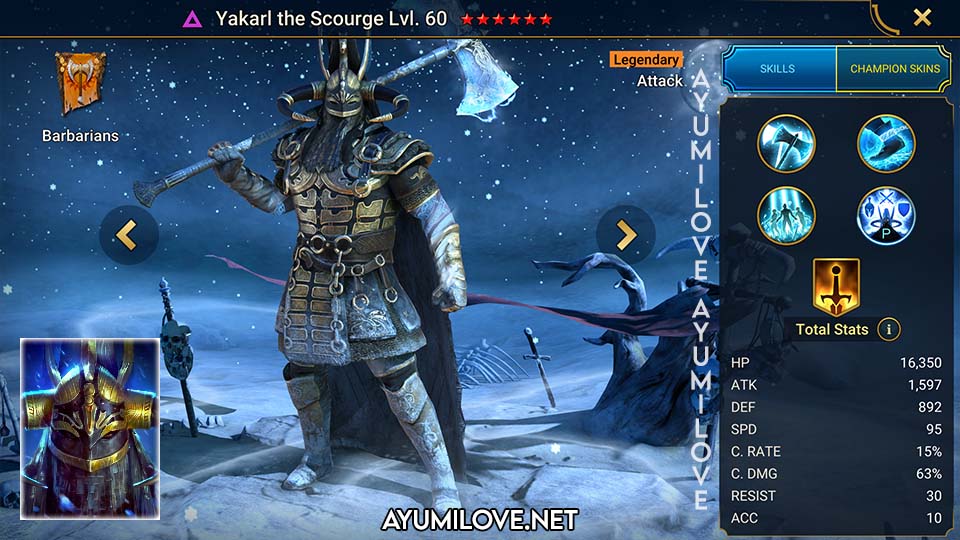 Overview

NAME: Yakarl the Scourge
FACTION: Barbarians
RARITY: Legendary
ROLE: Attack
AFFINITY: Void
RANK: A
USABILITY: Situational
TOMES: 12 (A2 A3)

Abilities

RSL_AllBattles_AttackAura
RSL_AoE_Freeze
RSL_Self_DecreaseDamageTaken_Passive
RSL_Self_IncreaseDamage_Passive
RSL_Self_IncreaseSpeed_30%
RSL_Self_Passive
RSL_Self_Unkillable_Passive
RSL_Target_BasicAttack_2Hits
RSL_Target_DecreaseSpeed_30%
RSL_Target_Freeze
RSL_Target_IgnoreDefense
RSL_Target_StealTurnMeter

Obtain from

Void Shard

Blessings Recommendation

Lightning Cage (Arena Offense)
Phantom Touch (Fire Knight)
Soul Reap (Damage Dealer)

Grinding

★★★★✰ Campaign
★★★★✰ Arena Defense
★★★★✰ Arena Offense
★✰✰✰✰ Clan Boss
★★✰✰✰ Hydra
★★★★★ Faction Wars

Dungeons

★★★★✰ Minotaur
★★★★✰ Spider
★★★★✰ Fire Knight
★★★★✰ Dragon
★★★★✰ Ice Golem
★★★✰✰ Iron Twins
★✰✰✰✰ Sand Devil

Potion

★★★★✰ Arcane Keep
★★★★✰ Void Keep
★★★★✰ Force Keep
★★★★✰ Spirit Keep
★★★★✰ Magic Keep

Doom Tower

★★★★✰ Floors
★✰✰✰✰ Magma Dragon
★★★★✰ Nether Spider
★★★★✰ Frost Spider
★★★✰✰ Scarab King
★★✰✰✰ Celestial Griffin
★★★✰✰ Eternal Dragon
★★★★✰ Dreadhorn
★★★★✰ Dark Fae
Yakarl the Scourge Skills
Axe of Allwinter
Attacks 1 enemy 2 times. Each hit has a 40% chance of placing a [Freeze] debuff for 1 turn. Will also ignore 25% of the target's DEF against enemies under [Freeze] debuffs.
Level 2: Damage +5%
Level 3: Damage +5%
Level 4: Buff/Debuff Chance +5%
Level 5: Buff/Debuff Chance +5%
Damage Multiplier: 1.8 ATK
Overall Grading: Godlike
Blizzard Rider (Cooldown: 4 turns)
Attacks 1 enemy. Has a 75% chance of placing a 30% [Decrease SPD] debuff for 3 turns and a 75% chance of placing a [Freeze] debuff for 1 turn.
Also steals 100% of the target's Turn Meter and places a 30% [Increase SPD] buff on this champion for 3 turns.
Will ignore 50% of the target's DEF against targets under [Freeze] debuffs.
Level 2: Damage +10%
Level 3: Buff/Debuff Chance +10%
Level 4: Buff/Debuff Chance +15%
Level 5: Cooldown -1
Damage Multiplier: 6 ATK
Overall Grading: Godlike
Glaciate (Cooldown: 5 turns)
Attacks all enemies. Has a 75% chance of placing a [Freeze] debuff for 1 turn. This chance increases to 100% against targets with 75% or more Turn Meter. This debuff cannot be resisted by targets with 75% or more Turn Meter.
Level 2: Damage +5%
Level 3: Damage +5%
Level 4: Damage +10%
Level 5: Cooldown -1
Damage Multiplier: 3.8 ATK
Overall Grading: Godlike
Lord of Ice (Cooldown: 5 turns)
[Passive Effect] Increases the damage this Champion inflicts by 10% for each Champion in battle under a [Freeze] debuff (ally or enemy). Also decreases the damage this Champion receives by 10% for each Champion under a [Freeze] debuff (ally or enemy)
[Active Effect] Places a [Unkillable] buff on this champion for 1 turn whenever they kill an enemy under a [Freeze] debuff
Aura
Increases Ally ATK in All Battles by 33%
Yakarl the Scourge Equipment Guide
Arena, Doom Tower, Faction Wars
Campaign, Clan Boss, Dungeons

Recommended Artifacts

1 Savage Set, 1 Cruel Set
2 Perception Set, 1 Speed Set
2 Accuracy Set, 1 Speed Set

Recommended Artifacts

1 Savage Set, 1 Cruel Set
2 Perception Set, 1 Speed Set
2 Accuracy Set, 1 Speed Set

Recommended Stats

ATK%, C.RATE, C.DMG, SPD, ACC
Weapon (ATK)
Helmet (HP)
Shield (DEF)
Gauntlets (C.RATE / C.DMG)
Chestplate (ATK%)
Boots (SPD)
Ring (ATK)
Amulet (ATK / C.DMG)
Banner (ACC)

Recommended Stats

ATK%, C.RATE, C.DMG, SPD, ACC
Weapon (ATK)
Helmet (HP)
Shield (DEF)
Gauntlets (C.RATE / C.DMG)
Chestplate (ATK%)
Boots (SPD)
Ring (ATK)
Amulet (ATK / C.DMG)
Banner (ACC)
Yakarl the Scourge Mastery Guide
Arena, Campaign, Clan Boss, Dungeons, Doom Tower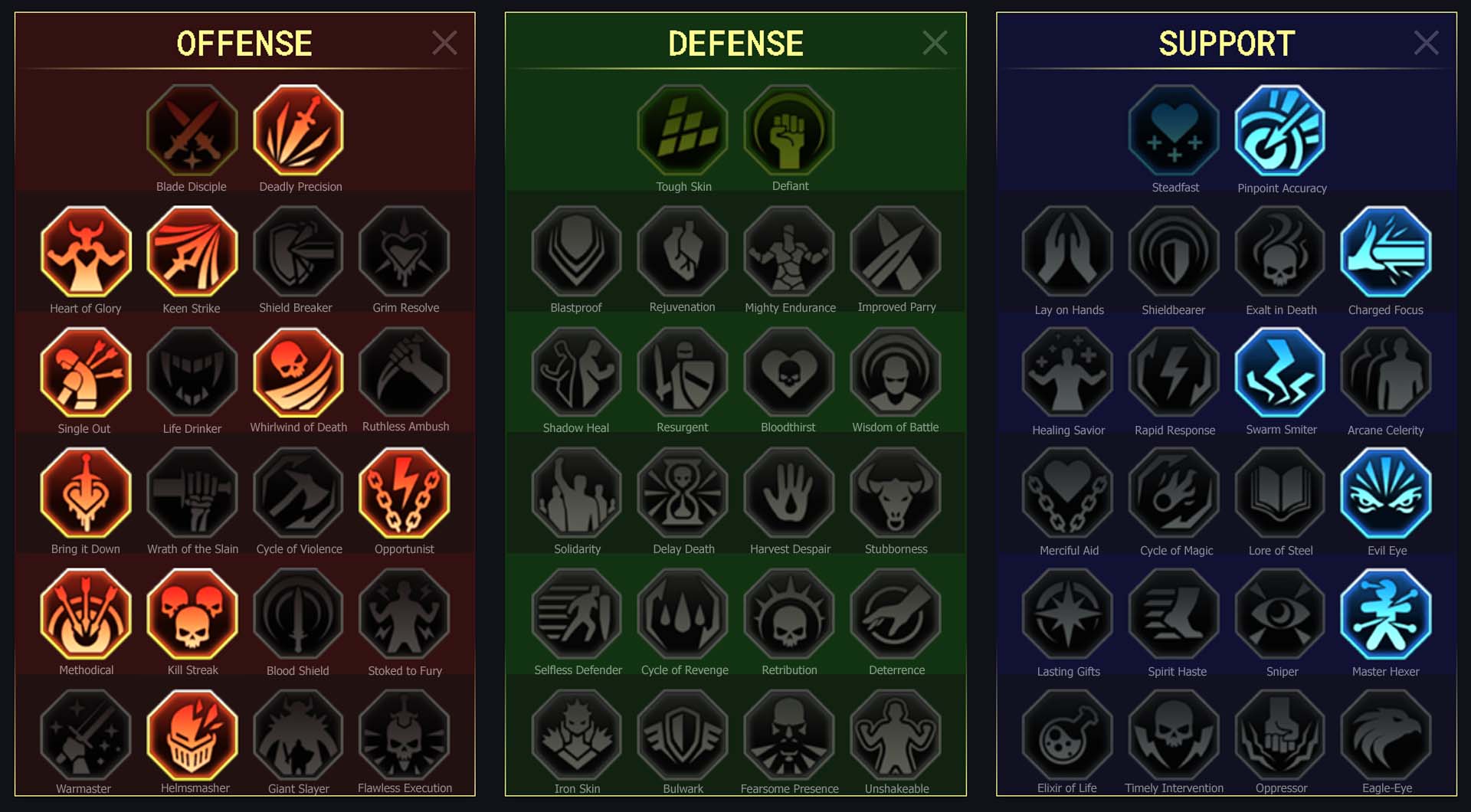 Offense

Deadly Precision
Keen Strike
Heart of Glory
Single Out
Whirlwind of Death
Bring it Down
Opportunist
Kill Streak
Methodical
Helmsmasher

Support

Pinpoint Accuracy
Charged Focus
Swarm Smiter
Evil Eye
Master Hexer
Yakarl the Scourge Storyline
Clad in ornate armor of black steel, gold, and hoarfrost, Yakarl strides through the hurricane of battle like an ice giant of the Old Norr myths. He is a living legend himself, a Champion from the days when Norr raiders sailed across the ocean and struck terror into the hearts of all those unfortunate enough to attract their rapacious gaze. The runes tattooed upon his body and etched into the beard of his axe still glow with the vicious glory of those days, yet now he serves a higher power. Even as a young warrior, Yakarl was renowned for his strength, courage, and luck. He made a name for himself in daring forays across the coast of Aravia, razing and pillaging small settlements only to escape with rich plunder before the Elven forces rallied to retaliate. He earned the respect of his fellow warriors and soon enough led a small band of his own in even more brazen ventures that took him from the stormy Valdemar Strait to the rocky shores of Kaerok. The tales of Yakarl's deeds spread, and his wealth grew over the years – as did his authority among the Norr. Yet that was not enough to sate his lust for fame. He desired nothing short of becoming a chieftain whose name would be hailed above all others. And so, when an old skald came traveling through his land, singing songs of an ancient weapon forged by the hand of Brimir himself, Yakarl took heed. He received the stranger with honor, calling for a feast in a show of ostentatious hospitality. And at the height of the festivities, when all his guests were drunk on fine mead and ale, Yakarl swore to travel northwards and recover the legendary Axe of Allwinter in a quest that would be celebrated for all time. Eight ships he outfitted to set sail, his bravest warriors by his side. Some counseled Yakarl to abandon this wild dream of his, or at least wait until next year – winter was coming, and the treacherous waters of the northern sea were soon to become nigh-impassable. But the chieftain remained implacable. He would not abandon his oath even in the face of grave danger, for that would bring dishonor beyond what he could bear. And so, the ships left the craggy haven of Yakarl's home within a fortnight. Through storm and blizzard they sailed, fighting for their lives both against nature and the vicious monsters that dwelt in the North. One by one, Yakarl's ships were lost, sunk or overrun, and yet he stayed his course. Even when the shimmering lights of the aurora shone high overhead and Yakarl's vessel was the only one to survive, he refused to turn back. But with his crew diminished, he too began to lose hope. Too weakened to fight his way back through the frozen waters, his choice was simple – to succeed or to die trying. But even in that darkest hour, Yakarl's fortune did not fail him. On the night of Yuletide, Yakarl stood alone on the prow of his ship, pondering over the cruelties of fate and the depth of his own hubris. The bitter cold held him immobile surer than any chain forged by mortal hands, and death seemed all but certain. Then, Yakarl heard a chime of bells that seemed to permeate his very spirit. It was a strange sound, one that made him think that he had gone mad at last. In truth, this chime heralded the arrival of their savior. To his astonishment, Yakarl saw the old skald who first told him the legend of the Axe, but now that skald rode a sleigh that soared above water, no longer clad in rags but in a gleaming armor and a vibrant cloak of crimson and white. No other than Sir Nicholas himself came to see the brave seafarers who had traveled this far and battled through countless dangers. He spoke to Yakarl in a voice booming like thunder and held aloft the Axe of Allwinter – the very prize which led the Norr chieftain into the jaws of death. It would be his, Nicholas proclaimed, for few possessed the will and determination to survive in these inhospitable lands. There was, however, a catch. Yakarl had to swear his life into the service of Goddess Lumaya and fight as her Champion against the forces of Darkness that threatened Teleria. Thus, the ancient warrior said, he would earn glory and fame beyond his wildest dreams. In a way, this was a dream come true. To wield a weapon of ancient might, to fight eternally against worthy foes, and be hailed a hero by mortals across the realms of mortals? Yakarl accepted without hesitation, and in a flash of blinding light Sir Nicholas bound his soul to one of Lumaya-given Shards. Thus imbued with the Goddess' power and with his prize in hand, Yakarl led the survivors home. There, he divided his riches among them and chose a worthy successor to rule in his stead. With the duty to his people fulfilled, Yakarl left once more and sailed to the North where his new, eternal life awaited.
Yakarl the Scourge Review
Yakarl the Scourge is a Legendary Attack Void affinity champion from the Barbarians faction in Raid Shadow Legends. He is known as the Blizzard King and has an impressive background story that strikes awe upon his release in Teleria. However, his initial gameplay was considered average and challenging to use despite being a Void Legendary. Nevertheless, in Patch 5.30, Yakarl underwent a comprehensive rework that made him a powerful force to reckon with.
One of Yakarl's main focuses is the Freeze debuff, which he benefits from significantly. He has a Candraphon-like passive, which increases his damage while reducing the damage he receives by 10% for every Freeze debuff in the battle, whether ally or enemy. His A3 skill is now more straightforward, an AoE attack that carries a chance to Freeze the enemy with an irresistible 100% chance if their Turn Meter is greater than 75%. With these changes, Yakarl has moved up in usefulness and can now play critical roles in teams.
Yakarl is most effective in Doom Tower and Arena, where his Freeze abilities and passive come in handy. As he gains innate damage reduction on his passive, you can run him a bit squishy, but he works best when paired with another Freeze champion like Ninja or Gliseah Soulguide. Additionally, he is excellent against Dark Fae, as he can steal their Turn Meter with a 100% chance and can be used as an Arena Nuker. However, it is crucial to remember that Freeze penalizes damage by reducing it by 25%.
All players can obtain Yakarl the Scourge from Fragments bought using Clan Gold in the Clan Shop. With his rework, he is now a force to be reckoned with, and players can add him to their teams to conquer Teleria with ease. The Blizzard King, Yakarl, will undoubtedly be a valuable asset to any team, bringing his formidable Freeze abilities to the battlefield.
Yakarl the Scourge Updates
Yakarl the Scourge Videos
Raid Shadow Legends Yakarl the Scourge Champion Guide by BGE
Raid Shadow Legends Yakarl the Scourge Champion Guide by Skratch