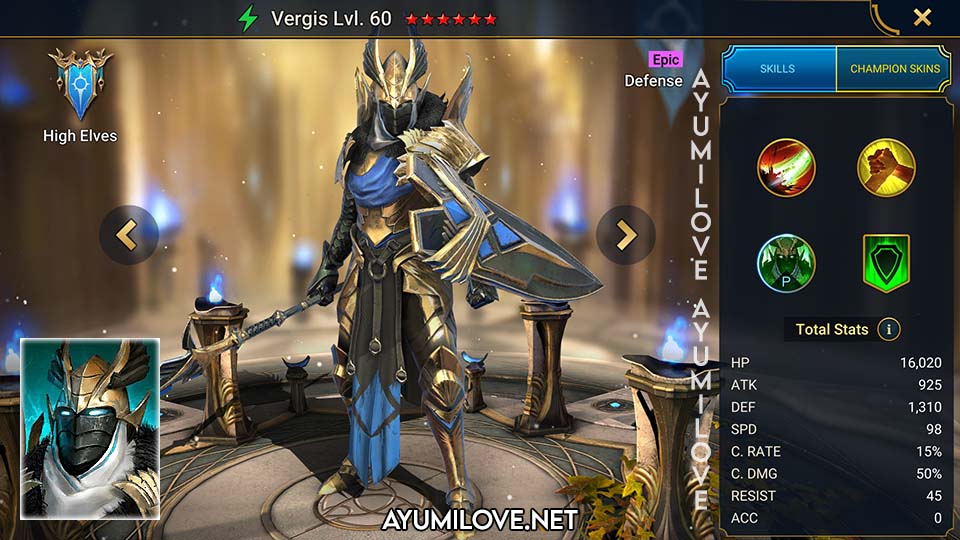 Overview

NAME: Vergis
FACTION: High Elves
RARITY: Epic
ROLE: Defense
AFFINITY: Spirit
RANK: A
USABILITY: Early-Mid-Late Game
TOMES: 7 (A2 A3)

Abilities

RSL_AoE_AllyProtection_50%
RSL_Dungeons_DefenseAura
RSL_Passive_ContinuousHeal_Special
RSL_Random_ReflectDamage_30%
RSL_Self_ContinuousHeal_15%
RSL_Self_IncreaseDefense_60%
RSL_Self_Passive
RSL_Self_Shield
RSL_Target_ContinuousHeal_15%
RSL_Target_IncreaseSpeed_30%
RSL_Target_ReflectDamage_30%

Obtain from

Ancient Shard
Sacred Shard

Blessings Recommendation

Cruelty (Debuffer)
Crushing Rend (Damage Dealer)

Grinding

★★★★✰ Campaign
★★★★★ Arena Defense
★★★★✰ Arena Offense
★★★★✰ Clan Boss
★★★★✰ Hydra
★★★★★ Faction Wars

Dungeons

★★★★✰ Minotaur
★★★★✰ Spider
★★★★★ Fire Knight
★★★★✰ Dragon
★★★★✰ Ice Golem
★★★✰✰ Iron Twins

Potion

★★★★✰ Arcane Keep
★★★★✰ Void Keep
★★★★✰ Force Keep
★★★★✰ Spirit Keep
★★★✰✰ Magic Keep

Doom Tower

★★★★✰ Floors
★★★★✰ Magma Dragon
★★★★✰ Nether Spider
★★★★✰ Frost Spider
★★★★★ Scarab King
★✰✰✰✰ Celestial Griffin
★✰✰✰✰ Eternal Dragon
★★★★✰ Dreadhorn
★✰✰✰✰ Dark Fae
Vergis Skills
Pierce
Attacks 1 enemy. Has a 40% chance of placing a 30% [Reflect Damage] debuff on a random ally for 2 turns.
Level 2: Damage +5%
Level 3: Buff/Debuff Chance +5%
Level 4: Damage +5%
Level 5: Buff/Debuff Chance +5%
Damage Multiplier: 3.9 DEF
Aegis (Cooldown: 4 turns)
Places a 15% [Continuous Heal] buff, a 30% [Increase SPD] buff, and a 30% [Reflect Damage] buff on a target ally for 3 turns. Also places a 50% [Ally Protection] buff on all allies except this Champion for 2 turns. Places a 60% [Increase DEF] buff on this Champion for 2 turns.
Level 2: Cooldown -1
Second Wind (Passive, Cooldown: 3 turns)
[Passive Effect] Places a [Shield] buff on this Champion equal to 10% of their MAX HP for 2 turns whenever this Champion loses 10% or more of their MAX HP from a single hit. [Active Effect] Places a 15% [Continuous Heal] buff on this Champion for 2 turns every time their HP drops below 50%.
Level 2: Cooldown -1
Level 3: Cooldown -1
Aura
Increases Ally DEF in Dungeons by 33%
Vergis Equipment Guide
Arena, Campaign, Clan Boss, Dungeons, Doom Tower, Faction Wars

Recommended Artifacts

Lifesteal, Regeneration, Destroy, Resist, Immortal, Defense, Speed

Recommended Stats

DEF%, HP%, SPD, C.RATE, RESIST
Weapon (ATK)
Helmet (HP)
Shield (DEF)
Gauntlets (DEF% / HP% / C.RATE)
Chestplate (DEF% / HP%)
Boots (SPD)
Ring (DEF / HP)
Amulet (DEF / HP)
Banner (DEF / HP / RESIST)
Vergis Mastery Guide
Arena, Campaign, Clan Boss, Dungeons, Doom Tower, Faction Wars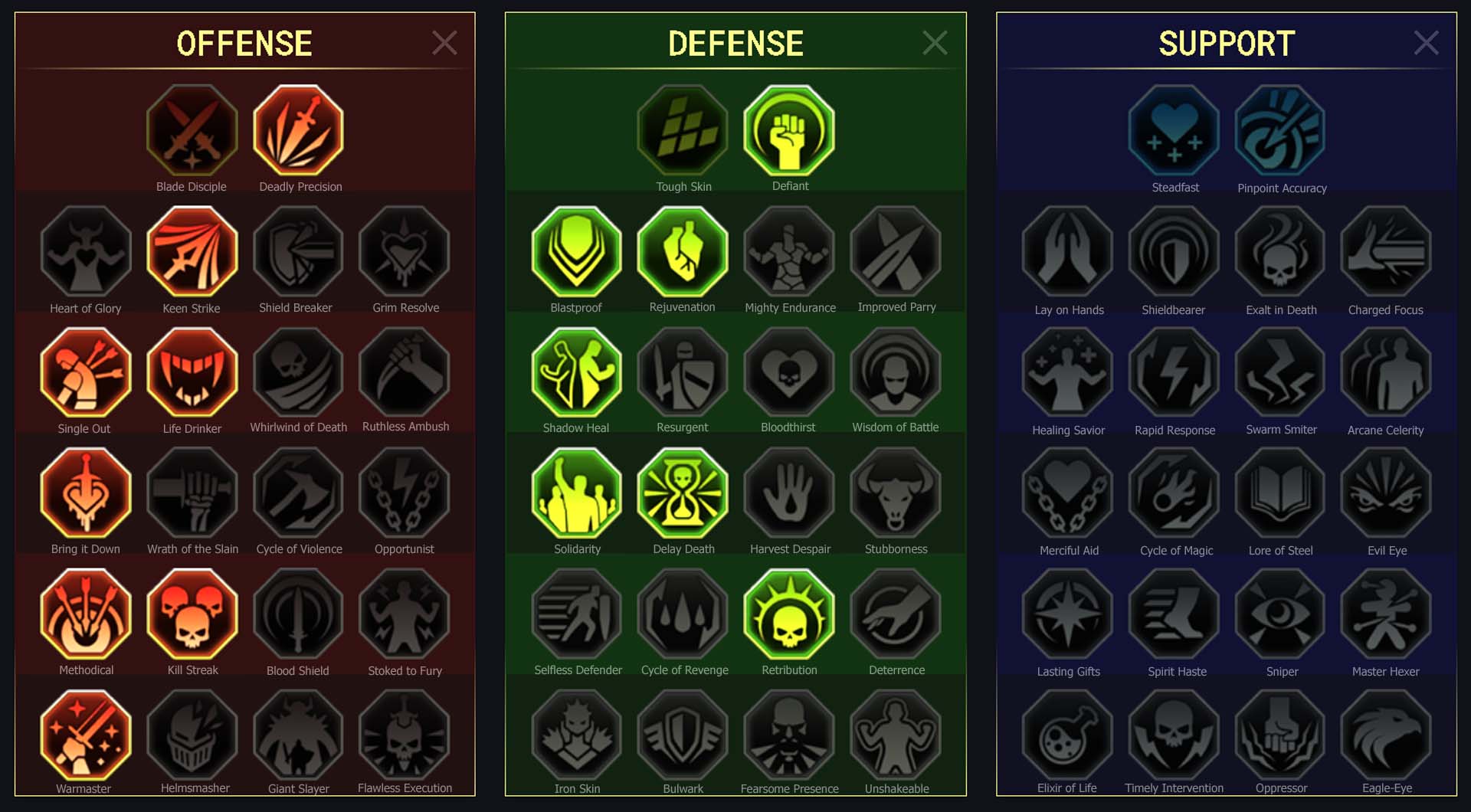 Offense

Deadly Precision
Keen Strike
Single Out
Life Drinker
Bring it Down
Methodical
Kill Streak
Warmaster

Defense

Tough Skin
Blastproof
Rejuvenation
Shadow Heal
Delay Death
Solidarity
Retribution
Vergis Review
Raid Shadow Legends – Vergis is an Epic Spirit Defense champion from the High Elves faction where he can be obtained from Ancient Shards and Sacred Shards.
Vergis Purpose
Vergis excels as a tank in protecting allies in battle. He has a skill called "Aegis", which applies Ally Protection buff to all allies to mitigate a portion of the damage from them to himself. It also buffs the targeted ally (the champion in the Leader Position) with Continuous Heal and Increase Speed buff.
Vergis is able to tank/absorb high amount of damage with the help of his passive skill called "Second Wind". This allows him to replenish his shield whenever he loses a portion of his HP. It also instantly applies a Continuous Heal buff on himself whenever his HP drops below 50%.
He excels against multi-hit attacking Champions but terrible against Champion who deals large burst of damage as it does not activate the shield multiple time. Therefore, he is not well suited as defender against Speed Nuke Team in Arena or enemy's attack that can bypass shield.
He can play the role as Tank Bait in Spider's Den (Force Affinity Dungeon to provoke Spiderling) as his shield can mitigate the damage from Spiderling's attack. To counter Spiderling's Poison debuff, equip him with gear that has high Resist stat.
Vergis is an excellent solution for Doom Tower Scarab King as his passive skill auto applies Shield buff whenever he takes damage. This essentialy prevents triggering the Scrarab King counter attack passive skill. You can run 2 Vergis to support one another with Continuous Heal buff and gear both of them with Destroy Set to break Scarab King shield quickly. It's advisable to have them with decent amount of Resist stat to prevent buff being stolen and provoked by the boss.
Vergis Synergy
Vergis pairs well with tanky champions (e.g. Miscreated Monster) to 3-Star Normal-Hard-Brutal-Nightmare Campaign stages as both of them can wear down the enemy with their massive Defense, HP and High Recovery speed.
Vergis pairs well with Crowd Control champion (e.g. Alure) to tackle Normal-Hard-Brutal-Nightmare Campaign Bosses.
In addition, he is excellent in Fire Knight Dungeon, Minotaur's Labyrinth and Clan Boss Speed Team Setup where he protects the champion in the Leader Position who is critical to the team (e.g. Champion Reviver such as Arbiter or a Team Buffer such as Apothecary).
Vergis Limitation
If Vergis HP drops below 50% and his Continuous Heal does not heal him above 50%, his passive skill "Second Wind" will not be able to activate again! This can happen if multiple enemy target him to quickly reduce his HP before the Continuous Heal replenishes his HP above 50%.
To mitigate this limitation, I highly recommend using Lifesteal Set on him. I have experimented various sets such as Regeneration Set and Immortal Set, but they do not outperform Lifesteal Set in replenishing HP in the heat of battle (e.g. 2 champions solo Nightmare Campaign).
Vergis's shield does not auto-recover when he receives damage from protecting his allies with Ally Protection buff! Hence, if you are using him for Borgoth the Scarab King in Doom Tower either Easy or Hard mode, it's advisable to only have 2 Vergis to defeat the boss. However, you can use high damage output champions such as Seer to clear the 1st and 2nd wave quickly for the Scarab King mob waves, which primarily consists of Krisks that provides a large amount of Shield, Continuous Heal and Ally Protection. The champion helpers would need to be sufficiently squishy to die quickly from Scarab King's counterattack or else it will steal Vergis's allies buffs.
If you have a duplicate champion of Vergis, you can team 2 of them (without any other champions to fill the remaining 3 vacant champion slots) to defeat the Doom Tower Boss Borgoth the Scarab King on full auto! This is the only champion who can do it easily without needing to set up a team of 5 champions with the speed tuning, ensuring they have shield all the time and decreasing the turn meter of the boss to prevent him from stealing your champion buffs and counter-attacking those who do not have shield buff.
Vergis Reference
Arena, Doom Tower, Faction Wars
Below is a reference of the artifacts equipped on Vergis specialized for Doom Tower Hard against Borgoth the Scarab King. This setup can also be used in Arena and Faction Wars too. Vergis is equipped with Destroy Set to enable him to destroy the Scarab King's shield that mitigates a portion of the damage received. Destroy Set is also excellent against champions who have a high amount of HP (Health aka Hit Points) and fast HP recovery. The equipment prioritizes high HP%, DEF%, C.RATE, RESIST and SPD stats. HP% stat allows Vergis to generate a large shield to protect himself whenever he is under attack. DEF% stat allows Vergis to increase his overall damage output and decreases the damage intake from enemy attacks. RESIST stat provides Vergis protection against any debuff placed by the enemies and also prevents them from performing instant negative effect on him such as stealing his buffs. C.RATE stat enables Vergis to deal higher amount of damage to clear the waves and boss quickly!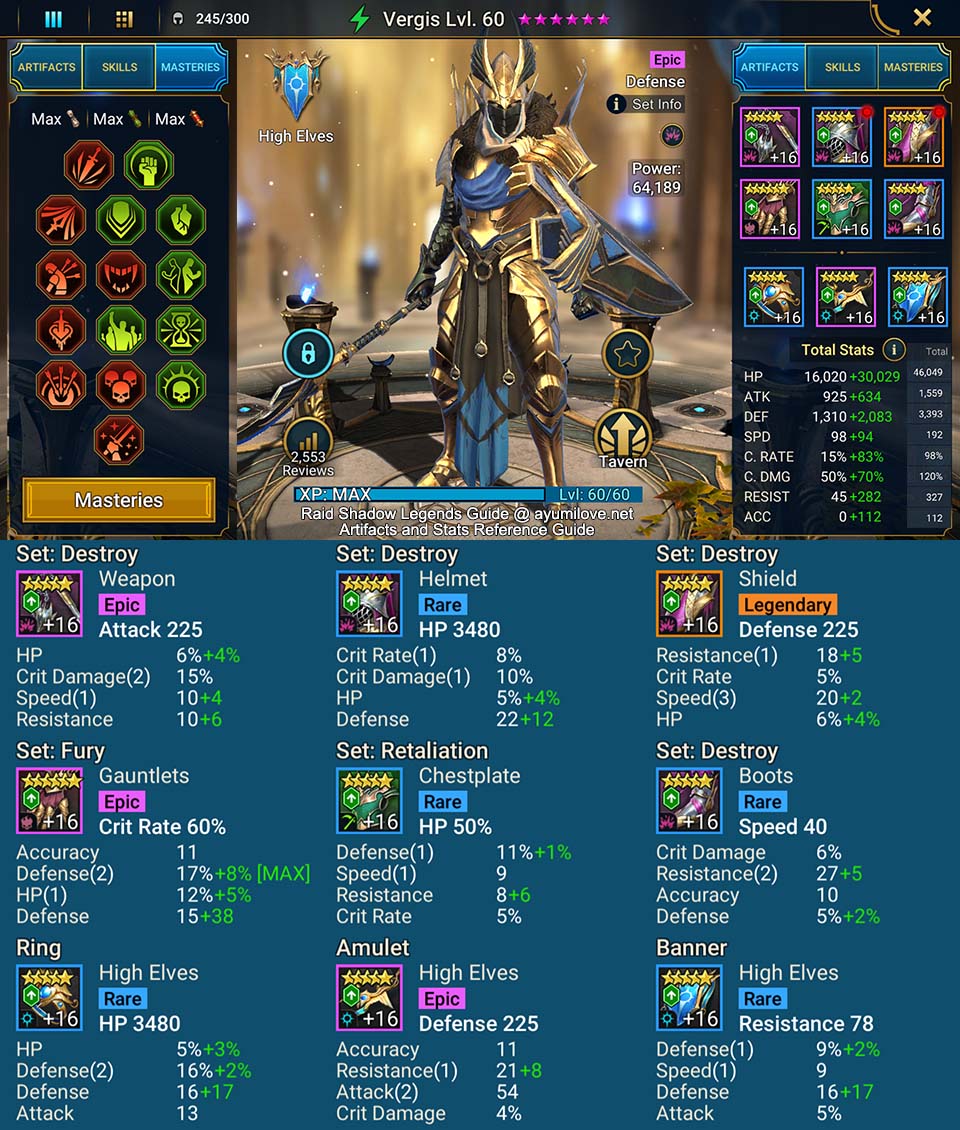 Vergis Updates
Vergis Videos
ASH: VERGIS is a SUPPORT MONSTER! Build, Masteries & Guide!
Raid Shadow Legends Vergis Champion Guide by StewGaming
Raid Shadow Legends Vergis Champion Guide by DeadwoodJedi
Raid Shadow Legends Vergis vs Borgoth the Scarab King in Doom Tower by LokiMagics