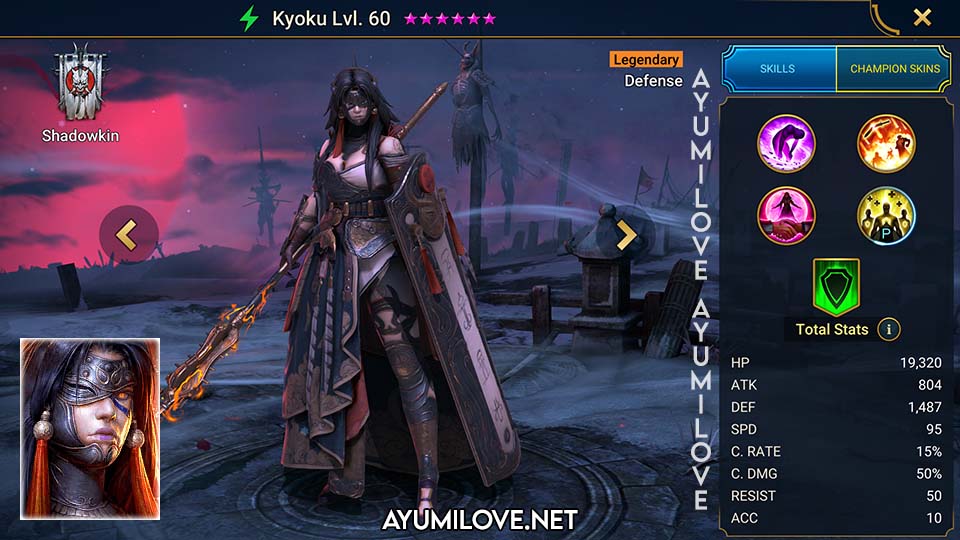 Overview

NAME: Kyoku
FACTION: Shadowkin
RARITY: Legendary
ROLE: Defense
AFFINITY: Spirit
RANK: S
USABILITY: Early-Mid-Late Game
TOMES: 11 (A3 A4)

Abilities

RSL_AllBattles_DefenseAura
RSL_AoE_AllyProtection_50%
RSL_AoE_DecreaseAttack_50%
RSL_AoE_Heal_Passive
RSL_AoE_HpBurn
RSL_AoE_IncreaseDefense_60%
RSL_Self_BlockDamage
RSL_Self_ExtraTurn
RSL_Target_Weaken_25%

Obtain from

Ancient Shard
Sacred Shard
Guaranteed Champion

Blessings Recommendation

Brimstone (Late Game)
Cruelty (Clan Boss)
Lightning Cage (Arena Defense)

Grinding

★★★★✰ Campaign
★★★★★ Arena Defense
★★★★✰ Arena Offense
★★★★★ Clan Boss
★★★★★ Hydra
★★★★★ Faction Wars

Dungeons

★★★★★ Minotaur
★★★★★ Spider
★★★★✰ Fire Knight
★★★★★ Dragon
★★★★★ Ice Golem
★★★★✰ Iron Twins
★★✰✰✰ Sand Devil

Potion

★★★★★ Arcane Keep
★★★★✰ Void Keep
★★★★★ Force Keep
★★★★✰ Spirit Keep
★★★✰✰ Magic Keep

Doom Tower

★★★★★ Floors
★★★★★ Magma Dragon
★★★★✰ Nether Spider
★★★★★ Frost Spider
★★★✰✰ Scarab King
★★★★★ Celestial Griffin
★★★★★ Eternal Dragon
★★★★★ Dreadhorn
★✰✰✰✰ Dark Fae
Kyoku Review
Kyoku is a Legendary Defense Spirit champion from Shadowkin faction in Raid Shadow Legends. Kyoku was introduced in Patch 4.90 on November 2021. She is known for her exceptional protection buffs and unique passive that make her a formidable opponent on the battlefield. Her primary objective is to safeguard her allies from their enemies and ensure the safety of her faction.
Kyoku's main ability is to place ally protection on her allies and a block damage on herself for 3 turns while gaining an Extra Turn. This unique setup means that the ally protection lasts for 2 turns, with a 3 turn cooldown, while Kyoku remains protected from all damage. This makes her the most potent protector in Teleria, giving her the ability to keep her allies safe in the most challenging of battles.
Kyoku's passive ability is considered an upgraded Seeker passive, as any critical hit on her or her allies will heal her allies for 15% of their MAX HP and place a Defense buff for 2 turns. This makes her an invaluable asset to her team, as she can heal her allies while defending them from their enemies.
While her A2 is a little tricky to use, as it requires another champion to apply a 100% AoE 50% decrease attack to enable her HP burn, it is still a viable way to deal with Spider, and AOE HP burn is also incredibly powerful. Additionally, Kyoku can solo Bommal hard 90 with the correct stats in a regen set, running at a true speed of 358 with a minimum of 55k HP.
Finally, Kyoku's A1 is a powerful attack that hits four times on a target with three debuffs. This makes her an excellent champion for dealing with multiple enemies at once, making her a valuable addition to any team.
In conclusion, Kyoku's powerful protection buffs helps to keep her allies safe while dealing damage against multiple enemies at once. She is an invaluable asset to any team, making her a force to be reckoned with on the battlefield.
Kyoku Skills
One-Eyed Beast
Attacks 1 enemy. Will place 3 hits if the target is under 3 or more debuffs. Each hit has a 40% chance of placing a 25% [Weaken] debuff for 2 turns.
Level 2: Damage +5%
Level 3: Buff/Debuff Chance +5%
Level 4: Damage +5%
Level 5: Buff/Debuff Chance +5%
Damage Multiplier: 1.6 DEF
Overall Grading: Godlike
Blood Curdle (Cooldown: 4 turns)
Attacks all enemies. Has an 80% chance of placing a 50% [Decrease ATK] debuff for 2 turns. After attacking, has an 80% chance of placing a [HP Burn] debuff for 2 turns on all enemies without [Decrease ATK] debuffs.
Level 2: Damage +10%
Level 3: Buff/Debuff Chance +10%
Level 4: Damage +10%
Level 5: Buff/Debuff Chance +10%
Damage Multiplier: 3.3 DEF
Overall Grading: Strong
Kyoku's Horde (Cooldown: 5 turns)
Places a 50% [Ally Protection] buff on all allies except this Champion for 2 turns. Also places a [Block Damage] buff on this Champion for 3 turns, then grants an Extra Turn.
Level 2: Cooldown -1
Wellspring (Passive, Cooldown: 6 turns)
Every time this Champion is hit with a critical hit, heals all allies by 15% of their MAX HP, then places a 60% [Increase DEF] buff on all allies for 2 turns.
Level 2: Cooldown -1
Level 3: Cooldown -1
Aura
Increases Ally DEF in All Battles by 30%
Kyoku Equipment Guide
Arena, Campaign, Clan Boss, Dungeons, Doom Tower, Faction Wars

Recommended Artifacts

Lifesteal, Accuracy, Perception, Speed, Shield, Immortal, Regeneration, Resist

Stats Allocation

Weapon (ATK)
Helmet (HP)
Shield (DEF)
Gauntlets (HP% / DEF% / C.RATE)
Chestplate (HP% / DEF%)
Boots (SPD)
Ring (HP / DEF)
Amulet (HP / DEF / C.DMG)
Banner (ACC / RESIST)

Stats Priority

Supporter & Debuffer: DEF%, HP%, SPD, ACC, RESIST
Attacker & Debuffer: DEF%, C.RATE, C.DMG, SPD, ACC
Kyoku Mastery Guide
Arena, Campaign, Clan Boss, Dungeons, Doom Tower, Faction Wars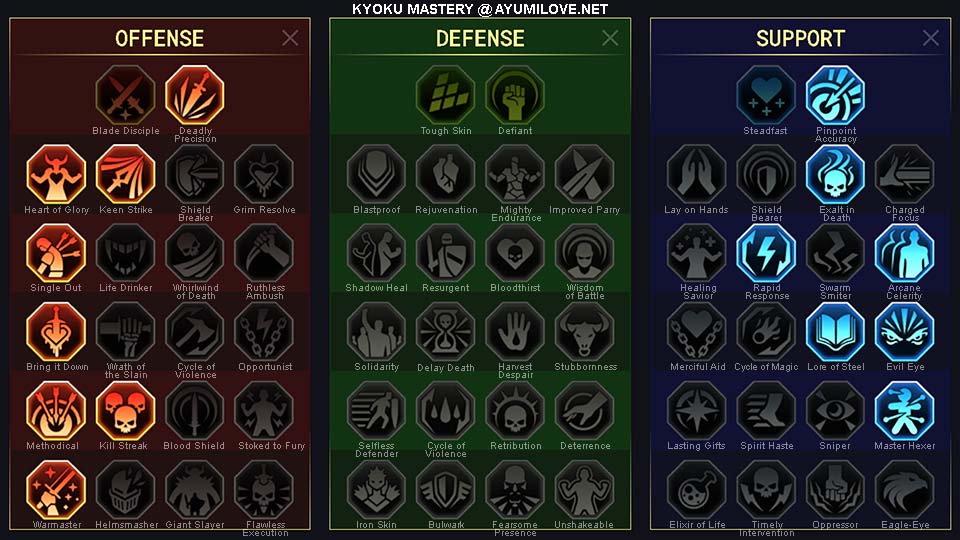 Offense

Deadly Precision
Keen Strike
Heart of Glory
Single Out
Bring it Down
Methodical
Kill Streak
Warmaster

Support

Pinpoint Accuracy
Exalt in Death
Arcane Celerity
Rapid Response
Lore of Steel
Evil Eye
Master Hexer
Clan Boss (Speed Tuned)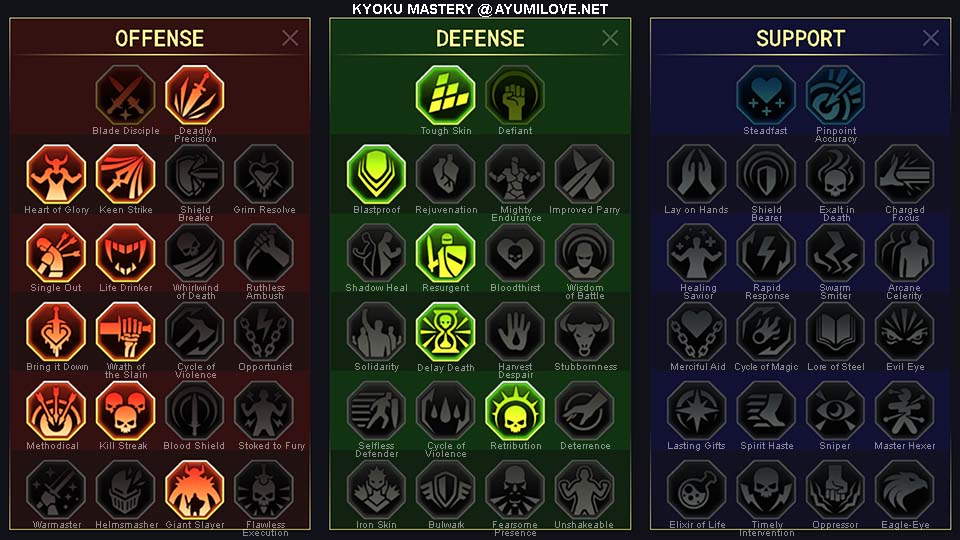 Offense

Deadly Precision
Keen Strike
Heart of Glory
Single Out
Life Drinker
Bring it Down
Wrath of the Slain
Methodical
Kill Streak
Giant Slayer / Warmaster

Defense

Tough Skin
Blastproof
Resurgent
Delay Death
Retribution
Kyoku Videos
ASH: Kyoku The Best Tank In RAID! Here's Why…
Skratch: She is absolutely amazing! Kyoku Champion Spotlight
MurderInc: Kyokuu Shadowkin Goddess Champion Spotlight