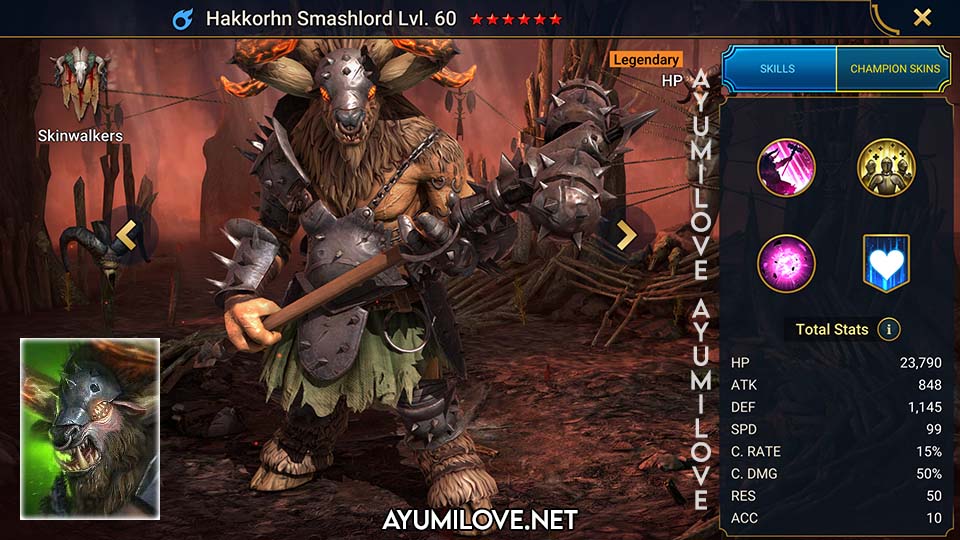 Overview

NAME: Hakkorhn Smashlord
FACTION: Skinwalkers
RARITY: Legendary
ROLE: HP
AFFINITY: Magic
RANK: B
USABILITY: Mid-Late Game
TOMES: 9 (A1 A3)

Abilities

RSL_AoE_BlockDebuffs
RSL_AoE_Heal
RSL_AoE_RemoveDebuffs
RSL_Dungeons_HpAura
RSL_Target_Stun

Obtain from

Ancient Shard
Sacred Shard
Primal Shard

Blessings Recommendation

Miracle Heal (Healer)
Soul Reap (Damage Dealer)
Ward of the Fallen (Damage Dealer)

Grinding

★★★★✰ Campaign
★★★★✰ Arena Defense
★★★★✰ Arena Offense
★★★✰✰ Clan Boss
★★★✰✰ Hydra
★★★★✰ Faction Wars

Dungeons

★★★★✰ Minotaur
★★★✰✰ Spider
★★✰✰✰ Fire Knight
★★★★✰ Dragon
★★★★✰ Ice Golem
★★★✰✰ Iron Twins
★✰✰✰✰ Sand Devil
★★★✰✰ Phantom Shogun

Potion

★★★✰✰ Arcane Keep
★★★★✰ Void Keep
★★✰✰✰ Force Keep
★★★✰✰ Spirit Keep
★★★✰✰ Magic Keep

Doom Tower

★★★★✰ Floors
★★★✰✰ Magma Dragon
★★★★✰ Nether Spider
★★★✰✰ Frost Spider
★★✰✰✰ Scarab King
★★✰✰✰ Celestial Griffin
★★★✰✰ Eternal Dragon
★✰✰✰✰ Dreadhorn
★★✰✰✰ Dark Fae
Hakkorhn Smashlord Skills
Inhuman Force
Attacks 1 enemy. Has a 40% chance of placing a [Stun] debuff for 1 turn.
Level 2: Damage +5%
Level 3: Buff/Debuff Chance +5%
Level 4: Damage +10%
Level 5: Buff/Debuff Chance +10%
Damage Multiplier: 0.2 HP
Rallying Bellow (Cooldown: 4 turns)
Removes all debuffs from all allies, then places a [Block Debuffs] buff on all allies for 2 turns. Heals all allies by 15% of this Champion's HP. Heals each ally by an extra 10% of this Champion's MAX HP for each debuff removed from them.
Level 2: Heal +5%
Level 3: Heal +5%
Level 4: Heal +5%
Level 5: Heal +5%
Blood Offering (Cooldown: 5 turns)
Sacrifices HP equal to 25% of this Champion's MAX HP, then attacks all enemies. Damage inflicted is equal to 50% of this Champion's MAX HP. This attack is always a normal hit. The HP sacrifice will happen even if it kills this Champion.
Level 2: Cooldown -1
Damage Multiplier: 0.5 HP
Aura
Increases Ally HP in Dungeons by 33%.
Hakkorhn Smashlord Equipment Guide
Equipment Set for Arena, Campaign, Faction Wars
1 Lifesteal Set, 1 Speed Set
1 Shield Set, 1 Speed Set
2 Defense Set, 1 Speed Set
Equipment Set for Clan Boss, Dungeons, Doom Tower
1 Lifesteal Set, 1 Speed Set
Equipment Stat Priority
Defense%, HP%, Speed, Accuracy
Weapon (Attack)
Helmet (HP)
Shield (Defense)
Gauntlets (Defense% / HP%)
Chestplate (Defense% / HP%)
Boots (Speed)
Ring (Defense / HP)
Amulet (Defense / HP)
Banner (Accuracy)
Hakkorhn Smashlord Mastery Guide
Arena, Campaign, Clan Boss, Dungeons, Doom Tower, Faction Wars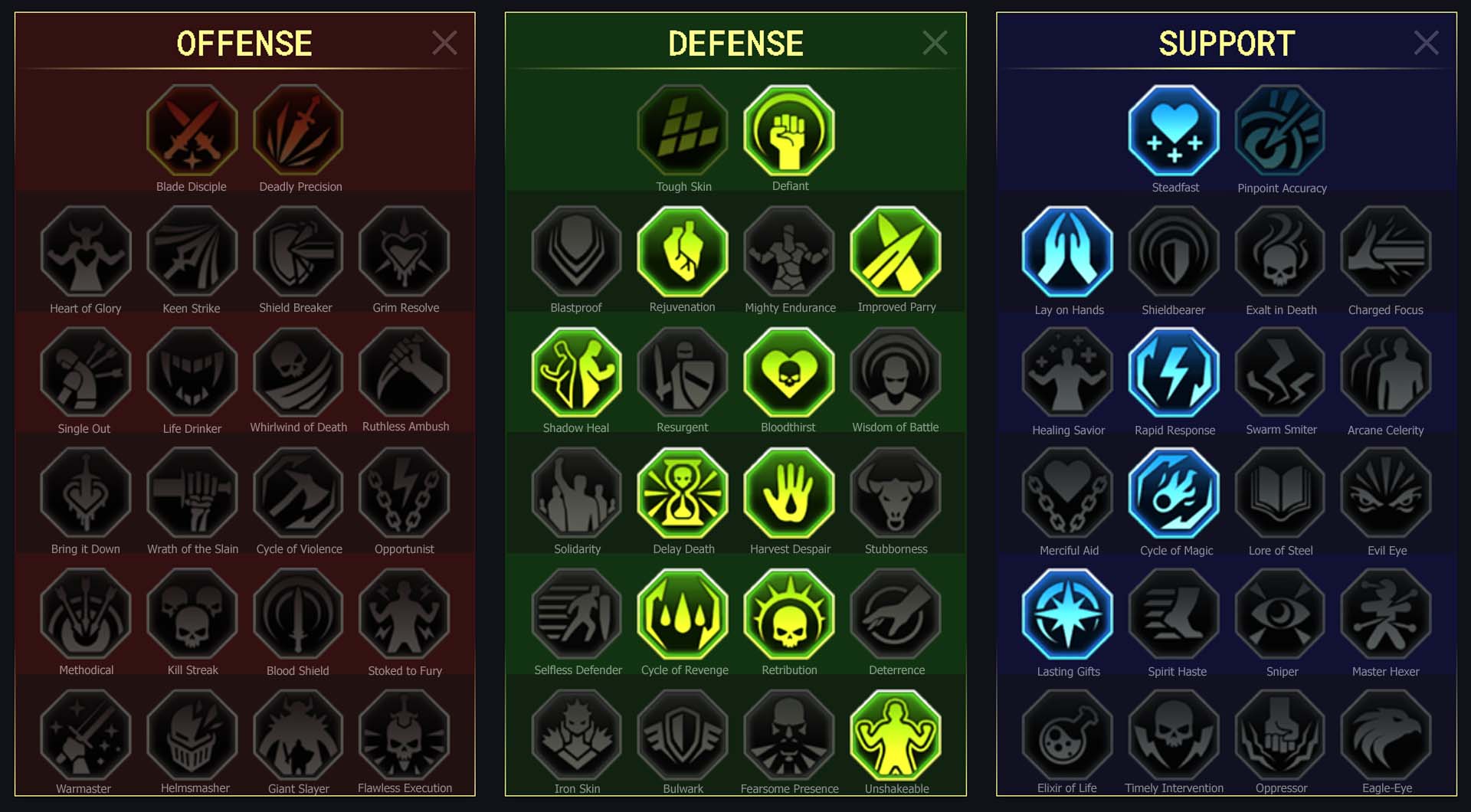 Defense

Defiant
Improved Parry
Rejuvenation
Shadow Heal
Bloodthirst
Delay Death
Harvest Despair
Cycle of Revenge
Retribution
Unshakeable

Support

Steadfast
Lay on Hands
Rapid Response
Cycle of Magic
Lasting Gifts
Hakkorhn Smashlord Champion Lore
Hakkorhn Smashlord was a signatory to the Gaellen Pact, helping ensure Skinwalkers a place and a voice within the multicultural proto-nation emerging in the Sorrowlakes. That Pact would launch a long and bloody war of revenge, and continue to shape world politics to this day.
But before Hakkorhn was the Smashlord, he was a young Nomad leading a meager life of subsistence at the edge of the harsh steppeland of the southern Stormwind Wastes. He was clever and ambitious, and no role his tribe offered could truly satisfy him. Restless and ill at ease, everything changed when he had a life-changing encounter with a Demonspawn, a being of smoke and whispers with the skull of a yak for a head, whose body flickered with flame and black soot. This Demonspawn, whether self-taught or infernally tutored, knew all about the Skinwalker curse, and the power of revenant animal souls.
The Demonspawn could easily sense the desires and frustrations raging within the man before him, and as the young Hakkorhn stood frozen in bewilderment, the Demonspawn whispered that the change he sought would visit him, and he would have no choice but to eat its heart and be born anew, or else perish. Having spoken, the Demonspawn faded like a mirage, leaving Hakkorhn deeply confused and disturbed. The man tried to put the encounter out of his mind, but as the days passed, his dread and curiosity grew.
Hakkorhn was still far from any town or hamlet when he saw the outline of a huge bovine creature on the horizon. As he drew closer he saw that hellfire was in its eyes and its horns, pointed toward him with murderous intent, gleamed. He considered running, but knew he'd never match the beast's speed, so stood his ground. A brutal struggle followed, in which Hakkorhn's cunning prevailed, and he laid low the raging bull. Exhausted and fearing corruption and death as the beast's foul blood soaked into his own grievous wounds, Hakkorhn heard the words of the Demonspawn echo in his mind. Maybe fulfilling its covenant would save his life. He tore through the creature's flesh, wrestled out its still warm heart and bit into it, just as the Demonspawn had told him to.
Hakkorhn twitched, Hakkorhn bellowed. His skin ripped and reformed and he felt as if he was being turned inside out as coarse hair burst from his skin and horns erupted from his skull. In lurches and lunges his physiology took on that of the creature whose heart he had eaten. His soul was battered and his conscious mind fled.
When Hakkorhn awoke, he was still on the steppe but with no familiar landmarks to orient himself. It was then that the Demonspawn appeared again. It provided him with food and drink, and told him much of the lore of Skinwalkers. It taught him to master his powerful new body, and gifted him a wickedly spiked hammer bigger than any Human could wield. The Demonspawn led Hakkorhn across the Stormwind Wastes, showed him strange relics and sites of lost potency. It instructed him in rhetoric and oratory, on how to lead and how to rule. Rites of weal and woe were revealed to him, powers to heal and harm.
For his part, Hakkorhn played the part of the eager apprentice but he never truly bowed in good faith before the Demonspawn. When he felt he'd learned enough, he declared his ties broken and left. Judging its work to be complete the Demonspawn let him, telling Hakkorhn to grow mighty and wanton, and water the furrows of history with blood.
But though Hakkorhn was mighty, he did not grow wanton. He had been a proud man and did not believe that true greatness could come from life as a mere rampaging vagabond. After departing the Wastes Hakkorhn soon encountered a pack of Skinwalkers heading for the Sorrowlakes. Something incredible was happening there, they said. A society was being built, one in which their kind could live without fear of murder or oppression, and which unified Ogryn, Lizardmen, and Orcs with them. He joined the group, eager to be a part of such a grand project. He soon earned the moniker 'Smashlord' for the way he pulverized raiders who attacked his pack. After they reached the Sorrowlakes, Hakkorhn's learned charisma rapidly gained him an immense following of Skinwalkers, and he came to lead dozens of clans. When Rhazin Scarhide proposed the Gaellen Pact, Hakkorhn joined without hesitation.
Hakkorhn did indeed make history, and watered its furrows with blood, but he also brought great power and dignity to his people, who had suffered decades of brutal persecution. The morality of the Gaellen War will always be contested, but it is never said that Hakkorhn was any agent of Darkness — his story shows that no matter their dark origins, Skinwalkers choose allegiances of their own.
Hakkorhn Smashlord Storyline
Skinwalkers, prized for their natural resilience and strength, often become the target of slavers from all across Teleria. The Dark Elves, though often allied with certain tribes, are particularly fond of capturing the creatures they see as little more than beasts and using them for back-breaking labour or bloody gladiator battles for their own twisted amusement. Sometimes, the unfortunate few become the unwilling subjects for magicians seeking to unlock further mysteries of the Dark Arts. Such was the fate of a minotaur known only as Hakkorhn Smashlord today. Whatever his former life used to be, it was burned to ashes. Everything stripped from him. Horrific experiments conducted by a Dark Elf witch coven infused the poor creature with a fiery rage that could not be quenched. Thus strengthened beyond even his beastly physique, the Smashlord was unleashed upon one of the slave-fighter arenas. The results were far more spectacular than his new masters could imagine, and for years the Hakkorhn reigned as the undisputed champion. But despite the various enchantments and hexes, the minotaur's will still simmered underneath. Slowly, he started regaining his former self until one fateful day where, in the midst of combat, the Smashlord turned on his captors and cut a bloody swathe through the guards with the help of his fellow slaves. Such was the carnage, that the stunned Dark Elves did not give pursuit until reinforcements arrived from a neighboring hold. And by that point, Hakkorhn and the other rebels were long gone. Though still tortured by dark spells that once bound his will, the Hakkorhn roams the land as an errant warrior in search of a worthy cause to lend his strength to.
Hakkorhn Smashlord Updates
Hakkorhn Smashlord Videos
Raid Shadow Legends Hakkorhn Smashlord Champion Guide by JGigs
Raid Shadow Legends Hakkorhn Smashlord Champion Guide by Dirtbag Gaming
Raid Shadow Legends Hakkorhn Smashlord Champion Guide by Edward Moore
Raid Shadow Legends Hakkorhn Smashlord Champion Guide by Chofly