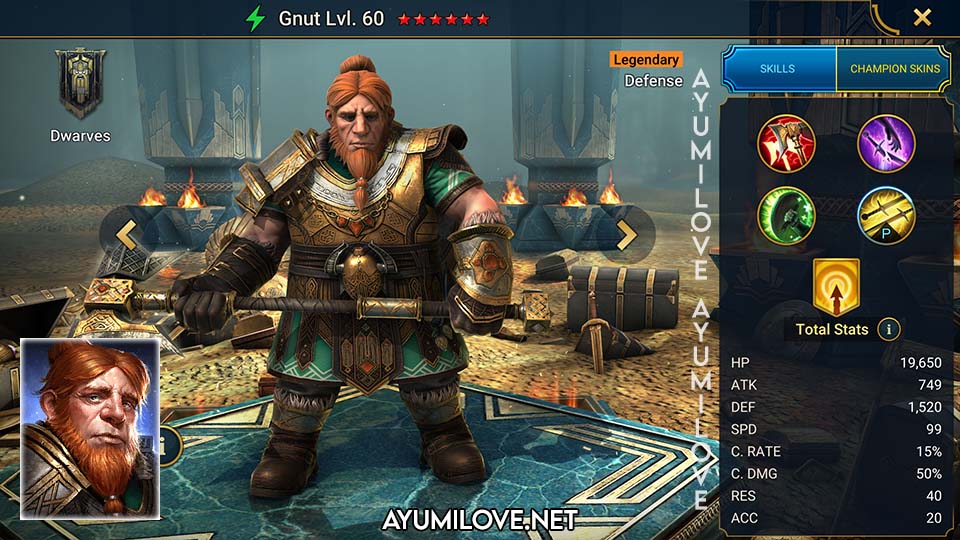 Overview

NAME: Gnut
FACTION: Dwarves
RARITY: Legendary
ROLE: Defense
AFFINITY: Spirit
RANK: S
USABILITY: Fire Knight God
TOMES: 12 (A2 A3)

Abilities

RSL_AoE_DecreaseAttack_50%
RSL_AoE_Weaken_25%
RSL_Dungeons_AccuracyAura
RSL_Self_CounterAttack
RSL_Self_Heal
RSL_Target_BasicAttack_3Hits
RSL_Target_DecreaseTurnMeter
RSL_Target_Freeze

Obtain from

Ancient Shard
Sacred Shard
Primal Shard
Gnut Fusion

Blessings Recommendation

Brimstone (Debuffer)
Crushing Rend (Damage Dealer)
Intimidating Presence (Aura Lead)

Grinding

★★★★★ Campaign
★★★★✰ Arena Defense
★★★★✰ Arena Offense
★★★★★ Clan Boss
★★★★★ Hydra
★★★★★ Faction Wars

Dungeons

★★★★★ Minotaur
★★★★✰ Spider
★★★★★ Fire Knight
★★★★✰ Dragon
★★★★★ Ice Golem
★★★★✰ Iron Twins
★★★★★ Sand Devil
★★★★★ Phantom Shogun

Potion

★★★★★ Arcane Keep
★★★★★ Void Keep
★★★★★ Force Keep
★★★★★ Spirit Keep
★★★★✰ Magic Keep

Doom Tower

★★★★★ Floors
★★★★★ Magma Dragon
★★★★✰ Nether Spider
★★★★✰ Frost Spider
★★★★✰ Scarab King
★★★★✰ Celestial Griffin
★★★★★ Eternal Dragon
★★★★✰ Dreadhorn
★★★★★ Dark Fae
Gnut Skills
Dwarven Might
Attacks 1 enemy 3 times. Each hit has an 80% chance of decreasing the target's Turn Meter by 15%. If the target's Turn Meter is not decreased, each hit has an 80% chance of placing a [Freeze] debuff on the target for 1 turn instead.
Level 2: Damage +10%
Level 3: Damage +10%
Level 4: Buff/Debuff chance +10%
Level 5: Buff/Debuff chance +10%
Damage Multiplier: 1.1 DEF
Fury of the King (Cooldown: 4 turns)
Attacks all enemies. Has a 75% chance of placing a 50% [Decrease ATK] debuff and a 25% [Weaken] debuff on all enemies for 2 turns. Also places a [Counterattack] buff on this Champion for 2 turns.
Level 2: Damage +10%
Level 3: Damage +10%
Level 4: Buff/Debuff chance +10%
Level 5: Buff/Debuff chance +15%
Level 6: Cooldown -1
Damage Multiplier: 3.5 DEF
Blessed Bash (Cooldown: 5 turns)
Attacks 1 enemy 3 times. Each hit decreases the target's DEF by 3% (Stacks up to 30%). Each hit also heals this Champion by 30% of the damage dealt.
Level 2: Damage +10%
Level 3: Damage +10%
Level 4: Cooldown -1
Damage Multiplier: 1.5 DEF + 10% TARGET HP
No Holding Back (Passive)
When counterattacking, deals 100% of damage instead of 75%
Aura
Increases Ally ACC in Dungeons by 80.
Gnut Equipment Guide
Arena, Campaign, Clan Boss, Dungeons, Doom Tower, Faction Wars

Recommended Artifacts

PvE: Relentless, Cursed, Perception, Accuracy, Speed, Lifesteal, Bloodthirst
PvP: Stoneskin, Savage, Lethal, Cruel, Bolster

Stats Allocation

Weapon (Attack)
Helmet (HP)
Shield (DEF)
Gauntlets (DEF% / C.RATE / C.DMG)
Chestplate (DEF%)
Boots (SPD)
Ring (DEF / HP)
Amulet (DEF / HP)
Banner (ACC / DEF)

Stats Priority

Debuffer: ACC, SPD, DEF%, C.RATE, C.DMG
Nuker: DEF%, C.RATE, C.DMG, SPD
Gnut Mastery Guide
Arena (Nuker)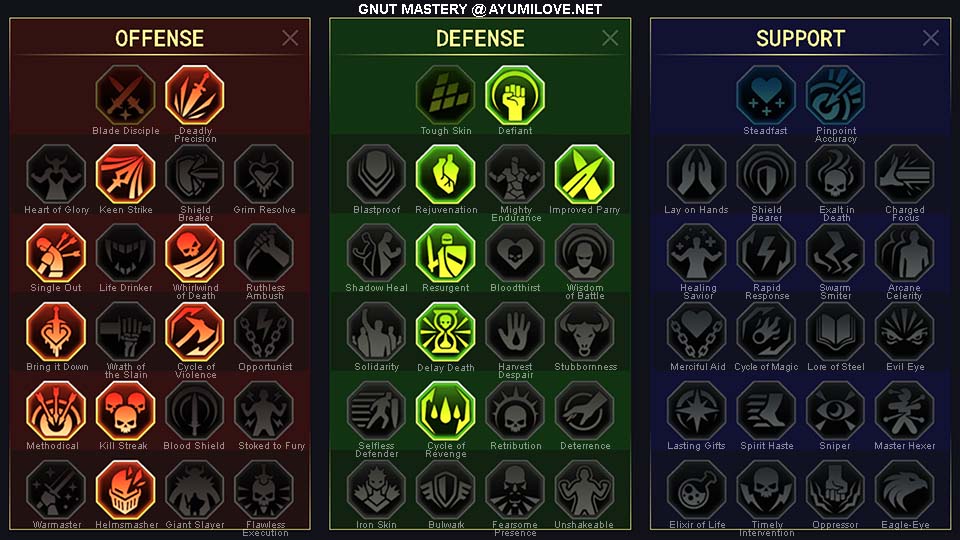 Offense

Deadly Precision
Keen Strike
Single Out
Whirlwind of Death
Cycle of Violence
Bring it Down
Methodical
Kill Streak
Helmsmasher

Defense

Defiant
Improved Parry
Rejuvenation
Resurgent
Delay Death
Cycle of Revenge
Campaign, Clan Boss, Dungeons, Faction Wars, Doom Tower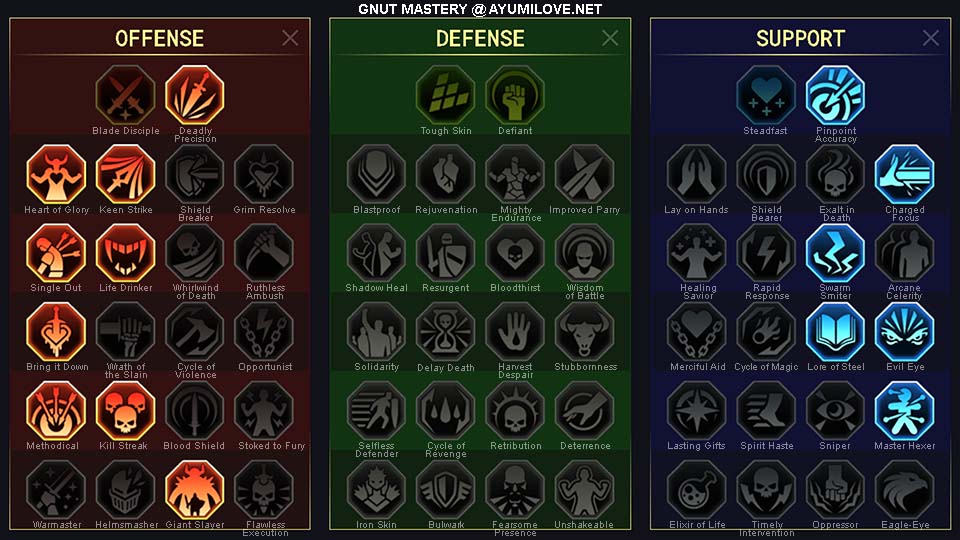 Offense

Deadly Precision
Keen Strike
Heart of GLory
Single Out
Life Drinker
Bring it Down
Methodical
Kill Streak
Giant Slayer

Support

Pinpoint Accuracy
Charged Focus
Swarm Smiter
Evil Eye
Lore of Steel
Master Hexer
Gnut Overview
Venture into the riveting saga of Gnut, the unyielding Dwarven warrior, brandishing an axe imbued with the fury of kings, poised to crush his enemies' skulls! Gnut, a legendary champion of the Defence Spirit affinity, joins the Dwarves faction as a momentous champion fusion to celebrate his awe-inspiring debut in Call Of The Arbiter Episode 7. He was introduced in July 2023 as of Patch 7.30.
A formidable force on the battlefield, Gnut stands as a potent option to confront some of Raid's most challenging encounters, with standout triumphs against the Fire Knight, Clan Boss, and the Hydra! Through the mastery of Dwarven Might [A1], he launches a relentless assault upon a targeted enemy, delivering three powerful blows, each decreasing their Turn Meter by an impressive 15%. However, when confronted with immune adversaries, this tactic seamlessly transforms into a clever imposition of Freeze Debuffs. The true value of this skill extends far beyond the realm of the Fire Knight, as demonstrated by its effectiveness against The Dark Fae and Spider's Den in particular, making Gnut akin to the Legendary Alure.
Additionally, this champion wields an array of abilities, including AOE Decrease Attack and Weaken placement, combined with a self-granted counter-attack buff that increases the damage dealt to 100% when retaliating. The harmonious synergy of this A2 skill enables Gnut to deftly mitigate incoming enemy assaults while simultaneously enhancing the power of your own strikes. And not to be overlooked, Gnut's A3 unleashes a threefold onslaught, with each hit chipping away at the target's Defense by 3% (accumulating up to 30%) while simultaneously healing this champion by 30% of the damage dealt. This skill's potential is immense, as it derives its strength from Gnut's defense and the target's Max HP, thus optimizing its application can lead to devastatingly lethal attacks!
Gnut Updates