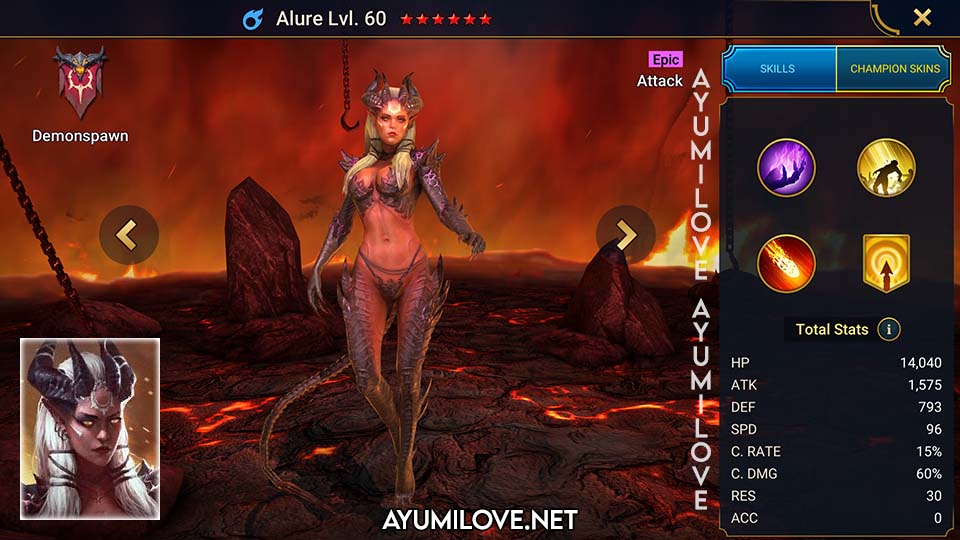 Overview

NAME: Alure
FACTION: Demonspawn
RARITY: Epic
ROLE: Attack
AFFINITY: Magic
RANK: A
USABILITY: Early-Mid-Late Game
TOMES: 14 (A2)

Abilities

RSL_50%_IgnoreDefense
RSL_AoE_DecreaseDefense_30%
RSL_AoE_Sleep
RSL_Faction_AccuracyAura
RSL_Target_DecreaseTurnMeter

Obtain from

Ancient Shard
Sacred Shard
Primal Shard
Guaranteed Champion

Blessings Recommendation

Cruelty (Debuffer)
Phantom Touch (Clan Boss)

Grinding

★★★✰✰ Campaign
★★★✰✰ Arena Defense
★★★✰✰ Arena Offense
★★✰✰✰ Clan Boss
★✰✰✰✰ Hydra
★★★★★ Faction Wars

Dungeons

★★★★★ Minotaur
★★★★✰ Spider
★★★★★ Fire Knight
★★✰✰✰ Dragon
★★★★✰ Ice Golem
★✰✰✰✰ Iron Twins
★✰✰✰✰ Sand Devil
★✰✰✰✰ Phantom Shogun

Potion

★★★★★ Arcane Keep
★★★★★ Void Keep
★★✰✰✰ Force Keep
★★★★★ Spirit Keep
★★★★★ Magic Keep

Doom Tower

★★★★★ Floors
★✰✰✰✰ Magma Dragon
★✰✰✰✰ Nether Spider
★★★★✰ Frost Spider
★★★★★ Scarab King
★★★✰✰ Celestial Griffin
★✰✰✰✰ Eternal Dragon
★✰✰✰✰ Dreadhorn
★★★★★ Dark Fae
Alure Review
Alure is an Epic Attack Magic affinity champion from Demonspawn faction in Raid Shadow Legends. Alure was released as the first batch of champions on July 2018 since the release of Raid Shadow Legends! She is one of the familiar faces you see in Brimstone Path Campaign as the enemy waves for campaign difficulty (Normal, Hard, Brutal, Nightmare).
Alure is well-known for her Psyhic Whip (A1 Skill) as she can lock down a single-target enemy with her Decrease Turn Meter ability! This is particularly useful against difficult bosses in Fire Knight, Magic Keep, Spirit Keep, Arcane Keep, Void Keep, Scarab King and Dark Fae. Apart from that, Alure's Temptation (A2 Skill) is an AoE attack skill that applies Decrease Defense and Sleep debuff on multiple enemies. This makes her one of the best candidate to pair with Seer, as she can amplify her nuke damage when Seer has Opportunist (Tier 4 Offense Mastery) to deal more damage against sleeping enemies. If you are building Alure as a damage nuker for Arena (PvP content), her Hellish Blaze (A3 Skill) does a high amount of damage against a single-target while ignoring enemy defense, which can easily one-shot the enemy if build right! Last but not least, Alure has a useful Accuracy aura that can help with Faction Wars content if you do not have sufficient Accuracy banners to be equipped on all Demonspawn debuffer champions.
Overall, Alure is an amazing Epic champion who can help your account from early-mid-late game. She doesn't need any skill tomes if you are mainly using her Psychic Whip to contain the enemy movement. However, if you are using her for end-game speed run such as Fire Knight Stage 21~25 and Astranyx the Dark Fae (Doom Tower Hard), investing skill tomes in her Temptation (A2 skill) will make your auto-run much more consistent.
Alure Skills
Psychic Whip [ATK]
Attacks 3 times at random. Decreases the target's Turn Meter by 25% on each critical hit.
Level 2: Damage +5%
Level 3: Damage +5%
Level 4: Damage +5%
Level 5: Damage +5%
Damage Multiplier: 1 ATK
Temptation [ATK] (Cooldown: 4 turns)
Attacks all enemies 2 times. Each hit has a 30% chance of placing a 30% [Decrease DEF] debuff for 1 turn. Places a [Sleep] debuff for 1 turn on targets under [Decrease DEF] debuffs.
Level 2: Damage +5%
Level 3: Buff/Debuff Chance +5%
Level 4: Damage +5%
Level 5: Buff/Debuff Chance +5%
Level 6: Cooldown -1
Level 7: Buff/Debuff Chance +10%
Damage Multiplier: 1.7 ATK
Hellish Blaze [ATK] (Cooldown: 6 turns)
Attacks 1 enemy. Has an extra 30% chance of inflicting a critical hit. Will ignore 50% of the target's DEF.
Level 2: Damage +5%
Level 3: Damage +5%
Damage Multiplier: 4.6 ATK
Aura
Increases Ally ACC in Faction Crypts by 50.
Alure Equipment Guide
Arena, Campaign, Clan Boss, Dungeons, Doom Tower, Faction Wars

Recommended Artifacts

Perception, Accuracy, Speed, Savage, Cruel, Lifesteal, Bloodthirst

Stats Allocation

Weapon (ATK)
Helmet (HP)
Shield (DEF)
Gauntlets (C.RATE / C.DMG)
Chestplate (ATK% / HP%)
Boots (SPD)
Ring (ATK / DEF / HP)
Amulet (C.DMG / DEF / HP)
Banner (ACC / ATK / HP / DEF)

Stats Priority

PvP: ATK%, C.RATE, C.DMG, SPD
PvE: SPD, ACC, HP%, DEF%
Alure Mastery Guide
Arena, Campaign, Clan Boss, Dungeons, Doom Tower, Faction Wars
Here is Alure's all-rounder mastery build that caters for all content in the game, suitable for early-mid-late game players. If you want to specialize Alure for a certain area in the game, visit the reference section for a different mastery build!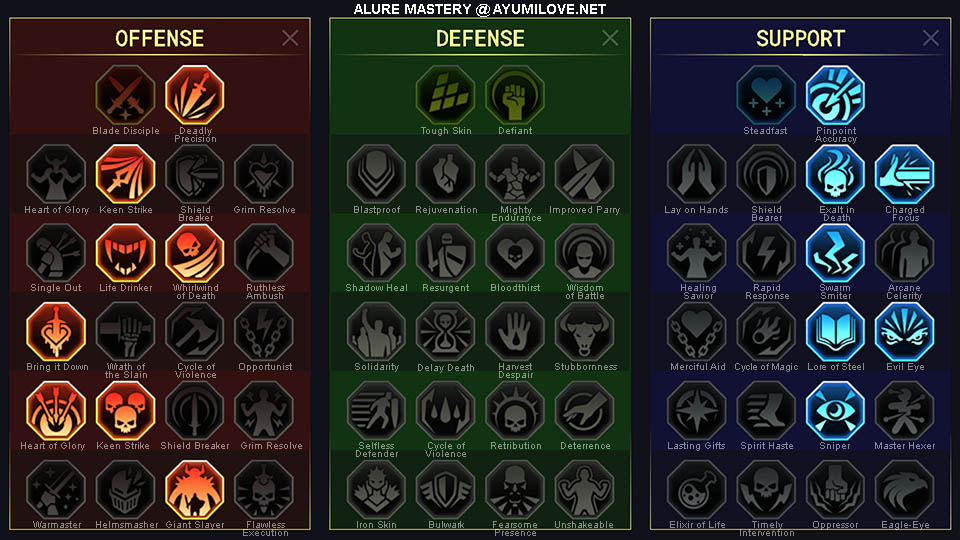 Offense

Deadly Precision
Keen Strike
Whirlwind of Death
Life Drinker
Bring it Down
Kill Streak
Methodical
Giant Slayer

Support

Pinpoint Accuracy
Charged Focus
Exalt in Death
Swarm Smiter
Lore of Steel
Evil Eye
Sniper
Alure Reference
This section covers Alure's build specialized for specific areas in Raid Shadow Legends.
Alure All-Rounder Build
Here is Alure's artifacts and masteries by Ayumilove optimized for Dungeons, Faction Wars and Doom Tower Hard content such as Scarab King and Dark Fae. Alure is equipped in Perception Set, Immortal Set and Speed Set to provide her ample amount of Health, Accuracy and Speed stats, so she is able to apply Decrease Turn Meter, Sleep and Decrease Defense on her foes. The stats to prioritize for this all-rounder build are Speed, Accuracy, Health and Defense. Critical Rate is a must for Alure as her Psychic Whip (A1 Skill) requires to perform a Critical Hit on enemies to apply the Decrease Turn Meter. If you are building her for end game content, it's recommended to have at least 210~250 Speed, 300~350 Accuracy, 40~60K HP, 2~3K Defense with 100% Critical Rate for her to perform well in your team as a crowd controller especially against bosses. With Alure, she can lock down the opponent, while the rest of your team can take the enemy down safely.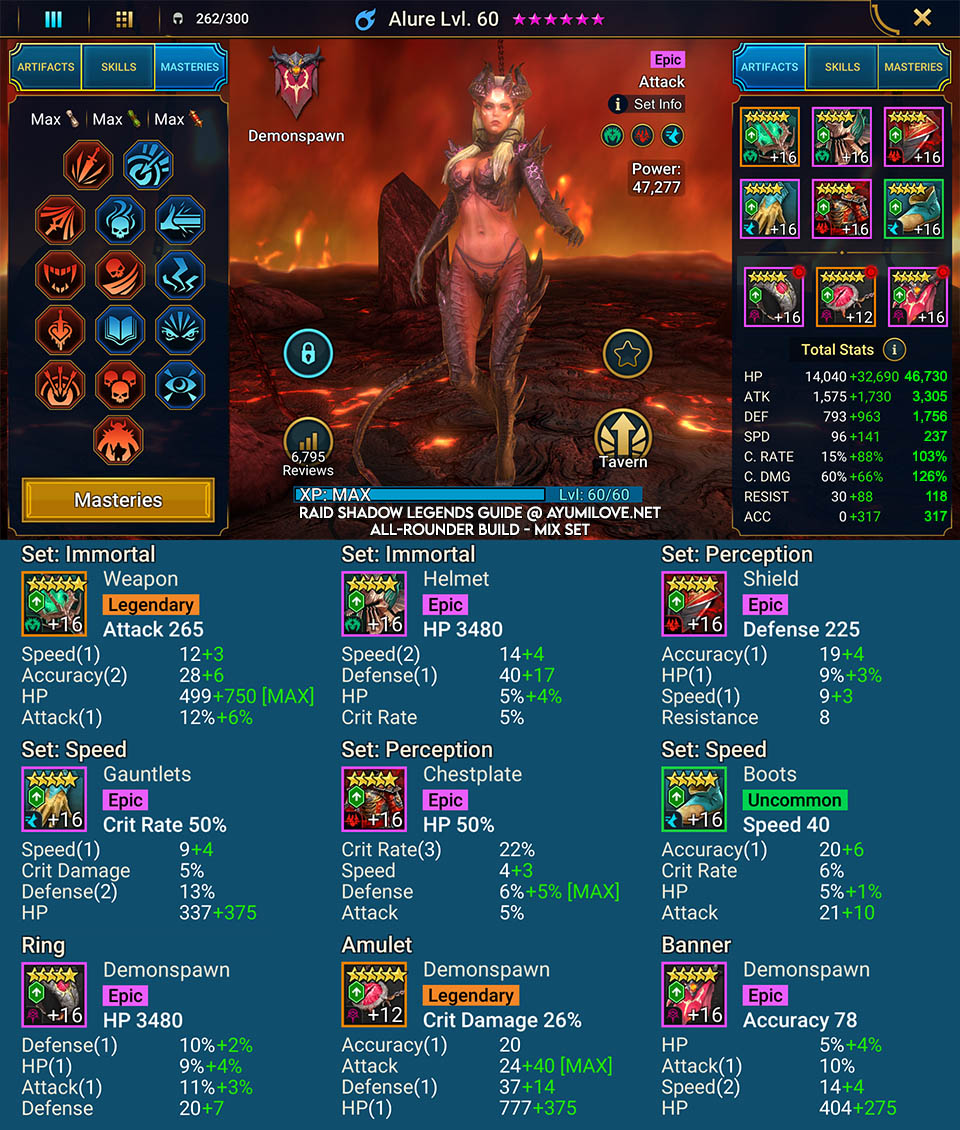 Alure Scarab King Build
Here is Alure's artifacts and masteries by BGE optimized for Scarab King Doom Tower Boss. Alure is equipped in Affinitybreaker Set and Speed Set to provide her ample amount of Speed stats and allows her Weak Hit to be converted into Critical Hit against Force Affinity enemies such as Scarab King, so she is able to apply her Decrease Turn Meter effectively. The stats to prioritize for Scarab King build are Speed and Accuracy to crowd control the boss, then Attack, Critical Rate and Critical Damage to defeat the boss quickly. BGE mentioned that the success rate for Affinitybreaker to convert Weak Hit to Critical Hit is a little low, which makes it not reliable sufficiently. To increase the odds of successfully decrease Scarab King turn meter, BGE built 2 Alure in Affinitybreaker Set to ensure the Scarab King turn meter remains under controlled.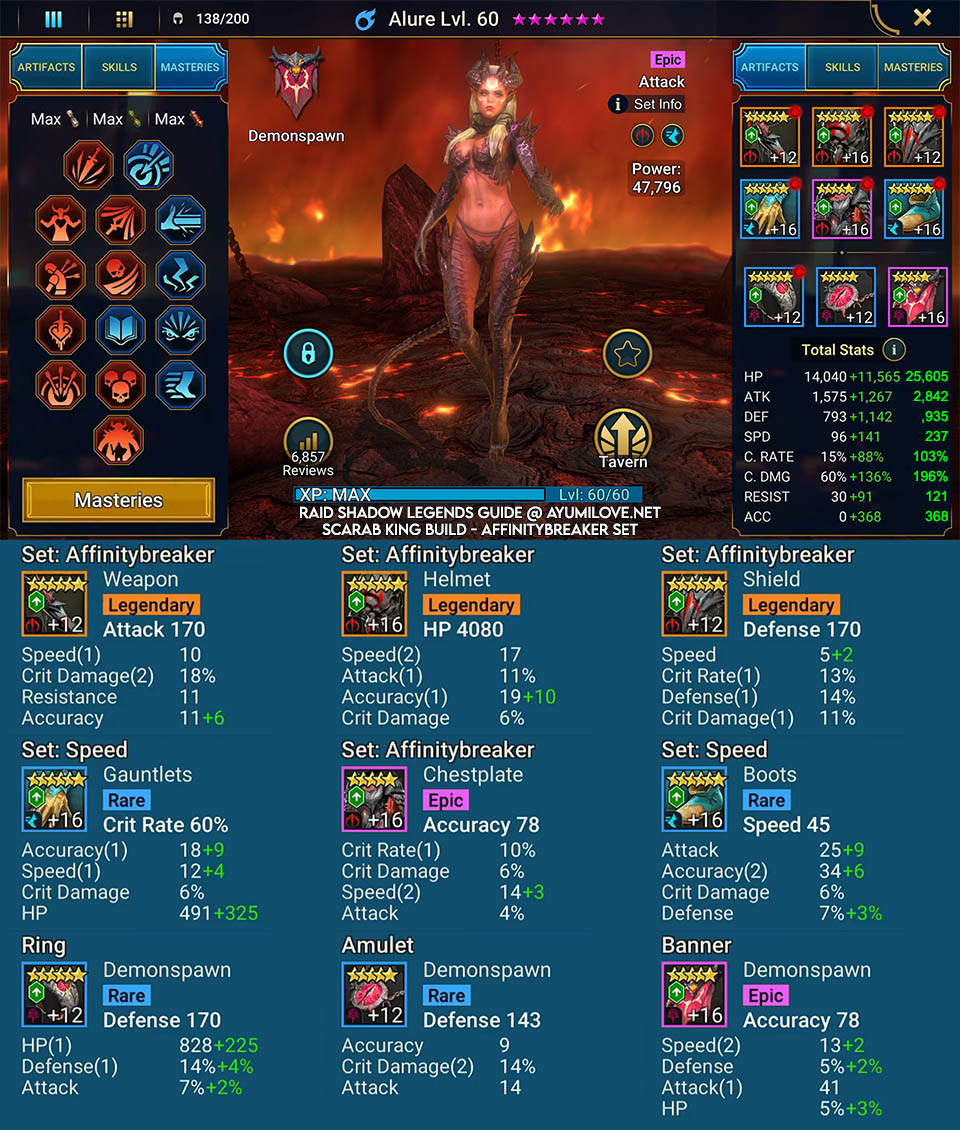 Alure Champion Lore
Alure cannot remember her childhood very well. She had a home, up in the hills and out of sight. It was an old castle that from the outside appeared abandoned, but was clean, well-kept, and warm deep within. She remembers having toys, playing with friends, and exploring the dusty corners of her home. She remembers finding none of that strange.
Later, she learned the truth: that her innocence was bought with blood and pain from all around her. As far as the world outside was concerned, Demonspawn like her were not born of loving parents. They did not have friends, toys, or childhoods. They did not grow up. To the people of Teleria, the Demonspawn were monsters. They crawled from pits in hellish Anathraad, servants of the dark Lord of Shadow Siroth. They were evil to their core. Their existence was bent purely to the destruction of all living things, and their bloodlust was unending. To the people of Teleria, the Demonspawn were an existential threat, and any sane Human, Elf, Orc, or Lizardman would draw steel and kill a Demonspawn without a moment's hesitation.
Shielding Alure from the world outside took perpetual vigilance from her family. She had no concept of the sacrifices that her parents made – that all the Demonspawn around her made – to exist at all in Teleria. The secrecy. The lies. The danger entailed with every outing for food and supplies. The preparation, every day, to fight for their lives. All these burdens, carried by the adults around her so that Alure could live a happy life.
It did not last forever. Someone hiding in the castle must have made a mistake, or perhaps finally her family ran out of luck. Either way, the Sacred Order fell upon them, Banner Lords forces by their side. Alure was the only survivor, and she would not have even been that if not for the actions of Bad-el-Kazar.
Alure never learned why he came to the castle. She knew however she had been moments from death, that it was Kazar's hand that saved her, and it was that hand which led her to safety. She could not help but look past his terrifying visage, for she saw in him a protector. He promised to make her strong. After she witnessed the slaughter of her family, how helpless her defenders had been, strength was the only thing she wanted.
And so Kazar gave Alure strength. While their relationship lacked the warmth that she grew up with, Alure did not resent the lack – indeed, as far as she was concerned, the warmth of her childhood had left her helpless when danger had finally come. So she trained as hard as Kazar demanded, then even harder still. Kazar honed Alure into a blade. She mastered stealth, magic, and the art of the sword, and Kazar conducted dark rituals that unlocked the power of Alure's Demonic blood and increase her power further.
By Alure's early teens, she was among the most skilled assassins in all of Teleria. She longed to be let loose, to be sent on missions of mass destruction against the Banner Lords, but Kazar refused, bending her instead towards furthering his own inscrutable interests. She was frustrated, but she obeyed. She trusted Kazar, for his strength had saved her, protected her, and prepared her for the world in a way that nothing else had. That trust would prove misplaced. For a blade, no matter how strong, is but a tool. And tools, once broken, may find themselves discarded.
Alure Videos
Raid Shadow Legends Alure Champion Guide by ASH
Raid Shadow Legends Alure Champion Guide by BGE
Raid Shadow Legends Alure Champion Guide by Tyrauku
Raid Shadow Legends Alure Champion Guide by Chofly
Raid Shadow Legends Alure Champion Guide by Edward Moore