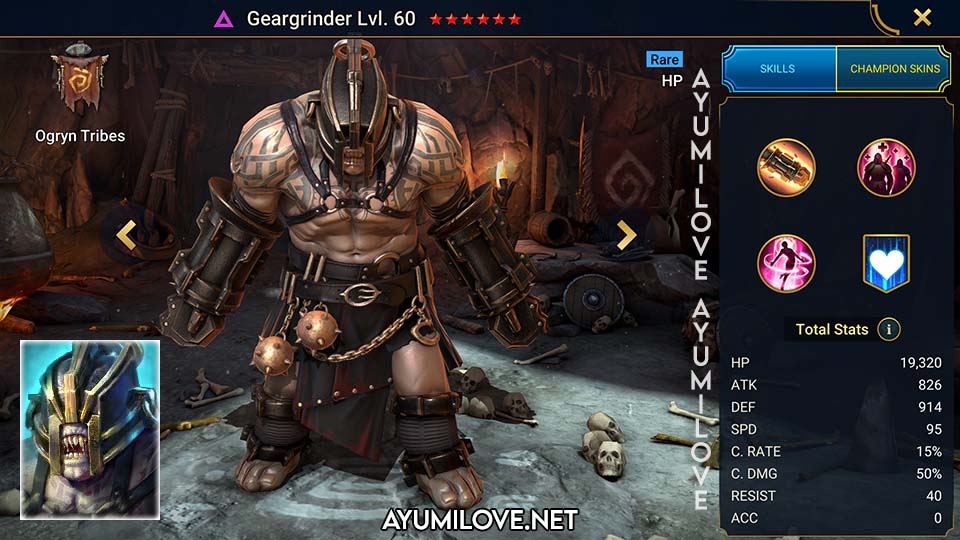 Obtain from

Void Shard

Champion Fusion

Overview

NAME: Geargrinder
FACTION: Ogryn Tribes
RARITY: Rare
ROLE: HP
AFFINITY: Void
RANK: B
USABILITY: Early-Mid Game
TOMES: 12 (A2 A3)

Total Stats (6★)

Health Points (HP): 19,320
Attack (ATK): 826
Defense (DEF): 914
Speed (SPD): 95
Critical Rate (C.RATE): 15%
Critical Damage (C.DMG): 50%
Debuff Resistance (RESIST): 40
Debuff Accuracy (ACC): 0

Grinding

★★★★✰ Campaign
★★★✰✰ Arena Defense
★★★✰✰ Arena Offense
★★★✰✰ Clan Boss
★★★★★ Faction Wars

Dungeons

★★★★✰ Minotaur
★★★★✰ Spider
★★★✰✰ Fire Knight
★★★★✰ Dragon
★★★★✰ Ice Golem

Potion

★★★★✰ Arcane Keep
★★★★✰ Void Keep
★★★★✰ Force Keep
★★★★✰ Spirit Keep
★★★★✰ Magic Keep

Doom Tower

★★★★★ Floors
★★★★✰ Magma Dragon
★★★✰✰ Nether Spider
★★★★✰ Frost Spider
★★★✰✰ Scarab King
★★★✰✰ Celestial Griffin
★★★✰✰ Eternal Dragon
★★★✰✰ Dreadhorn
★★★✰✰ Dark Fae
Geargrinder Skills
Gears of Gore
Attacks 1 enemy. Places a 7.5% [Continuous Heal] buff on this Champion for 1 turn if this attack is critical.
Level 2: Damage +5%
Level 3: Damage +5%
Level 4: Damage +5%
Level 5: Damage +5%
Level 6: Damage +10%
Damage Multiplier: 0.15 HP
Healing Splatter (Cooldown: 5 turns)
Heals all allies by 15% of their MAX HP.
Level 2: Heal +5%
Level 3: Heal +5%
Level 4: Heal +5%
Level 5: Heal +5%
Level 6: Cooldown -1
Level 7: Cooldown -1
Necrocogs (Cooldown: 7 turns)
Revives a dead ally with 50% HP and 50% Turn Meter.
Level 2: Cooldown -1
Level 3: Cooldown -1
Aura
Increases Ally HP in Faction Crypts by 25%.
Geargrinder Equipment Guide
Arena, Campaign, Clan Boss, Dungeons, Doom Tower, Faction Wars

Recommended Artifacts

Regeneration, Immortal, Guardian, Life, Resist, Speed, Lifesteal, Bloodthirst

Stats Allocation

Weapon (ATK)
Helmet (HP)
Shield (DEF)
Gauntlets (HP% / C.RATE)
Chestplate (HP%)
Boots (SPD)
Ring (HP / DEF)
Amulet (HP / DEF)
Banner (RESIST / HP / DEF)

Stats Priority

HP%, C.RATE, SPD, RESIST
Geargrinder Mastery Guide
Arena, Doom Tower, Faction Wars
Defense

Tough Skin
Rejuvenation
Blastproof
Shadow Heal
Delay Death
Retribution
Deterrence
Unshakeable

Support

Steadfast
Lay on Hands
Healing Savior
Rapid Response
Lore of Steel
Merciful Aid
Lasting Gifts
Campaign, Clan Boss, Dungeons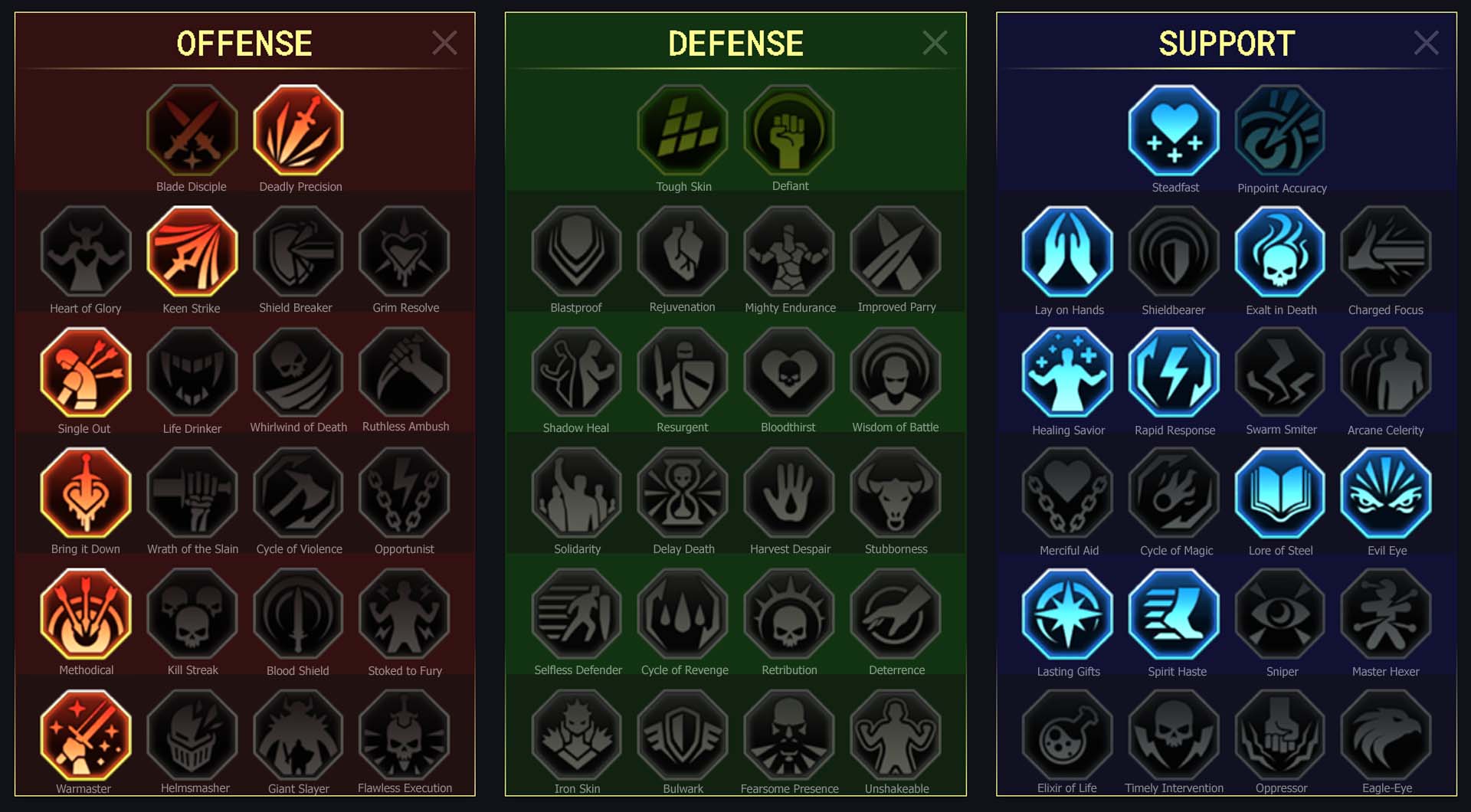 Offense

Deadly Precision
Keen Strike
Single Out
Bring it Down
Methodical
Warmaster

Support

Steadfast
Lay on Hands
Exalt in Death
Healing Savior
Rapid Response
Lore of Steel
Evil Eye
Spirit Haste
Lasting Gifts
Geargrinder Reference
Geargrinder Tanker Supporter Build
Here is Geargrinder artifacts and masteries optimized by Ayumilove for Dungeons, Faction Wars and Doom Tower (Hard Difficulty + Secret Room). Geargrinder is equipped in Guardian Set to enable him to mitigate some damage from his allies to himself, so they can survive longer against enemies who deal high amount of damage. The stats to prioritize on him are Health, Defense, Critical Rate, Speed and Resist. Resist is essential to prevent him from being crowd control by enemies and reduce his survivability. He is the backbone of the team, who can revive fallen allies, especially for Faction Wars. One of the requirements to get 3 stars in Faction War is no dead allies. A high amount of Health allows him to tank the damage, replenish his health quickly and prevent him from being targeted by enemies simultaneously. Critical Rate is essential to take advantage of his default attack Gears of Gore ability, which applies Continuous Heal to himself whenever he inflicts a Critical Hit.

Geargrinder Skills
Geargrinder is a Rare HP Void champion from Ogryn Tribes faction in Raid Shadow Legends. Geargrinder is a support champion who can heal allies and revive fallen allies. He has the ability to heal himself by performing Critical Hit with his default attack. In addition, he brings a useful HP Aura to boost allies Health to be able to sustain some damage. If you are having trouble keeping allies alive in the battlefield for Faction Wars or Doom Tower (Secret Room with only Rare champions), then Geargrinder can help you in these areas with relative ease. To unleash his full potential, provide him with high amount of Health, Defense, Critical Rate, Speed and Resist. You can also gear him Guardian Set to give him a secondary role as a tanker to reduce the damage intake taken by allies too!
Geargrinder Updates
Geargrinder Videos
Raid Shadow Legends Geargrinder Champion Guide by LokiMagics