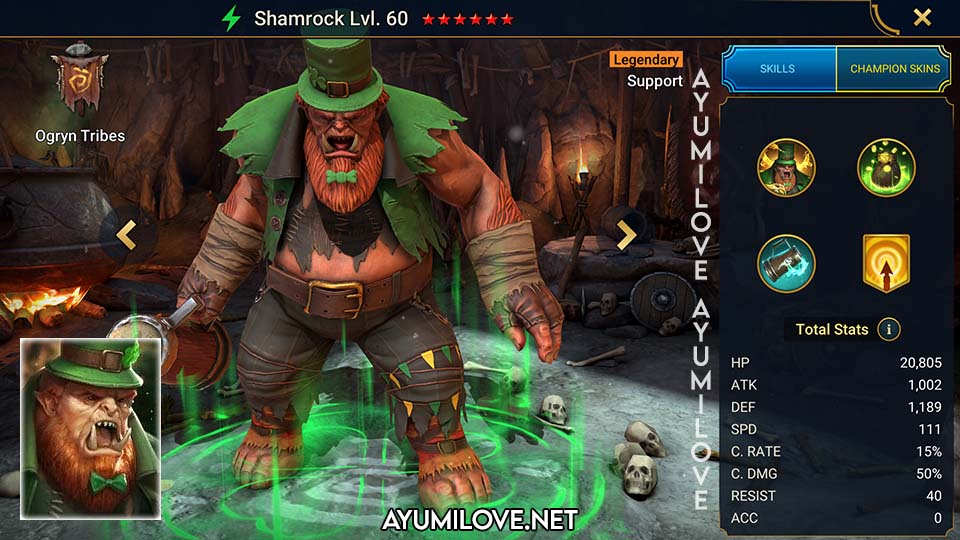 Overview

NAME: Shamrock
FACTION: Ogryn Tribes
RARITY: Legendary
ROLE: Support
AFFINITY: Spirit
RANK: A
USABILITY: Late Game
TOMES: 10 (A1 A2 A3)

Abilities

RSL_AllBattles_AccuracyAura
RSL_AoE_ContinuousHeal_15%
RSL_AoE_DecreaseSpeed_30%
RSL_AoE_DecreaseTurnMeter
RSL_AoE_IncreaseCriticalRate_30%
RSL_AoE_IncreaseDefense_60%
RSL_AoE_IncreaseSpeed_30%
RSL_AoE_ReviveOnDeath
RSL_Target_RemoveBuffs
RSL_Target_StealBuffs

Obtain from

Ancient Shard
Sacred Shard
Shamrock Fusion

Blessings Recommendation

Brimstone (Debuffer)
Intimidating Presence (Aura Lead)

Grinding

★★★★✰ Campaign
★★★★★ Arena Defense
★★★★★ Arena Offense
★★★✰✰ Clan Boss
★★★✰✰ Hydra
★★★★★ Faction Wars

Dungeons

★★★★✰ Minotaur
★★★★✰ Spider
★★★★✰ Fire Knight
★★★★✰ Dragon
★★★★✰ Ice Golem
★★★✰✰ Iron Twins
★✰✰✰✰ Sand Devil
★✰✰✰✰ Phantom Shogun

Potion

★★★★★ Arcane Keep
★★★★✰ Void Keep
★★★★★ Force Keep
★★★★★ Spirit Keep
★★★★★ Magic Keep

Doom Tower

★★★★✰ Floors
★★★★✰ Magma Dragon
★★★✰✰ Nether Spider
★★★★✰ Frost Spider
★★★✰✰ Scarab King
★★✰✰✰ Celestial Griffin
★★✰✰✰ Eternal Dragon
★✰✰✰✰ Dreadhorn
★★✰✰✰ Dark Fae
Shamrock Skills
Luck Swap
Attacks 1 enemy 2 times. Each hit has a 60% chance of removing 1 random buff from the target. If a buff is removed, has a 35% of stealing that buff.
Level 2: Damage +5%
Level 3: Damage +5%
Level 4: Buff/Debuff Chance +5%
Level 5: Buff/Debuff Chance +10%
Damage Multiplier: 2 ATK
Lucky Charms (Cooldown: 4 turns)
Places a 60% [Increase DEF] buff on all allies for 2 turns. Places a 30% [Increase SPD] buff on all allies with more than 50% HP for 2 turns. Also has a 50% chance of placing a 30% [Increase C.RATE] buff on those allies for 2 turns. Places a [Revive On Death] buff on all allies with less than 50% HP for 2 turns. Also has a 50% chance of placing a 15% [Continuous Heal] buff on those allies for 2 turns.
Level 2: Buff/Debuff Chance +5%
Level 3: Buff/Debuff Chance +5%
Level 4: Buff/Debuff Chance +5%
Level 5: Buff/Debuff Chance +5%
Level 6: Cooldown -1
Uncatchable (Cooldown: 5 turns)
Places a 30% [Decrease SPD] debuff on all enemies for 2 turns. Decreases the Turn Meter of all enemies by 15%. Fills the Turn Meters of all allies by 15% if any enemy's Turn Meter is below 50%.
Level 2: Cooldown -1
Aura
Increases Ally ACC in all Battles by 70
Shamrock Equipment Guide
Arena, Doom Tower, Faction Wars
Campaign, Clan Boss, Dungeons

Recommended Artifacts

2 Speed Set, 1 Accuracy Set

Recommended Artifacts

2 Speed Set, 1 Accuracy Set
1 Lifesteal Set, 1 Accuracy Set

Recommended Stats

DEF%, HP%, SPD, ACC
Weapon (ATK)
Helmet (HP)
Shield (DEF)
Gauntlets (DEF% / HP%)
Chestplate (DEF% / HP%)
Boots (SPD)
Ring (DEF / HP)
Amulet (DEF / HP)
Banner (ACC)

Recommended Stats

DEF%, HP%, SPD, ACC
Weapon (ATK)
Helmet (HP)
Shield (DEF)
Gauntlets (DEF% / HP%)
Chestplate (DEF% / HP%)
Boots (SPD)
Ring (DEF / HP)
Amulet (DEF / HP)
Banner (ACC)
Shamrock Mastery Guide
Arena, Campaign, Clan Boss, Dungeons, Doom Tower, Faction Wars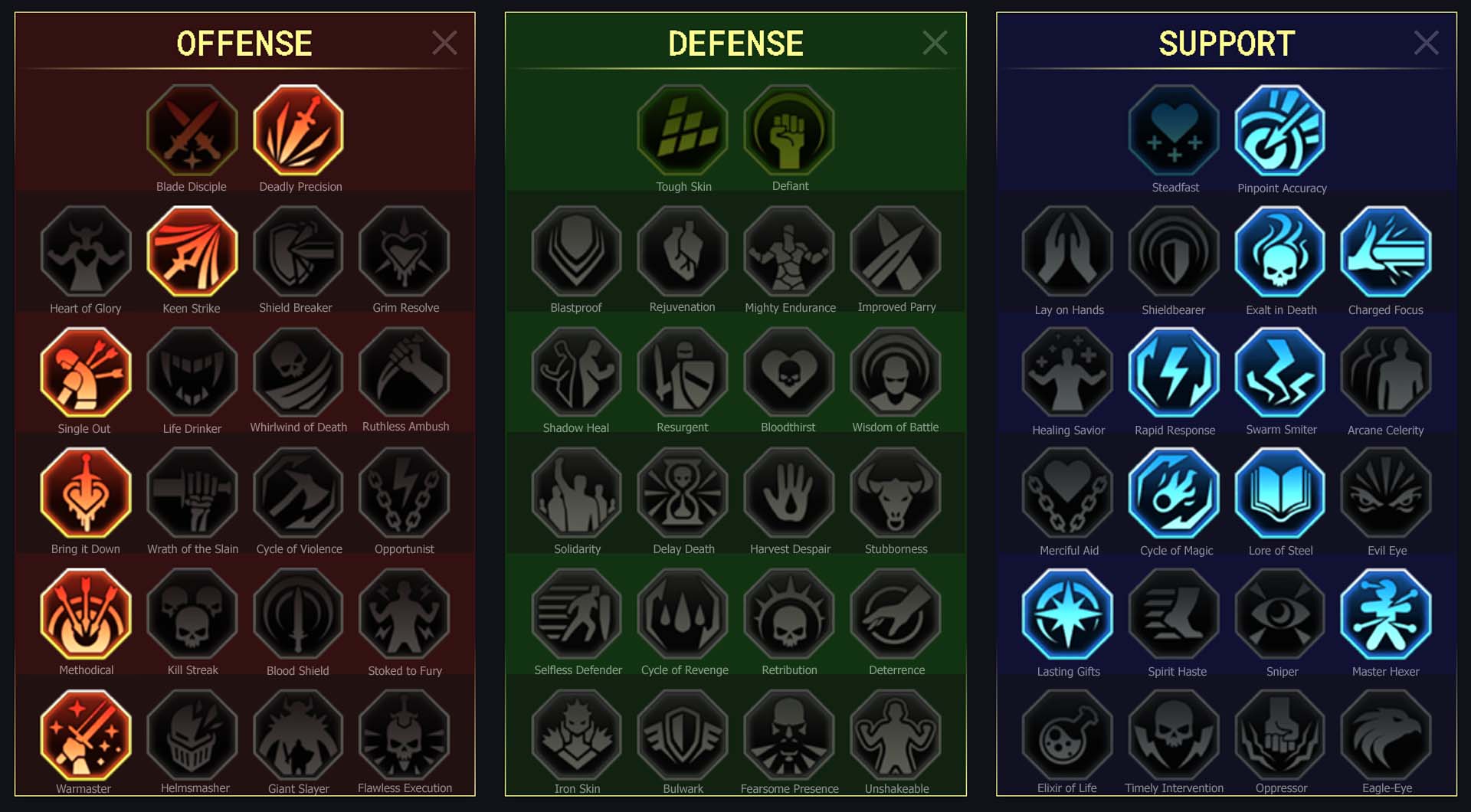 Offense

Deadly Precision
Keen Strike
Single Out
Bring it Down
Methodical
Warmaster

Support

Pinpoint Accuracy
Exalt in Death
Charged Focus
Swarm Smiter
Rapid Response
Lore of Steel
Cycle of Magic
Lasting Gifts
Master Hexer
Shamrock Champion Lore
Some say that luck carries its own curse, and rarely has that idea been more clearly demonstrated than in the being of Shamrock. The early years of his life felt lucky enough to him. He grew up happily in a simple farming hamlet found on the edge of Durham Forest, where he was of great assistance in plowing or logging, and Shamrock was much loved among his people. Through his hard work and happy demeanor, Shamrock was a central figure during the yearly harvest festival, when he was draped in all manner of greenery, particularly the shamrock sprigs he adored.
Shamrock's idyllic existence came to an end when Dark Elf raiders struck from the depths of Durham. With Shamrock's assistance, the villagers were able to drive the attackers away, but not before many homes had been burnt and their occupants dragged into the darkness of the forest. The attack changed Shamrock, and brought on a moroseness which not even the harvest festival could lift. He no longer found joy in his simple duties, and when a traveling wizard passed through the hamlet, he agreed to go with him and his party on his quest.
The wizard's name was Artemos, and he was impressed enough by the strength and size of the Ogryn – as well his expendability — to accept him into his company. Artemos was seeking a fabled cache of gold, said to have been hidden on the edge of Durham Forest by an alchemist. Despairing of ever finding the hidden treasure, and unconcerned that a spell might backfire on an Ogryn, Artemos cast an experimental incantation on Shamrock while he slept, a fortune-charm that he believed would enable him to locate gold wherever it was concealed. Artemos was far from accomplished in the magic arts, and while the spell initially appeared to have gone off without a hitch, in reality it had only been half successful. For while Shamrock did indeed locate the gold, what Artemos had really done was bequeath him with a spell that was half-charm, half-hex. Shamrock could find gold and was blessed with bouts of outrageous luck, but just as surely, a period of terrible misfortune would then befall both him and all around him.
This quickly became apparent with a sequence of events that began with their find. The moment they unearthed the gold, Dark Elves struck at the party from the forest, killing most of them and stealing half the hoard. Later, Artemos was able to make back most of the coinage by winning a number of games of chance with other adventurers in Delanos, only to be arrested on charges of fraud by the city guard. One night the jailer became intoxicated, and his keys slipped between the bars into the cell where Shamrock and Artemos were being held. They were able to escape, but in order to flee the city they were forced to take to the sewers where they almost drowned in muck. And so things continued, until Artemos realized that his magics were to blame for their wildly fluctuating circumstances.
Artemos made an effort to reverse the effects of his spell, but to no avail – Shamrock immediately fell into a vat of ale, where he became delightfully intoxicated at the cost of almost drowning for the second time in as many days. Not knowing what else to do, Artemos simply abandoned the Ogryn.
It wasn't long before stories about Shamrock spread. Another party of gold-seeking adventurers hired him in exchange for an unlimited supply of drink and their companionship, for though Shamrock loved the strongest brews he could get his hands on, the drink did nothing to ease his longing for his old village friends. The group soon realized that the positive and negative elements of Shamrock's particular affliction had not been exaggerated after all, as they found themselves on their own path of extremes — traveling through alternating sunshine and thunderstorms or discovering easy shortcuts before enduring river crossings where the bridges kept collapsing. They were struck down by dysentery, then found their spirits renewed during an inexplicably free stay at one of the finest inns in southern Anhelt. At the end of it all, they discovered that the gold Shamrock had tracked down was in fact only a single – albeit very valuable — coin. Arguments over how it was to be divided quickly caused the party to split, with Shamrock wandering off in search of fresh ale.
Despite the unlucky aspect of Shamrock's fate, there are always those in Teleria who have been struck by gold-fever and are desperate and greedy enough to hire him. For his own part, as long as he's got a brew in one fist, Shamrock is happy enough, for he knows his luck will always even out in the end.
Shamrock Updates
Shamrock Videos
Raid Shadow Legends Shamrock Champion Guide by ASH
Raid Shadow Legends Shamrock Most Underrated Legendary Champion by ASH