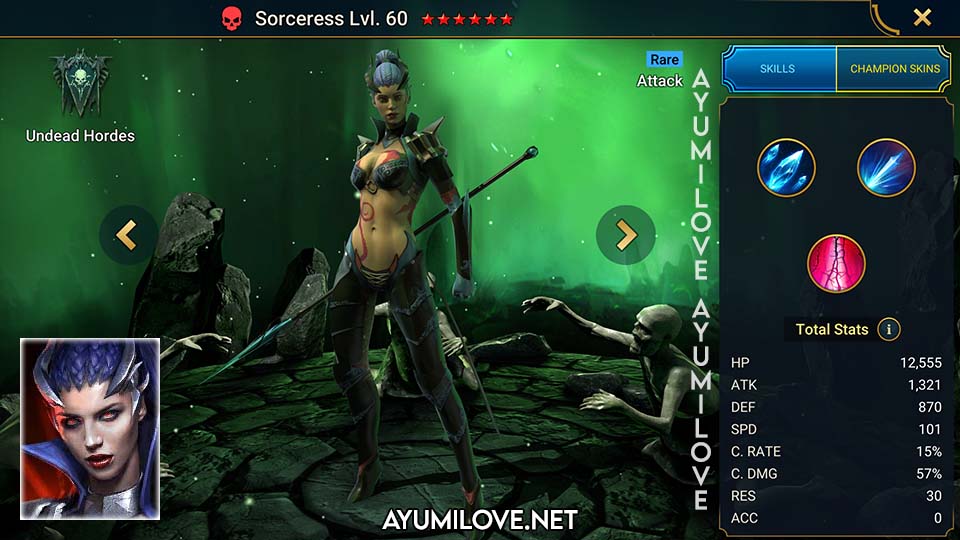 Obtain from

Mystery Shard
Ancient Shard
Catacombs of Narbuk

Champion Fusion

Overview

NAME: Sorceress
FACTION: Undead Hordes
RARITY: Rare
ROLE: Attack
AFFINITY: Force
RANK: C
USABILITY: Early Game
TOMES: 12 (N/A)

Total Stats (6★)

Health Points (HP): 12,555
Attack (ATK): 1,321
Defense (DEF): 870
Speed (SPD): 101
Critical Rate (C.RATE): 15%
Critical Damage (C.DMG): 57%
Debuff Resistance (RESIST): 30
Debuff Accuracy (ACC): 0

Grinding

★✰✰✰✰ Campaign
★✰✰✰✰ Arena Defense
★★★✰✰ Arena Offense
★★★✰✰ Clan Boss
★✰✰✰✰ Faction Wars

Dungeons

★★★✰✰ Minotaur
★★★✰✰ Spider
★✰✰✰✰ Fire Knight
★★★✰✰ Dragon
★★★✰✰ Ice Golem

Potion

★★★✰✰ Void Keep
★★★✰✰ Force Keep
★✰✰✰✰ Spirit Keep
★★★✰✰ Magic Keep

Doom Tower

★★★✰✰ Magma Dragon
★✰✰✰✰ Nether Spider
★★★✰✰ Frost Spider
★★★✰✰ Scarab King
Sorceress Skills
Crystal Bolt [ATK]
Attacks 1 enemy. Has a 30% chance of placing a 15% [Decrease SPD] debuff for 2 turns.
Level 2: Damage +5%
Level 3: Damage +5%
Level 4: Damage +5%
Level 5: Damage +10%
Damage Multiplier: 3 ATK
Magic Arrows [ATK] (Cooldown: 3 turns)
Attacks 1 enemy 2 times. Has a 20% chance of placing an extra hit.
Level 2: Damage +5%
Level 3: Damage +5%
Level 4: Buff/Debuff Chance +10%
Level 5: Damage +10%
Level 6: Cooldown -1
Damage Multiplier: 2.5 ATK
Vine Trap [ATK] (Cooldown: 5 turns)
Attacks 3 times at random. Each hit has a 30% chance of placing a 60% [Decrease DEF] debuff for 2 turns.
Level 2: Damage +5%
Level 3: Damage +5%
Level 4: Cooldown -1
Damage Multiplier: 1.9 ATK
Sorceress Equipment Guide
Equipment Set for Arena, Campaign, Faction Wars
2 Offense Set, 1 Speed Set
1 Retaliation Set, 1 Speed Set
Equipment Set for Clan Boss, Dungeons, Doom Tower
1 Lifesteal Set, 1 Speed Set
Equipment Stat Priority
Attack%, Critical Rate, Critical Damage, Speed, Accuracy
Weapon (Attack)
Helmet (HP)
Shield (Defense)
Gauntlets (Critical Rate)
Chestplate (Attack%)
Boots (Speed)
Ring (Attack)
Amulet (Critical Damage)
Banner (Accuracy)
Sorceress Mastery Guide
Arena, Campaign, Clan Boss, Dungeons, Doom Tower, Faction Wars
Offense

Deadly Precision
Keen Strike
Shield Breaker
Whirlwind of Death
Single Out
Cycle of Violence
Bring it Down
Kill Streak
Blood Shield
Warmaster

Defense

Defiant
Improved Parry
Bloodthirst
Delay Death
Retribution

Support

N/A
Sorceress Review
Raid Shadow Legends – Sorceress is a Rare Attack Force champion from the Undead Hordes faction where she can be obtained from Mystery Shards and Ancient Shards.
Sorceress Purpose
Sorceress is an attack debuffer champion who applies debuff to crowd control enemies and allow her allies to deal more damage.
Crystal Bolt has a low success rate of inflicting 15% Decrease Speed, making it unreliable to crowd control enemies in many areas.
Magic Arrows delivers high amount of damage with a low chance of placing an extra hit. This skill is mainly for defeating enemies especially the ones with high amount of health.
Vine Trap applies 60% Decrease Defense to a single-target to enable her allies to quickly defeat the champion. However, this skill has a long skill cooldown and low success rate, which makes it an unreliable skill.
Conclusion
Sorceress skills are below average for Rare champion and she can be easily replaced with better Rare champions in applying Decrease Defense and Decrease Speed.
It's not recommended to invest too much resources in her and best used up to 4★ Rank. She will be used as fodder to rank up better champions.