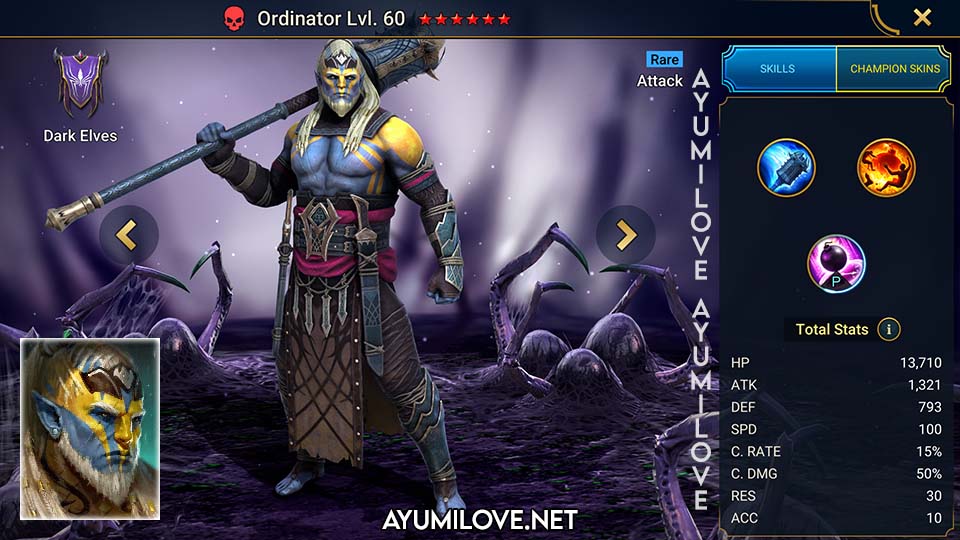 Overview

NAME: Ordinator
FACTION: Dark Elves
RARITY: Rare
ROLE: Attack
AFFINITY: Force
RANK: F
USABILITY: Situational
TOMES: 10 (A2)

Total Stats (6★)

Health Points (HP): 13,710
Attack (ATK): 1,321
Defense (DEF): 793
Speed (SPD): 100
Critical Rate (C.RATE): 15%
Critical Damage (C.DMG): 50%
Debuff Resistance (RESIST): 30
Debuff Accuracy (ACC): 10

Obtain from

Mystery Shard
Ancient Shard

Champion Fusion

Grinding

★✰✰✰✰ Campaign
★★✰✰✰ Arena Defense
★★✰✰✰ Arena Offense
★✰✰✰✰ Clan Boss
★✰✰✰✰ Faction Wars

Dungeons

★✰✰✰✰ Minotaur
★✰✰✰✰ Spider
★✰✰✰✰ Fire Knight
★✰✰✰✰ Dragon
★✰✰✰✰ Ice Golem

Potion

★✰✰✰✰ Arcane Keep
★✰✰✰✰ Void Keep
★✰✰✰✰ Force Keep
★✰✰✰✰ Spirit Keep
★✰✰✰✰ Magic Keep

Doom Tower

★✰✰✰✰ Floors
★✰✰✰✰ Magma Dragon
★✰✰✰✰ Nether Spider
★✰✰✰✰ Frost Spider
★✰✰✰✰ Scarab King
★✰✰✰✰ Celestial Griffin
★✰✰✰✰ Eternal Dragon
★★★✰✰ Dreadhorn
★✰✰✰✰ Dark Fae
Ordinator Review
Ordinator is a Rare Attack Force champion from Dark Elves faction in Raid Shadow Legends. Ordinator was released on December 2021 in Patch 5.00 as part of Tatura Rimehide Christmas Champion Fusion Event. He along with 3 other Rare champions are fused together to obtain either Umetogi, Masamoto, Visionary or Broodlord.
Ordinator's Weighty Punishment (A1 Skill) has a chance to Freeze an enemy, which helps to reduce Dreadbomb's suicidal damage output by half. The Obedience Collars (A2 Skill) applies Bomb debuff on all enemies, which is also good against Bommal as he takes 300% more damage from it. If you equip Ordinator with Deflection Set, he can reflect the Bomb debuff casts by Bommal and reduces the Bomb debuff duration simultaneously. He might be useful by pairing him with another Bomb champions for Arena to handle defense team equipped Stoneskin Set if it becomes a meta.
Overall, Ordinator is a niche champion since his skill kit is designed specifically for Bommal the Dreadhorn (Doom Tower Boss). He might be used in Arena Offense Bomb teams if it becomes a meta with Stoneskin Set. It will be quite challenging to keep him alive as he has low base Health and Defense. Hence, you could opt for a go-2nd Arena team using the revive strategy meta by synergizing Ordinator with Cardinal and Souldrinker. However, it might not be reliable since Ordinator's passive skill has a low chance of decreasing Bomb debuff duration.
Ordinator Skills
Weighty Punishment [ATK]
Attacks 1 enemy. Has a 25% chance of placing a [Freeze] debuff for 1 turn.
Level 2: Damage +5%
Level 3: Damage +5%
Level 4: Damage +5%
Level 5: Damage +5%
Damage Multiplier: 3.3 ATK
Obedience Collars (Cooldown: 4 turns)
Attacks all enemies. Has 50% chance of placing a [Bomb] debuff that detonates after 2 turns
Level 2: Damage +5%
Level 3: Damage +5%
Level 4: Buff/Debuff Chance +10%
Level 5: Buff/Debuff Chance +10%
Level 6: Buff/Debuff Chance +10%
Level 7: Cooldown -1
Damage Multiplier: 4 ATK (Bomb: 4 ATK)
Enforcer [Passive]
When attacked, has a 30% chance of decreasing all [Bomb] debuff detonation cooldowns on the attacker by 1 turn.
Ordinator Equipment Guide
Arena, Campaign, Clan Boss, Dungeons, Doom Tower, Faction Wars

Recommended Artifacts

Accuracy, Perception, Immortal, Regeneration, Speed

Stats Allocation

Weapon (ATK)
Helmet (HP)
Shield (DEF)
Gauntlets (HP% / ATK%)
Chestplate (HP% / ATK%)
Boots (SPD)
Ring (ATK / DEF / HP)
Amulet (ATK / DEF / HP)
Banner (ACC / ATK)

Stats Priority

ATK%, SPD, ACC, HP%
Ordinator Mastery Guide
Doom Tower (Bommal the Dreadhorn)
Ordinator's mastery is optimized to tackle Bommal the Dreadhorn by going with Defense and Support mastery tree. For the Defense Tree, the masteries selected are to boost his survivability (Tough Skin, Blastproof, Delay Death), remove any debuff upon taking sufficient damage (Resurgent), increase his damage output from retaliation (Retribution, Deterrence) and finally increase his chances to inflict Freeze debuff on the Bomb minions (Fearsome Presence). For the Support mastery tree, the masteries selected are to boost his Accuracy (Pinpoint Accuracy, Swarm Smiter, Lore of Steel) and increase his chances to land his debuff (Sniper).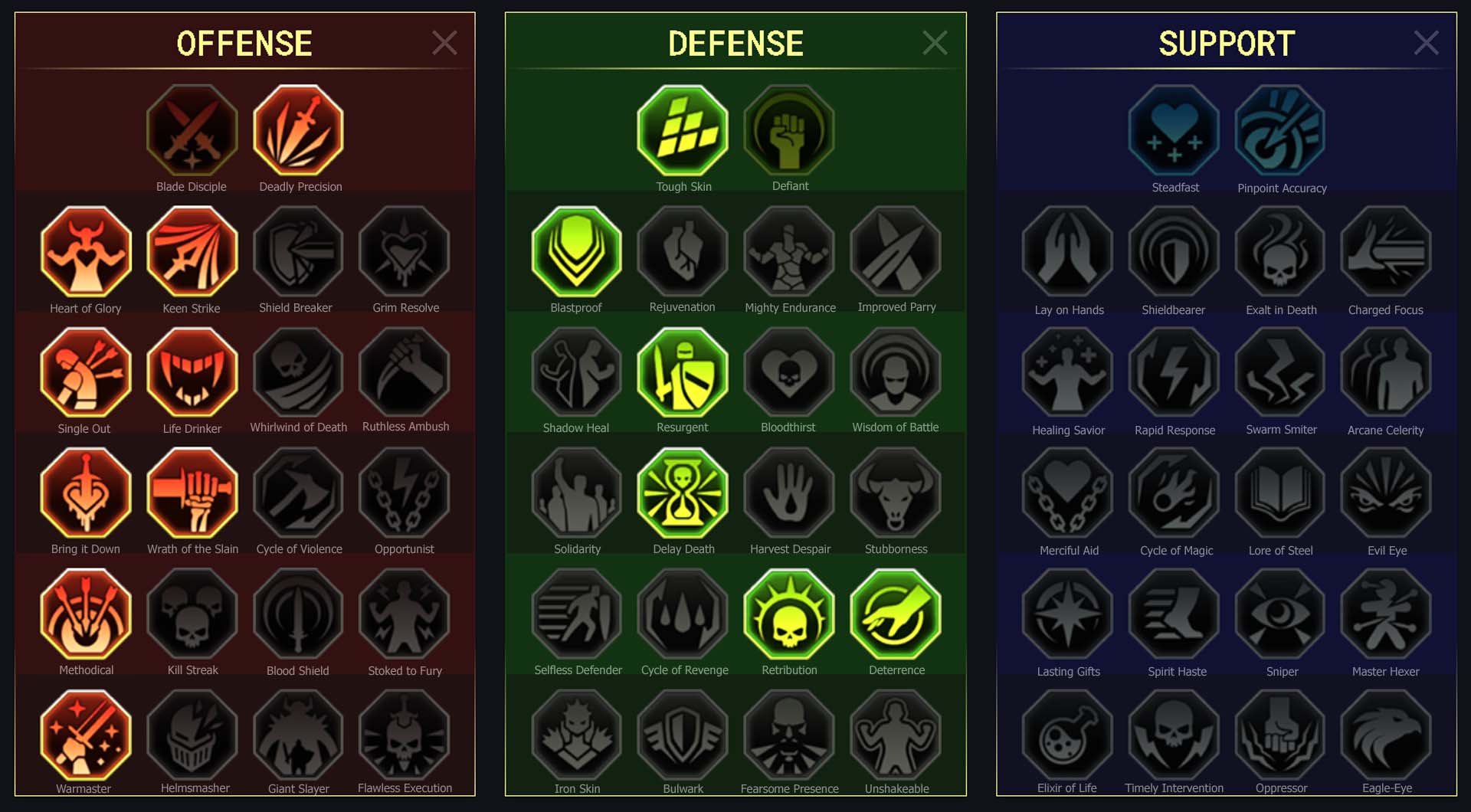 Defense

Tough Skin
Blastproof
Rejuvenation
Resurgent
Delay Death
Retribution
Deterrence
Fearsome Presence

Support

Pinpoint Accuracy
Charged Focus
Swarm Smiter
Arcane Celerity
Lore of Steel
Cycle of Magic
Sniper
Ordinator Updates
Ordinator Videos
Coming soon…