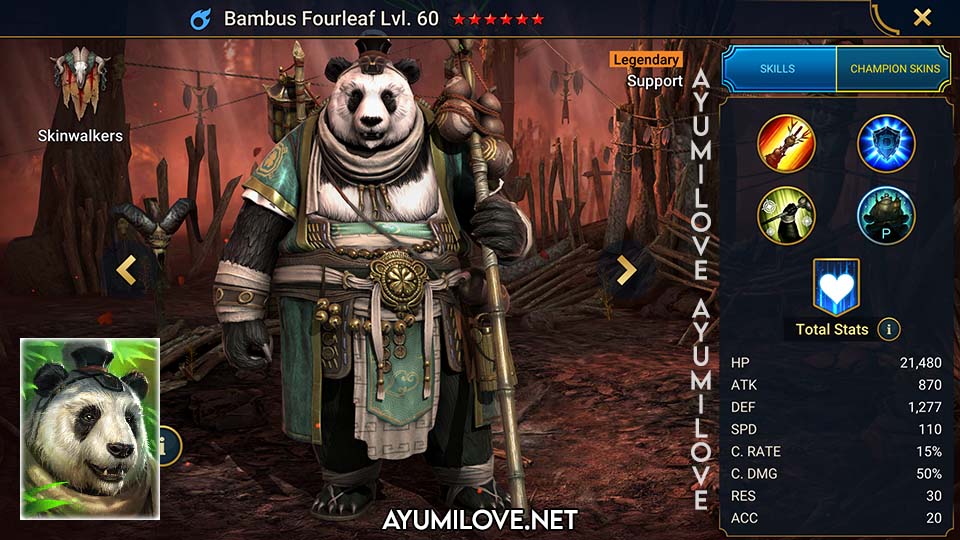 Overview

NAME: Bambus Fourleaf
FACTION: Skinwalkers
RARITY: Legendary
ROLE: Support
AFFINITY: Magic
RANK: B
USABILITY: Situational
TOMES: 11 (A1 A2 A3)

Abilities

RSL_AoE_DecreaseAccuracy_50%
RSL_AoE_DecreaseBuffDuration
RSL_AoE_DecreaseSpeed_30%
RSL_AoE_IncreaseAccuracy_50%
RSL_AoE_IncreaseAttack_50%
RSL_AoE_IncreaseBuffDuration
RSL_AoE_Shield
RSL_AllBattles_HpAura
RSL_Self_Sleep
RSL_Target_DecreaseSpeed_30%
RSL_Target_Enfeeble
RSL_Target_TransferDebuffs_Passive

Obtain from

Ancient Shard
Sacred Shard
Primal Shard
Bambus Fourleaf Fusion

Blessings Recommendation

Brimstone (Debuffer)
Temporal Chains (Arena)

Grinding

★★✰✰✰ Campaign
★★★✰✰ Arena Defense
★★★✰✰ Arena Offense
★★✰✰✰ Clan Boss
★★★★✰ Hydra
★★★★✰ Faction Wars

Dungeons

★★★★✰ Minotaur
★✰✰✰✰ Spider
★★✰✰✰ Fire Knight
★★★★✰ Dragon
★★★✰✰ Ice Golem
★★★★★ Iron Twins
★✰✰✰✰ Sand Devil
★✰✰✰✰ Phantom Shogun

Potion

★★★★✰ Arcane Keep
★★★★✰ Void Keep
★★★★✰ Force Keep
★✰✰✰✰ Spirit Keep
★★★★✰ Magic Keep

Doom Tower

★★★✰✰ Floors
★★✰✰✰ Magma Dragon
★★✰✰✰ Nether Spider
★★★★★ Frost Spider
★★★★✰ Scarab King
★★✰✰✰ Celestial Griffin
★★✰✰✰ Eternal Dragon
★★★★✰ Dreadhorn
★★✰✰✰ Dark Fae
Bambus Fourleaf Skills
Bamboo Splinter
Attacks 1 enemy. Has a 50% chance of placing a 30% [Decrease SPD] debuff for 2 turns. Will attack all enemies instead if the initial target is under 2 or more debuffs. This attack has a 40% chance of placing a 30% [Decrease SPD] debuff for 2 turns. Then places a [Sleep] debuff on this Champion for 1 turn. This debuff cannot be blocked or resisted.
Level 2: Damage +10%
Level 3: Damage +10%
Level 4: Buff/Debuff Chance +10%
Level 5: Buff/Debuff Chance +15%
Damage Multiplier: 3.8 ATK
Grovetender (Cooldown: 5 turns)
Attacks all enemies. Before attacking, places a [Shield] buff on all allies equal to 30% of their MAX HP for 2 turns. Also increases the duration of all buffs on all allies by 1 turn. After attacking, has a 75% chance of decreasing the duration of all enemy buffs by 1 turns, even if the attack lands as a weak hit. Also increases the value of any [Shield] buffs on all allies by 2% for each enemy buff that had its duration decreased by this skill. Then places a [Sleep] debuff on this Champion for 1 turn. This debuff cannot be blocked or resisted.
Level 2: Damage +10%
Level 3: Buff/Debuff Chance +10%
Level 4: Buff/Debuff Chance +15%
Level 5: Cooldown -1
Damage Multiplier: 5.6 ATK
Dream Sight (Cooldown: 5 turns)
Target an enemy. First, places a 50% [Increase ACC] buff and a 50% [Increase ATK] buff on all allies for 2 turns. Then, has a 75% chance of placing an [Enfeeble] debuff on the target enemy for 2 turns. The [Enfeeble] debuff cannot be placed on Bosses. Also has a 75% chance of placing a 50% [Decrease ACC] debuff on all enemies for 2 turns. Finally, places a [Sleep] debuff on this Champion for 1 turn. This debuff cannot be blocked or resisted.
Level 2: Buff/Debuff Chance +10%
Level 3: Buff/Debuff Chance +15%
Level 4: Cooldown -1
Sleeping Sage (Passive & Active)
[Passive Effect] Has a 50% chance of transferring any debuffs placed on an ally to this Champion while they are under a [Sleep] debuff. Will not transfer [Block Revive], [Stun], [Freeze], [Fear], [True Fear], [Provoke] and [Petrification] debuffs. At the start of this Champion's turn, remove any [Sleep] debuffs from this Champion.
[Active Effect] Transfers all debuffs from this Champion to the enemy with the highest RES, if a [Sleep] debuff was removed from this Champion by this Champion's passive skill. This effect cannot be resisted.
Aura
Increases Ally HP in all Battles by 25%
Bambus Fourleaf Updates