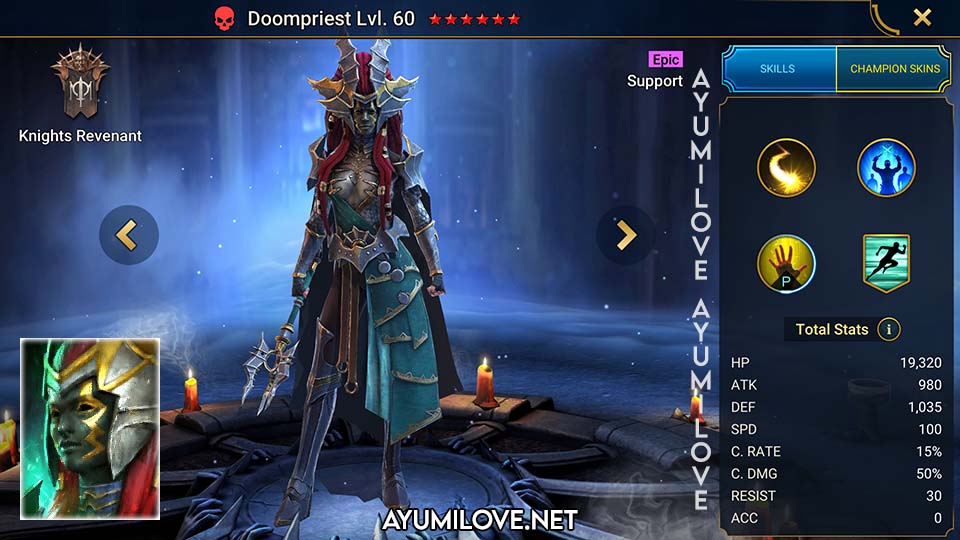 Overview

NAME: Doompriest
FACTION: Knights Revenant
RARITY: Epic
ROLE: Support
AFFINITY: Force
RANK: A
USABILITY: Early-Mid-Late Game
TOMES: 5 (A2)

Abilities

RSL_AllBattles_SpeedAura
RSL_AoE_Heal
RSL_AoE_Heal_Passive
RSL_AoE_IncreaseAttack_50%
RSL_AoE_Passive_Ally
RSL_AoE_RemoveDebuffs_Passive
RSL_Random_IncreaseCriticalRate_15%

Obtain from

Ancient Shard
Sacred Shard

Grinding

★★★★✰ Campaign
★★★★★ Arena Defense
★★★★★ Arena Offense
★★★★★ Clan Boss
★★★★✰ Hydra
★★★★★ Faction Wars

Dungeons

★★★★★ Minotaur
★★★✰✰ Spider
★★★✰✰ Fire Knight
★★★★★ Dragon
★★★★★ Ice Golem
★★★★✰ Iron Twins

Potion

★★★★★ Arcane Keep
★★★★★ Void Keep
★★★★✰ Force Keep
★★★✰✰ Spirit Keep
★★★★✰ Magic Keep

Doom Tower

★★★★★ Floors
★★★★★ Magma Dragon
★★★★★ Nether Spider
★★★★★ Frost Spider
★★★★★ Scarab King
★★★★✰ Celestial Griffin
★★★★★ Eternal Dragon
★★★★★ Dreadhorn
★★★★✰ Dark Fae
Doompriest Review
Doompriest is an Epic Support Force champion from Knights Revenants in Raid Shadow Legends. Doompriest skill kit revolves around healing and cleansing allies as well as buffing them with Increase Attack and Increase Critical Rate to improve their chances of dealing more damage to the enemies.
Doompriest is renowned for her passive skill Bolster that performs an AoE healing and cleansing each time she takes a turn! This makes her one of the best champion against enemy who relies heavily on debuff such as Clan Boss to cleanse away the single-target Stun debuff whenever it changes affinity to target different champion in your team, remove AoE stun when Bommal the Dreadhorn AoE Bomb debuff expires, frequent AoE freezes by Frost Spider and Doom Tower waves. The downside of this ability is it heals allies before removing debuff, which means your allies will not receive the full healing if they are inflicted by Heal Reduction debuff.
Mass Possession is her special ability that applies AoE Increase Attack buff, which makes her a great synergy with Attacker champions to boost their attack before they nuke. Fate Wave is her basic ability that attacks an enemy and places a Increase Critical Rate buff on a random champion in your team, which could be helpful for early game players to deal Critical Damage but end-game Attacker heroes will have 100% Critical Rate for consistent Critical Damage attacks. The Critical Rate buff will put your champions in danger in Bommal the Dreadhorn as it will convert that buff into a Bomb instead! Hence, it's recommended to provide her with low Critical Rate buff to prevent her from triggering it.
Overall, Doompriest is a fantastic Epic champion that you need to build to respond against enemies who specializes in debuffs to reduce your team's offense or defense capabilities. To build a tanky support cleanser, provide her with sufficient Health and Defense to tank enemy nuke attacks when boss raiding, have a high amount of Resistance to prevent her from receiving too many debuffs if enemies starts to target her to bring her down and high Speed to go lap the enemies multiple times to cleanse the debuffs quickly. Relentless Set is a good artifact that gives her the opportunity to remove debuffs quickly while Immortal and Regenaration are best suited to recover quickly from heavy nuke attacks.
Return to Raid Shadow Legends Tier List
Doompriest Skills
Fate Wave [ATK]
Attacks 1 enemy. If the hit is critical, places a 15% [Increase C.RATE] buff on a random ally for 2 turns.
Level 2: Damage +5%
Level 3: Damage +5%
Level 4: Damage +5%
Level 5: Damage +10%
Damage Multiplier: 4.1 ATK
Mass Possession (Cooldown: 4 turns)
Place a 50% [Increase ATK] buff on all allies for 2 turns.
Level 2: Cooldown -1
Bolster [Passive]
Heals all allies by 7.5% of their HP and removes 1 random debuff from them at the start of this Champion's turn.
Aura
Increases Force Ally SPD in all Battles by 15%.
Doompriest Equipment Guide
Arena, Campaign, Clan Boss, Dungeons, Doom Tower, Faction Wars

Recommended Artifacts

Immortal, Regeneration, Life, Lifesteal, Bloodthirst, Speed, Resist, Relentless, Stalwart

Stats Allocation

Weapon (ATK)
Helmet (HP)
Shield (DEF)
Gauntlets (HP% / DEF%)
Chestplate (HP% / DEF%)
Boots (SPD)
Ring (DEF / HP)
Amulet (DEF / HP)
Banner (DEF / HP / RESIST)

Stats Priority

HP%, DEF%, SPD, RESIST
Doompriest Mastery Guide
Arena, Campaign, Clan Boss, Dungeons, Doom Tower, Faction Wars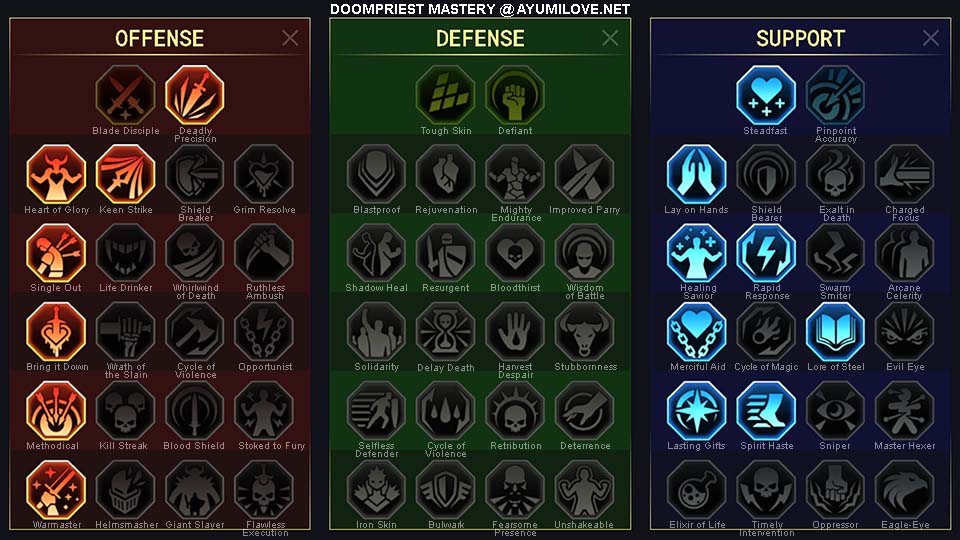 Offense

Deadly Precision
Keen Strike
Heart of Glory
Single Out
Bring it Down
Methodical
Warmaster

Support

Steadfast
Lay on Hands
Healing Savior
Rapid Response
Lore of Steel
Evil Eye
Spirit Haste
Lasting Gifts
Clan Boss (Speed Tuned)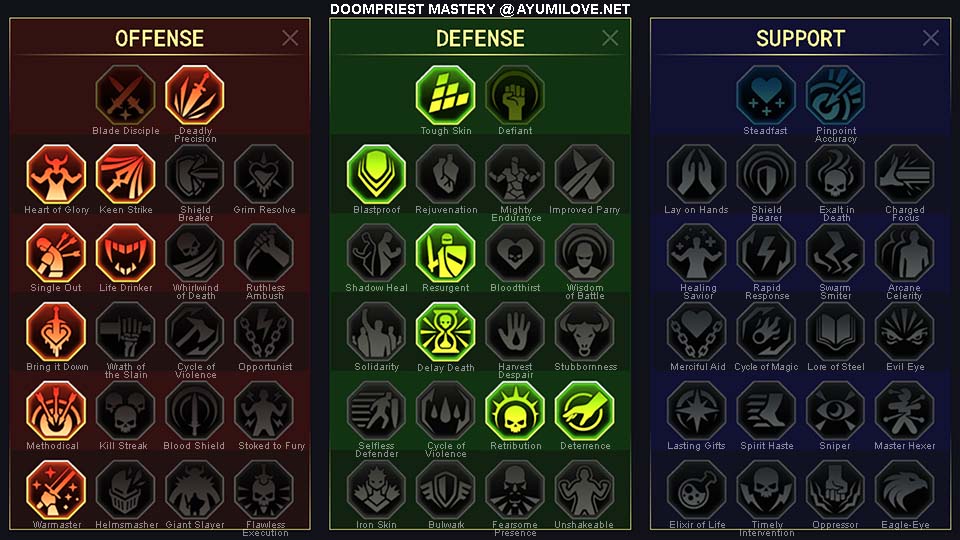 Offense

Deadly Precision
Keen Strike
Heart of Glory
Single Out
Life Drinker
Bring it Down
Methodical
Warmaster

Defense

Tough Skin
Blastproof
Resurgent
Delay Death
Retribution
Deterrence
Doompriest Storyline
Doompriest is a missionary of the Knights Revenant death cult. Her faith is strong, as is her command of the dark magic of K'leth. Like all priests, she dedicates much of her life to worship — but she derives her power not from prayer, but from dark ritual and sacrifice. A lovely young girl when she first joined the cult, she now covers her face with a mask to ensure the docility of her victims. With each innocent soul sacrificed, her own bore the taint of her deepening evil and corruption. Her once beautiful visage has decayed with each step down this path, and is now a horror to behold.
Doompriest Videos
Raid Shadow Legends Doompriest Champion Guide by ASH
Raid Shadow Legends Doompriest Champion Guide by Chofly
Raid Shadow Legends Doompriest Champion Guide by AliAlPlays
Raid Shadow Legends Doompriest Champion Guide by Tenzion
Raid Shadow Legends Doompriest Champion Guide by PGR荷马玩游戏