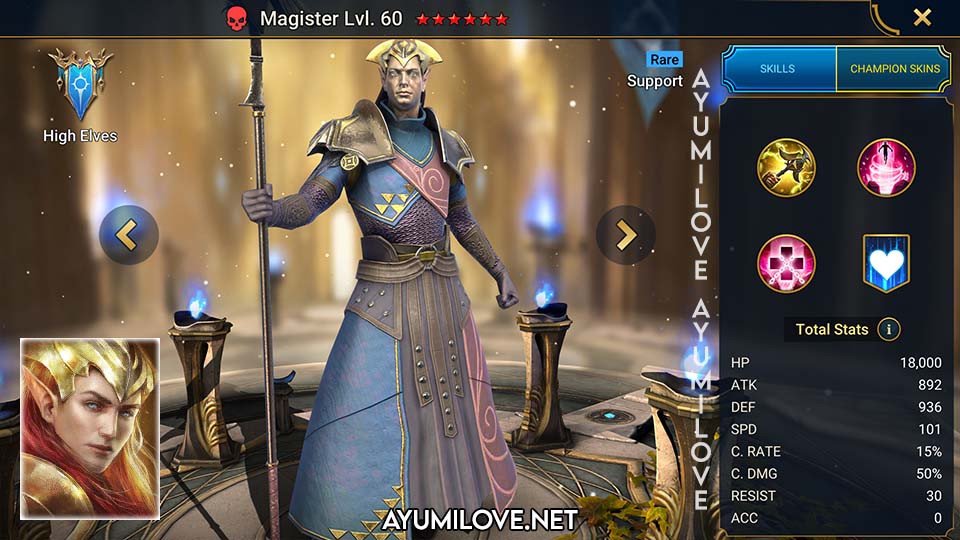 Obtain from

Mystery Shard
Ancient Shard

Overview

NAME: Magister
FACTION: High Elves
RARITY: Rare
ROLE: Support
AFFINITY: Force
RANK: F
USABILITY: N/A
TOMES: 13 (N/A)

Total Stats (6★)

Health Points (HP): 18,000
Attack (ATK): 892
Defense (DEF): 936
Speed (SPD): 101
Critical Rate (C.RATE): 15%
Critical Damage (C.DMG): 50%
Debuff Resistance (RESIST): 30
Debuff Accuracy (ACC): 0

Grinding

★✰✰✰✰ Campaign
★✰✰✰✰ Arena Defense
★✰✰✰✰ Arena Offense
★✰✰✰✰ Clan Boss
★✰✰✰✰ Faction Wars

Dungeons

★✰✰✰✰ Minotaur
★✰✰✰✰ Spider
★✰✰✰✰ Fire Knight
★✰✰✰✰ Dragon
★✰✰✰✰ Ice Golem

Potion

★✰✰✰✰ Void Keep
★✰✰✰✰ Force Keep
★✰✰✰✰ Spirit Keep
★✰✰✰✰ Magic Keep

Doom Tower

✰✰✰✰✰ Magma Dragon
✰✰✰✰✰ Nether Spider
✰✰✰✰✰ Frost Spider
✰✰✰✰✰ Scarab King
Magister Skills
Majestic Staff [ATK]
Attacks 1 enemy. If the attack is critical, places a 25% [Increase ATK] buff on a random ally for 1 turn.
Level 2: Damage +5%
Level 3: Damage +5%
Level 4: Damage +5%
Level 5: Damage +10%
Damage Multiplier: 4.1 ATK
Anoint (Cooldown: 4 turns)
Places a [Revive On Death] buff and a 30% [Reflect Damage] buff on a target ally for 2 turns. Heals all other allies by 10% of the target's HP.
Level 2: Heal +5%
Level 3: Heal +5%
Level 4: Heal +10%
Level 5: Heal +10%
Censure [ATK] (Cooldown: 5 turns)
Attacks all enemies. Has a 50% chance of placing a 50% [Heal Reduction] debuff for 2 turns.
Level 2: Damage +5%
Level 3: Damage +10%
Level 4: Buff/Debuff Chance +10%
Level 5: Buff/Debuff Chance +15%
Level 6: Cooldown -1
Damage Multiplier: 4 ATK
Aura
Increases Ally HP in Faction Crypts by 22%.
Magister Equipment Guide
Arena, Campaign, Clan Boss, Dungeons, Doom Tower, Faction Wars

Recommended Artifacts

Life, Immortal, Speed, Resist, Accuracy, Perception

Stats Allocation

Weapon (ATK)
Helmet (HP)
Shield (DEF)
Gauntlets (HP% / DEF% / C.RATE)
Chestplate (HP%)
Boots (SPD)
Ring (HP / DEF)
Amulet (HP / DEF)
Banner (HP / ACC / RESIST)

Stats Priority

Debuffer: HP%, DEF%, C.RATE, SPD, ACC
Supporter: HP%, DEF%, C.RATE, SPD, RESIST
Magister Storyline
In the complicated and byzantine hierarchy of the High Elves, promotion to elevated rank can take centuries. One faster step on the path to greater social rank is attaining the position of Magister. Even low-born Elven warriors willing to spend 50 years in services as a practitioner of battlefield healing magic can claim rights to this title. Those who do are valued greatly by their comrades in battle.