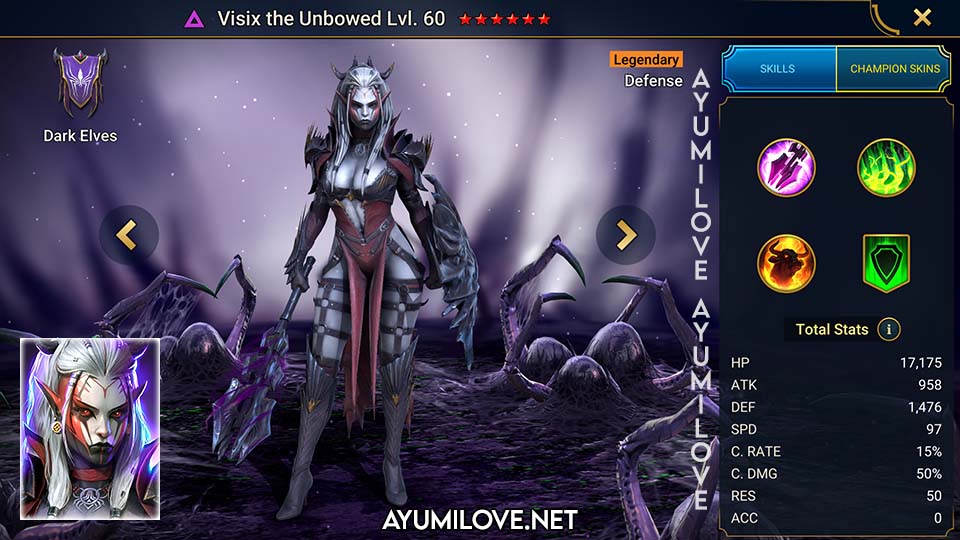 Overview

NAME: Visix the Unbowed
FACTION: Dark Elves
RARITY: Legendary
ROLE: Defense
AFFINITY: Void
RANK: S
USABILITY: Early-Mid-Late Game
TOMES: 10 (A1 A2 A3)

Abilities

RSL_AoE_AllyProtection_50%
RSL_AoE_DecreaseSpeed_30%
RSL_AoE_Provoke
RSL_Faction_DefenseAura
RSL_Self_IncreaseTurnMeter
RSL_Self_Shield
RSL_Target_BasicAttack_2Hits
RSL_Target_DecreaseTurnMeter

Obtain from

Void Shard
Daily Login Rewards 270 days

Blessings Recommendation

Grinding

★★★★★ Campaign
★★★★★ Arena Defense
★★★★★ Arena Offense
★★★✰✰ Clan Boss
★★★✰✰ Hydra
★★★★★ Faction Wars

Dungeons

★★★★★ Minotaur
★★★★★ Spider
★★★★★ Fire Knight
★★★✰✰ Dragon
★★★★★ Ice Golem
★★★✰✰ Iron Twins
★★★✰✰ Sand Devil

Potion

★★★★★ Arcane Keep
★★★★★ Void Keep
★★★★★ Force Keep
★★★★★ Spirit Keep
★★★★★ Magic Keep

Doom Tower

★★★★★ Floors
★★★★✰ Magma Dragon
★✰✰✰✰ Nether Spider
★★✰✰✰ Frost Spider
★★★★★ Scarab King
★✰✰✰✰ Celestial Griffin
★✰✰✰✰ Eternal Dragon
★★★★★ Dreadhorn
★★★★★ Dark Fae
Visix the Unbowed Skills
Flanged Mace
Attacks 1 enemy 2 times. Each hit has an 80% chance of decreasing the target's Turn Meter by 15%. Fills this Champion's Turn Meter equal to the amount the target loses.
Level 2: Damage +5%
Level 3: Damage +5%
Level 4: Buff/Debuff Chance +10%
Level 5: Buff/Debuff Chance +10%
Damage Multiplier: 1.6 DEF
Sinister Allies (Cooldown: 4 turns)
Attacks all enemies. Has a 75% chance of placing a 30% [Decrease SPD] debuff for 2 turns. Also places a 50% [Ally Protection] buff on all allies except this Champion for 2 turns.
Level 2: Damage +10%
Level 3: Buff/Debuff Chance +5%
Level 4: Buff/Debuff Chance +10%
Level 5: Buff/Debuff Chance +10%
Level 6: Cooldown -1
Damage Multiplier: 3.5 DEF
Single Combat (Cooldown: 4 turns)
Attacks all enemies. Places a [Provoke] debuff for 1 turn. Places a [Shield] buff on this Champion equal to 20% of their MAX HP for 2 turns.
Level 2: Cooldown -1
Damage Multiplier: 4.1 DEF
Aura
Increases Ally DEF in Faction Crypts by 37%
Visix the Unbowed Equipment Guide
Arena, Doom Tower, Faction Wars
Campaign, Clan Boss, Dungeons

Recommended Artifacts

1 Relentless Set, 1 Accuracy Set
2 Defense Set, 1 Speed Set
2 Defense Set, 1 Accuracy Set
1 Lifesteal Set, 1 Accuracy Set

Recommended Artifacts

2 Defense Set, 1 Speed Set
2 Defense Set, 1 Accuracy Set
1 Lifesteal Set, 1 Accuracy Set

Recommended Stats

DEF%, HP%, SPD, ACC
Weapon (ATK)
Helmet (HP)
Shield (DEF)
Gauntlets (DEF%)
Chestplate (DEF%)
Boots (SPD)
Ring (DEF)
Amulet (DEF)
Banner (ACC)

Recommended Stats

DEF%, HP%, SPD, ACC
Weapon (ATK)
Helmet (HP)
Shield (DEF)
Gauntlets (DEF%)
Chestplate (DEF%)
Boots (SPD)
Ring (DEF)
Amulet (DEF)
Banner (ACC)
Visix the Unbowed Mastery Guide
Arena, Doom Tower, Faction Wars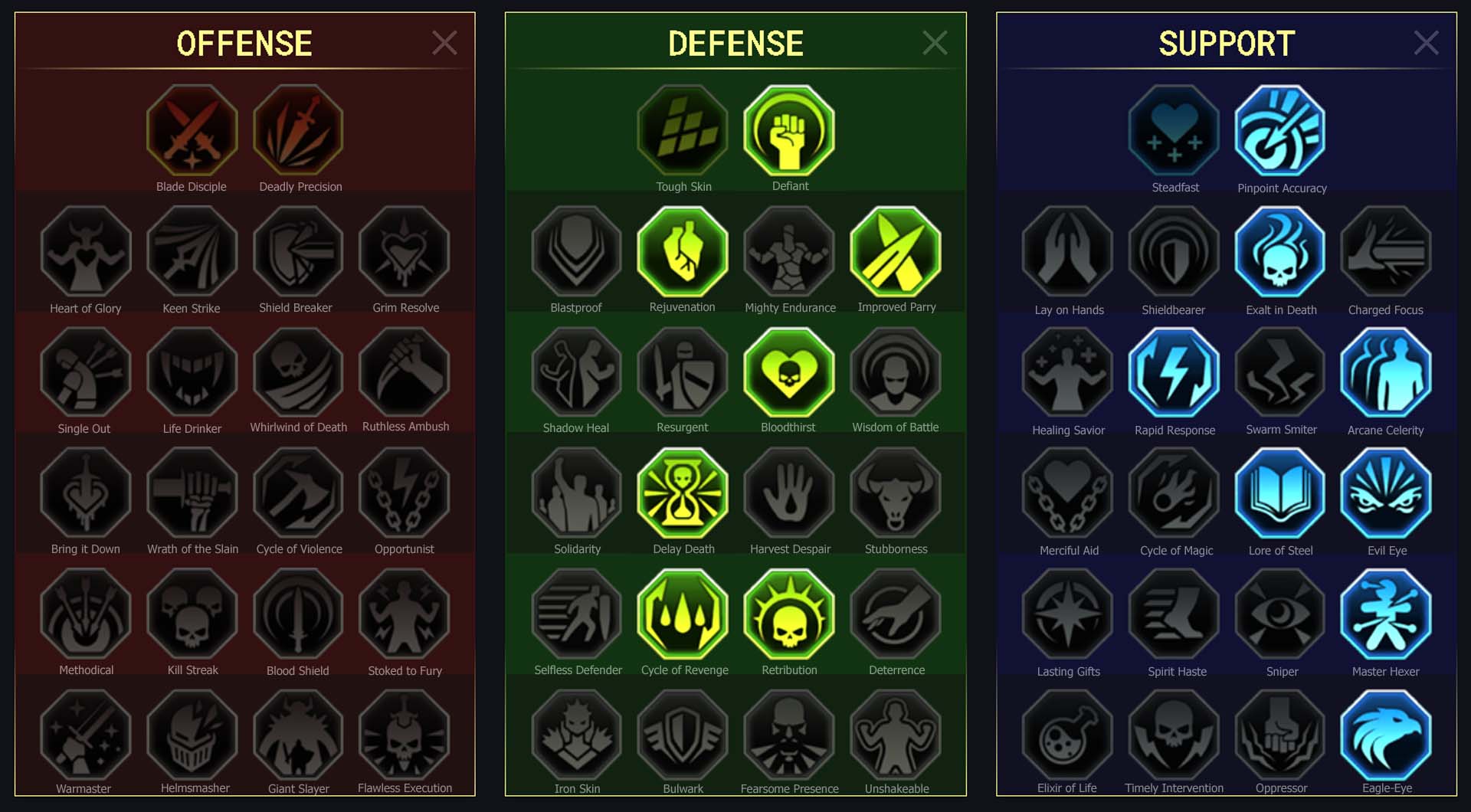 Defense

Defiant
Rejuvenation
Improved Parry
Bloodthirst
Delay Death
Retribution
Cycle of Revenge

Support

Pinpoint Accuracy
Exalt in Death
Rapid Response
Arcane Celerity
Evil Eye
Lore of Steel
Master Hexer
Eagle-Eye
Campaign, Clan Boss, Dungeons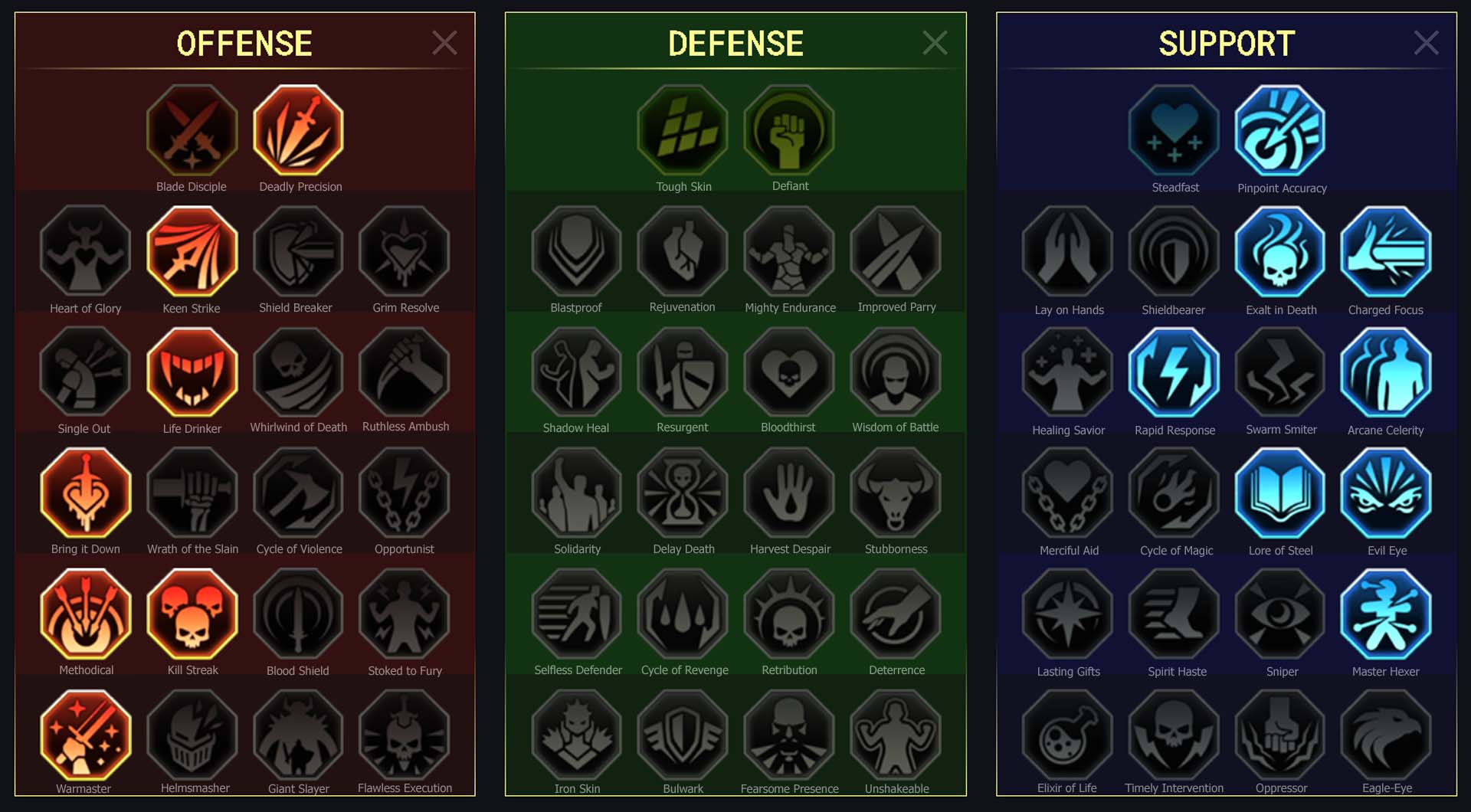 Offense

Deadly Precision
Keen Strike
Life Drinker
Bring it Down
Methodical
Kill Streak
Warmaster

Support

Pinpoint Accuracy
Exalt in Death
Charged Focus
Rapid Response
Arcane Celerity
Evil Eye
Lore of Steel
Master Hexer
Visix the Unbowed Reference
Arena, Campaign, Dungeons, Doom Tower, Faction Wars
Below is a reference of the artifacts equipped on Visix the Unbowed used in all areas of the game. Visix is equipped in Speed Set and Accuracy Set. Speed Set provides additional Speed stat for her to cycle through her skills quickly, while Accuracy Set provides additional Accuracy stat to crowd control the enemies. These artifacts focus on high ACC, SPD, DEF% and HP% to compliment her role and skills as a crowd control and tanker champion. A high amount of HP and Defense stats allows her to tank the damage mitigated from her allies through Ally Protection debuff and absorb the damage from the Provoked enemy. Accuracy is essential for Visix to allow her debuff to land on enemies without being resisted. Speed is also crucial for Visix to enable her to begin the battle before her enemies strike to crowd control them. C.RATE and C.DMG are not necessary for Visix as her damage potential isn't great.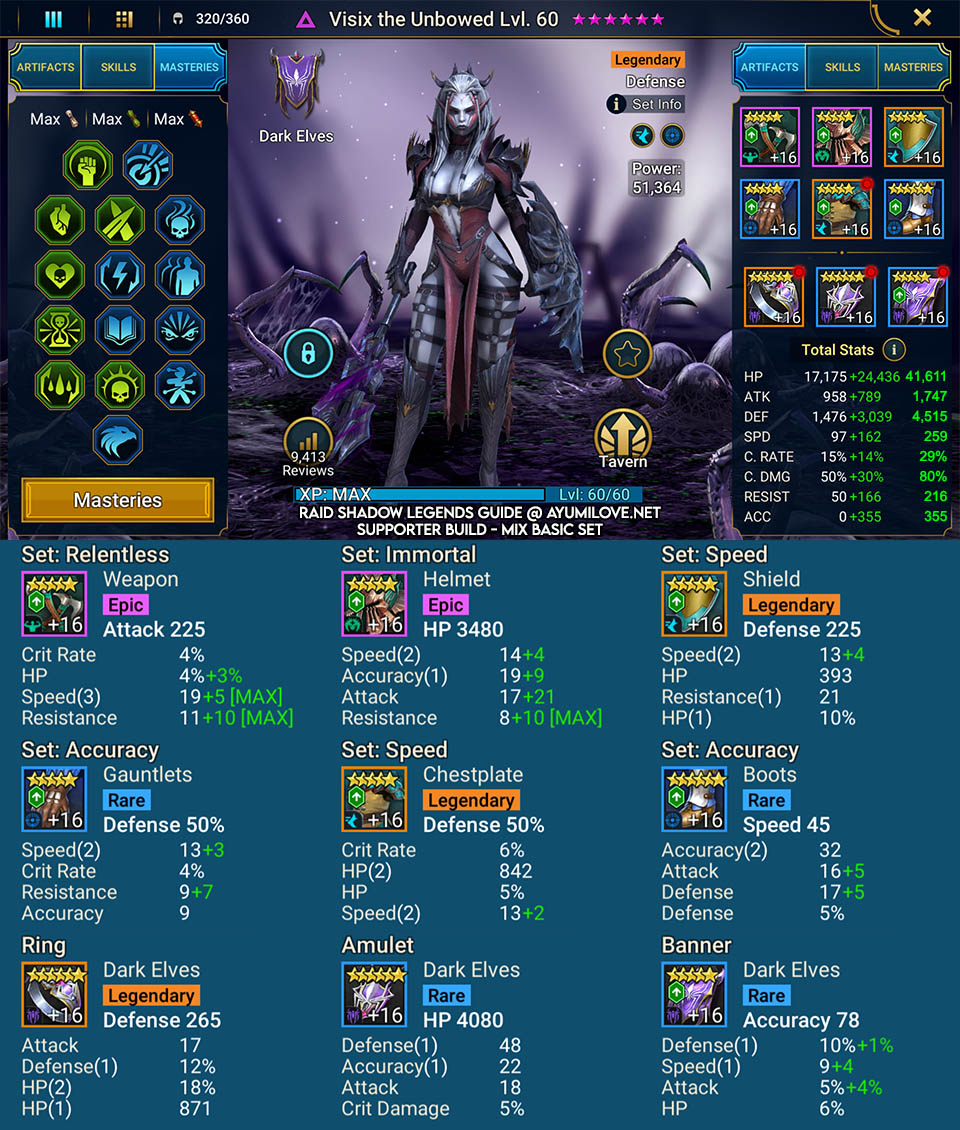 Visix the Unbowed Champion Lore
Entertainment is hard to come by in the Dark Elf enclaves of Durham Forest. Gambling is among the most popular of pastimes, with wagering on pit fights being the most common sort. Every Dark Elf settlement, whether canopy-town or isolated village, has its pit. Some are small, barely large enough for one unlucky prisoner and whatever monstrosity they are being fed to. Others are larger structures, able to contain many dozens of combatants, whether Elf and otherwise.
While most pit fights are between desperate prisoners and monsters captured in the depths of Durham Forest, there are those who choose the life of a pit fighter. Their reasons are varied; for some, it is the money that can be won, while others simply enjoy the thrill of combat. But for some, it is akin to a religious calling.
Visix the Unbowed is one such gladiator. From a young age, she dreamt of spilling the blood of her opponents, and as she grew, these dreams became an almost ungovernable desire. She sought to satisfy this need by picking fights with her peers, or stalking the dangerous beasts that roamed the forest. Worried that her behavior might lead to her being injured or killed, her parents ensured that she received the finest training the wealth of a noble family could buy. She was even given the opportunity to dispatch the occasional criminal in sanctioned executions. But it was not enough for Visix. She chafed at her parents' insistence on such controlled conditions.
Visix demanded the chance to face a worthy opponent in the pits. Her parents, fearing for the loss of their heir as well as the embarrassment that said loss would bring, denied her, but Visix was adamant in her desire to taste real combat. She snuck out, and made her way to the local pit, where her arrogant manner quickly saw her ushered into combat with a monster unlike any she'd ever seen; a thing of segmented legs, venomous pincers, and a thorny carapace that was harder than iron. But rather than cowering in fear, Visix hurled herself gleefully into combat with the monster.
The battle that followed was like nothing Visix had ever experienced. The ugly creature was fast, strong, and relentless. The Dark Elf was pushed to her limits, and nearly killed, but nonetheless emerged triumphant. Her body battered and bruised, her flanged mace heavy with gore, Visix felt a deep sense of satisfaction settle on her as she stepped over the twitching carcass of her opponent. For the first time, she felt truly complete. It was a feeling she wished to experience again. Wanting a keepsake of the battle, she had a section of the creature's chitin hollowed out and turned into a shield.
So began Visix's gladiatorial career. Her parents, though angry at first, soon saw the benefits of Visix's interests. They wagered heavily on her, and their wealth increased with her every victory. Their good fortune would come to an end, however.
For months, Visix had been rampaging through her local pits. While some of her bouts were more difficult than others, she never tasted defeat. But no matter how loudly the audience cheered, Visix felt nothing but dissatisfaction. Where was the thrill of that first great fight? Why could she not replicate it? She knew that other, greater challenges were out there waiting for her in the world. She just had to find them. Whether her parents agreed or not.
They did not. In fact, they attempted to prevent her departure by force. What truly occurred next is unknown, but popular gossip has it that Visix slaughtered the majority of her family's household guard in a riot of violence. What is known is that she departed the next morning, covered in blood, smiling.
Such was Visix's fame that nobles and guild leaders alike from throughout Durham offered her exorbitant sums to patronize their fighting pits, in order to draw in wealthy gamblers from Velyzar and elsewhere with the promise of her skill. In return, Visix was promised her pick of worthy opponents, including massive monsters drawn from the depths of the forest, captured Kaerok knights, or even the occasional Demonspawn.
But Visix refuses to face those she deems to be weak or unsuited to battle, and her insistence on never participating in rigged or unfair bouts has earned her many enemies. More than once, a would-be gangster has demanded that she throw a fight, only to find themselves and their guards on the receiving end of one of Visix's rampages. Countless are the vengeance plots being made against her.
For Visix, the search for a truly worthy opponent has become akin to a holy quest. She refuses to rest until she meets someone, or something, strong enough to defeat her in battle…
Visix the Unbowed Updates
Visix the Unbowed Videos
Raid Shadow Legends Visix the Unbowed Champion Guide by ASH
Raid Shadow Legends Visix the Unbowed Champion Guide by MacChan
Raid Shadow Legends Visix the Unbowed Champion Guide by MtgJedi
Raid Shadow Legends Visix the Unbowed Champion Guide by Chofly
Raid Shadow Legends Visix the Unbowed Champion Guide by YST
Raid Shadow Legends Visix the Unbowed Champion Guide by Timshel
Champion Name Reference
English: Visix the Unbowed
French: Visix I'lnsoumise
Deutsch:
Italian:
Spanish:
Chinese:
Korean:
Japanese:
Ukranian:
Russian:
Turkish:
Portuguese: