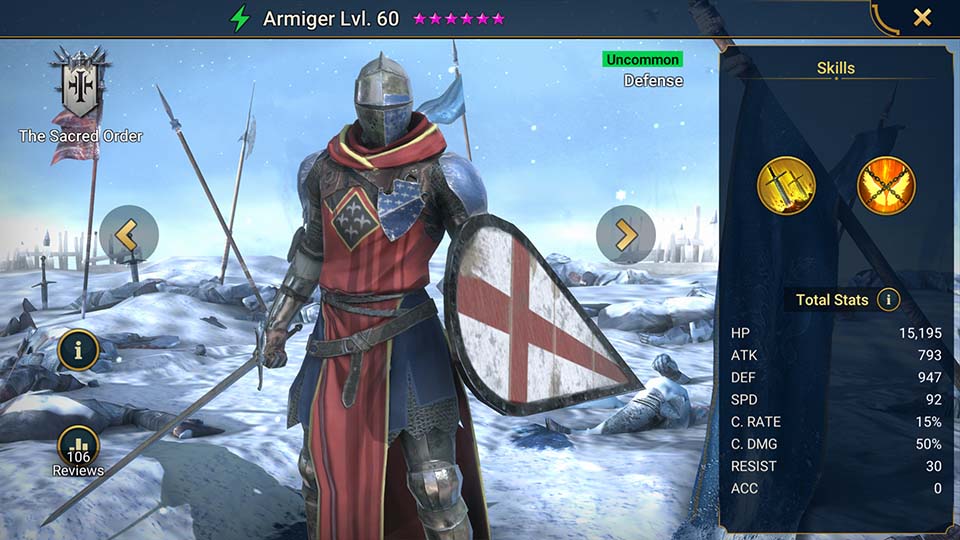 Overview

NAME: Armiger
FACTION: Sacred Order
RARITY: Uncommon
ROLE: Defense
AFFINITY: Spirit
RANK: S
USABILITY: Early-Mid-Late Game
TOMES: 9 (A1 A2)

Abilities

RSL_Target_BlockRevive
RSL_Target_DecreaseTurnMeter
RSL_Target_EnemyMaxHp

Obtain from

Mystery Shard
Market

Grinding

★✰✰✰✰ Campaign
★✰✰✰✰ Arena Defense
★✰✰✰✰ Arena Offense
★★✰✰✰ Clan Boss
★★★✰✰ Hydra
★★★★✰ Faction Wars

Dungeons

★★★★✰ Minotaur
★★★★★ Spider
★★★★✰ Fire Knight
★★★★✰ Dragon
★★★★✰ Ice Golem
★★★★✰ Iron Twins
★★★★✰ Sand Devil
★★★★★ Phantom Shogun

Potion

★★★★✰ Arcane Keep
★★★★✰ Void Keep
★★★★✰ Force Keep
★★★★★ Spirit Keep
★★★✰✰ Magic Keep

Doom Tower

★✰✰✰✰ Floors
★✰✰✰✰ Magma Dragon
★✰✰✰✰ Nether Spider
★✰✰✰✰ Frost Spider
★★★★★ Scarab King
★✰✰✰✰ Celestial Griffin
★✰✰✰✰ Eternal Dragon
★✰✰✰✰ Dreadhorn
★★★★★ Dark Fae
Armiger Review
Armiger is an Uncommon Defense Spirit champion from the The Sacred Order faction in Raid Shadow Legends. Armiger is one of the best end game champions for Spider's Den, Fire Knight Castle, Faction Wars and Doom Tower (Scarab King and Dark Fae).
Armiger is renowned for his signature ability Riposte (A1 Skill) that enables him to crowd control enemies with his Decrease Turn Meter ability! This enables him to slow down bosses and prevent them from taking a turn when he is built in a speed-tuned team! Armiger's Lay to Rest (A2 Skill) is his second powerful ability that deals high amount of damage based on their MAX HP and prevents the enemy from being revived! This skill makes him an excellent candidate to block revive Ice Golem minions and Frost Spider in Doom Tower too! He is also frequently seen at Scarab King with Destroy Set equipped to break down his shield and preventing him from taking a turn.
Overall, Armiger is a powerful Uncommon champion in an Epic skin. His true potential can be fully unleashed when he is built with 100% Critical Rate and sufficient Accuracy stats to apply Decrease Turn Meter consistently for the level you are farming a specific Dungeon or Doom Tower floor.
Armiger Skills
Riposte
Attacks 1 enemy. Decreases the Turn Meter by 30% if this attack is critical.
Level 2: Damage +5%
Level 3: Damage +5%
Level 4: Damage +5%
Level 5: Damage +5%
Damage Multiplier: 4 DEF
Lay to Rest (Cooldown: 3 turns)
Attacks 1 enemy. Damage inflicted is proportional to DEF and increases according to enemy MAX HP. Enemies killed by this skill cannot be revived.
Level 2: Damage +5%
Level 3: Damage +5%
Level 4: Damage +5%
Level 5: Damage +5%
Level 6: Cooldown -1
Damage Multiplier: 2.9 DEF + 0.05 Enemy MAX HP
Armiger Equipment Guide
Arena, Doom Tower, Faction Wars
Campaign, Clan Boss, Dungeons

Recommended Artifacts

1 Relentless Set, 1 Speed Set
2 Defense Set, 1 Speed Set

Recommended Artifacts

1 Lifesteal Set, 1 Accuracy Set
2 Accuracy Set, 1 Speed Set

Recommended Stats

DEF%, C.RATE, C.DMG, SPD, ACC
Weapon (ATK)
Helmet (HP)
Shield (DEF)
Gauntlets (C.RATE / C.DMG)
Chestplate (DEF%)
Boots (SPD)
Ring (DEF)
Amulet (DEF / C.DMG)
Banner (ACC)

Recommended Stats

DEF%, HP%, SPD, ACC
Weapon (ATK)
Helmet (HP)
Shield (DEF)
Gauntlets (C.RATE / C.DMG)
Chestplate (DEF%)
Boots (SPD)
Ring (DEF)
Amulet (DEF / C.DMG)
Banner (ACC)
Armiger Mastery Guide
Arena, Campaign, Clan Boss, Dungeons, Doom Tower, Faction Wars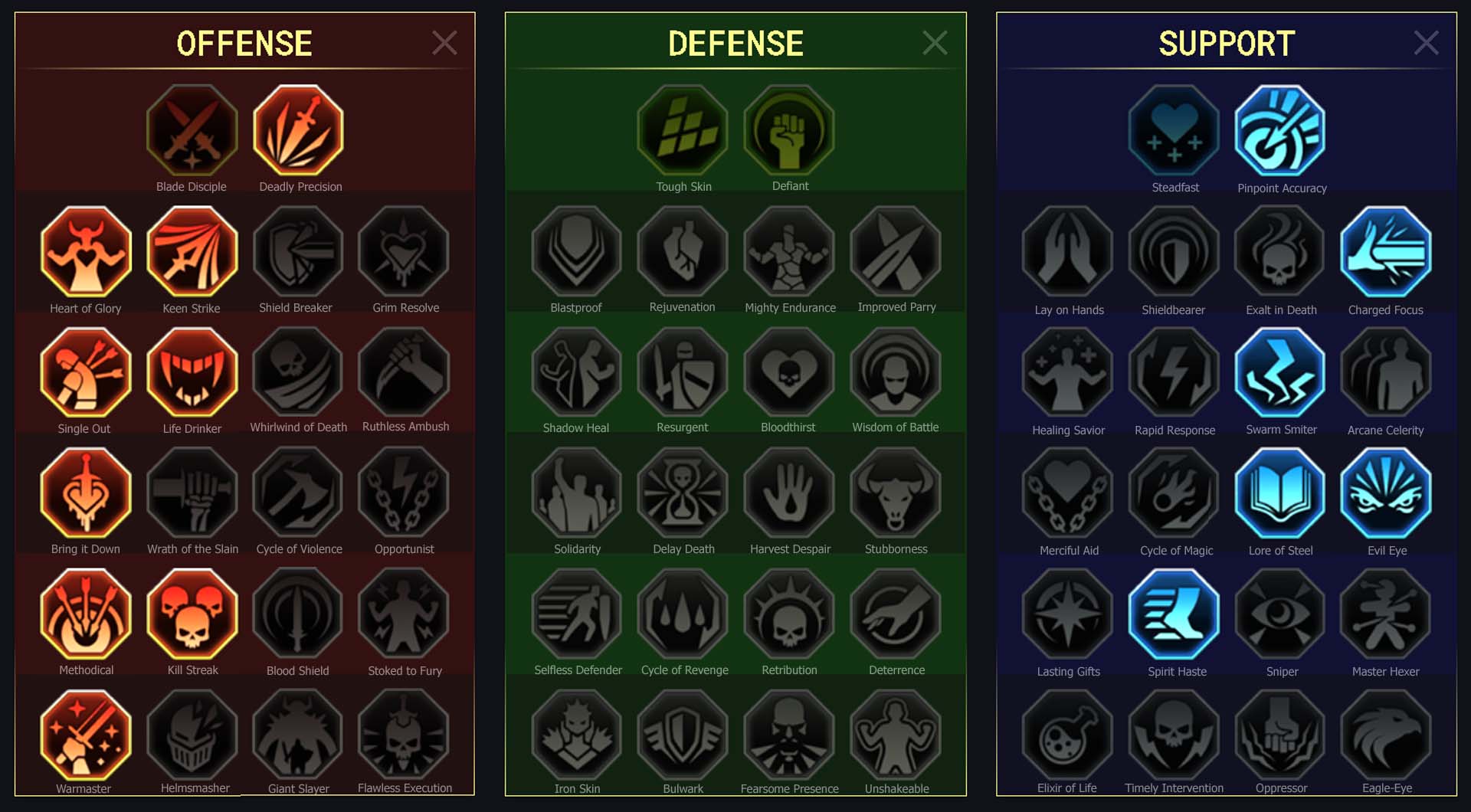 Offense

Deadly Precision
Keen Strike
Heart of Glory
Life Drinker
Single Out
Bring it Down
Methodical
Kill Streak
Warmaster

Support

Pinpoint Accuracy
Charged Focus
Swarm Smiter
Evil Eye
Lore of Steel
Spirit Haste
Armiger Videos
Raid Shadow Legends Armiger Champion Guide by ASH
Raid Shadow Legends Armiger Champion Guide by StewGaming
Raid Shadow Legends Armiger and Paragon vs Spider Guide by Cold Brew Gaming
Raid Shadow Legends Armiger vs Spider Boss Guide by StewGaming