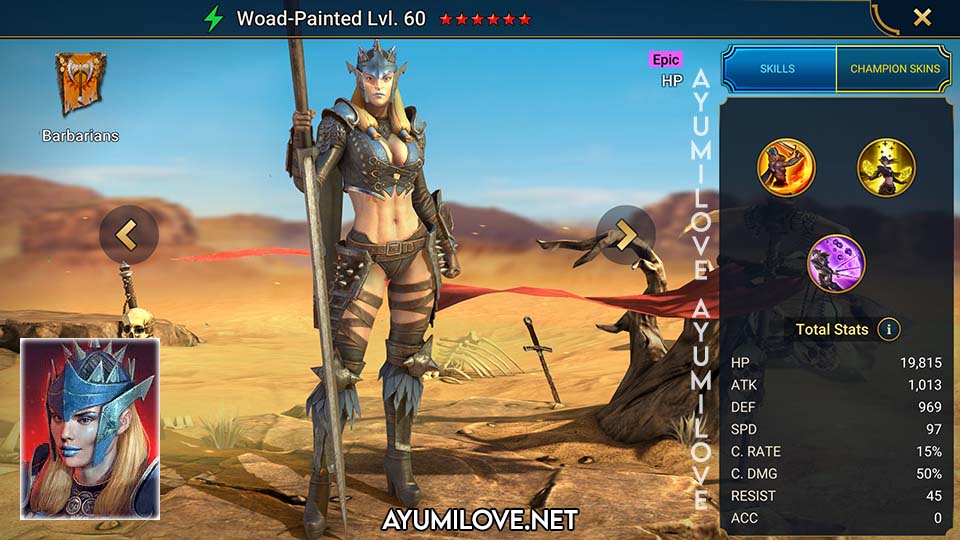 Overview

NAME: Woad-Painted
FACTION: Barbarians
RARITY: Epic
ROLE: HP
AFFINITY: Spirit
RANK: B
USABILITY: Situational
TOMES: 10 (A1 A2 A3)

Abilities

RSL_AoE_Heal
RSL_AoE_ReflectDamage_30%
RSL_AoE_RemoveDebuffs
RSL_Self_ExtraTurn
RSL_Target_BasicAttack_2Hits
RSL_Target_BlockActiveSkills

Obtain from

Ancient Shard
Sacred Shard

Grinding

★★★✰✰ Campaign
★✰✰✰✰ Arena Defense
★✰✰✰✰ Arena Offense
★★★✰✰ Clan Boss
★★★✰✰ Hydra
★★✰✰✰ Faction Wars

Dungeons

★★★✰✰ Minotaur
★✰✰✰✰ Spider
★★★✰✰ Fire Knight
★★★✰✰ Dragon
★★★✰✰ Ice Golem
★★★✰✰ Iron Twins
★★✰✰✰ Sand Devil

Potion

★★✰✰✰ Arcane Keep
★★✰✰✰ Void Keep
★★✰✰✰ Force Keep
★★✰✰✰ Spirit Keep
★✰✰✰✰ Magic Keep

Doom Tower

★★★✰✰ Floors
★★★✰✰ Magma Dragon
★★★✰✰ Nether Spider
★★★✰✰ Frost Spider
★★✰✰✰ Scarab King
★★★✰✰ Celestial Griffin
★★★✰✰ Eternal Dragon
★★★✰✰ Dreadhorn
★★★✰✰ Dark Fae
Woad-Painted Skills
Crossup
Attacks 1 enemy 2 times. Has a 25% chance of placing a [Block Active Skills] debuff for 1 turn.
Level 2: Damage +5%
Level 3: Damage +5%
Level 4: Buff/Debuff Chance +5%
Level 5: Damage +10%
Damage Multiplier: 0.13 HP
Undying Fury (Cooldown: 5 turns)
Removes all debuffs from this Champion and 1 random debuff from all allies, then heals this Champion by 100% of their MAX HP and heals all allies equal to 50% of the surplus heal. Afterward, places a 30% [Reflect Damage] buff on all allies for 2 turns, then grants this Champion an Extra Turn.
Level 2: Cooldown -1
Overpower [HP] (Cooldown: 3 turns)
Attacks 1 enemy. Has a 75% chance of placing a [Block Active Skills] debuff for 2 turns.
Level 2: Buff/Debuff Chance +5%
Level 3: Buff/Debuff Chance +10%
Level 4: Damage +10%
Level 5: Buff/Debuff Chance +10%
Level 6: Cooldown -1
Damage Multiplier: 0.42 HP
Woad-Painted Equipment Guide
Equipment Set for Arena, Campaign, Faction Wars
2 Life Set, 1 Speed Set
Equipment Set for Clan Boss, Dungeons, Doom Tower
1 Lifesteal Set, 1 Speed Set
Equipment Stat Priority
Defense%, HP%, Speed, Accuracy
Weapon (Attack)
Helmet (HP)
Shield (Defense)
Gauntlets (Defense% / HP%)
Chestplate (Defense% / HP%)
Boots (Speed)
Ring (Defense / HP)
Amulet (Defense / HP)
Banner (Accuracy)
Woad-Painted Mastery Guide
Arena, Doom Tower, Faction Wars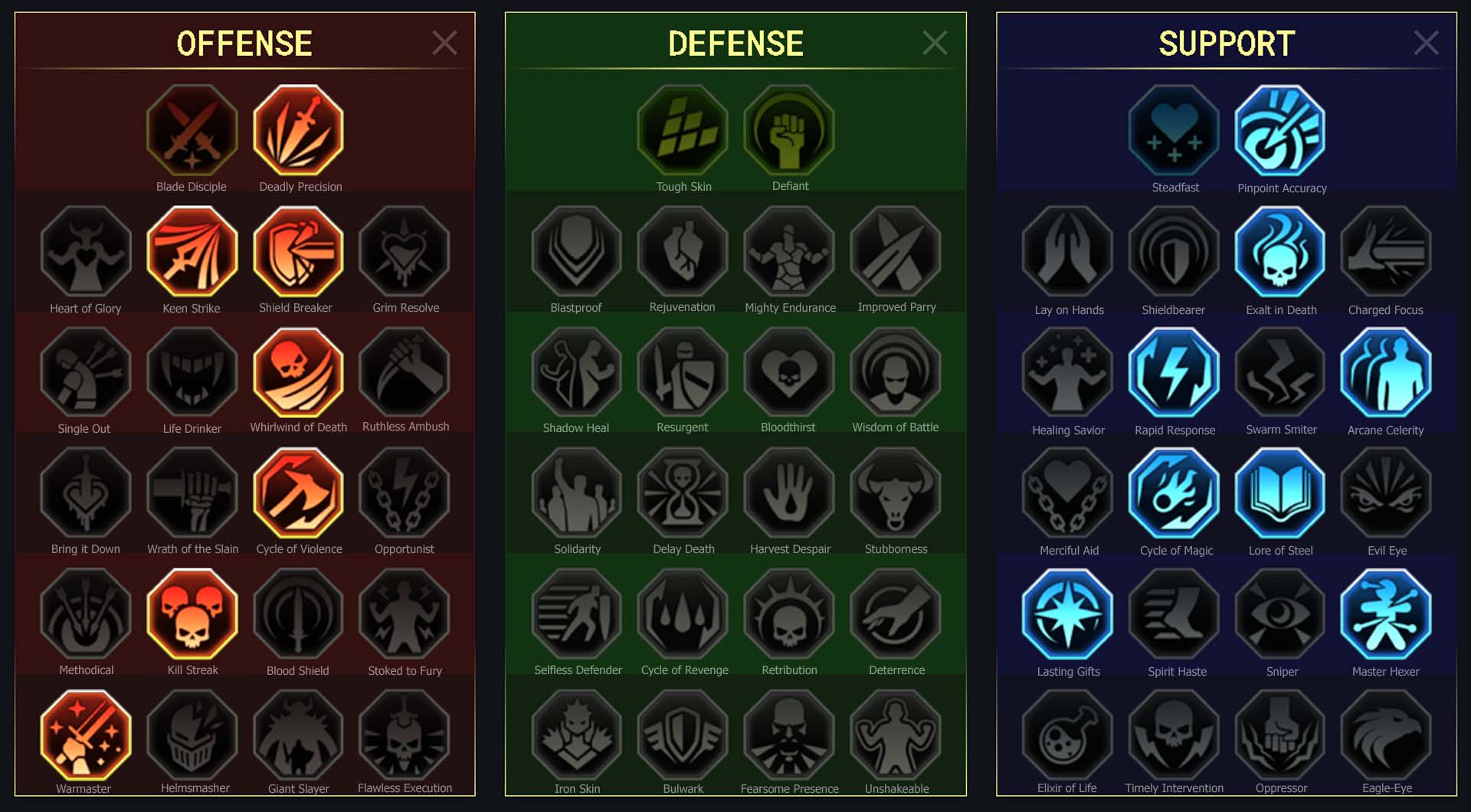 Offense

Deadly Precision
Keen Strike
Shield Breaker
Whirlwind of Death
Cycle of Violence
Kill Streak
Warmaster

Support

Pinpoint Accuracy
Exalt in Death
Arcane Celerity
Rapid Response
Lore of Steel
Cycle of Magic
Lasting Gifts
Master Hexer
Woad-Painted Review
Woad-Painted is an Epic HP Spirit affinity champion from the Barbarians faction in Raid Shadow Legends. The tales surrounding her abilities and impact in battles are the stuff of legend. Some say she had the power to unlock legendary champions for those who knew how to wield her. However, with the release of Patch 5.50, Woad-Painted's true potential has been revealed, and her story is one of a potent and powerful healer.
Woad-Painted's abilities are well-suited to niche situations, especially her A1 and A3, which apply a Block Active Skills debuff to a single target. However, her revamped A2 is the centerpiece of her arsenal. With this skill, she performs a full cleanse and full heal on herself, removes one random buff from all allies, and then shares 50% of any excess healing she receives with all allies. This makes her a valuable ally in a range of situations, particularly when paired with a damage-focused champion like Ironclad.
In the right circumstances, Woad-Painted can make a significant contribution to Arena battles or even dungeon runs. Her ability to cleanse and heal herself makes her difficult to take down, while her support skills benefit her allies as well. As a result, she has become a much more viable champion in Raid Shadow Legends, with the potential to turn the tide of battle in favor of those who know how to use her effectively.
In conclusion, Woad-Painted's story is one of transformation and redemption. Once considered a terrible epic to pull, she has now emerged as a force to be reckoned with in Raid Shadow Legends. With her unique abilities and powerful healing skills, she has become a valuable addition to any team, offering a versatile and effective support role that can make all the difference in battles against even the toughest opponents. So if you're lucky enough to add Woad-Painted to your roster, be sure to make the most of her abilities and unleash her full potential on the battlefield.
Woad-Painted Updates
Woad-Painted Videos
Raid Shadow Legends Woad-Painted Champion Guide by mAd Capper
Raid Shadow Legends Woad-Painted Champion Guide by SecondStar Right