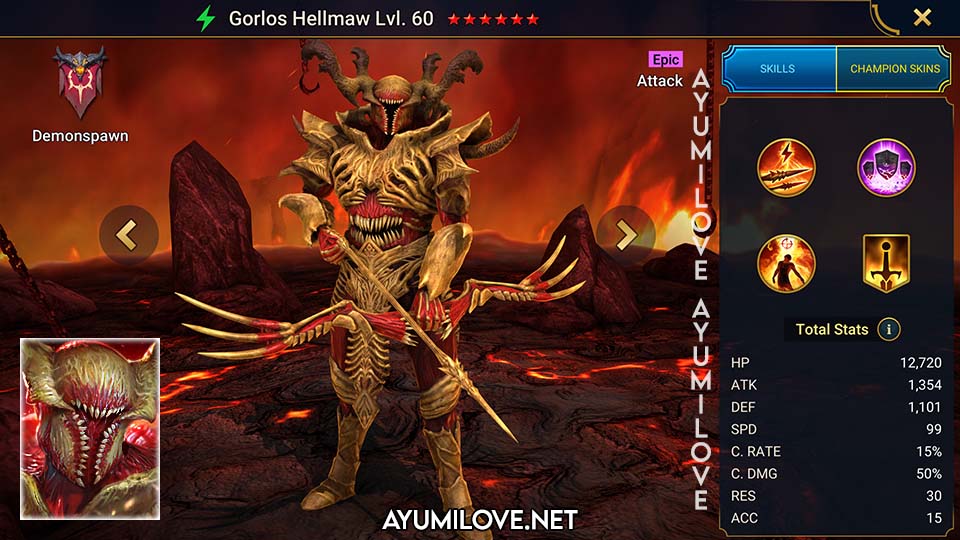 Obtain from

Ancient Shard
Sacred Shard

Overview

NAME: Gorlos Hellmaw
FACTION: Demonspawn
RARITY: Epic
ROLE: Attack
AFFINITY: Spirit
RANK: C
USABILITY: Situational
TOMES: 14 (A2 A3)

Total Stats (6★)

Health Points (HP): 12,720
Attack (ATK): 1,354
Defense (DEF): 1,101
Speed (SPD): 99
Critical Rate (C.RATE): 15%
Critical Damage (C.DMG): 60%
Debuff Resistance (RESIST): 30
Debuff Accuracy (ACC): 15

Grinding

★✰✰✰✰ Campaign
★★★✰✰ Arena Defense
★★★✰✰ Arena Offense
★★★★✰ Clan Boss
★★★✰✰ Faction Wars

Dungeons

★★★✰✰ Minotaur
★★★✰✰ Spider
★★✰✰✰ Fire Knight
★★★★✰ Dragon
★★★✰✰ Ice Golem

Potion

★★★✰✰ Void Keep
★★★✰✰ Force Keep
★✰✰✰✰ Spirit Keep
★✰✰✰✰ Magic Keep

Doom Tower

★✰✰✰✰ Magma Dragon
★★✰✰✰ Nether Spider
★★★★✰ Frost Spider
★✰✰✰✰ Scarab King
★✰✰✰✰ Celestial Griffin
★★★✰✰ Eternal Dragon
Gorlos Hellmaw Skills
Hungary Shafts [ATK]
Attacks 1 enemy 2 times. Each hit fills this Champion's Turn Meter by 10% if the target is under a [Decrease DEF], [HP Burn], or [Decrease ACC] debuff.
Level 2: Damage +5%
Level 3: Damage +5%
Level 4: Damage +5%
Level 5: Damage +5%
Damage Multiplier: 1.95 ATK
Raging Hunger [ATK] (Cooldown: 4 turns)
Attacks all enemies. Has a 75% chance of placing a 60% [Decrease DEF] debuff for 2 turns.
Level 2: Damage +10%
Level 3: Buff/Debuff Chance +10%
Level 4: Buff/Debuff chance +15%
Level 5: Cooldown -1
Damage Multiplier: 4 ATK
Gnashing Fangs [ATK] (Cooldown: 5 turns)
Attacks 1 enemy. Has a 75% chance of placing a [HP Burn] debuff and a 50% [Decrease ACC] debuff for 3 turns. Fills this Champion's Turn Meter by 20% if this attack is critical.
Level 2: Damage +5%
Level 3: Damage +5%
Level 4: Damage +10%
Level 5: Buff/Debuff Chance +10%
Level 6: Buff/Debuff Chance +15%
Level 7: Cooldown -1
Damage Multiplier: 6 ATK
Aura
Increases Ally ATK in Doom Tower battles by 30%.
Gorlos Hellmaw Equipment Guide
Arena, Campaign, Clan Boss, Dungeons, Doom Tower, Faction Wars

Recommended Stats

ATK%, C.RATE, C.DMG, SPD, ACC
Weapon (ATK)
Helmet (HP)
Shield (DEF)
Gauntlets (C.RATE / HP%)
Chestplate (ATK% / HP%)
Boots (SPD)
Ring (ATK / DEF / HP)
Amulet (C.DMG / DEF / HP)
Banner (ACC)

Recommended Artifacts

Lifesteal, Bloodthirst, Perception, Accuracy, Speed
Gorlos Hellmaw Mastery Guide
Arena, Campaign, Clan Boss, Dungeons, Doom Tower, Faction Wars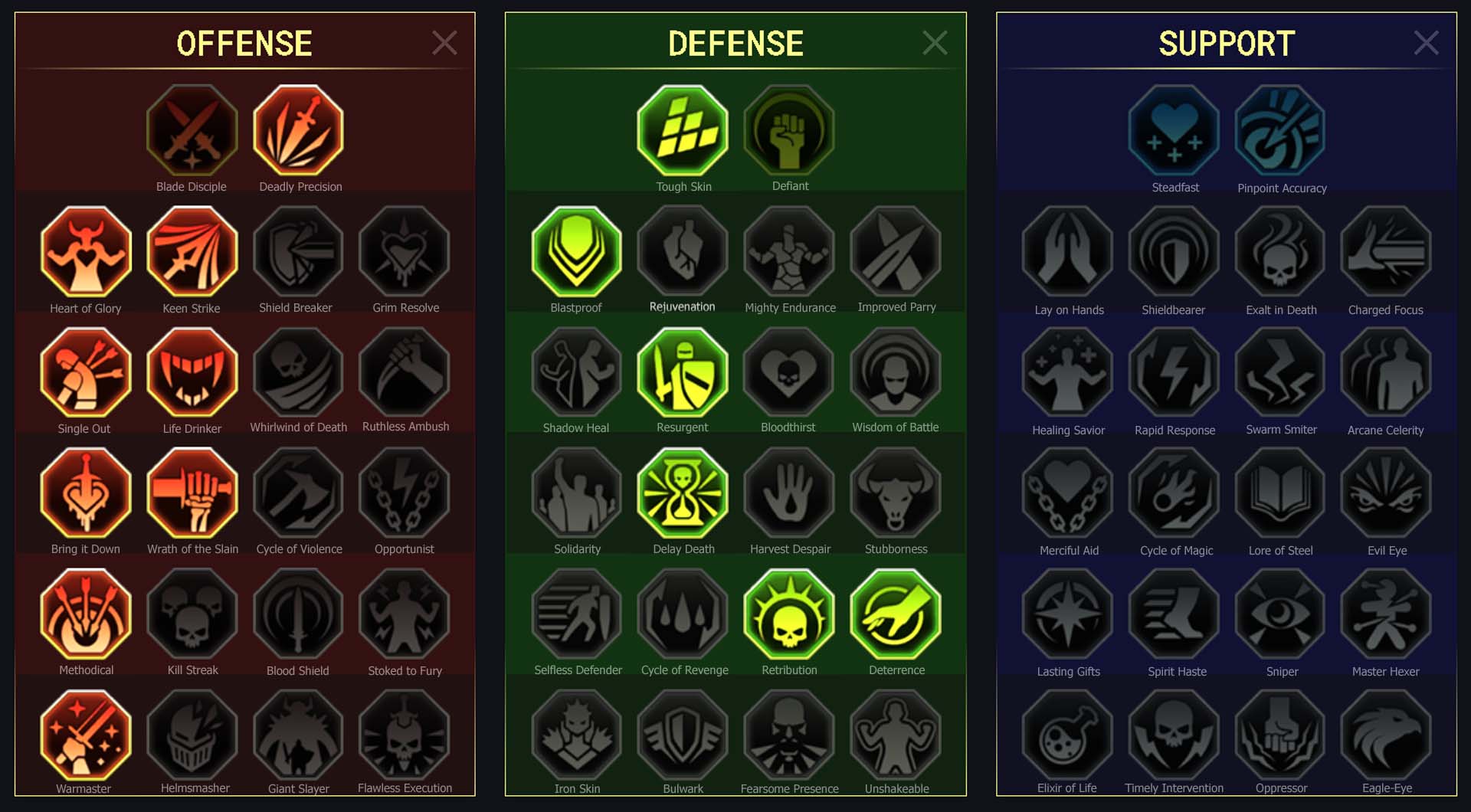 Offense

Deadly Precision
Keen Strike
Heart of Glory
Life Drinker
Single Out
Bring it Down
Wrath of the Slain
Methodical
Warmaster

Defense

Tough Skin
Blastproof
Resurgent
Delay Death
Retribution
Deterrence

Support

N/A
Gorlos Hellmaw Review
Raid Shadow Legends – Gorlos Hellmaw is an Epic Attack Spirit champion from the Demonspawn faction where he can be obtained from Ancient Shards and Sacred Shards. Gorlos Hellmaw is introduced in Patch 4.20 and he is the very few AoE Decrease Defense champions in the faction. He is particularly useful mainly for boss raids such as Clan Boss, Dungeon and Doom Tower (Frost Spider) content for his HP Burn debuff. Gorlos Hellmaw is recommended to be build as a Support debuffer role with stats prioritizing on HP% (Health), DEF% (Defense), SPD (Speed) and ACC (Accuracy) for early-mid game, so he is able to take several hits from enemies without being knocked-out easily. Once you are able to achieve sufficient HP% and DEF% from Great Hall stats and artifact stat glyphs, you can prioritize his build to be more Offensive debuffer role with stats prioritizing on C.RATE (Critical Rate) and ATK% (Attack), where he can quickly recover from Lifesteal Set and simultaneously inflict more damage to the enemy.
Gorlos Hellmaw Updates