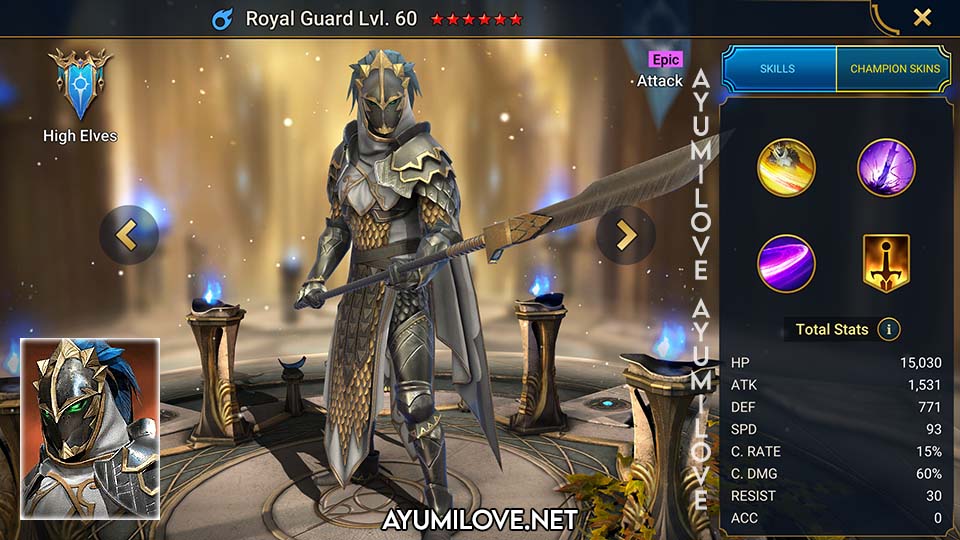 Overview

NAME: Royal Guard
FACTION: High Elves
RARITY: Epic
ROLE: Attack
AFFINITY: Magic
RANK: A
USABILITY: Mid-Late Game
TOMES: 12 (A2)

Abilities

RSL_AoE_EnemyMaxHp
RSL_Dungeons_AttackAura
RSL_Random_DecreaseSpeed_30%
RSL_Random_DecreaseTurnMeter
RSL_Target_DecreaseDefense_60%

Obtain from

Ancient Shard
Sacred Shard

Blessings Recommendation

Crushing Rend (Late Game)
Phantom Touch (Damage Dealer)

Grinding

★★★★✰ Campaign
★★★✰✰ Arena Defense
★★★✰✰ Arena Offense
★★★✰✰ Clan Boss
★★★★★ Hydra
★★★★✰ Faction Wars

Dungeons

★★★★★ Minotaur
★★★★✰ Spider
★★★✰✰ Fire Knight
★★★★★ Dragon
★★★★★ Ice Golem
★★★★✰ Iron Twins

Potion

★★★★★ Arcane Keep
★★★★★ Void Keep
★★★✰✰ Force Keep
★★★★★ Spirit Keep
★★★★★ Magic Keep

Doom Tower

★★★★✰ Floors
★★★★★ Magma Dragon
★★✰✰✰ Nether Spider
★★★✰✰ Frost Spider
★★✰✰✰ Scarab King
★★✰✰✰ Celestial Griffin
★✰✰✰✰ Eternal Dragon
★✰✰✰✰ Dreadhorn
★★★✰✰ Dark Fae
Royal Guard Skills
Razor Blade
Attacks 1 enemy. Has a 50% chance of placing a 60% [Decrease DEF] debuff for 2 turns.
Level 2: Damage +5%
Level 3: Buff/Debuff Chance +5%
Level 4: Damage +10%
Level 5: Buff/Debuff Chance +10%
Damage Multiplier: 3.3 ATK
Takedown (Cooldown: 4 turns)
Attacks all enemies. Damage increases according to enemy MAX HP.
Level 2: Damage +5%
Level 3: Damage +5%
Level 4: Damage +5%
Level 5: Damage +5%
Damage Multiplier: 2 ATK + 0.1 ENEMY MAX HP
Hamstring (Cooldown: 5 turns)
Attacks 4 times at random. Each hit has a 60% chance of placing a 30% [Decrease SPD] debuff for 2 turns. Each hit also has a 60% chance of decreasing the target's Turn Meter by 25%.
Level 2: Damage +10%
Level 3: Buff/Debuff Chance +5%
Level 4: Buff/Debuff Chance +10%
Level 5: Cooldown -1
Damage Multiplier: 1.5 ATK
Aura
Increases Ally ATK in Dungeons by 35%.
Royal Guard Equipment Guide
Arena, Campaign, Clan Boss, Dungeons, Doom Tower, Faction Wars

Recommended Artifacts

Savage, Critical Damage, Critical Rate, Cruel, Speed, Accuracy, Perception

Stats Allocation

Weapon (ATK)
Helmet (HP)
Shield (DEF)
Gauntlets (C.RATE / C.DMG)
Chestplate (ATK% / HP%)
Boots (SPD)
Ring (ATK)
Amulet (C.DMG)
Banner (ATK / ACC)

Stats Priority

C.RATE, C.DMG, ACC, SPD
Royal Guard Mastery Guide
Arena, Campaign, Clan Boss, Dungeons, Doom Tower, Faction Wars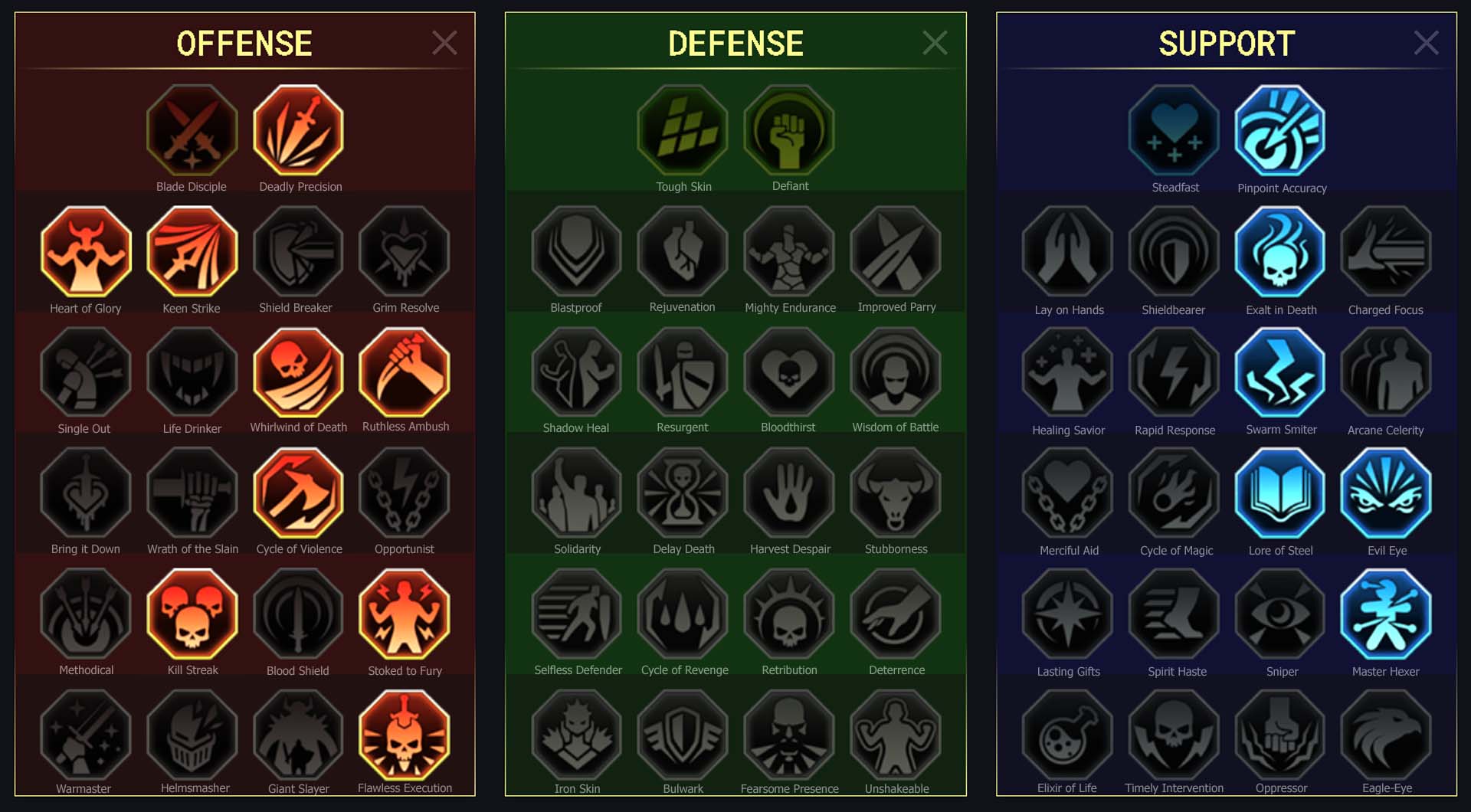 Offense

Deadly Precision
Keen Strike
Heart of Glory
Whirlwind of Death
Ruthless Ambush
Cycle of Violence
Kill Streak
Stoked to Fury
Flawless Execution

Support

Pinpoint Accuracy
Exalt in Death
Swarm Smiter
Lore of Steel
Evil Eye
Master Hexer
Royal Guard Review
Royal Guard is an Epic Attack Magic affinity champion from the High Elves faction in Raid Shadow Legends. With a mighty joust as his trusty weapon, Royal Guard strikes fear into the hearts of his enemies with some serious damage! In fact, he's the hardest-hitting Epic in the game when it comes to taking on Dungeon Bosses, and one of the toughest all-around champions out there! His A2 ability is nothing to scoff at either, as it scales up in power as your foes' Max HP increases.
But that's not all, folks! This hero also boasts a single-target decrease Defense ability on his A1 and an A3 attack that hits multiple times and slows down enemy turn meter and speed. Talk about a force to be reckoned with!
To get the most out of Royal Guard, you'll want to ensure that he has a 100% Crit rate, high accuracy (think at least 200 for level 20 dungeons), and decent speed (though not as much as your team's decrease defense debuff). And don't forget to pack on as much Crit Damage as possible! To keep him alive and kicking, equip him with an HP% chest and an HP ring.
In the end game, Royal Guard is a valuable asset in speed farm teams for Dragon, Ice Golem, and Spider, and a must-have for Faction War teams. Plus, with the recent release of Doom Tower, his signature A2 is the key to taking down Agreth, provided you can one-shot those pesky spiderlings or nuke 'em before they even spawn. And let's not forget about his awesomeness in the Iron Twins Dungeon – this champion is truly a beast!
Royal Guard Videos
Raid Shadow Legends Royal Guard Champion Guide by ASH
Raid Shadow Legends Royal Guard Champion Guide by Chofly
Raid Shadow Legends Royal Guard Champion Guide by Frammshamm
Raid Shadow Legends Royal Guard Champion Guide by Kire Mobile
Raid Shadow Legends Royal Guard Champion Guide by StewGaming