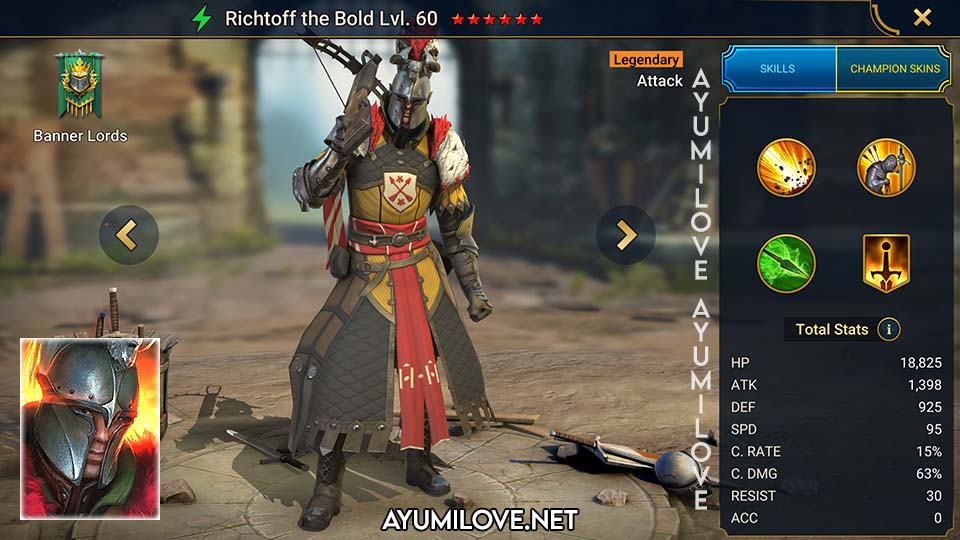 Overview

NAME: Richtoff the Bold
FACTION: Banner Lords
RARITY: Legendary
ROLE: Attack
AFFINITY: Spirit
RANK: A
USABILITY: Mid-Late Game
TOMES: 11 (A2 A3)

Abilities

RSL_AoE_BasicAttack_1Hit
RSL_AoE_DecreaseMaxHp
RSL_AoE_Poison_5%
RSL_Enemy_A1AoE
RSL_Faction_AttackAura

Obtain from

Ancient Shard
Sacred Shard
Primal Shard

Blessings Recommendation

Grinding

★★★★★ Campaign
★★★★✰ Arena Defense
★★★★✰ Arena Offense
★★★★★ Clan Boss
★★★✰✰ Hydra
★★★★★ Faction Wars

Dungeons

★★★★★ Minotaur
★★★★✰ Spider
★★★✰✰ Fire Knight
★★★★★ Dragon
★★★★★ Ice Golem
★★★★✰ Iron Twins
★★★✰✰ Sand Devil
★★✰✰✰ Phantom Shogun

Potion

★★★★✰ Arcane Keep
★★★★✰ Void Keep
★★★★✰ Force Keep
★★★★✰ Spirit Keep
★✰✰✰✰ Magic Keep

Doom Tower

★★★★★ Floors
★★★★★ Magma Dragon
★★★★✰ Nether Spider
★★★★★ Frost Spider
★★★★★ Scarab King
★★✰✰✰ Celestial Griffin
★✰✰✰✰ Eternal Dragon
★✰✰✰✰ Dreadhorn
★★★✰✰ Dark Fae
Richtoff the Bold Skills
Ruination
Attacks all enemies. Decreases each target's MAX HP by 30% of the damage dealt.
Level 2: Damage +5%
Level 3: Damage +5%
Level 4: Damage +5%
Level 5: Damage +5%
Damage Multiplier: 1.7 ATK
Bloodletting (Cooldown: 4 turns)
Attacks 1 enemy 3 times. Each hit places a 5% [Poison] debuff on all enemies for 2 turns.
Level 2: Damage +5%
Level 3: Damage +5%
Level 4: Damage +5%
Level 5: Cooldown -1
Damage Multiplier: 1.9 ATK
Cursehold (Cooldown: 5 turns)
Attacks 1 enemy. Critical damage increases by 20% for each Poison debuff on the target. Stacks up to 100%.
Level 2: Damage +5%
Level 3: Damage +5%
Level 4: Cooldown -1
Damage Multiplier: 6.2 ATK
Aura
Increases Ally ATK in Faction Crypts by 27%
Richtoff the Bold Equipment Guide
Arena, Doom Tower, Faction Wars
Campaign, Clan Boss, Dungeons

Recommended Artifacts

2 Offense Set, 1 Accuracy Set
2 Offense Set, 1 Speed Set

Recommended Artifacts

1 Lifesteal Set, 1 Accuracy Set
1 Lifesteal Set, 1 Speed Set

Recommended Stats

ATK%, C.RATE, C.DMG, SPD, ACC
Weapon (ATK)
Helmet (HP)
Shield (DEF)
Gauntlets (C.RATE)
Chestplate (ATK% / HP%)
Boots (SPD)
Ring (ATK / DEF)
Amulet (C.DMG / DEF)
Banner (ACC)

Recommended Stats

ATK%, C.RATE, C.DMG, SPD, ACC
Weapon (ATK)
Helmet (HP)
Shield (DEF)
Gauntlets (C.RATE)
Chestplate (ATK% / HP%)
Boots (SPD)
Ring (ATK / DEF)
Amulet (C.DMG / DEF)
Banner (ACC)
Richtoff the Bold Mastery Guide
Arena, Campaign, Clan Boss, Dungeons, Doom Tower, Faction Wars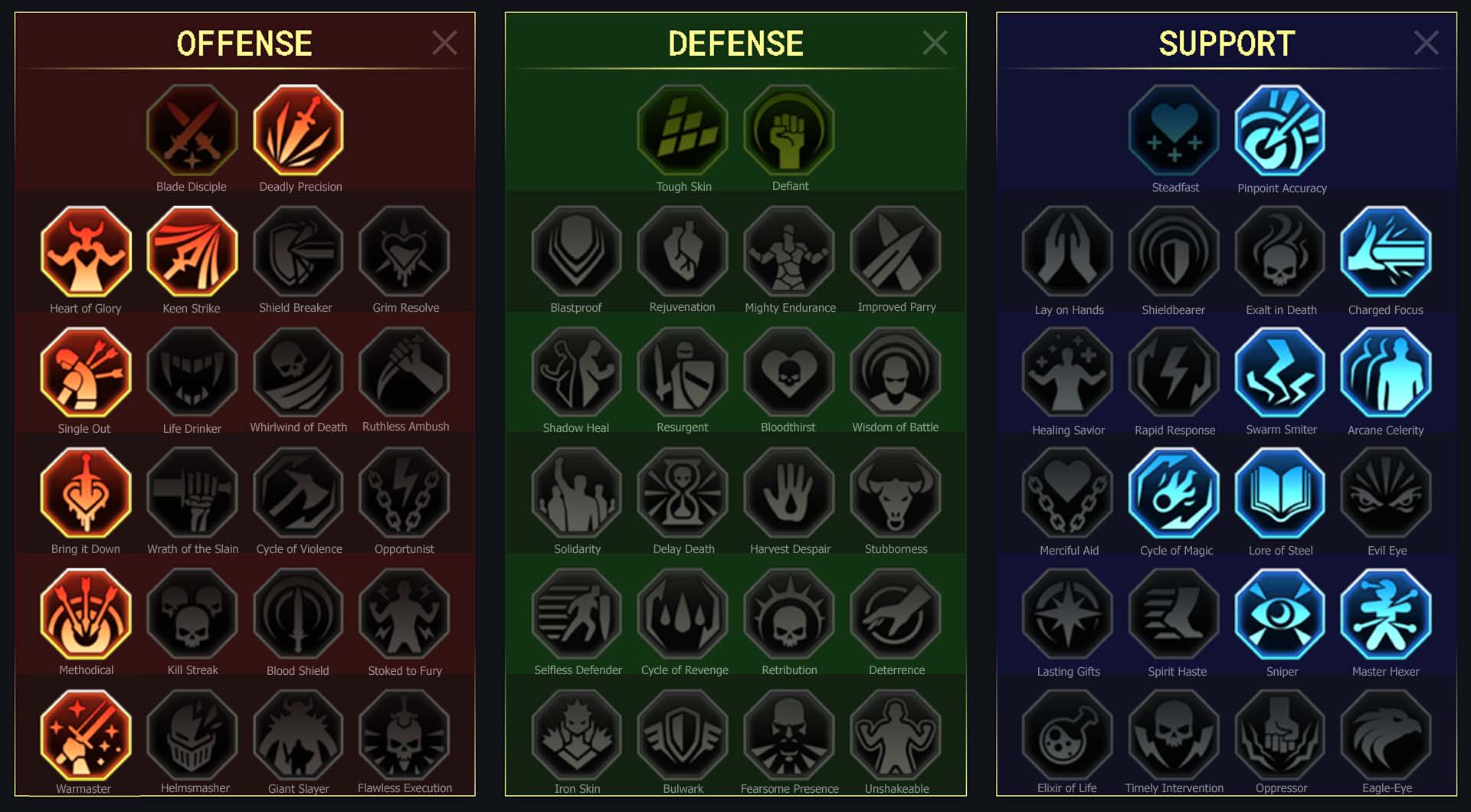 Offense

Deadly Precision
Keen Strike
Heart of Glory
Single Out
Bring it Down
Cycle of Violence
Methodical
Warmaster

Support

Pinpoint Accuracy
Charged Focus
Swarm Smiter
Arcane Celerity
Lore of Steel
Cycle of Magic
Master Hexer
Sniper
Richtoff the Bold Reference
Richtoff the Bold Dungeon Solo Build
Here are Richtoff the Bold's artifacts and masteries by Tyrauku optimized as a dungeon solo farmer for Dragon 25. Richtoff is equipped in Regeneration Set and Immortal Set to provide him with a large amount of healing each time he takes his turn. The stats to prioritize on him are Accuracy, Speed, Health and Defense. You will need at least 225 Accuracy to allow Richtoff to successfully apply Poison debuff on enemies and 220+ Speed to go twice of the enemy turn. Once you have achieve these minimum stats, the remaining points should be distributed to get the highest amount of Health and Defense. It's recommended to have 65K Health and 3K Defense stats to survive against the 2 waves of mobs before the Dragon boss. If you have decent gears, you can attempt to get 280 Resistance to make it easy to resist the 2nd wave of enemy's instant negative effect which are Decrease Turn Meter.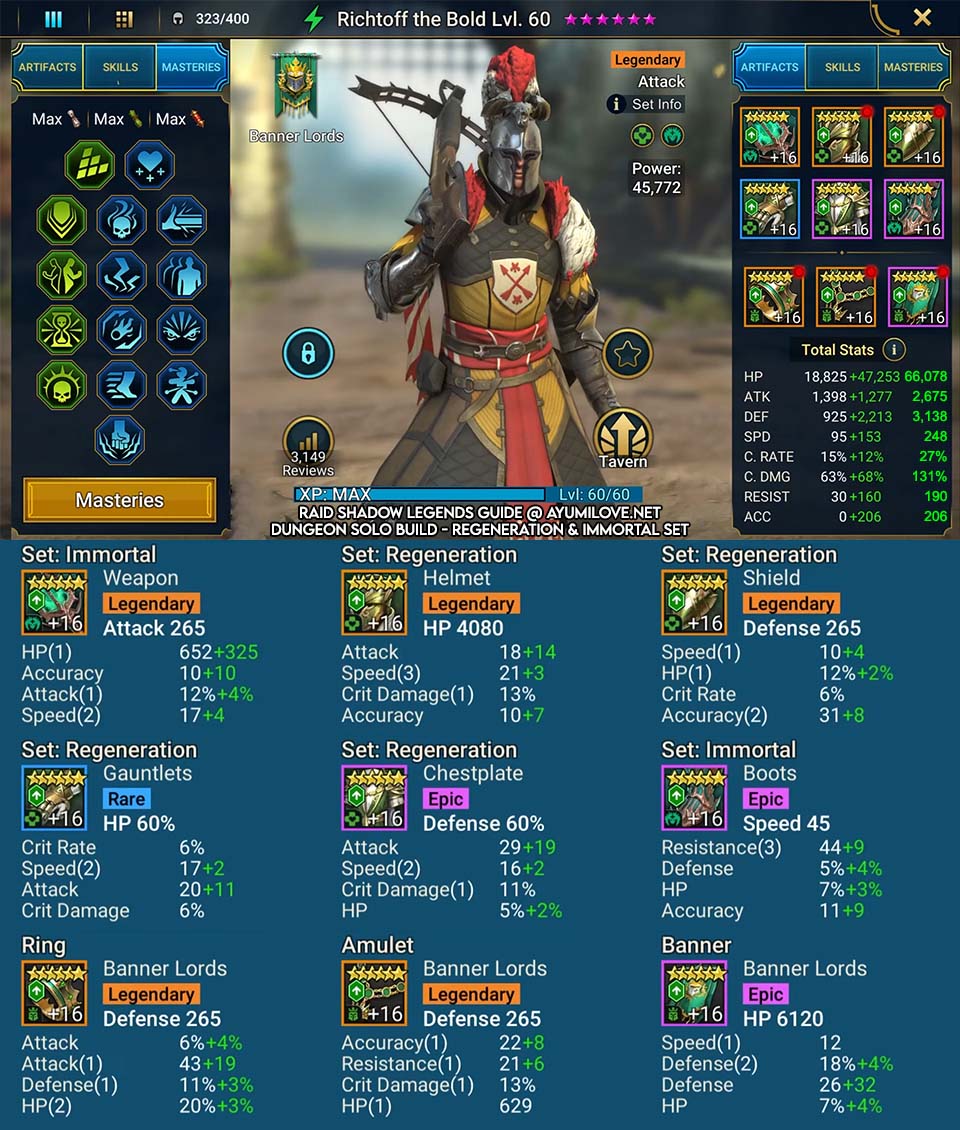 Richtoff the Bold Review
Richtoff the Bold is a Legendary Attack Spirit affinity champion from the Banner Lords faction in Raid Shadow Legends. Although he has been overlooked in the past, Richtoff received a much-needed buff in September 2020, giving him new value in the game.
Richtoff has proven his worth in various game modes. In Dragon, he is a strong performer, with the ability to place poisons using his A2, which increases his crit damage for each poison on the target. This skill allows him to deal heavy damage to the enemy. In dungeons with waves, Richtoff is a useful champion due to his great AOE poison ability. When paired with a poison exploder, they can create some of the highest damage and fastest compositions in Raid.
Richtoff has been widely used in Doom Tower due to his Decrease Enemy Max HP ability on his A1. He is one of the few positive affinities that can break Borgoth's shield, making him a valuable asset in the game.
Finally, Richtoff is also a great champion for Ice Golem and is strong in Faction Wars. His poison abilities make him a versatile and valuable asset to any team. Though often overlooked, Richtoff the Bold has proven his worth in many areas of the game and should not be underestimated.
Richtoff the Bold Storyline
Few would dare argue that the Captain of King Tayba's personal Guard, Richtoff, known as the "Bold", earned his title. Born to the family of a stone broke minor noble, Richtoff's prospects in life were not much better than those of a commoner. But Lumaya herself must have smiled upon him. Rather than being sent as a page to a noble of similar worth (or rather lack thereof) or to his own father, Richtoff's fate took a different turn. The Grand Tourney in Kaerok Castle gathered nobles from all across the kingdom, no matter how inconsequential they may be. And where most young nobles were content to just watch and dream of the day they could take part themselves, Richtoff attempted to sneak past the guards onto the archery range. The King, amused by such a brazen act, stopped his men from dragging Richtoff away and allowed the boy to participate. Many laughed and openly mocked the upstart, yet as soon as Richtoff's first arrow struck true the murmurs and jeering ceased. He could not match the true masters at that age, of course, but had shown himself to be talented enough to earn his place at Kaerok's court. There he was given the tools and teachers to hone his skill. Upon reaching adulthood Richtoff was already known as one of the best sharpshooters the Kingdom had to offer. He is said to have slain trolls and undead with but a single shot from hundreds of paces away, and none could match the speed with which he reloaded his crossbow to batter the enemy with a hail of quarrels. Now an anointed Knight, Richtoff has recently risen through the ranks to lead the King's own Guard. And Kaerok's enemies can be certain, never again shall the King be threatened while his loyal servants keep vigil.
Richtoff the Bold Updates
Richtoff the Bold Videos
StewGaming: Richtoff the bold solo dragon 25 build (2 min runs)
MurderInc: Richtoff the Bold Champion Spotlight
Champion Name Reference
English: Richtoff the Bold
French:
Deutsch:
Italian:
Spanish: Richtoff el Audaz
Chinese:
Korean:
Japanese:
Ukranian:
Russian:
Turkish:
Portuguese: