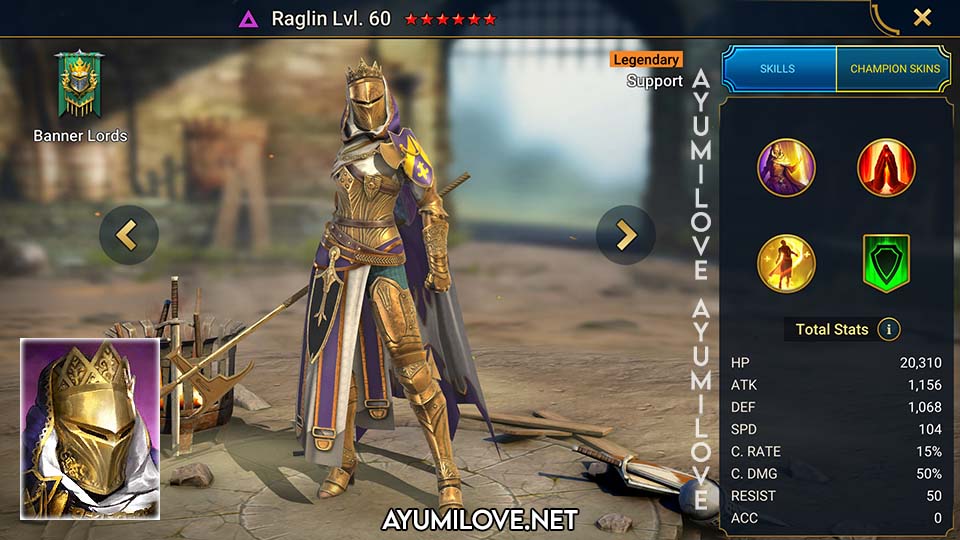 Overview

NAME: Raglin
FACTION: Banner Lords
RARITY: Legendary
ROLE: Support
AFFINITY: Void
RANK: S
USABILITY: Mid-Late Game
TOMES: 9 (A3)

Abilities

RSL_AllBattles_DefenseAura
RSL_AoE_Heal
RSL_AoE_RemoveDebuffs
RSL_Random_IncreaseTurnMeter
RSL_Revive_IncreaseTurnMeter
RSL_Target_BasicAttack_3Hits
RSL_Target_Revive

Obtain from

Void Shard

Blessings Recommendation

Intimidating Presence (Aura Lead)
Soul Reap (Damage Dealer)
Temporal Chains (Debuffer)

Grinding

★★★★★ Campaign
★★★★★ Arena Defense
★★★★★ Arena Offense
★★★★★ Clan Boss
★★★★✰ Hydra
★★★★★ Faction Wars

Dungeons

★★★★★ Minotaur
★★★★★ Spider
★★★★★ Fire Knight
★★★★★ Dragon
★★★★★ Ice Golem
★★★★✰ Iron Twins
★★★✰✰ Sand Devil
★★★✰✰ Phantom Shogun

Potion

★★★★★ Arcane Keep
★★★★★ Void Keep
★★★★★ Force Keep
★★★★✰ Spirit Keep
★★★★✰ Magic Keep

Doom Tower

★★★★★ Floors
★★★★✰ Magma Dragon
★★★★✰ Nether Spider
★★★★✰ Frost Spider
★★✰✰✰ Scarab King
★✰✰✰✰ Celestial Griffin
★★★✰✰ Eternal Dragon
★★★★✰ Dreadhorn
★★★★✰ Dark Fae
Raglin Skills
Repent
Attacks 1 enemy 3 times. Fills the Turn Meter of 3 random allies by 15%. Allies can only have their Turn Meter filled once per turn by this Skill.
Level 2: Damage +5%
Level 3: Damage +5%
Level 4: Damage +5%
Level 5: Damage +10%
Damage Multiplier: 1.6 ATK
Mercy (Cooldown: 4 turns)
Removes all debuffs on all allies, then heals them. The heal amount is proportional to this Champion's ATK.
Level 2: Heal +5%
Level 3: Heal +5%
Level 4: Heal +10%
Level 5: Heal +10%
Heal Multiplier: 4 ATK
Miracle (Cooldown: 3 turns)
Revives an ally with 75% HP and a full Turn Meter.
Level 2: Cooldown -1
Aura
Increases Ally DEF in all Battles by 33%
Raglin Equipment Guide
Arena, Doom Tower, Faction Wars
Campaign, Clan Boss, Dungeons

Recommended Artifacts

1 Retaliation Set, 1 Speed Set
3 Speed Set

Recommended Artifacts

1 Lifesteal Set, 1 Speed Set
1 Retaliation Set, 1 Speed Set
1 Stalwart Set, 1 Speed Set
3 Speed Set

Recommended Stats

DEF%, HP%, SPD, RESIST
Weapon (ATK)
Helmet (HP)
Shield (DEF)
Gauntlets (DEF% / HP%)
Chestplate (DEF% / HP%)
Boots (SPD)
Ring (DEF / HP)
Amulet (DEF / HP)
Banner (RESIST)

Recommended Stats

DEF%, HP%, SPD, RESIST
Weapon (ATK)
Helmet (HP)
Shield (DEF)
Gauntlets (DEF% / HP%)
Chestplate (DEF% / HP%)
Boots (SPD)
Ring (DEF / HP)
Amulet (DEF / HP)
Banner (RESIST)
Raglin Mastery Guide
Arena, Doom Tower, Faction Wars
Note: Raglin to be equipped with Artifact Set that can boost her HP%, DEF%, SPD and RESIST stats to increase her survivability in battle. She plays the role of removing debuff from allies and reviving them quickly when they are knock-out by enemies AoE nuke attacks. By having her HP highest among all champions in the team, she will be less likely to be targeted by the enemy, which improves her suvivability significantly. In addition, high RESIST prevents her from being crowd controlled by enemies and allowing her to cleanse her team members from debuffs.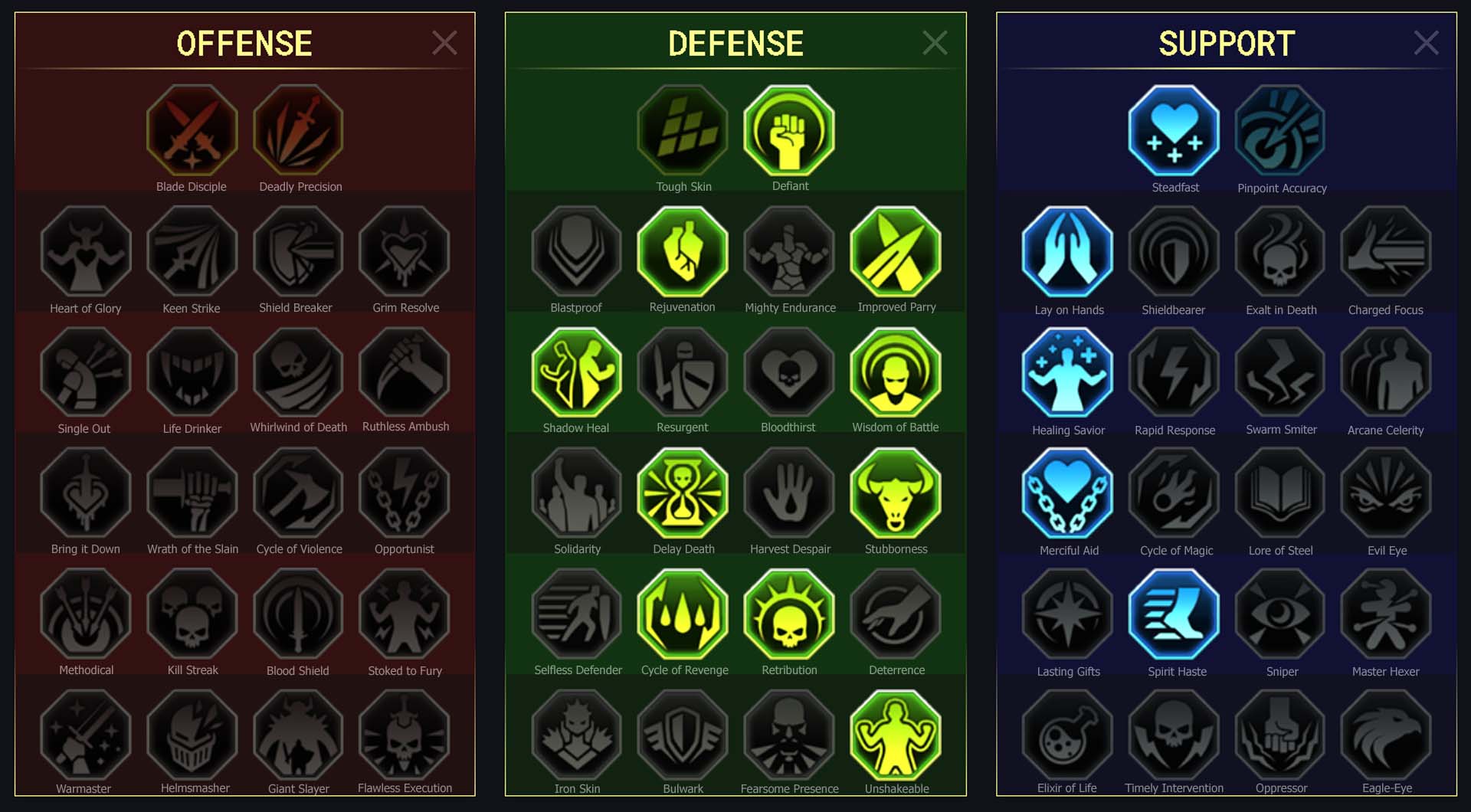 Defense

Defiant
Improved Parry
Rejuvenation
Wisdom of Battle
Shadow Heal
Delay Death
Stubborness
Cycle of Revenge
Retribution
Unshakeable

Support

Steadfast
Lay on Hands
Healing Savior
Merciful Aid
Spirit Haste
Campaign, Clan Boss, Dungeons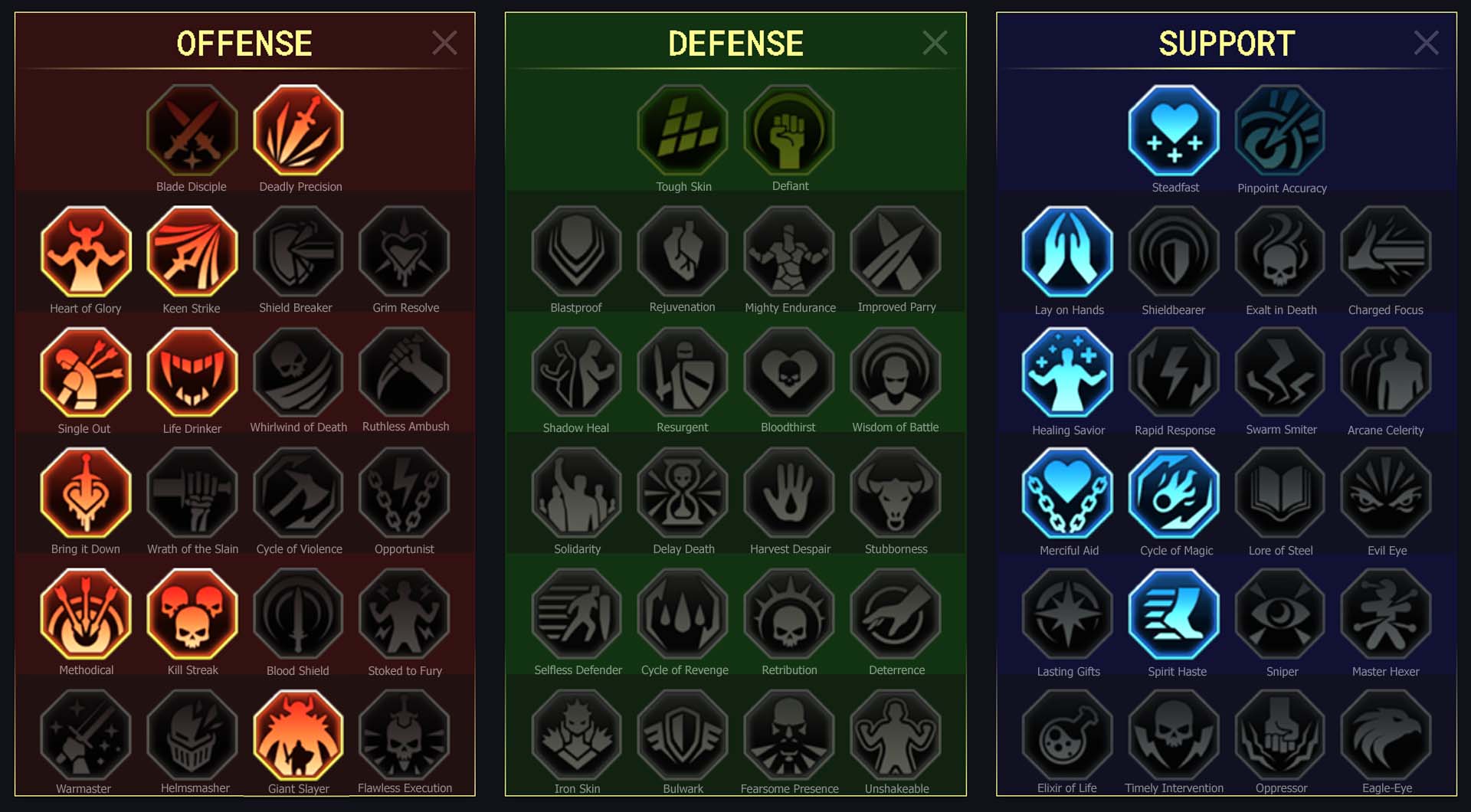 Offense

Deadly Precision
Keen Strike
Heart of Glory
Single Out
Life Drinker
Bring it Down
Methodical
Kill Streak
Giant Slayer

Support

Steadfast
Lay on Hands
Healing Savior
Merciful Aid
Cycle of Magic
Spirit Haste
Raglin Review
Raglin, a Legendary Support Void affinity champion from the Banner Lords in Raid Shadow Legends, exudes royalty with her Gold-Plated armor set. Although she rarely uses her weapon, her support abilities make her a god-tier champion.
One of Raglin's standout abilities is her revive mechanic, which can be booked to just a 2 turns cooldown. Her revive is the most HP revive in the game and comes with a full Turn Meter boost. With this ability, Raglin can be formidable in any part of the game.
Raglin is a true Goddess in Faction Wars, and players benefit from high speeds, high defense, HP, and attack to make the most out of her skills. Although she can hit fairly hard, her only damaging skill is her A1, so critical rate should not be prioritized in her build. In arena defense, Raglin is a pain to deal with, given her high stats and her short revive. With her A2, she can cleanse and heal to get rid of all pesky debuffs.
Raglin's god-tier support abilities make her great in all areas of the game. Her A2 is particularly helpful in cleansing and healing. Overall, Raglin is a champion that players can count on to keep their team alive and strong.
Raglin Additional Information
Champion Purpose
Raglin is an excellent support champion who can revive a single champion and boost their Turn Meter simutaneously using her "Miracle" skill. This allows the fallen ally to return to battle quickly after getting nuked by enemies. Raglin is renowned for her revive skill because it has the shortest skill cooldown compared to all champions in game!
In addition, she can heal and remove all debuffs from her allies by casting her "Mercy" skill, which is very useful against enemies who specializes in inflicting debuff especially in Arena.
Apart from that, Raglin has a special passive effect on her "Repent" skill that increases Turn Meter of random allies, so they can start have a head start before the enemy moves in for the kill. However, this can be a disadvantage when she is used in a speed tuned team where the attack sequence relies on applying debuff on enemies before nuking.
Champion Synergy
Raglin is best paired with squishy Attack Champions who can inflict high single-target damage to take enemy nukers and with Support Champions who can provide defensive buffs (e.g. Ally Protection, Shield, Increase Defense) to increase her survivability.
She is best suited for defensive team that does not relly heavily on attack sequence as her "Repent" skill may de-sync the attack sequence against opponents in Arena Defense.
Champion Limitation
Raglin "Repent" skill is a double-edge sword. Although it can boost allies turn meter to provide them a speed advantage, the randomness will de-sync the attack sequence when used in a team of more than 3 champions.
Raglin Updates
Raglin Videos
Raid Shadow Legends Raglin Champion Guide by Wuhbye
Raid Shadow Legends Raglin Champion Guide by LamaRoo
Raid Shadow Legends Raglin Champion Guide by Frugal Gems
Raid Shadow Legends Raglin Champion Guide by Chofly
Champion Name Reference
English: Raglin
French: Raglin
Deutsch:
Italian:
Spanish: Raglin
Chinese:
Korean:
Japanese:
Ukranian:
Russian:
Turkish:
Portuguese: