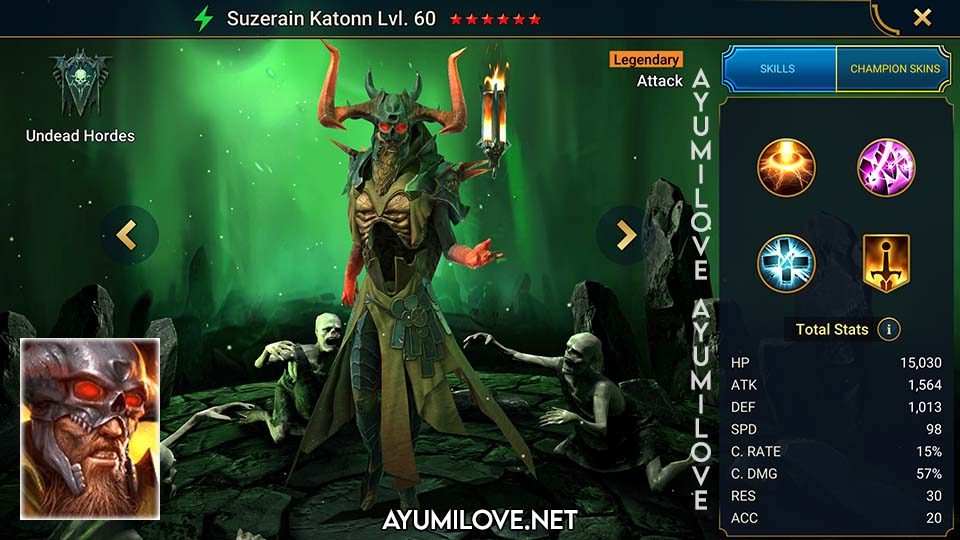 Overview

NAME: Suzerain Katonn
FACTION: Undead Hordes
RARITY: Legendary
ROLE: Attack
AFFINITY: Spirit
RANK: A
USABILITY: Early-Mid-Late Game
TOMES: 9 (A1)

Abilities

RSL_AllBattles_AttackAura
RSL_AoE_DecreaseDefense_60%
RSL_AoE_DecreaseSpeed_30%
RSL_AoE_HealReduction_100%
RSL_AoE_RemoveBuffs
RSL_AoE_Weaken_25%
RSL_Enemy_A1AoE

Obtain from

Ancient Shard
Sacred Shard

Blessings Recommendation

Soul Reap (Damage Dealer)

Grinding

★★★★★ Campaign
★★★★★ Arena Defense
★★★★★ Arena Offense
★✰✰✰✰ Clan Boss
★★★✰✰ Hydra
★★★★★ Faction Wars

Dungeons

★★★★★ Minotaur
★★★★★ Spider
★★★✰✰ Fire Knight
★★★★✰ Dragon
★★★★✰ Ice Golem
★✰✰✰✰ Iron Twins

Potion

★★★★✰ Arcane Keep
★★★★✰ Void Keep
★★★★★ Force Keep
★★★★★ Spirit Keep
★★★★✰ Magic Keep

Doom Tower

★★★★✰ Floors
★✰✰✰✰ Magma Dragon
★✰✰✰✰ Nether Spider
★★★✰✰ Frost Spider
★★★★✰ Scarab King
★★★★✰ Celestial Griffin
★★★✰✰ Eternal Dragon
★✰✰✰✰ Dreadhorn
★★★✰✰ Dark Fae
Suzerain Katonn Skills
Temporal Nova
Attacks all enemies. Has a 35% chance of placing a 30% [Decrease SPD] debuff for 2 turns.
Level 2: Damage +10%
Level 3: Damage +10%
Level 4: Buff/Debuff Chance +15%
Damage Multiplier: 2.2 ATK
Hex of Years (Cooldown: 4 turns)
Attacks all enemies. Has a 70% chance of placing a 25% [Weaken] debuff for 2 turns. Also has a 45% chance of placing a 60% [Decrease DEF] debuff for 2 turns.
Level 2: Damage +15%
Level 3: Buff/Debuff Chance +15%
Level 4: Buff/Debuff Chance +15%
Damage Multiplier: 3.7 ATK
Banish From Time (Cooldown: 4 turns)
Removes [Shield], [Block Damage], and [Unkillable] buffs from all enemies, then attack them. Places a 100% [Heal Reduction] debuff on all enemies for 2 turns. The buff removal cannot be blocked or resisted.
Level 2: Damage +10%
Level 3: Damage +10%
Level 4: Damage +10%
Damage Multiplier: 3.8 ATK
Aura
Increases Ally ATK in all Battles by 33%
Suzerain Katonn Equipment Guide
Arena, Doom Tower, Faction Wars
Campaign, Clan Boss, Dungeons

Recommended Artifacts

1 Stun Set, 1 Speed Set
2 Offense Set, 1 Speed Set

Recommended Artifacts

1 Lifesteal Set, 1 Accuracy Set
1 Lifesteal Set, 1 Speed Set

Recommended Stats

ATK%, C.RATE, C.DMG, SPD, ACC
Weapon (ATK)
Helmet (HP)
Shield (DEF)
Gauntlets (C.RATE / C.DMG)
Chestplate (ATK%)
Boots (SPD)
Ring (ATK)
Amulet (C.DMG)
Banner (ACC)

Recommended Stats

DEF%, HP%, SPD, ACC
Weapon (ATK)
Helmet (HP)
Shield (DEF)
Gauntlets (DEF% / HP%)
Chestplate (DEF% / HP% / ACC)
Boots (SPD)
Ring (DEF / HP)
Amulet (DEF / HP)
Banner (ACC)
Suzerain Katonn Mastery Guide
Arena, Doom Tower, Faction Wars
Defense

Defiant
Improved Parry
Mighty Endurance
Bloodthirst
Resurgent
Harvest Despair
Delay Death
Retribution
Cycle of Revenge
Fearsome Presence

Support

Pinpoint Accuracy
Charged Focus
Arcane Celerity
Evil Eye
Master Hexer
Campaign, Clan Boss, Dungeons
Offense

Deadly Precision
Keen Strike
Shield Breaker
Whirlwind of Death
Single Out
Cycle of Violence
Bring it Down
Methodical
Kill Streak
Warmaster

Defense

Defiant
Improved Parry
Bloodthirst
Delay Death
Cycle of Revenge
Suzerain Katonn Review
Suzerain Katonn is a Legendary Attack Spirit champion from Undead Hordes faction in Raid Shadow Legends. Suzerain Katonn is an Arena specialist (Classic Arena and Tag Team Arena) as he is renowned for his ability to remove shields, block damage and unkillable buffs from enemies without requiring any Accuracy stats! This makes him the perfect counter against Arena Defense teams whose champions are built in high Resist stats and equipped in Shield Artifact Set to tank any damage that your team inflicts. Apart from Arena, Suzerain Katonn is also used as a Speed Campaign Farmer and dungeon debuffer/nuker while boosting all of your allies with an amazing Attack Aura! It's worth building Suzerain Katonn if you do not have any great debuffer champions in your team!
Suzerain Katonn underwent a buffing in patch 7.0.0 alongside his fellow champion Elegaius, resulting in improved debuff placement and amplified potency. All of his skills being AOE sets him apart from the rest, making him a viable option to equip Artefacts such as Stun and Provoke to control the crowd or excel as a top-tier Campaign farmer. Before the update, his claim to fame was the non-resistible shield removal without any accuracy required, which still holds true when facing Krisk teams but he can't remove protected or un-removable shields. His arsenal includes the Hex Of Years which has a 100% chance to place Weaken and a 75% chance to place Decrease Defence, both of which are crucial debuffs when facing the Hydra boss, dungeons, arena, faction wars, or progressing in the demon lord. His A1 comes equipped with a 50% chance to place a Decrease Speed debuff, perfect for slowing down Hydra heads or the Iron Twins fortress.
All in all, Suzerain Katonn brings to the table a versatile and crowd-controlling champion that delivers AOE damage. It is important to note that all of his skills require accuracy, except the shield buff removal, so building him with accuracy is advised if planning to use him for more than a damage dealer and shield remover.
Suzerain Katonn Champion Lore
The Dragonkin Empire's colonies and provinces were once governed by suzerains – officials who enforced a territory's loyalty to the Dragon Emperor. While these provinces were expected to follow the will of the Empire in dealing with other cities, they were granted some degree of autonomy in how they handled their domestic affairs. While most suzerains were Dragonkin nobles from the heart of the Empire, the burgeoning colony of Kaerok was governed by a Human – a powerful sorcerer called Katonn.
One of the highest ranking non-Dragonkin in the Empire, Katonn was not only devoted to his duty as suzerain, but to the teachings of the Eternal Dragon, Iragoth, from which he learned the fundamentals of time magic. Through intense training and instruction, Katonn had been able to drastically prolong his life. With this, he kept a firm grip over the clans of Kaerok for several decades, allowing the region to shine as a model colony for the Dragonkin Empire under his guidance.
However, the Sin of Dragons — the Dragonkin's opening of a portal to Siroth's realm of Anathraad — changed everything. Hordes of Demonspawn poured out from the magical gateway and ransacked the Empire. Iragoth herself, who had been manipulated and tainted by Siroth, wreaked havoc and devastation. It was enough to nearly break Katonn, who had adored Iragoth and the empire, and now saw the former destroy the latter. He agonized in his search for a solution — surely his time magic could reverse all of this? As Katonn watched from afar as the Great Dragon Temple in the empire's military capital of Twinrift exploded in a magical cataclysm, he felt a great surge of arcane energies, which he found bolstered his own great magical power. It was exactly what he needed. Not knowing how much longer this bounty of sorcerous energy would last, Katonn knew he had to quickly weave a great spell – one that he hoped would reverse the flow of time, and give him the opportunity to prevent the Dragonkin from committing their grievous sin.
Sealing himself in a makeshift tomb on the borders of Kaerok to isolate himself from outside distraction and interruption, Katonn channeled the unstable power that surged through him. Fighting against the great river of time, Katonn sailed upstream, hoping to reach his port of call. For what seemed like both seconds and eons, he fought against the temporal tide, until his body could take no more. He awoke inside his tomb, shuddering and exhausted from the ravages of his struggle. Within seconds he felt the weight of centuries crash down on his body, rip away his soul, and condemn him to death, only for the process to halt — stopped by an unfamiliar magic. Though he did not know it, it was Undeath. This was a sensation Katonn did not recognize, a phenomenon he did not understand. What was this power binding him?
Struggling to anchor his mind, Katonn moved his body — a broken shell halted in the process of withering to dust, for reasons he could not fathom. Desperately trying to grip onto the present, Katonn unsealed the tomb's great stone door and stumbled out into what he expected to be the past. Time's flow cannot be fought, however – one can only be swept along by it.
Rather than traveling to a time before the Dragonkin's fatal sin, Katonn had advanced centuries or more into the future. The now-bustling kingdom of Kaerok lay before him, with its gleaming Bibliotheque Squire piercing the sky — far removed from the draconic colony he left behind. Questions flooded Katonn's mind. Once he learned that he was in a time so far from both his own and the one he had sought to find, he needed to know what had happened. Now he wanders Teleria, trying to piece together how much of his world still exists, what power has taken over his body, and to piece together some kind of purpose for himself.
Suzerain Katonn Storyline
Millenia ago, the vast Dragonkin Empire, weakened by a series of costly and disastrous wars, finally crumbled under the onslaught of nomadic human warriors. Rival clans formed, fighting over the scraps of a once-mighty civilization. Sorcerer-kings ruled supreme in those dark days, for their power swelled with the magic vortex that had been unbound by the shattering of the Great Dragon Temple. But Katonn stood above them all. Born to one of the militant warlords that led the horde of nomads against the Lizardmen, Katton had been nothing but a disappointment for his father. Sickly and frail, he was not fit to be a warrior, and certainly not a worthy heir to his father's glory. But Katonn was intelligent, and the time that he did not spend on training with the spear or riding on horseback he dedicated to learning everything he could from the clan's shamans. And it was not long before the boy's efforts were rewarded with a great understanding of magic that only fueled his natural talent. Though his father readily used Katonn's magecraft, he still despised his son, and the seeds of hatred that had been planted so long ago finally came to fruition. When the Lizardmen temples fell and the resulting magical cataclysm fueled warlocks and sorcerers across Teleria, Katton was swift to take advantage. He slew his father and those warriors who stood against him, taking the clan over by force. He ruled with an iron fist, driving his kinsmen to battle other clans in his name to claim the most territory, the most relics and other remnants of the fallen Empire. Rival warlocks rose to challenge him, but all fell as one, for Katonn's might went beyond mortal comprehension. Empowered by pure arcane energy that still bled into the world for decades to come and the ancient knowledge he had managed to secure, Katonn learned to manipulate time itself. His spells made his foes age within seconds, turning them to dust and making others flee in terror rather than face such a grim fate. Before long he ruled over a sizable portion of Telerian East and was referred to as nothing less than Suzerain. Though Katonn's experiments with keeping himself out of time's grasp were less successful. He dabbled in necromancy and dark arts, gradually twisting his body just as his soul had been twisted. It is unclear just how far he managed to delve, but the legend tells of brave young warriors of his clan who rose up against Katonn's tyranny and overthrew him. Though that same legend says that although he dark Suzerain's body had been cast down and entombed deep in the mountains, he did not truly die and was merely trapped, languishing in Undeath and waiting for his chance to exact revenge.
Suzerain Katonn Updates
Suzerain Katonn Videos
Raid Shadow Legends Suzerain Katonn Guide by Scratch
Raid Shadow Legends Suzerain Katonn Guide by Deathwish
https://youtu.be/qGXHt-j4b9o
Raid Shadow Legends Suzerain Katonn Guide by INQUISITOR