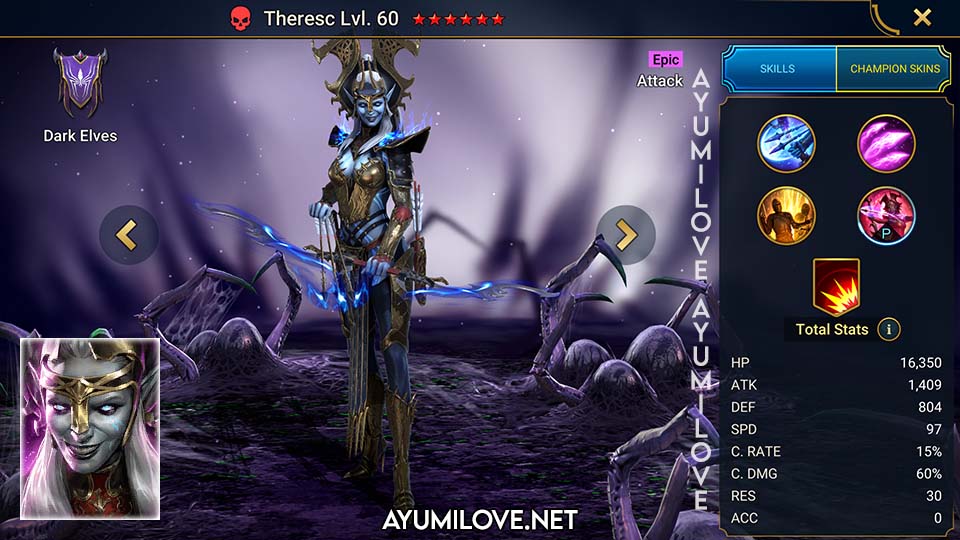 Overview
NAME: Theresc
FACTION: Dark Elves
RARITY: Epic
ROLE: Attack
AFFINITY: Force
RANK: B
USABILITY: Situational
TOMES: 15 (A1 A2 A3)
Abilities
RSL_AllBattles_CriticalRateAura
RSL_AoE_DecreaseResistance_50%
RSL_Self_IncreaseDamage_Passive
RSL_Target_BasicAttack_2Hits
RSL_Target_IncreaseDebuffDuration
RSL_Target_RemoveBuffs
Obtain from
Ancient Shard
Sacred Shard
Guaranteed Champion
Grinding
★✰✰✰✰ Campaign
★★✰✰✰ Arena Defense
★★★✰✰ Arena Offense
★★✰✰✰ Clan Boss
★★★★✰ Hydra
★★★✰✰ Faction Wars
Dungeons
★★★✰✰ Minotaur
★★★✰✰ Spider
★★★✰✰ Fire Knight
★★★✰✰ Dragon
★★★✰✰ Ice Golem
Potion
★★★★★ Arcane Keep
★★★★✰ Void Keep
★★★★★ Force Keep
★★★✰✰ Spirit Keep
★★★★★ Magic Keep
Doom Tower
★★★✰✰ Floors
★★✰✰✰ Magma Dragon
★✰✰✰✰ Nether Spider
★★★★✰ Frost Spider
★✰✰✰✰ Scarab King
★✰✰✰✰ Celestial Griffin
★✰✰✰✰ Eternal Dragon
★★✰✰✰ Dreadhorn
★✰✰✰✰ Dark Fae
Theresc Skills
Dual Debility [ATK]
Attacks 1 enemy 2 times. Each hit has a 25% chance of increasing the duration of a random debuff by 1 turn.
Level 2: Damage +5%
Level 3: Buff/Debuff Chance +5%
Level 4: Damage +5%
Level 5: Buff/Debuff Chance +5%
Level 6: Buff/Debuff Chance +15%
Damage Multiplier: 1.6 ATK
Dress Down [ATK] (Cooldown: 3 turns)
Attacks 1 enemy 3 times. Each hit has a 40% chance of removing 1 buff from the target.
Level 2: Damage +10%
Level 3: Buff/Debuff Chance +10%
Level 4: Damage +10%
Level 5: Buff/Debuff Chance +10%
Damage Multiplier: 1.8 ATK
Hate's Flowers (Cooldown: 5 turns)
Attacks all enemies. Has a 50% chance of placing a 50% [Decrease RES] debuff for 2 turns.
Level 2: Damage +5%
Level 3: Buff/Debuff Chance +5%
Level 4: Damage +10%
Level 5: Buff/Debuff Chance +10%
Level 6: Buff/Debuff Chance +10%
Level 7: Cooldown -1
Damage Multiplier: 3.9 ATK
Ruthless [Passive]
Inflicts 10% more damage against targets whose RES is lower than this Champion's ACC
Aura
Increases Ally C.RATE in all Battles by 12%
Theresc Equipment Guide
Arena, Campaign, Clan Boss, Dungeons, Doom Tower, Faction Wars

Recommended Artifacts

Lifesteal, Bloodthirst, Accuracy, Perception, Speed, Reflex, Relentless

Stats Allocation

Weapon (ATK)
Helmet (HP)
Shield (DEF)
Gauntlets (C.DMG / C.RATE)
Chestplate (ATK%)
Boots (SPD / ATK%)
Ring (ATK)
Amulet (C.DMG)
Banner (ACC / ATK)

Stats Priority

ATK%, C.RATE, C.DMG, SPD, ACC
Theresc Mastery Guide
Arena, Campaign, Clan Boss, Dungeons, Doom Tower, Faction Wars
Here are Theresc's masteries optimized as an all-rounder build for all areas in the game without requiring any specific speed-tuning for particular team composition.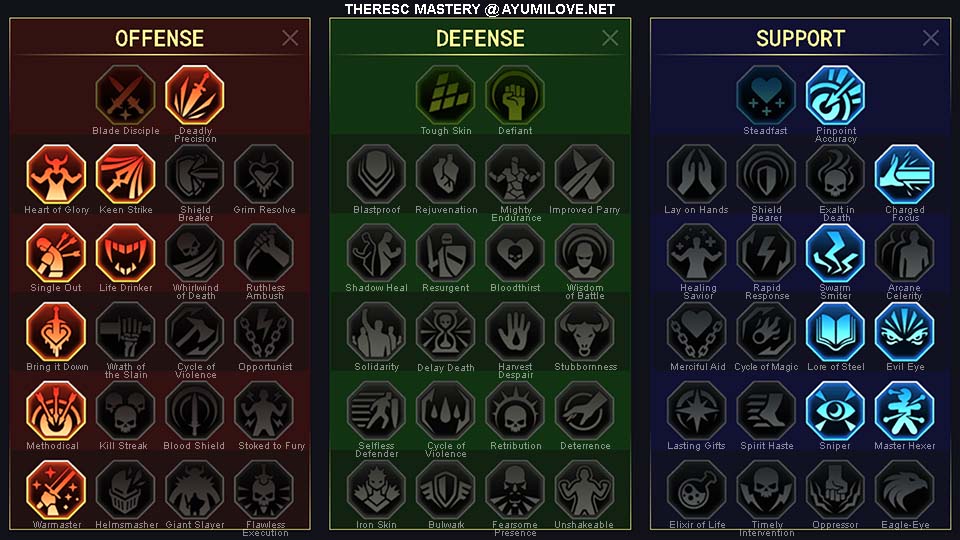 Offense

Deadly Precision
Keen Strike
Heart of Glory
Single Out
Life Drinker
Bring it Down
Methodical
Warmaster

Support

Pinpoint Accuracy
Charged Focus
Swarm Smiter
Evil Eye
Lore of Steel
Sniper
Master Hexer
Theresc Build Reference
Theresc Attacker and Debuffer Build
Below is a reference of the artifacts equipped on Theresc that is suitable for most content in the game by mad capper. Theresc is equipped in a triple Perception Set to boost her Accuracy stats, so she can perform her debuffer role efficiently. Having her Accuracy high boosts her damage output through her passive ability. With the Accuracy stats covered, you can prioritize the Attack%, Critical Rate, and Critical Damage stats to enable her to deal a high amount of damage to her targets. The total stats below are optimized to tackle the Brutal difficulty of Hydra Clan Boss.

Theresc Updates
Theresc Videos
mAd Capper: Theresc | I Built Them, So You Don't Have To