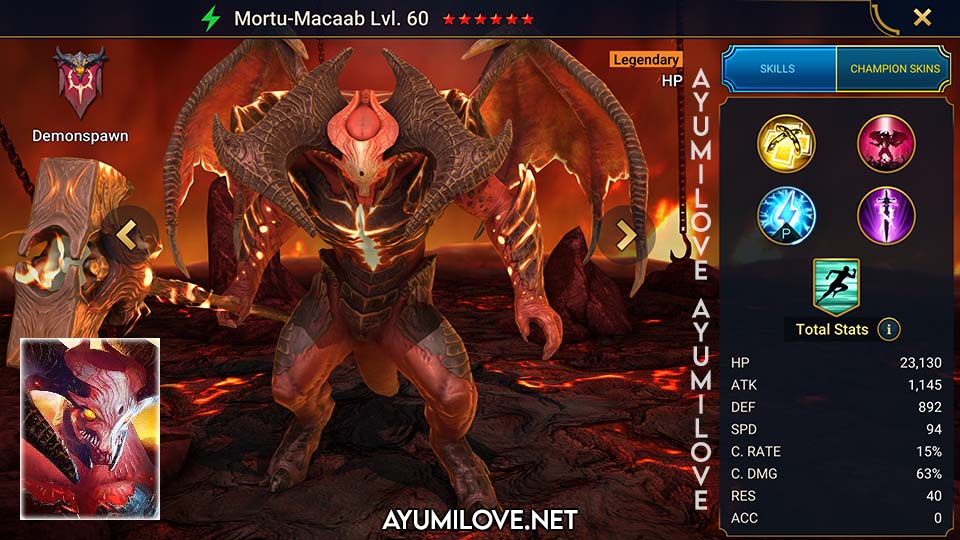 Obtain from

Ancient Shard
Sacred Shard

Overview

NAME: Mortu-Macaab
FACTION: Demonspawn
RARITY: Legendary
ROLE: HP
AFFINITY: Spirit
RANK: B
USABILITY: Situational
TOMES: 10 (A2)

Total Stats (6★)

Health Points (HP): 23,130
Attack (ATK): 1,145
Defense (DEF): 892
Speed (SPD): 94
Critical Rate (C.RATE): 15%
Critical Damage (C.DMG): 63%
Debuff Resistance (RESIST): 40
Debuff Accuracy (ACC): 10

Grinding

★★★✰✰ Campaign
★★★★★ Arena Defense
★★★★★ Arena Offense
★✰✰✰✰ Clan Boss
★★★★★ Faction Wars

Dungeons

★★★★✰ Minotaur
★✰✰✰✰ Spider
★★★★✰ Fire Knight
★★★★✰ Dragon
★★★★✰ Ice Golem

Potion

★★★★✰ Arcane Keep
★★★✰✰ Void Keep
★★★★✰ Force Keep
★★★★★ Spirit Keep
★★★✰✰ Magic Keep

Doom Tower

★★★✰✰ Floors
★✰✰✰✰ Magma Dragon
★✰✰✰✰ Nether Spider
★★★✰✰ Frost Spider
★★★✰✰ Scarab King
★✰✰✰✰ Celestial Griffin
★✰✰✰✰ Eternal Dragon
★✰✰✰✰ Dreadhorn
★★★✰✰ Dark Fae
Mortu-Macaab Review
Mortu-Macaab is a Legendary HP Spirit affinity champion from Demonspawn faction in Raid Shadow Legends. Mortu-Macaab was released as the first batch of champions on July 2018 since the release of Raid Shadow Legends! He is one of the familiar faces you see in Brimstone Path Campaign Stage 7 as the final boss for campaign difficulty (Normal, Hard, Brutal, Nightmare).
Mortu-Macaab is not so useful for game progression, especially for early-mid game players. Reason being, his skills are useful for specific niche such as Block Revive and Block Buff on enemies. Mortu-Macaab is renowned for his Peril secret skill, which deals high amount of damage to a single-target while ignoring all defense, Shield buff and Block Damage buff! In addition, enemies killed by Peril will not be able to revive. This makes him one of the toughest opponent to counter both in Campaign and Doom Tower! However, this formidable skill can only be unlocked by his passive skill Fiery Rage whenever he is attacked! It's advisable to deal with him as the last opponent to prevent triggering Peril. Still, he can be countered using crowd control debuffs on him (e.g. Provoke, Stun, Freeze) or using Paragon Cheese Strategy for clearing the Campaign floor! Mortu-Macaab's Stigmata default skill has the ability to apply Heal Reduction debuff, which is particularly useful for Spirit Keep if you have trouble defeating the boss in time before she recovers to full health upon reaching her turn. Apart from that, his Falling from Grace skill is useful to counter enemies who rely heavily on buffs to defend themselves.
In summary, Mortu-Macaab's best usecase will be to set him up as a single-target nuker champion, utilizing his ultimate skill Peril to banish the enemy from battle forever. If you are having trouble with Arena defense teams or enemy team that has Revive champions, AoE attack champions, superior healing and shield buffing teams, then Mortu-Macaab is the answer to resolve this issue!
Mortu-Macaab Skills
Stigmata [ATK]
Attacks 1 enemy. Has a 60% chance of placing a 100% [Heal Reduction] debuff for 2 turns.
Level 2: Damage +5%
Level 3: Damage +5%
Level 4: Buff/Debuff Chance +10%
Level 5: Damage +15%
Level 6: Buff/Debuff Chance +15%
Damage Multiplier: 4.8 ATK
Falling from Grace [ATK][HP] (Cooldown: 5 turns)
Attacks all enemies 2 times. Each hit has a 90% chance of placing a [Block Buffs] debuff for 2 turns. The [Block Buffs] debuff cannot be resisted if a target is under a [Heal Reduction] debuff.
Level 2: Damage +10%
Level 3: Buff/Debuff Chance +5%
Level 4: Damage +10%
Level 5: Buff/Debuff Chance +5%
Level 6: Cooldown -1
Damage Multiplier: 1.1 ATK + 0.1 HP
Fiery Rage [Passive]
Has a 20% chance to unlock a secret skill, Peril, for 1 turn when attacked. Also has a 20% chance to fill this Champion's Turn Meter by 25%.
Peril [HP]
Attacks 1 enemy 2 times. Will ignore [Shield] and [Block Damage] buffs as well as DEF. Enemies killed by this skill cannot be revived.
Damage Multiplier: 0.2 HP
Aura
Increases Ally SPD in all Battles by 24%.
Mortu-Macaab Equipment Guide
Arena, Campaign, Clan Boss, Dungeons, Doom Tower, Faction Wars

Recommended Artifacts

Life, Immortal, Guardian, Speed, Critical Rate, Critical Damage, Swift Parry

Recommended Stats

HP%, C.RATE, C.DMG, SPD
Weapon (ATK)
Helmet (HP)
Shield (DEF)
Gauntlets (C.DMG / C.RATE)
Chestplate (HP%)
Boots (SPD)
Ring (HP)
Amulet (C.DMG / HP)
Banner (HP)
Mortu-Macaab Mastery Guide
Arena, Campaign, Clan Boss, Dungeons, Doom Tower, Faction Wars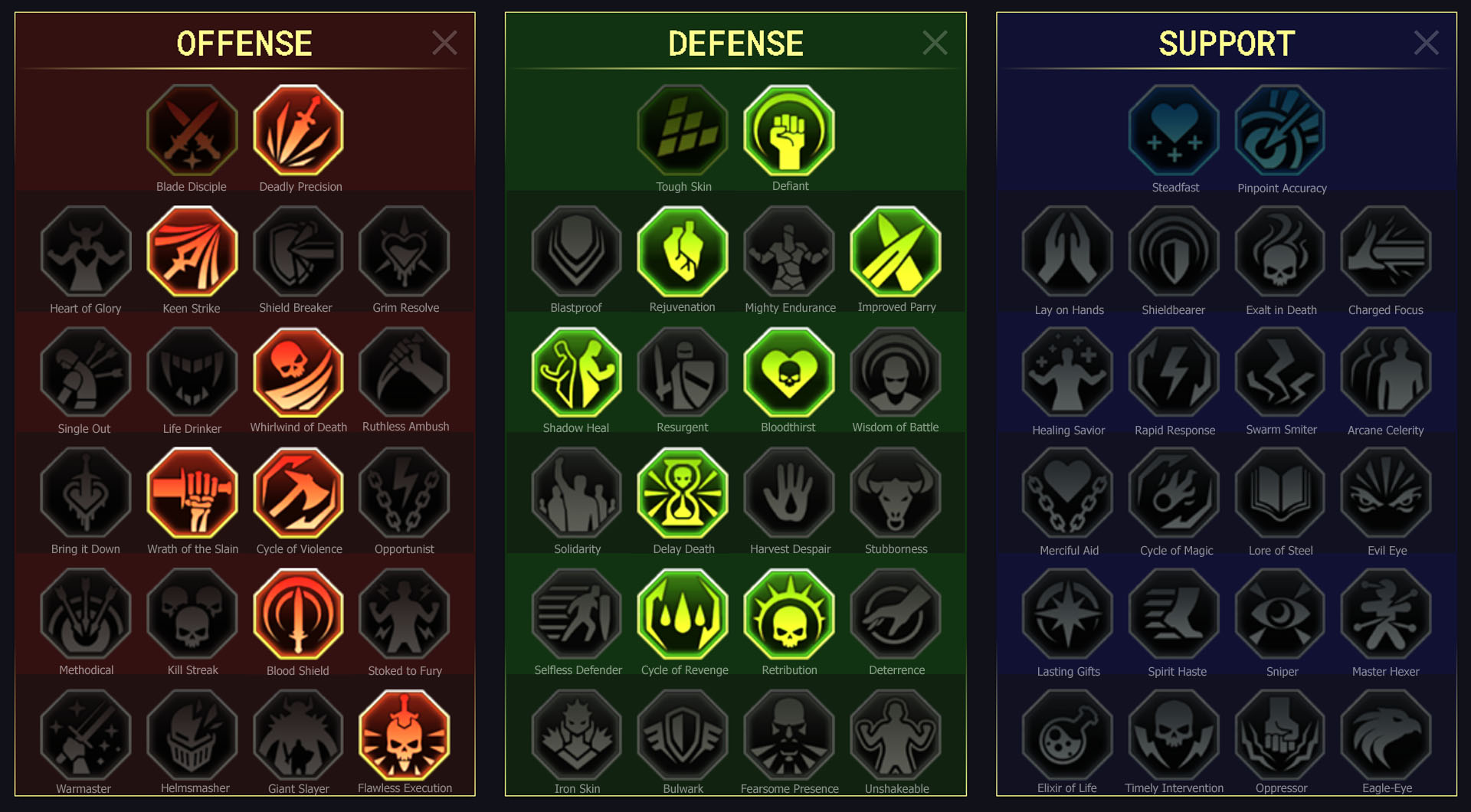 Offense

Deadly Precision
Keen Strike
Whirlwind of Death
Cycle of Violence
Wrath of the Slain
Blood Shield
Flawless Execution

Defense

Defiant
Improved Parry
Rejuvenation
Bloodthirst
Shadow Heal
Delay Death
Cycle of Revenge
Retribution
Mortu-Macaab Reference
This section covers Mortu-Macaab's build specialized for specific areas in Raid Shadow Legends.
Mortu-Macaab Arena Build
Here is Mortu-Macaab's artifact and mastery by Ayumilove optimized for Arena Battles! Mortu-Macaab is equipped with a mix of basic artifact set, which are Life Set, Critical Damage Set and Speed Set. These artifact sets provides additional stats to him to be more tankier and deals more damage! The stats to prioritize on Mortu-Macaab are Health (HP%), Critical Rate (C.RATE), Critical Damage (C.DMG) and Speed (SPD). To maximize his damage output on his Peril skill, you will need a lot of HP, C.RATE and C.DMG to one-shot the target and block revive them simultaneously! It's recommended to have approximately 80~100K HP, 100% Critical Rate, 250~300% Critical Damage to deliver high amount of damage within the range of 60~80K raw damage per hit from Peril (Total: 120~160K damage)! His Peril skill ignores all enemy's defense and Block Damage, hence it's not advisable to learn Helmsmasher mastery or equip Savage Set to ignore enemy defense.

Mortu-Macaab Updates
Mortu-Macaab Videos
Raid Shadow Legends Mortu-Macaab Champion Guide by MacChan
Raid Shadow Legends Mortu-Macaab Champion Guide by Raid Overslimpified