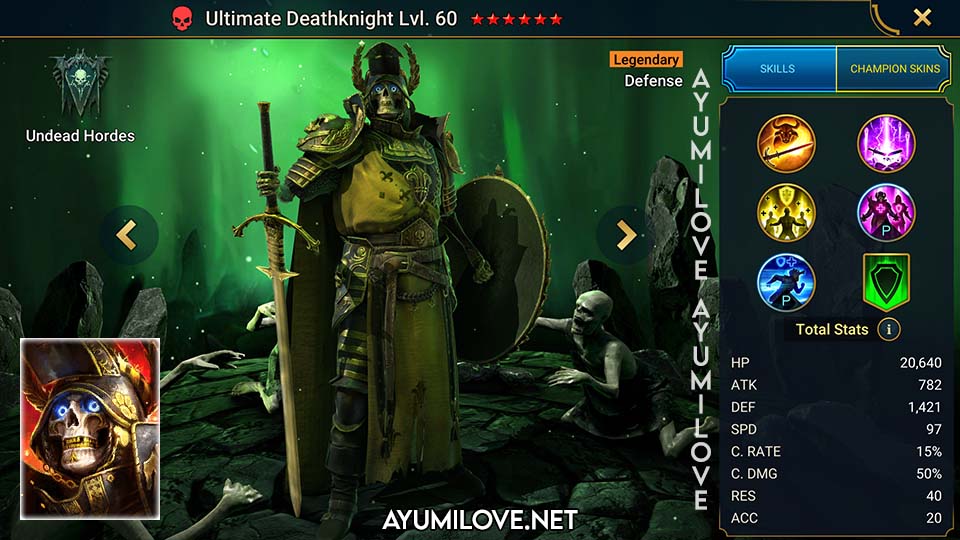 Overview

NAME: Ultimate Deathknight
FACTION: Undead Hordes
RARITY: Legendary
ROLE: Defense
AFFINITY: Force
RANK: S
USABILITY: Early-Mid-Late Game
TOMES: 10 (A2 A3)

Abilities

RSL_AllBattles_DefenseAura
RSL_AoE_ContinuousHeal_15%
RSL_AoE_DecreaseAttack_50%
RSL_AoE_Fear_Untrue
RSL_AoE_Leech
RSL_AoE_Shield
RSL_Self_Heal_Passive
RSL_Self_IncreaseDefense_Passive
RSL_Self_IncreaseHp_Passive
RSL_Self_IncreaseSpeed_Passive
RSL_Target_Provoke

Obtain from

Time-Limited Event
Ancient Shard
Sacred Shard

Grinding

★★★★✰ Campaign
★★★★★ Arena Defense
★★★★★ Arena Offense
★★★★✰ Clan Boss
★★★★★ Hydra
★★★★★ Faction Wars

Dungeons

★★★★★ Minotaur
★★★★★ Spider
★★★★✰ Fire Knight
★★★★★ Dragon
★★★★★ Ice Golem
★★★✰✰ Iron Twins

Potion

★★★★★ Arcane Keep
★★★★★ Void Keep
★★★★✰ Force Keep
★✰✰✰✰ Spirit Keep
★★★★✰ Magic Keep

Doom Tower

★★★★✰ Floors
★★★★★ Magma Dragon
★✰✰✰✰ Nether Spider
★★✰✰✰ Frost Spider
★★★★✰ Scarab King
★★★★✰ Celestial Griffin
★★★★✰ Eternal Dragon
★✰✰✰✰ Dreadhorn
★✰✰✰✰ Dark Fae
Ultimate Deathknight Review
Ultimate Deathknight is a Legendary Defense Force champion from Undead Hordes faction in Raid Shadow Legends. Ultimate Deathknight was introduced in Patch 5.80 as a free Legendary Login Reward in August 2022 as a huge marketing campaign for the original Deathknight who was desperate to transcend to greatness! He can only be obtained for a limited time from August 25 to October 27 in 2022. During this period, he will not be able to be summoned from Shards until the Ultimate Deathknight Hunt finishes at the end of the event!
Use Promo Code "DKRISES" and "DKSKELETONCREW" to gain sweet in-game resources while the event is running!
Ultimate Deathknight Skills
Heckler of Legends
Attacks 1 enemy. Has a 30% chance of placing a [Provoke] debuff for 1 turn. The chance increases to 55% against Legendary Champions.
Level 2: Damage +10%
Level 3: Buff/Debuff Chance +10%
Level 4: Damage +10%
Level 5: Buff/Debuff Chance +10%
Damage Multiplier: 3.5 DEF
Overall Grading: Strong
Rats Off To Ya (Cooldown: 4 turns)
Attacks all enemies. Has an 80% chance of placing a 50% [Decrease ATK] debuff for 2 turns. Also has an 80% chance of placing a [Fear] debuff for 1 turn on each Legendary Champion.
Level 2: Damage +10%
Level 3: Buff/Debuff Chance +10%
Level 4: Buff/Debuff Chance +10%
Level 5: Cooldown -1
Damage Multiplier: 4 DEF
Overall Grading: Strong
Get Comfy Everyone (Cooldown: 5 turns)
Places a [Shield] buff and a 15% [Continuous Heal] buff on all allies for 2 turns. The value of the [Shield] buff is proportional to this Champion's DEF.
Level 2: Cooldown -1
Level 3: Cooldown -1
Shield Multiplier: 2.5 DEF
Too Awesome To Die (Passive)
Whenever an ally is attacked, has a 100% chance of completely blocking 1 hit, decreasing the damage to zero. This champion will receive that damage instead. The chance decrease to 50% if the attacker is a Boss. Does not work if the attack on the ally was an AoE attack. Whenever an enemy is healed, heals this champion by 20% of that heal.
Didn't Need 'Em (Passive)
Increase this Champion's HP, DEF, and SPD by 10% for each dead ally.
Aura
Increases Ally DEF in all Battles by 30%
Ultimate Deathknight Equipment Guide
Arena, Campaign, Clan Boss, Dungeons, Doom Tower, Faction Wars

Recommended Artifacts

PvE: Regeneration, Immortal, Resilience, Perception, Accuracy, Toxic
PvP: Stoneskin, Protection, Speed

Stats Allocation

Weapon (ATK)
Helmet (HP)
Shield (DEF)
Gauntlets (DEF% / HP%)
Chestplate (DEF% / HP%)
Boots (SPD)
Ring (DEF / HP)
Amulet (DEF / HP)
Banner (ACC / DEF / RESIST)

Stats Priority

Early-Mid Game Supporter: DEF%, HP%, SPD, ACC
Late Game Supporter: DEF%, HP%, SPD, ACC, RESIST
Ultimate Deathknight Mastery Guide
Arena, Doom Tower, Faction Wars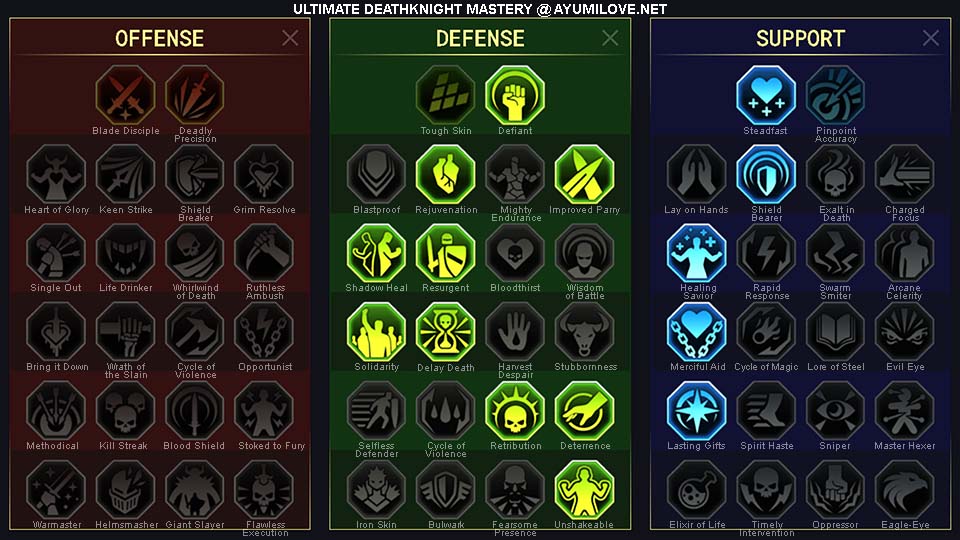 Defense

Defiant
Improved Parry
Rejuvenation
Resurgent
Shadow Heal
Delay Death
Solidarity
Retribution
Deterrence
Unshakeable

Support

Steadfast
Shield Bearer
Healing Savior
Merciful Aid
Lasting Gifts
Dungeons (Solo Boss)
Pre-Requisite: Equip Ultimate Deathknight with a Toxic Set to enable him to apply Poison debuff on the enemies, so he can solo the dungeons easily. Toxic Set makes up for his weakness in damage output. With his amazing defensive abilities and aided by Toxic Set, this allows him to clear higher difficulty dungeons with no issues as the Poison damage scales based on enemies Max Health!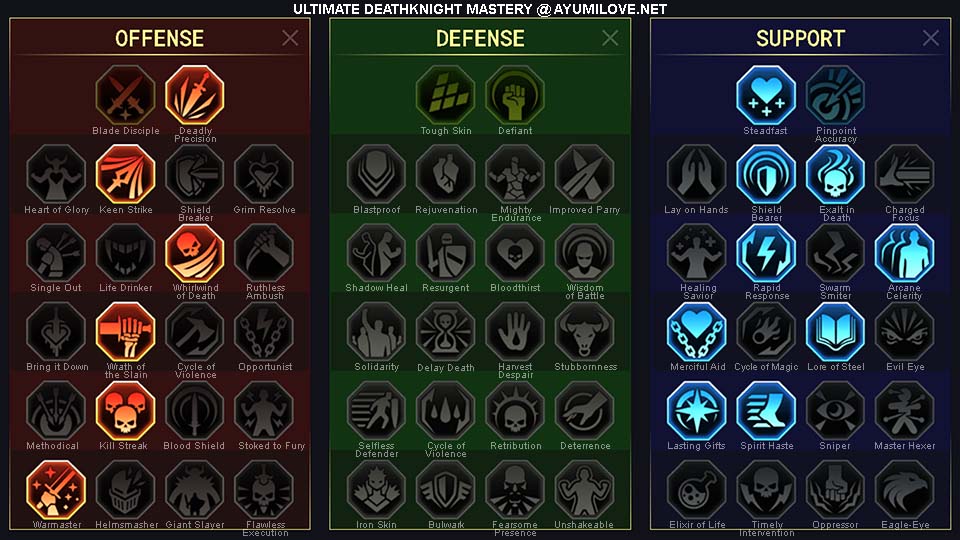 Offense

Deadly Precision
Keen Strike
Whirlwind of Death
Wrath of the Slain
Kill Streak
Warmaster

Support

Steadfast
Shield Bearer
Exalt in Death
Rapid Response
Arcane Celerity
Lore of Steel
Merciful Aid
Spirit Haste
Lasting Gifts
Campaign, Clan Boss, Dungeons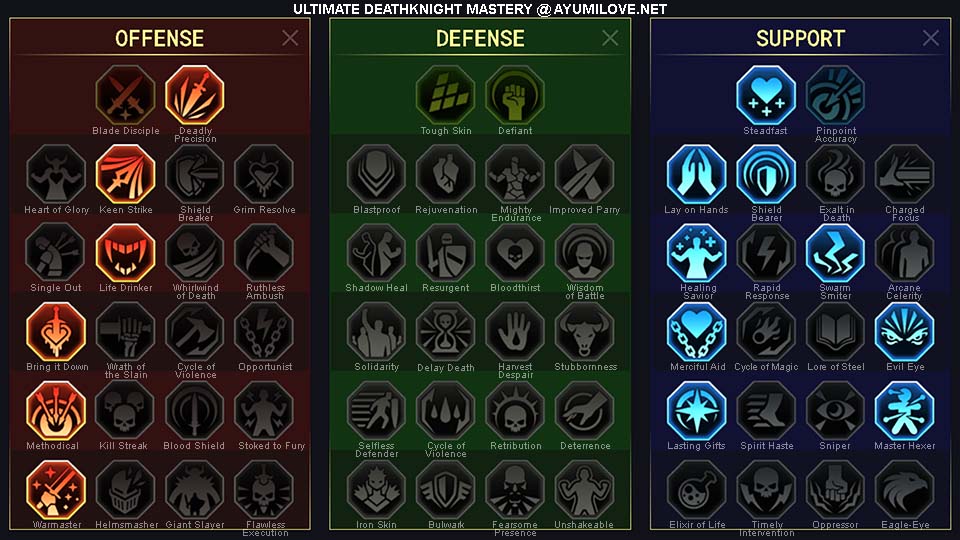 Offense

Deadly Precision
Keen Strike
Life Drinker
Bring it Down
Methodical
Warmaster

Support

Steadfast
Shield Bearer
Lay on Hands
Swarm Smiter
Healing Savior
Evil Eye
Merciful Aid
Lasting Gifts
Master Hexer
Ultimate Deathknight Updates
Ultimate Deathknight Videos
Tyrauku: Progression KING Easy Solo/Duo | Ultimate Deathknight Maxed First Look
Skratch Plays: He Is Awesome!! Ultimate DeathKnight Champion Spotlight
Cold Brew Gaming: EASY CLEAR ALL DUNGEONS – ULTIMATE DEATHKNIGHT CARRY
Briggz5d: Early & Late Game Ultimate DeathKnight Builds & Masteries
ASH: Ultimate Deathknight is Actually Good!!! (BUILD & GUIDE)