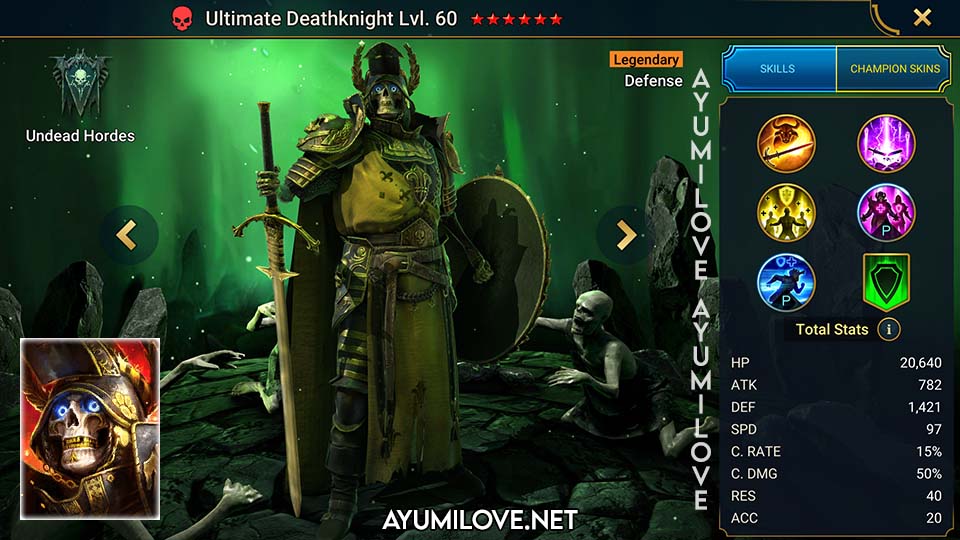 Overview

NAME: Ultimate Deathknight
FACTION: Undead Hordes
RARITY: Legendary
ROLE: Defense
AFFINITY: Force
RANK: S
USABILITY: Early-Mid-Late Game
TOMES: 10 (A2 A3)

Abilities

RSL_AllBattles_DefenseAura
RSL_AoE_ContinuousHeal_15%
RSL_AoE_DecreaseAttack_50%
RSL_AoE_Fear_Untrue
RSL_AoE_Shield
RSL_Self_Heal_Passive
RSL_Self_IncreaseDefense_Passive
RSL_Self_IncreaseHp_Passive
RSL_Self_IncreaseSpeed_Passive
RSL_Target_Provoke

Obtain from

Time-Limited Event
Ancient Shard
Sacred Shard

Blessings Recommendation

Brimstone (Late Game)
Temporal Chains (Arena Offense)

Grinding

★★★★✰ Campaign
★★★★★ Arena Defense
★★★★★ Arena Offense
★★★★✰ Clan Boss
★★★★★ Hydra
★★★★★ Faction Wars

Dungeons

★★★★★ Minotaur
★★★★★ Spider
★★★★✰ Fire Knight
★★★★★ Dragon
★★★★★ Ice Golem
★★★✰✰ Iron Twins
★✰✰✰✰ Sand Devil

Potion

★★★★★ Arcane Keep
★★★★★ Void Keep
★★★★✰ Force Keep
★✰✰✰✰ Spirit Keep
★★★★✰ Magic Keep

Doom Tower

★★★★✰ Floors
★★★★★ Magma Dragon
★✰✰✰✰ Nether Spider
★★✰✰✰ Frost Spider
★★★★✰ Scarab King
★★★★✰ Celestial Griffin
★★★★✰ Eternal Dragon
★✰✰✰✰ Dreadhorn
★✰✰✰✰ Dark Fae
Ultimate Deathknight Skills
Heckler of Legends
Attacks 1 enemy. Has a 30% chance of placing a [Provoke] debuff for 1 turn. The chance increases to 55% against Legendary Champions.
Level 2: Damage +10%
Level 3: Buff/Debuff Chance +10%
Level 4: Damage +10%
Level 5: Buff/Debuff Chance +10%
Damage Multiplier: 3.5 DEF
Rats Off To Ya (Cooldown: 4 turns)
Attacks all enemies. Has an 80% chance of placing a 50% [Decrease ATK] debuff for 2 turns. Also has an 80% chance of placing a [Fear] debuff for 1 turn on each Legendary Champion.
Level 2: Damage +10%
Level 3: Buff/Debuff Chance +10%
Level 4: Buff/Debuff Chance +10%
Level 5: Cooldown -1
Damage Multiplier: 4 DEF
Get Comfy Everyone (Cooldown: 5 turns)
Places a [Shield] buff and a 15% [Continuous Heal] buff on all allies for 2 turns. The value of the [Shield] buff is proportional to this Champion's DEF.
Level 2: Cooldown -1
Level 3: Cooldown -1
Shield Multiplier: 2.5 DEF
Too Awesome To Die (Passive)
Whenever an ally is attacked, has a 100% chance of completely blocking 1 hit, decreasing the damage to zero. This champion will receive that damage instead. The chance decreases to 50% if the attacker is a Boss. Does not work if the attack on the ally was an AoE attack. Whenever an enemy is healed, heals this champion by 20% of that heal.
Didn't Need 'Em (Passive)
Increase this Champion's HP, DEF, and SPD by 10% for each dead ally.
Aura
Increases Ally DEF in all Battles by 30%
Ultimate Deathknight Equipment Guide
Arena, Campaign, Clan Boss, Dungeons, Doom Tower, Faction Wars

Recommended Artifacts

PvE: Regeneration, Immortal, Resilience, Perception, Accuracy, Toxic
PvP: Stoneskin, Protection, Speed

Stats Allocation

Weapon (ATK)
Helmet (HP)
Shield (DEF)
Gauntlets (DEF% / HP%)
Chestplate (DEF% / HP%)
Boots (SPD)
Ring (DEF / HP)
Amulet (DEF / HP)
Banner (ACC / DEF / RESIST)

Stats Priority

Early-Mid Game Supporter: DEF%, HP%, SPD, ACC
Late Game Supporter: DEF%, HP%, SPD, ACC, RESIST
Ultimate Deathknight Mastery Guide
Arena, Doom Tower, Faction Wars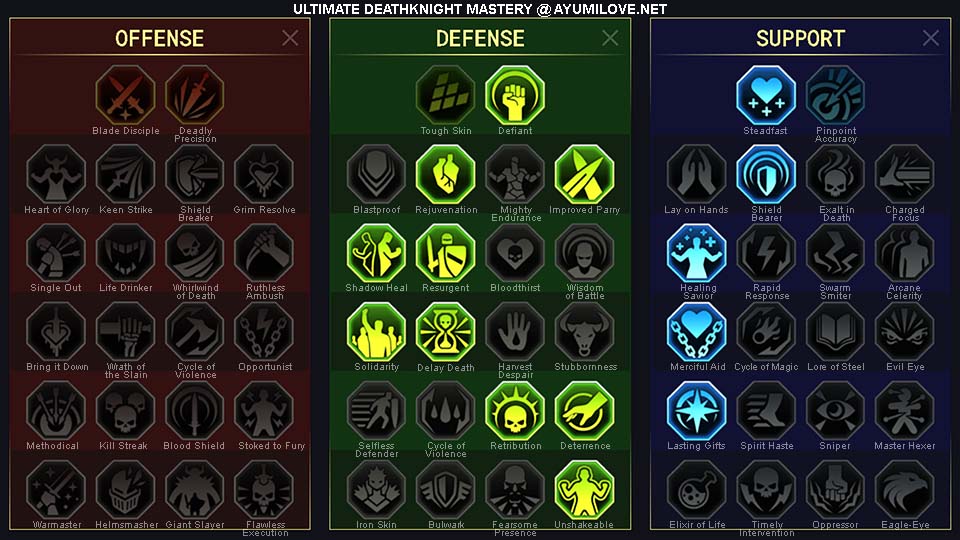 Defense

Defiant
Improved Parry
Rejuvenation
Resurgent
Shadow Heal
Delay Death
Solidarity
Retribution
Deterrence
Unshakeable

Support

Steadfast
Shield Bearer
Healing Savior
Merciful Aid
Lasting Gifts
Dungeons (Solo Boss)
Pre-Requisite: Equip Ultimate Deathknight with a Toxic Set to enable him to apply Poison debuff on the enemies, so he can solo the dungeons easily. Toxic Set makes up for his weakness in damage output. With his amazing defensive abilities and aided by Toxic Set, this allows him to clear higher difficulty dungeons with no issues as the Poison damage scales based on enemies Max Health!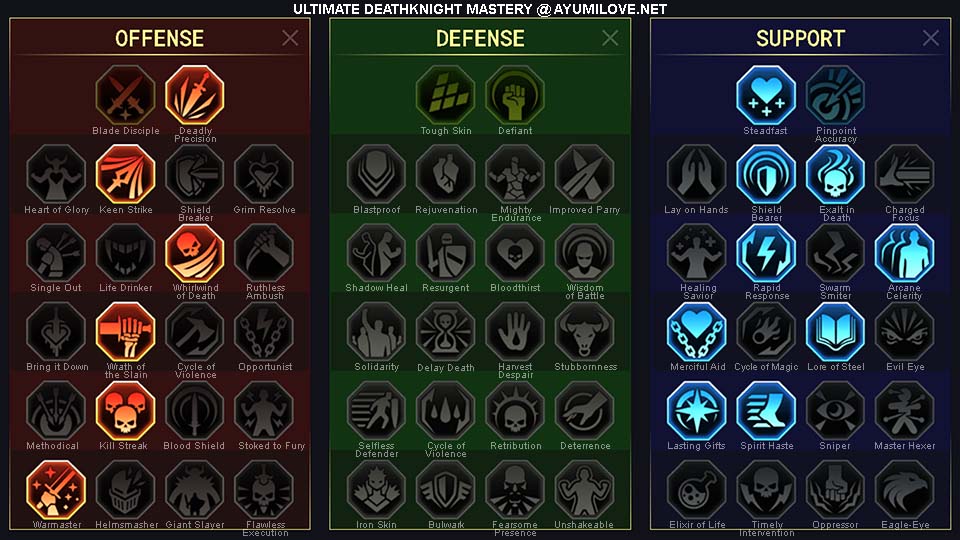 Offense

Deadly Precision
Keen Strike
Whirlwind of Death
Wrath of the Slain
Kill Streak
Warmaster

Support

Steadfast
Shield Bearer
Exalt in Death
Rapid Response
Arcane Celerity
Lore of Steel
Merciful Aid
Spirit Haste
Lasting Gifts
Campaign, Clan Boss, Dungeons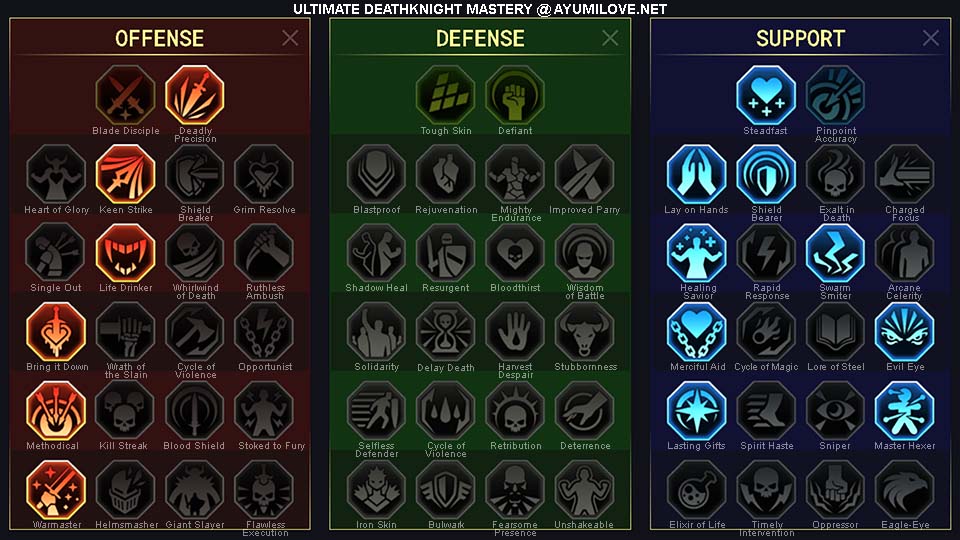 Offense

Deadly Precision
Keen Strike
Life Drinker
Bring it Down
Methodical
Warmaster

Support

Steadfast
Shield Bearer
Lay on Hands
Swarm Smiter
Healing Savior
Evil Eye
Merciful Aid
Lasting Gifts
Master Hexer
Ultimate Deathknight Review
Ultimate Deathknight is a Legendary Defense Force champion from Undead Hordes faction in Raid Shadow Legends. Ultimate Deathknight was introduced in Patch 5.80 as a free Legendary Login Reward in August 2022 as a huge marketing campaign for the original Deathknight who was desperate to transcend to greatness! He can only be obtained for a limited time from August 25 to October 27 in 2022. During this period, he will not be able to be summoned from Shards until the Ultimate Deathknight Hunt finishes at the end of the event!
Use Promo Code "DKRISES" and "DKSKELETONCREW" to gain sweet in-game resources while the event is running!
Amidst the unforgiving darkness of dungeons, Ultimate Deathknight reigns supreme, possessing a solid kit that can help players make strides in their progress. His AOE Decrease Attack ability is particularly potent in dungeons like Ice Golem and Spider, while his team shield ability provides the necessary support to keep your team up and running. These same abilities also come in handy against early Clan Boss and Hydra Clan Boss.
The most intriguing aspect of Ultimate Deathknight's kit is his passive, which allows him to deflect single target damage and soak it up himself, making him a useful tank against spiderlings. This same ability could also prove useful against heavy-hitting opponents in the Arena, such as Rotos or Mountain King, and no doubt will see plenty of action in Doom Tower waves against tough foes.
Ultimate Deathknight will have many a use case in Doom Tower, particularly against the Magma Dragon, where he can provoke and safeguard his allies from harm. His shield ability will also prove its worth against the Scarab Boss and its pesky provoke debuffs.
Though his A2 and A3 abilities can be improved with books, it's worth noting that he's not the most powerful Legendary champion out there, and his usefulness may diminish as you approach endgame. Nevertheless, he can still be put to good use as a Dragon 25 and Ice Golem 25 solo specialist with niche builds like toxic gear and specific masteries, or as an Arena Specialist.
Ultimate Deathknight Champion Lore
Just as there are exalted heroes and lowly peons among the mortals, so too is it the case that the Undead Hordes are composed of many small and humble soldiers, and a few rare and powerful overlords who steer the course of the collective. Unlike the fractious, ambitious mortals, the Undead appear to have singular unity and obedience. Their hierarchies are absolute. The history of thousands of battles lend their weight to this being axiomatic. An Undead who dreams of rising above its station is, on principle, absurd.
Yet the idea persists. Perhaps mortals naturally project their own habits, norms, and personalities onto the bizarre and alien minds of those beings who live in death. Against the vast, nameless, faceless Hordes, it may be a psychological need to put a face and a name to Undeath. This explains the ubiquity of the Deathknight, a figure of primal legend that has been a sort of stock character in portrayals of the wars against the Undead. The everyman of the Undead Hordes, the Deathknight is the overworked and under-respected servant of the many dreaded lords of the Undead. Given his symbolic role as the downtrodden skeleton, many wondered if the Deathknight, like themselves, wanted a promotion. More clout, more power, more glory, more gold. Surely the allure of such things transcends even the curse of Undeath.
The story goes that the Deathknight, after another day of drudgery and defeat from which he resolutely regenerated his ancient bones, climbed into his coffin to rest. He lamented his lowly stature, his common chores, his nameless toils, his lack of respect. He wished to be made a famous hero, and prayed that it would come to pass. Then, astoundingly, the Arbiter herself appeared before this accursed creature in his meager chambers, and announced that it would be so. But rather than elevate the Deathknight to greatness she simply created a new Deathknight – an Ultimate Deathknight. Was it a rebuke upon the lowly Deathknight for her to twist his intent thusly? A jest? Scholars and theologians caution that the Arbiter, powerful though she be, has not the deific power of absolute creation. But common folk often see the Arbiter as a goddess regardless, even if it is a minor blasphemy. None can say what truly transpired.
There soon came to be new sightings of the Deathknight, but a Deathknight transformed, all swagger and glittering gilt plate, bearing a mighty and pristine blade. His armor, engraved with depictions of the rat companion Nibbles that traditionally accompanies the Deathknight, was proof against mighty blows. This Ultimate Deathknight was himself a swordmaster, unrivaled in all his duels. The people did not know whether to fear a new resurgence of Undeath with a more powerful Deathknight at its helm, or if the old Deathknight had been replaced or surpassed. Some said they saw both on the same battlefield, one cringing in the back ranks and the other covered in glory in the thick of the melee. Some claimed the Deathknight and the Ultimate Deathknight were bitter rivals. Others said they were father and son. Some said both, and the Deathknight represents the jealousy of a father surpassed and replaced by his own legacy. Some say the Ultimate Deathknight reconciled with his counterpart, and that although there can be only one Ultimate Deathknight and one not-so-Ultimate Deathknight, they became comrades in arms. The histories are muddled beyond comprehension.
Surely, all of this wildly creative storytelling bears little resemblance to the facts on the ground, but it is nonetheless a fascinating insight into the minds of the people. If the Deathknight represents the idea that a humble and well-meaning soul could still find some measure of dignity in Undeath – a comforting fantasy – then the Ultimate Deathknight represents the fantasy that fame will not go to one's head and power will not corrupt that humble soul into an arrogant brute. Both of these mortal obsessions, writ large upon the blank canvas of Undeath's clean white skull, may yet have caused the manifestation of both types of Deathknight. A popular myth, arising from no particular source but from many common misapprehensions, could be reflected and amplified by its own infamy, until it gives rise to the very phenomenon that produced the myth to begin with. Only the gods can say.
Ultimate Deathknight Updates
Ultimate Deathknight Videos
Tyrauku: Progression KING Easy Solo/Duo | Ultimate Deathknight Maxed First Look
Skratch Plays: He Is Awesome!! Ultimate DeathKnight Champion Spotlight
Cold Brew Gaming: EASY CLEAR ALL DUNGEONS – ULTIMATE DEATHKNIGHT CARRY
Briggz5d: Early & Late Game Ultimate DeathKnight Builds & Masteries
ASH: Ultimate Deathknight is Actually Good!!! (BUILD & GUIDE)