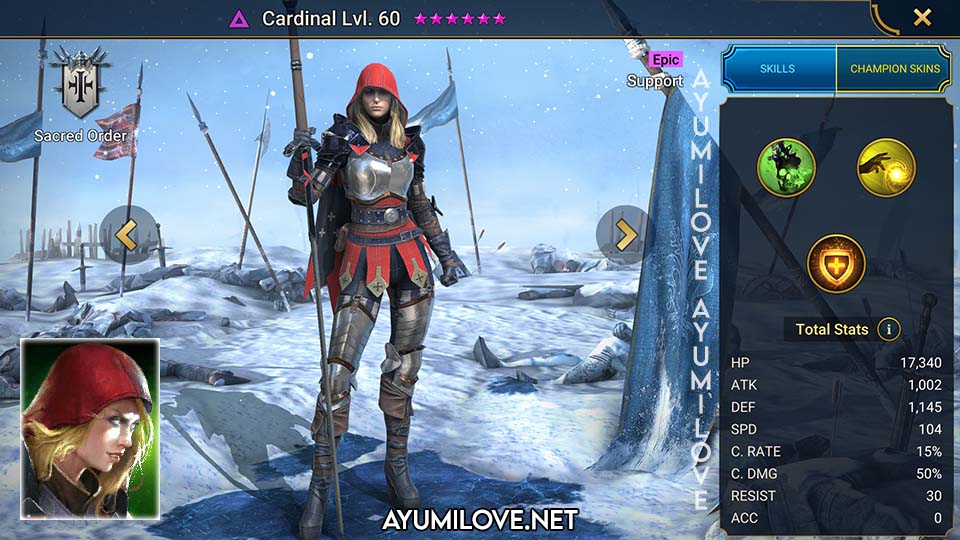 Overview

NAME: Cardinal
FACTION: Sacred Order
RARITY: Epic
ROLE: Support
AFFINITY: Void
RANK: B
USABILITY: Situational
TOMES: 9 (A2 A3)

Abilities

Obtain from

Void Shard

Grinding

★★★✰✰ Campaign
★★★✰✰ Arena Defense
★★★★★ Arena Offense
★★★✰✰ Clan Boss
✰✰✰✰✰ Hydra
★★★★★ Faction Wars

Dungeons

★★★✰✰ Minotaur
★★★✰✰ Spider
★★★✰✰ Fire Knight
★★★✰✰ Dragon
★★★✰✰ Ice Golem

Potion

★★★✰✰ Arcane Keep
★★★✰✰ Void Keep
★★★✰✰ Force Keep
★★★✰✰ Spirit Keep
★★★✰✰ Magic Keep

Doom Tower

★★★✰✰ Floors
★★★✰✰ Magma Dragon
★✰✰✰✰ Nether Spider
★✰✰✰✰ Frost Spider
★✰✰✰✰ Scarab King
★✰✰✰✰ Celestial Griffin
★✰✰✰✰ Eternal Dragon
★✰✰✰✰ Dreadhorn
★✰✰✰✰ Dark Fae
Cardinal Skills
Evaporation [ATK]
Attacks 1 enemy. Has a 10% chance of placing a 5% [Poison] debuff for 2 turns.
Level 2: Damage +5%
Level 3: Damage +5%
Level 4: Buff/Debuff Chance +5%
Level 5: Buff/Debuff Chance +5%
Damage Multiplier: 4 ATK
Mending Touch (Cooldown: 4 turns)
Heals a target ally by 30% of their MAX HP. Places a 60% [Increase DEF] buff for 2 turns.
Level 2: Heal +5%
Level 3: Heal +5%
Level 4: Cooldown -1
Redemption (Cooldown: 7 turns)
Revives all dead allies, heals them by 25% of their MAX HP, and boosts their Turn Meter to max.
Level 2: Cooldown -1
Level 3: Cooldown -1
Cardinal Equipment Guide
Arena, Doom Tower, Faction Wars
Campaign, Clan Boss, Dungeons

Recommended Artifacts

Immunity, Resist, Speed, Stalwart

Recommended Artifacts

Immunity, Resist, Speed, Stalwart, Lifesteal

Recommended Stats

HP%, DEF%, SPD, RESIST
Weapon (ATK)
Helmet (HP)
Shield (DEF)
Gauntlets (HP% / DEF%)
Chestplate (HP% / DEF%)
Boots (SPD)
Ring (HP / DEF)
Amulet (HP / DEF)
Banner (HP / DEF / RESIST)

Recommended Stats

HP%, DEF%, SPD, RESIST
Weapon (ATK)
Helmet (HP)
Shield (DEF)
Gauntlets (HP% / DEF%)
Chestplate (HP% / DEF%)
Boots (SPD)
Ring (HP / DEF)
Amulet (HP / DEF)
Banner (HP / DEF / RESIST)
Cardinal Mastery Guide
Arena, Doom Tower, Faction Wars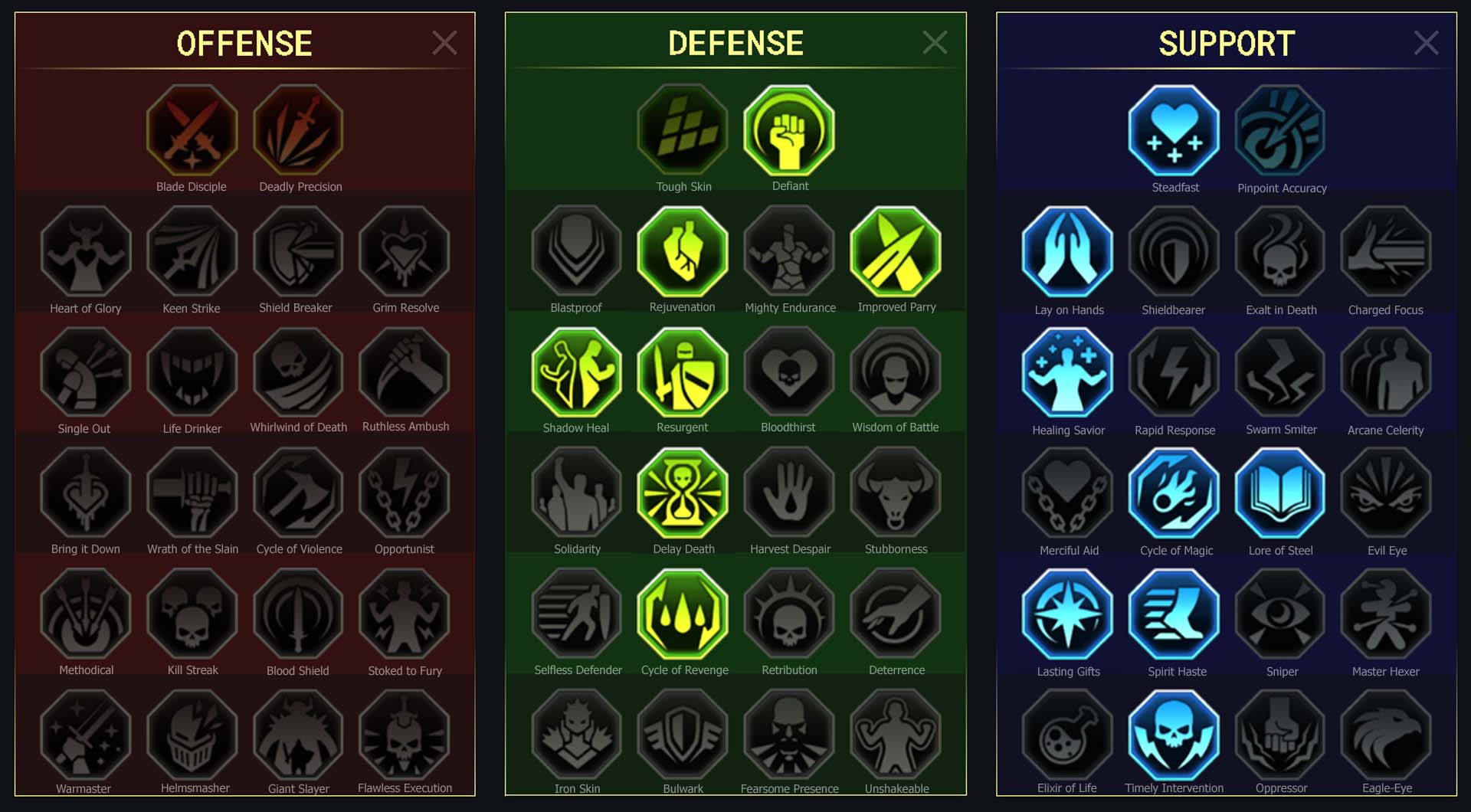 Defense

Defiant
Improved Parry
Rejuvenation
Resurgent
Shadow Heal
Delay Death
Cycle of Revenge

Support

Steadfast
Lay on Hands
Healing Savior
Cycle of Magic
Lore of Steel
Spirit Haste
Lasting Gifts
Timely Intervention
Campaign, Clan Boss, Dungeons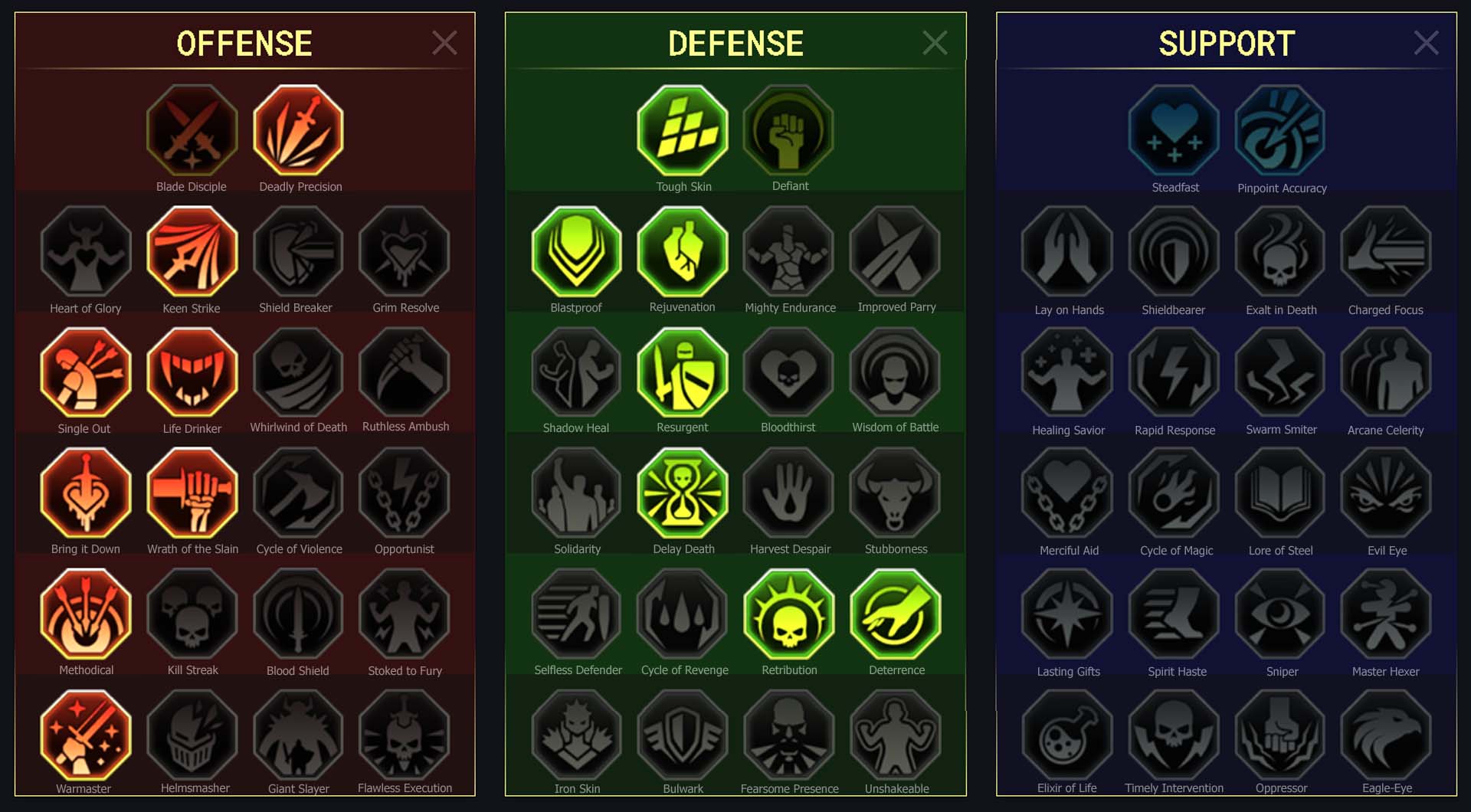 Offense

Deadly Precision
Keen Strike
Single Out
Life Drinker
Bring it Down
Wrath of the Slain
Methodical
Warmaster

Defense

Tough Skin
Blastproof
Rejuvenation
Resurgent
Delay Death
Retribution
Deterrence
Cardinal Review
Raid Shadow Legends – Cardinal is an Epic Support Void Champion from The Sacred Order faction where she can be obtained from Void Shard.
Cardinal Purpose
Cardinal's role is to revive dead allies using "Redemption" skill and heal an ally whenever they are in critical health while providing a 60% Increase Defense buff using "Mending Touch" skill.
The main highlight of this champion is her Revive skill "Redemption", which allows the player to instantly revive dead allies and boost their Turn Meter to the max.
Those revived allies can attack the enemies immediately without worrying of debuffs especially Crowd Control debuff (Stun, Freeze, Sleep, Fear) or Damage Manipulation (Decrease Attack, Decrease Defense) as these debuffs are removed when they are dead.
The revived allies turn order aka sequence will be based on their total Speed Stat, with the fastest speed champion goes first. This allows you to perform tactical attack on the enemy by waiting for the right moment before reviving and counterattack the enemy after they have unleashed their debuff and nuke on your team.
The strategy here relies mainly on Cardinal's ability to sustain the first wave of attack and any debuff inflicted by the enemies.
Cardinal Equipment
Cardinal's survivability rate increases substantially by equipping the appropriate Artifact set for her. The 2 Artifact Sets that are compatible for Cardinal are Immunity Set and Resistance Set.
However, I highly recommend Resistance because it does not only block debuff but also deter Instant Negative Effects (e.g. Decrease Turn Meter, Increase Skill Cooldown, Steal Buff) that can affect her ability to cast her skills at the right timing.
Resistance Set is preferred since it can help in both short and lengthy battles while Immunity Set is preferred for the short battles (winning the battle within 2 turns).
If you can obtain high resist stat on Immunity Set, you will gain benefit from both worlds. Do take note that high resist stat are completely ignored against debuffs applied from Artifact Sets (e.g. Stun Set, Freeze Set, Sleep Set, Poison Set, Taunting Set).
Resist Stat can be obtained by multiple ways such as equipping Resist Set, equipping artifacts with Resist as primary stat (Chestplate and Banner), artifacts containing Resist substat with multiple-upgrades on it, Great Hall Resist stat, and masteries (Lore of Steel, Defiant) that provide some Resist stat.
Cardinal Team Synergy
Cardinal team synergy relies on 2 components (Attack Champion and Defense/Support Champion).
The first component is to include Attack champions who can inflict very high damage and much better if they can completely erase them from battle (e.g. Block Revive Skill from champions such as Rotos the Lost Groom, Foli, Bloodgorged, Zavia, Inithwe Bloodtwin) or AoE champions that have very high AoE nuke damage (e.g. Trunda Giltmallet) to defeat all enemies in 1 hit.
The second component is to include Defense/Support champions that can provide some type of sustainability to Cardinal. This can be achieved by having high HP champions equipped with Shield Set (preferabbly champions with 20K base HP), champion with passive skill that provides defensive capabilities such as Krisk the Ageless with his massive shield or Seeker for his Increase Defense buff, and champions who has active skills that provide Healing, Ally Protection, Shield, Increase Defense, Strengthen buffs for prolong battles.
Cardinal Team Strategy Cheatsheet
If the enemy team has many defensive tanky team, use 2 Attackers and 1 Support.
If the enemy team has many debuffer in team, use 1 Attacker and 2 Support.
If the enemy team has fast heavy AoE nuker, use 1 Attacker and 2 Support.
Cardinal Videos
Raid Shadow Legends Cardinal Guide by ASH
Raid Shadow Legends Cardinal Guide by StewGaming
Cardinal Showcase by Farting Cows