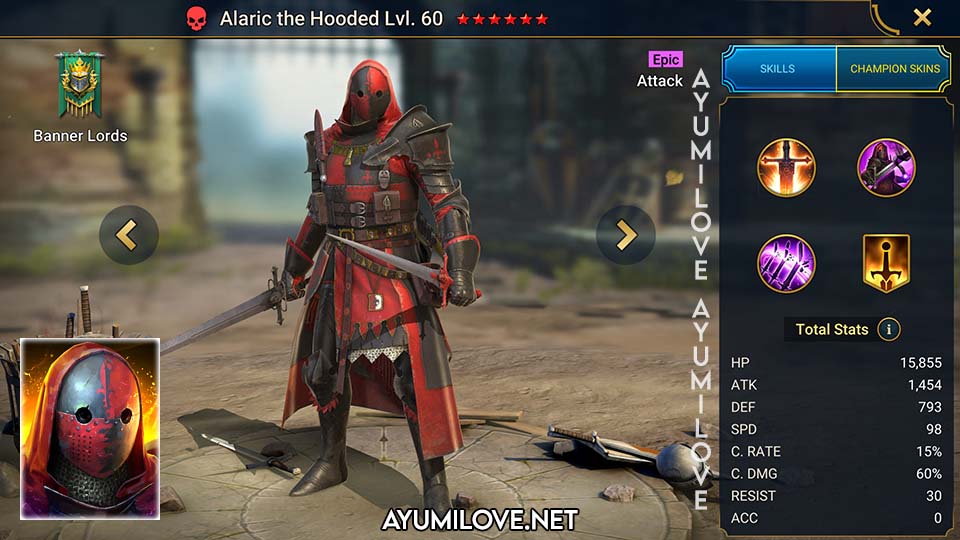 Overview

NAME: Alaric the Hooded
FACTION: Banner Lords
RARITY: Epic
ROLE: Attack
AFFINITY: Force
RANK: C
USABILITY: Situational
TOMES: 14 (A2 A3)

Abilities

RSL_AoE_DecreaseAccuracy_50%
RSL_AoE_DecreaseAttack_50%
RSL_Faction_AttackAura
RSL_Target_DecreaseTurnMeter
RSL_Target_RemoveBuffs
RSL_Target_StealBuffs

Obtain from

Ancient Shard
Sacred Shard
Primal Shard
Pyxniel Fusion

Blessings Recommendation

Cruelty (Arena)
Phantom Touch (Damage Dealer)

Grinding

★★✰✰✰ Campaign
★★✰✰✰ Arena Defense
★★✰✰✰ Arena Offense
★★✰✰✰ Clan Boss
★✰✰✰✰ Hydra
★★★★✰ Faction Wars

Dungeons

★★★✰✰ Minotaur
★★★✰✰ Spider
★✰✰✰✰ Fire Knight
★★★★✰ Dragon
★★✰✰✰ Ice Golem
★✰✰✰✰ Iron Twins
★✰✰✰✰ Sand Devil
★✰✰✰✰ Phantom Shogun

Potion

★★★★✰ Arcane Keep
★★★★✰ Void Keep
★★★★✰ Force Keep
★★✰✰✰ Spirit Keep
★★★★★ Magic Keep

Doom Tower

★★★✰✰ Floors
★★★✰✰ Magma Dragon
★★✰✰✰ Nether Spider
★★★✰✰ Frost Spider
★★★✰✰ Scarab King
★✰✰✰✰ Celestial Griffin
★✰✰✰✰ Eternal Dragon
★✰✰✰✰ Dreadhorn
★★★✰✰ Dark Fae
Alaric the Hooded Skills
Red Fury
Attacks 1 enemy. Has a 30% chance of decreasing the target's Turn Meter by 7.5%. Decreases the Turn Meter by a further 3% for each buff on the target.
Level 2: Damage +5%
Level 3: Damage +5%
Level 4: Buff/Debuff Chance +5%
Level 5: Buff/Debuff Chance +5%
Level 6: Buff/Debuff Chance +10%
Damage Multiplier: 3.5 ATK
Demand Chivalry (Cooldown: 4 turns)
Attacks 1 enemy. Has a 50% chance of removing 2 random buffs from the target before attacking. Has a 75% chance of stealing 2 random buffs instead if the target has 4 or more buffs.
Level 2: Damage +5%
Level 3: Damage +10%
Level 4: Buff/Debuff Chance +10%
Level 5: Buff/Debuff Chance +15%
Level 6: Cooldown -1
Damage Multiplier: 5.9 ATK
Crimson Warlord (Cooldown: 5 turns)
Attacks all enemies. Has a 75% chance of placing a 50% [Decrease ATK] debuff and a 50% [Decrease ACC] debuff on all enemies for 2 turns.
Level 2: Damage +15%
Level 3: Buff/Debuff Chance +10%
Level 4: Buff/Debuff Chance +15%
Level 5: Cooldown -1
Damage Multiplier: 3.85 ATK
Aura
Increases Ally ATK in Faction Crypts by 29%.
Alaric the Hooded Equipment Guide
Arena, Campaign, Clan Boss, Dungeons, Doom Tower, Faction Wars

Recommended Artifacts

Savage, Cruel, Lethal, Lifesteal, Bloodthirst, Accuracy, Perception, Speed, Fatal

Stats Allocation

Weapon (ATK)
Helmet (HP)
Shield (DEF)
Gauntlets (C.RATE / C.DMG)
Chestplate (ATK%)
Boots (SPD)
Ring (ATK)
Amulet (C.DMG)
Banner (ACC)

Stats Priority

ATK%, C.RATE, C.DMG, SPD, ACC
Alaric the Hooded Mastery Guide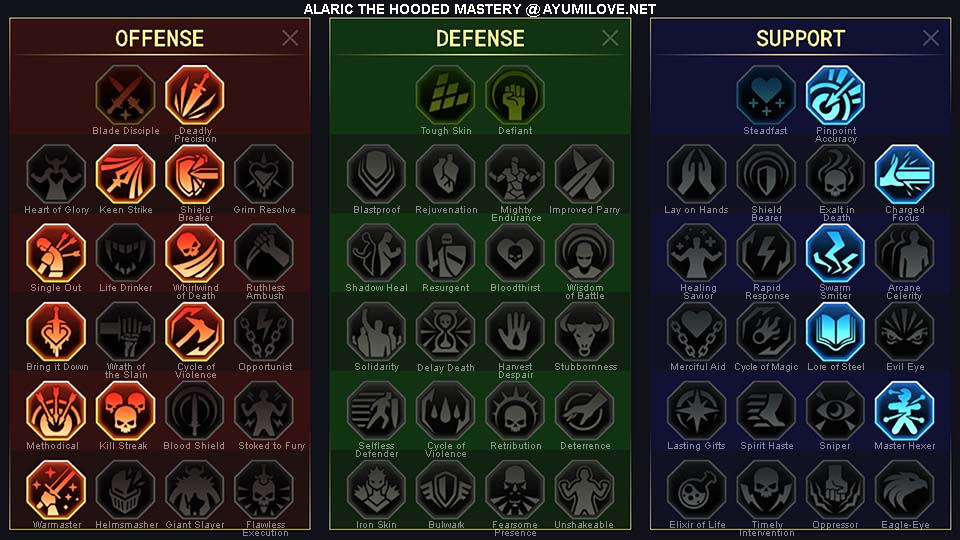 Offense

Deadly Precision
Keen Strike
Shield Breaker
Single Out
Whirlwind of Death
Cycle of Violence
Bring it Down
Kill Streak
Methodical
Warmaster

Support

Pinpoint Accuracy
Charged Focus
Swarm Smiter
Lore of Steel
Master Hexer
Alaric the Hooded Review
Alaric the Hooded is an Epic Attack Force affinity champion from the Banner Lords faction in Raid Shadow Legends. He is a fierce dual-wielding swordsman, who dons a mysterious mask that conceals his true identity. This champion was introduced as part of the fusion for Pyxniel in December 2020, but some players may have acquired him separately. While his base defense is low, his strong multipliers on his skills make him a formidable mid-tier nuker for the Arena.
Alaric's A3 ability is his greatest team utility asset, as it lowers the attack and accuracy of all opponents. This is particularly useful in the Doom Tower waves or Faction Wars, where accuracy can be a significant factor. However, it is essential to protect Alaric as his low base defense makes it difficult to keep him alive during sustained fights.
Alaric's power lies in his ability to deal high damage to his enemies, making him a valuable asset in battle. However, his lack of defense and the need to protect him can be a hindrance. Nevertheless, his unique skillset and impressive multipliers make him an excellent addition to any Banner Lords team.
Overall, Alaric is a solid champion that can deal significant damage to enemy teams and provide essential debuffs in challenging battles. While he may not be the most durable champion, his ability to weaken his opponents and strike them down with deadly precision makes him an asset in any battle.
Alaric the Hooded Updates
Alaric the Hooded Videos
MtgJedi: Alaric the Hooded is So Good! Champion Guide
Grumpy Jeff: Alaric the Hooded Champion Review The Hood makes him Scary