Overview

NAME: Kantra the Cyclone
FACTION: Barbarians
RARITY: Legendary
ROLE: Defense
AFFINITY: Force
RANK: B
USABILITY: Early-Mid-Late Game
TOMES: 12 (A1 A2)

Abilities

RSL_AllBattles_AccuracyAura
RSL_AoE_BlockBuffs
RSL_AoE_DecreaseAccuracy_50%
RSL_AoE_DecreaseAttack_50%
RSL_AoE_DecreaseSpeed_30%
RSL_AoE_HealReduction_100%
RSL_AoE_Passive_Enemy
RSL_AoE_Weaken_25%
RSL_Passive_Provoke_Special
RSL_Self_Passive
RSL_Target_Passive_Enemy
RSL_Target_Provoke
RSL_Target_StealBuffs

Obtain from

Ancient Shard
Sacred Shard
Primal Shard
Kantra the Cyclone Fusion

Blessings Recommendation

Grinding

★★★★✰ Campaign
★★✰✰✰ Arena Defense
★★★★✰ Arena Offense
★★★✰✰ Clan Boss
★★★★✰ Hydra
★★★★★ Faction Wars

Dungeons

★★★★✰ Minotaur
★★★★✰ Spider
★★★★✰ Fire Knight
★★★★✰ Dragon
★★★★✰ Ice Golem
★★✰✰✰ Iron Twins
★★★✰✰ Sand Devil
★✰✰✰✰ Phantom Shogun

Potion

★★★★✰ Arcane Keep
★★★★✰ Void Keep
★★★★✰ Force Keep
★★★✰✰ Spirit Keep
★★★★★ Magic Keep

Doom Tower

★★★★★ Floors
★★★★★ Magma Dragon
★★✰✰✰ Nether Spider
★★★★✰ Frost Spider
★✰✰✰✰ Scarab King
★★★✰✰ Celestial Griffin
★★✰✰✰ Eternal Dragon
★★✰✰✰ Dreadhorn
★★★✰✰ Dark Fae
Kantra the Cyclone Skills
Bane Hatchet
Attacks 1 enemy 2 times. Each hit has a 40% chance of stealing 1 random buff from the target.
Level 2: Damage +5%
Level 3: Damage +5%
Level 4: Buff/Debuff Chance +10%
Level 5: Buff/Debuff Chance +10%
Damage Multiplier: 1.6 DEF
Chaos Tempest (Cooldown: 4 turns)
Attacks all enemies 3 times. Each hit has a 50% chance of placing one of the following debuffs for 2 turns: a [Block Buffs] debuff, a 50% [Decrease ATK] debuff, a 30% [Decrease SPD] debuff, a 25% [Weaken] debuff, a 50% [Decrease ACC] debuff, or a 100% [Heal Reduction] debuff.
Level 2: Damage +5%
Level 3: Damage +10%
Level 4: Buff/Debuff Chance +5%
Level 5: Buff/Debuff Chance +10%
Level 6: Buff/Debuff Chance +10%
Level 7: Cooldown -1
Damage Multiplier: 1 DEF
No Escape (Passive)
Decreases each enemy's ACC by 10 for each debuff they are under. This Champion will receive 4% less damage for each debuff on the attacker. Heals this Champion by 1,250 HP each time a debuff expires on an enemy. Has a 75% chance of placing a Provoke debuff for 1 turn on enemies under 5 or more debuffs at the start of this Champion's turn. This Champion can place debuffs on weak hits.
Aura
Increases Ally ACC in all Battles by 60.
Kantra the Cyclone Equipment Guide
Arena, Doom Tower, Faction Wars
Campaign, Clan Boss, Dungeons

Recommended Artifacts

1 Savage Set, 1 Speed Set
2 Defense Set, 1 Speed Set

Recommended Artifacts

1 Lifesteal Set, 1 Speed Set
1 Lifesteal Set, 1 Accuracy Set
1 Stun Set, 1 Resist Set

Recommended Stats

DEF%, C.RATE, ACC, SPD
Weapon (ATK)
Helmet (HP)
Shield (DEF)
Gauntlets (C.RATE / C.DMG)
Chestplate (DEF% / HP%)
Boots (SPD)
Ring (DEF / HP)
Amulet (C.DMG / DEF / HP)
Banner (ACC)

Recommended Stats

DEF%, C.RATE, ACC, SPD
Weapon (ATK)
Helmet (HP)
Shield (DEF)
Gauntlets (C.RATE / C.DMG)
Chestplate (DEF% / HP%)
Boots (SPD)
Ring (DEF / HP)
Amulet (C.DMG / DEF / HP)
Banner (ACC)
Kantra the Cyclone Mastery Guide
Arena, Campaign, Clan Boss, Dungeons, Doom Tower, Faction Wars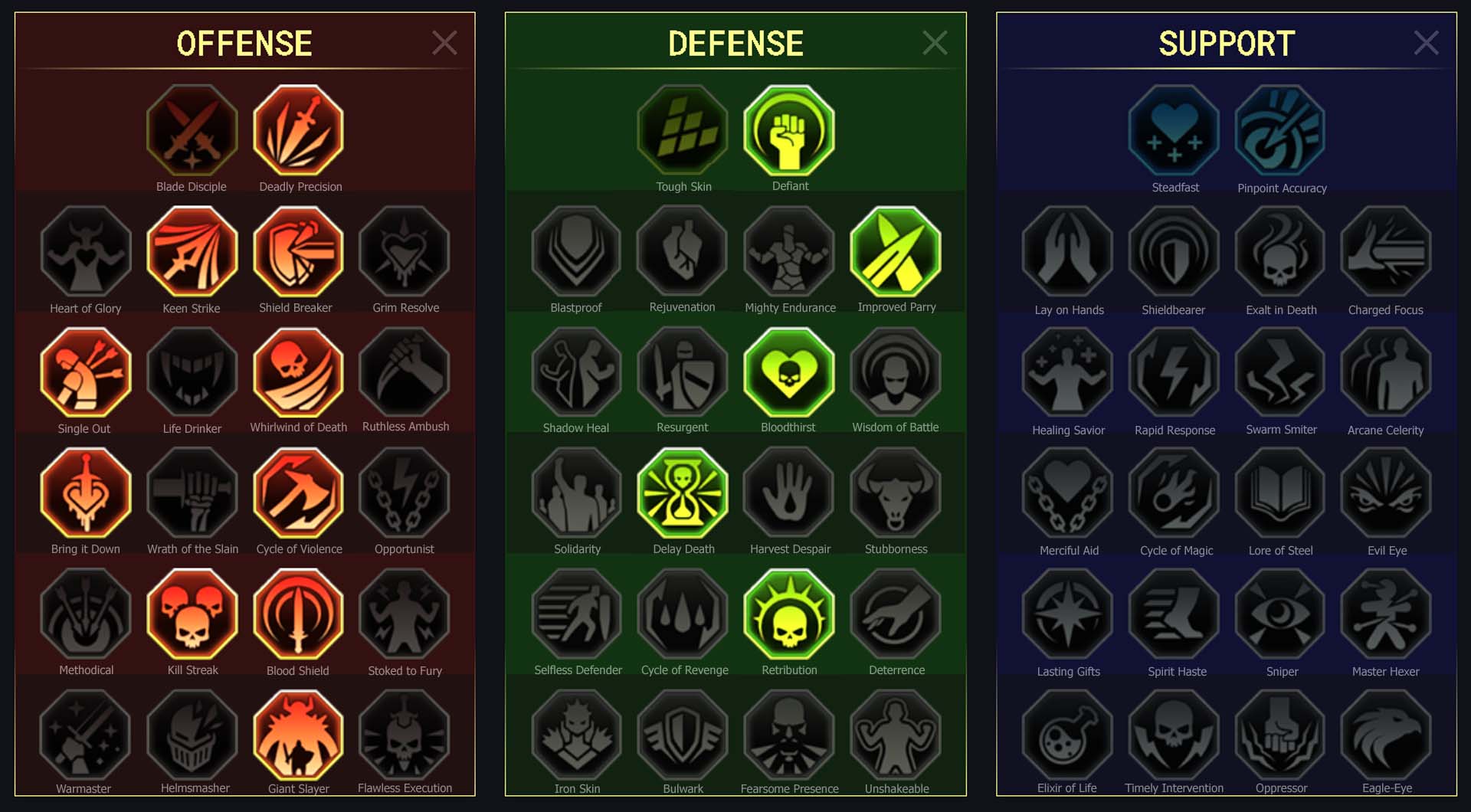 Offense

Deadly Precision
Keen Strike
Shield Breaker
Whirlwind of Death
Single Out
Cycle of Violence
Bring it Down
Kill Streak
Blood Shield
Giant Slayer

Defense

Defiant
Improved Parry
Bloodthirst
Delay Death
Retribution
Kantra the Cyclone Review
Kantra the Cyclone is a Legendary Defense Force affinity champion from the Barbarians faction in Raid Shadow Legends. Her introduction to the game was met with great excitement, as players found her fusion to be one of the most achievable ever offered.
Kantra's abilities were nothing short of impressive. She boasted an A2 that could inflict multiple debuffs on enemies, making her a formidable force on the battlefield. Additionally, her passive ability allowed her to heal every time a debuff wore off on an enemy, making her one of the best tanks in Raid.
Kantra's abilities were not limited to mere offensive power, as she also provided great utility in the Doom Tower. Her unique ability to land debuffs even on weak hits made her a reliable choice for any fight in the tower, regardless of affinity. Furthermore, Kantra was a valuable asset in taking down the head of Decay in Hydra, as she could reliably provoke it every time she took a turn, provided there were enough debuffs present.
In conclusion, Kantra the Cyclone was a legendary champion whose abilities made her a force to be reckoned with on the battlefield. Her impressive debuffing capabilities, coupled with her healing passive and unique ability to play in any fight in the Doom Tower, made her an invaluable asset to any player lucky enough to acquire her. Raid Shadow Legends would forever be marked by her arrival, and her legend would live on in the memories of players for years to come.
Kantra the Cyclone Champion Lore
Kantra the Cyclone is a figure straight out of the old songs. Even a novice bard knows enough tales about her to keep a crowd entertained all night, and still have hours of material left unsung long after the inn doors close. She epitomizes the ideal of the Norr shieldmaiden, with incredible strength, courage to the point of arrogance, and a mouth more foul than a Sorrowlakes saltmarsh. For all that, few realize that the real Kantra the Cyclone is no Norr at all — but a Human born in the Free City of Tilshire.
Kantra's family were wealthy merchants, having made a fortune supporting ocean trade between the Elven kingdom of Aravia, Velyzar the Arena City, and the rest of the world. While nominally independent, Tilshire's extreme proximity to Aravia gives the Elven kingdom huge sway over the Free City's politics, and Elven fashions are followed by the city's elite, Kantra's family no less than any other. They expected her to grow up to be a woman of grace like her sisters, with refined tastes akin to that of an Elven maiden. What her family got was anything but – Kantra was rambunctious, combative, and untidy. Her family tried for years to secure a profitable matrimonial match, but Kantra scared off — or assaulted — any suitor who they considered. Giving up any hope for their daughter, Kantra's family sent her off to the Tilshire Merchant Marines. A wise choice for them, though it would inflict Kantra upon the rest of the world.
Though the training for the Merchant Marines saw Kantra's combat skill develop, her muscles harden, and her ax-arm strengthen, she chafed under the harsh discipline of a ship at sea. She was almost grateful when a vessel of Non raiders attacked her ship. While she fought valiantly, Kantra was overwhelmed and taken prisoner, along with the rest of the surviving crew. Impressed with her prowess in battle, as well as the coarseness of her language, the raiders offered her a place among their ranks. Given the opportunity to escape her rigid life in the Merchant Marines, and live a life of true adventure, Kantra agreed with enthusiasm.
It is from there that the tales of Kantra begin in earnest. They speak of an eye lost in a bar brawl. Bounties on her head from every corner of the world, from Delanos to Yakai. An ax won from a Demonspawn prince, whom she stabbed with a blade concealed in her wrist-guard. A shield once carried by a captain of a Skyiron Navy frigate, which she stormed single-handed. She is said to have lovers of all kinds in every port in Teleria, and ten times as many enemies. Kantra became known as the Cyclone because her ferocity matches that of a storm.
That Kantra has become a sword-vassal of the Arbiter herself is a surprise to exactly no-one who hears of it. She has done everything else — so it is only natural that she would pledge herself to save the world. What other way to best the stories already told of her?
Kantra the Cyclone Storyline
Boisterous and jovial, Kantra, nicknamed 'Cyclone' for her wild fighting technique, is among the most renowned mercenaries in Aravia. Though young, she had seen much in her life, and her origins inspired many a minstrel to compose ballads and songs of various degrees of propriety. For while she looks, fights, and behaves like a Barbarian from the East, Kantra is not, in fact, one of them. She was born to a small, destitute noble family in Southern Tilshire. Her father, a dishonourable and greedy man, was largely to blame for the family's troubles. His gambling habits quickly saw debts mount beyond what even a noble could manage, and he hoped that a suitable marriage would help him handle loans. All that remained was ensuring his daughter would be proper and obedient enough to accept whatever old moneybag offered the most for her beauty.
Kantra, as it often goes in these tales, would have none of it. She was always a free spirit, inspired by legends of warrior queens and noble knights, eager to learn the art of the blade. Though her father forbade it, the young noble sought out every opportunity that her backwater little town could provide – which were few and far between. That could not go on forever; when tension finally erupted in violent conflict, Kantra fled her home and her father's abuses. In retrospect, it was an unwise decision that could have led to her death. But fortune smiled upon her, and Kantra's path crossed that of a Barbarian mercenary band. It comprised warriors born to the same Clan, whose honour meant more to them than the ransom a highborn captive could bring. They took Kantra in, taught her to fight, taught her to live as free as the spirits of the wind. Thus the would-be warrior cast aside the trappings of her old life and embraced her adoptive culture with enthusiasm that never failed to amuse her mentors. She grew up strong, wilful, always eager for a challenge and far too keen on punching well over her head. One such scrap nearly cost Kantra her life; she picked a fight with a gaggle of orc sellswords over some minor insult one of those drunken louts uttered. By the end of it, the tavern was trashed, most orcs were dead or scattered into the town, and Kantra was down one eye. She was forced to flee before the insulted thugs had a chance to gather more of their friends to avenge their humiliation at the hands of the brash young human. Now, many stories of a hero's origins will speak of how a brush with death teaches an arrogant warrior restraint and respect. For good or ill, Kantra is nothing like those heroes. She remains as foul-mouthed, as haughty, and as wild as ever, and the fight that cost her an eye is one of her favourite bragging subjects rather than a cautionary tale for the young. Albeit, in fairness, Kantra's skills grew tenfold since that day, and she had bested countless challengers – certainly enough to solidify her reputation. And while it is a dangerous life she leads, always walking on a razor's edge, always risking everything for the sake of excitement or pride, Kantra relishes every moment. Indeed, why would she change when a life of high adventure, full of dangers and glory, is more intoxicating than the finest Aravian wine?
Kantra the Cyclone Updates
Kantra the Cyclone Videos
Raid Shadow Legends Kantra the Cyclone Champion Guide by ASH
Raid Shadow Legends Kantra the Cyclone Champion Guide by StewGaming
Raid Shadow Legends Kantra the Cyclone Champion Guide by MurderInc Raid
Raid Shadow Legends Kantra the Cyclone Champion Guide by Skratch