Overview

NAME: Samar Gemcursed
FACTION: Dwarves
RARITY: Legendary
ROLE: HP
AFFINITY: Spirit
RANK: B
USABILITY: Situational
TOMES: 15 (A2 A3)

Abilities

RSL_AllBattles_HpAura
RSL_AoE_ExtraHit
RSL_AoE_StealBuff
RSL_Self_BlockDamage
RSL_Self_Heal
RSL_Self_IncreaseTurnMeter
RSL_Target_BasicAttack_1Hit

Obtain from

Ancient Shard
Sacred Shard

Use Case

Blessings Recommendation

Brimstone (Bommal)

Grinding

★★★★★ Campaign
★★★★✰ Arena Defense
★★★★★ Arena Offense
★✰✰✰✰ Clan Boss
★✰✰✰✰ Hydra
★★★★★ Faction Wars

Dungeons

★★★★✰ Minotaur
★★★✰✰ Spider
★✰✰✰✰ Fire Knight
★★★✰✰ Dragon
★★★★✰ Ice Golem
★✰✰✰✰ Iron Twins

Potion

★★★★✰ Arcane Keep
★★★★✰ Void Keep
★★★★★ Force Keep
★★★★✰ Spirit Keep
★★★★✰ Magic Keep

Doom Tower

★★✰✰✰ Floors
★✰✰✰✰ Magma Dragon
★★★★✰ Nether Spider
★★✰✰✰ Frost Spider
★✰✰✰✰ Scarab King
★✰✰✰✰ Celestial Griffin
★★✰✰✰ Eternal Dragon
★★★★★ Dreadhorn
★✰✰✰✰ Dark Fae
Samar Gemcursed Skills
Crystal Flesh
Attacks 1 enemy. Heals by 15% of the damage inflicted if this champion has 50% HP or less. Fills this Champion's Turn Meter by 15% if he has more than 50% HP.
Level 2: Damage +5%
Level 3: Damage +5%
Level 4: Damage +5%
Level 5: Damage +10%
Damage Multiplier: 0.25 HP
Overall Grading: Average
Emerald Curse (Cooldown: 4 turns)
Attacks 1 enemy. Inflicts bonus damage equal to the difference in HP levels between this Champion and the target (+1% damage for every 1% difference). Inflicts bonus damage equal to the difference in the number of buffs on this champion and the target (+10% damage per buff).
Level 2: Damage +5%
Level 3: Damage +5%
Level 4: Damage +10%
Level 5: Cooldown -1
Damage Multiplier: 0.35 HP
Overall Grading: Strong
Boon Supervision (Cooldown: 5 turns)
Attacks all enemies. Has an 80% chance of stealing 2 random buffs before attacking. Places an extra hit on enemies that have any buffs left.
Level 2: Damage +5%
Level 3: Buff/Debuff Chance +5%
Level 4: Damage +5%
Level 5: Buff/Debuff Chance +5%
Level 6: Damage +10%
Level 7: Buff/Debuff Chance +10%
Level 8: Cooldown -1
Damage Multiplier: 0.2 HP
Overall Grading: Strong
Diamond Skin (Passive, Cooldown: 4 turns)
Passive Effect: Places a [Block Damage] Buff on this champion for 1 turn at the start of each round. Active Effect: Blocks incoming damage and places a [Block Damage] Buff on this champion for 1 turn when they receive a hit that would drop their HP below 30%
Aura
Increases Ally HP in all Battles by 30%
Samar Gemcursed Equipment Guide
Arena, Doom Tower, Faction Wars
Campaign, Clan Boss, Dungeons

Recommended Artifacts

1 Life Set, 2 Accuracy Set
1 Life Set, 1 Shield Set
1 Immortal Set, 1 Shield Set
1 Immortal Set, 2 Perception Set

Recommended Artifacts

1 Life Set, 2 Accuracy Set
1 Life Set, 1 Shield Set
1 Immortal Set, 1 Shield Set
1 Immortal Set, 2 Perception Set

Recommended Stats

ACC, SPD, HP%, C.RATE
Weapon (ATK)
Helmet (HP)
Shield (DEF)
Gauntlets (C.RATE / C.DMG)
Chestplate (HP%)
Boots (SPD)
Ring (HP / DEF)
Amulet (HP / C.DMG)
Banner (HP / ACC / RESIST)

Recommended Stats

HP%, C.RATE, SPD, ACC
Weapon (ATK)
Helmet (HP)
Shield (DEF)
Gauntlets (C.RATE / C.DMG)
Chestplate (HP%)
Boots (SPD)
Ring (HP / DEF)
Amulet (HP / C.DMG)
Banner (HP / ACC)
Samar Gemcursed Mastery Guide
Arena, Campaign, Clan Boss, Doom Tower, Faction Wars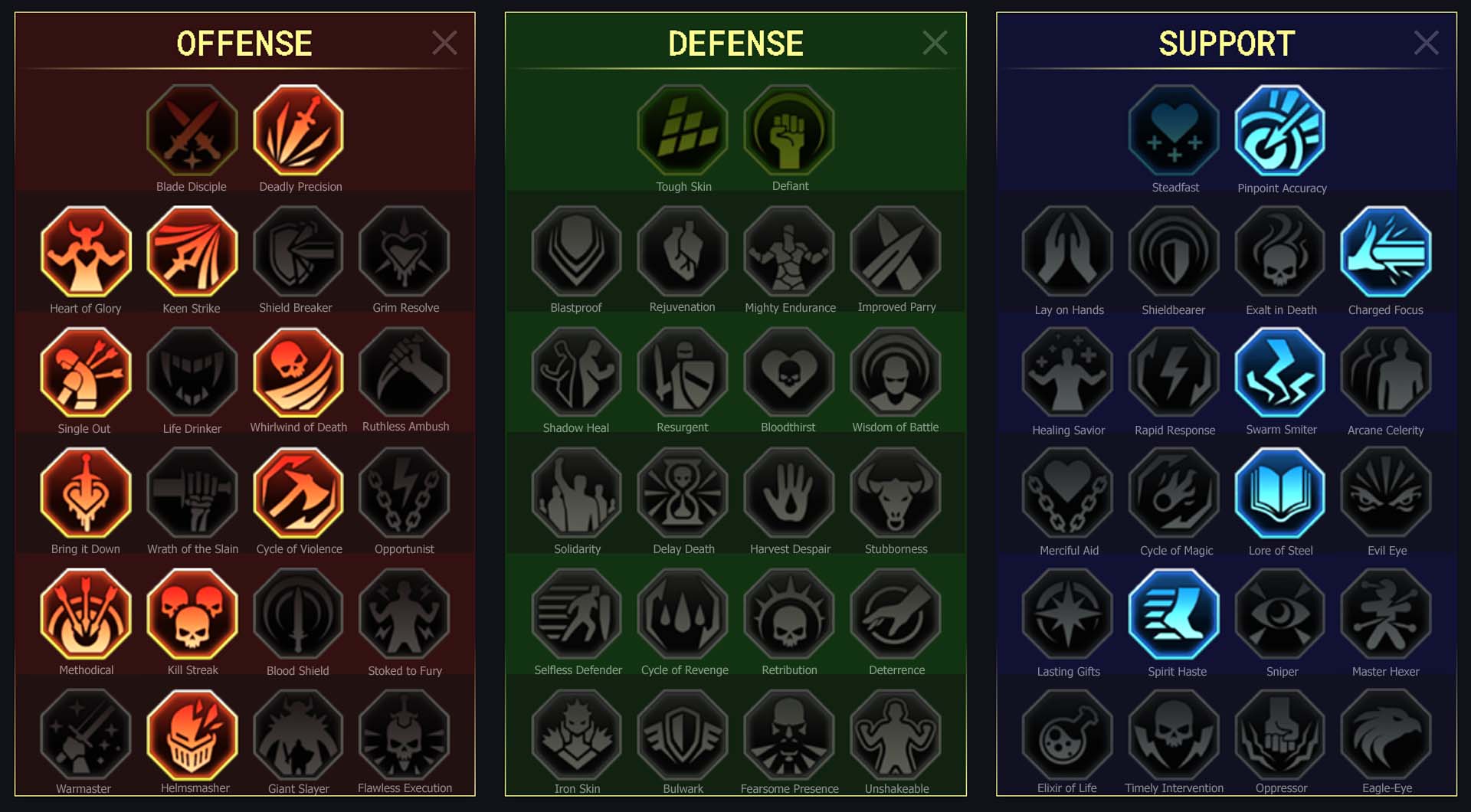 Offense

Deadly Precision
Keen Strike
Heart of Glory
Whirlwind of Death
Single Out
Cycle of Violence
Bring it Down
Kill Streak
Blood Shield
Helmsmasher

Support

Pinpoint Accuracy
Charged Focus
Swarm Smiter
Lore of Steel
Spirit Haste
Samar Gemcursed Champion Lore
Samar was a prince of Gloomdeep Hold, the youngest son of the Mountain King Duran. True to their name, the dour Dwarves of this Hold have held few prospects ofjoy for the future, and a never-ending list of grudges and jealousies. Seeking to win glory and reverse the malaise and stagnation that King Duran saw among his people and bemoaned, Samar's elder brother Gnut departed on a quest when Samar was a child. Gnut, heir apparent to Gloomdeep, told his younger brother to keep the royal affairs in order and to await his triumphant return.
Gnut's quest to slay the Fire Knight and claim its legendary treasure dragged on, and missives from the questing prince became more and more infrequent and sparsely detailed. Samar had grown to manhood waiting for his brother's return, and became agitated. He petitioned Duran for leave to find Gnut, but the Mountain King forbade it. He feared the worst had befallen Gnut, and he swore he would not lose another son to the folly of adventure and greed. Even though Samar was motivated by concern and loyalty, not a desire for glory, he was denied all the same.
In his frustration, Samar consulted Underpriest Brogni, who some call mad and others call a prophet. Kneeling before the ancient, sallow-faced sage, he begged for guidance. But from Brogni's withered lips came the same response: none should delve deeply into the darkened bowels of the mountains, not even for love of family, for only doom awaited. Samar quietly acceded and left the Underpriest, but his heart was filled with rage. He had hoped to gain license to disobey from the enigmatic sage, but found only more discouragement. Samar concluded that the naysayers, even his father, were feeble, feckless old men, unworthy of obedience. At that moment he committed to a quest of his own, to seek out his missing brother and break the shroud of fear that lingered over Gloomdeep Hold.
But Samar lacked the power to realize his ambition. He had received proper training in arms and
was tutored in the disciplines of rulership, but without official support for his expedition, he was stymied. He needed a catalyst for greatness, and he happened to know of one locked away in his father's vaults. Underpriest Brogni had gained power and sagacity from an encounter with a mysterious thrumming crystal he found deep underground, or so the story went — it had aged him terribly, and evidently trapped him in a timeless reverie for hundreds of years. But it had given him magic and wisdom, and Samar was willing to pay any price to gain such insight. If the whisperings of the crystal could give him any clues about the decline of Gloomdeep or the fate of Gnut, he was willing to use it. Brogni had brought samples of the crystals back with him, which were swiftly sealed away for fear of the danger they might pose. Being a royal scion, Samar knew their location within his father's treasure vaults, and had little trouble convincing the guards to let him examine them, claiming mere academic curiosity. The guards, used to Samar being meek and obedient, did not suspect his true aims.
What happened next was chaotic and poorly recorded. Servants, even at great remove from the treasure vault, heard horrific screams like none that had ever ripped from the throat of a healthy Dwarf, along with dreadful crackling and crunching. Then more screams echoed through the halls, first of surprise, and then terror and pain. By the time the disturbance was investigated, the guards who had let Samar pass were dead, bled out from stab wounds from a massive spike of some kind. Bloody boot-prints led away from the scene, only to peter out inconclusively. The Hold was locked down and a manhunt ensued, and whispers of madness striking Prince Samar escaped the palace and spread.
Hours later, another dire portent was reported: on the Hold's outskirts appeared the dread fiery form of Acrizia, the Lost Daughter of the 36th. She, like Brogni, was a Dwarf who had been touched by something unnatural deep in the caverns, and now moved in shadow for some inscrutable purpose. The patrol that spotted her swore they saw another Dwarf following her, a Dwarf of fiendish silhouette, flickers of light from Acrizia's burning sword glinting off the monstrous crystalline growths erupting from his flesh. Corroborating several reports, Duran ordered an artist to sketch a depiction based on eyewitness accounts, and when he saw the details of his son Samar emerge from the ink, half-buried in crystal corruption, he collapsed with despair. Old Underpriest Brogni, one of the last Dwarves to see Samar alive and wholesome, could only repeat his dire warnings with a sad, defeated air.
Samar Gemcursed Updates
Samar Gemcursed Videos
BGE: "FIRST IMPRESSION" Samar Build, Guide & Masteries, Arena Showcase
BGE: "SOLO SAMAR GEMCURSED" Hard 90 Bommal The Dreadhorn Team
MurderInc: Samar Gemcursed Is Built Different