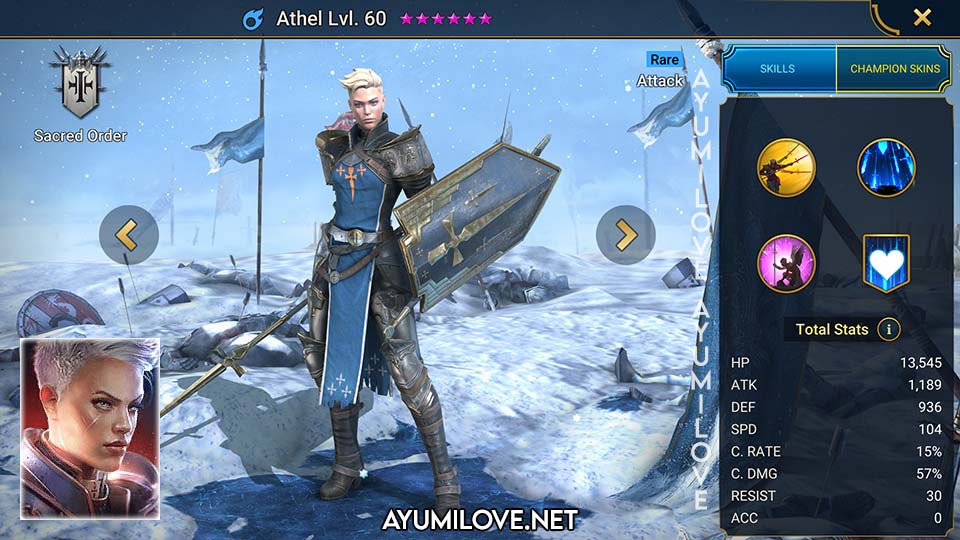 Overview

NAME: Athel
FACTION: Sacred Order
RARITY: Rare
ROLE: Attack
AFFINITY: Magic
RANK: A
USABILITY: Early-Mid Game
TOMES: 12 (A1 A2 A3)

Abilities

RSL_AllBattles_HpAura
RSL_Self_ExtraTurn
RSL_Self_IncreaseAttack_25%
RSL_Self_IncreaseDefense_30%
RSL_Target_BasicAttack_3Hits
RSL_Target_Weaken_25%

Obtain from

Mystery Shard
Ancient Shard
Primal Shard
Starter Champion

Blessings Recommendation

Phantom Touch (Damage Dealer)

Grinding

★★★★★ Campaign
★★★★★ Arena Defense
★★★★★ Arena Offense
★★★★★ Clan Boss
★★✰✰✰ Hydra
★★★★★ Faction Wars

Dungeons

★★★★★ Minotaur
★★★★✰ Spider
★★★★★ Fire Knight
★★★★★ Dragon
★★★★★ Ice Golem
★★✰✰✰ Iron Twins
★★✰✰✰ Sand Devil
★✰✰✰✰ Phantom Shogun

Potion

★★★★★ Arcane Keep
★★★★★ Void Keep
★✰✰✰✰ Force Keep
★★★★★ Spirit Keep
★★★★★ Magic Keep

Doom Tower

★★★★✰ Floors
★★★★✰ Magma Dragon
★✰✰✰✰ Nether Spider
★★★★✰ Frost Spider
★★★★✰ Scarab King
★★★✰✰ Celestial Griffin
★★✰✰✰ Eternal Dragon
★✰✰✰✰ Dreadhorn
★★★✰✰ Dark Fae
Athel Review
Athel is a Rare Magic Attack champion from Sacred Order in Raid Shadow Legends. Athel is one of the 4 starter champions (Kael, Elhain, Galek) that you can select before you begin the game! He is renowned for his multi-hit attacks that is great for bringing down Fire Knight's boss shield, amplify the amount of damage dealt by your team by applying Weaken debuff on enemy and she has the skill to boost her Attack and Defense up! Dark Athel is her successor who can be obtained through Daily Login Rewards and Ancient Shards.
Strike Down (A1 Skill) is Athel's default attack that has the ability to apply Weaken debuff on a single-target enemy, so your team can deal extra damage to the enemy. This debuff is useful against dungeon bosses and Clan Boss (Hydra and Demon Lord) to rack up high amount of damage score for better chest reward. It also hits the enemy 3 times, which is useful in removing Fire Knight's boss shield quickly to deal direct damage to it!
Divine Blades (A2 Skill) is Athel's AoE Attack that hits all enemies in the battlefield. This skill provides an additional 15% Critical Rate, which means having at least 85% Critical Rate on Athel allows him to deal critical damage to wipe out enemies instantly. All starter champions (Athel, Elhain, Galek and Kael) have this unique passive Critical Rate boost on their AoE attack to give them an edge among all Rare champions!
High Bessing (A3 Skill) is Athel's signature self-buffing skill that applies Increase Attack buff to himself and grants an extra turn to perform another ability. If her health is low, it will also apply Increase Defense buff to increase her survivability. When paired with her AoE Attack, it deals massive amount of damage against her foes. This is useful when you do not have a dedicated support buffer to apply AoE Increase Attack to the team during early game, which makes Athel useful for solo/duo clearing Campaign bosses to achieve 3 stars without requiring end-game gear.
Last but not least, she has a Health Aura that can be used in all areas, which is beneficial in raising your champions survivability early game. Overall, Athel is one of the best Rare champions that is worth taking to Level 60. Her role can be customized based on your game progression, either as a debuffer (early-mid game) or nuker (late game) until you found a better replacement for her such as Rhazin Scarhide upon completing the Champion Fusion.
Athel Skills
Strike Down
Attacks 1 enemy 3 times. Has a 75% chance of placing a 25% [Weaken] debuff for 2 turns on the last hit.
Level 2: Damage +5%
Level 3: Buff/Debuff Chance +5%
Level 4: Damage +5%
Level 5: Buff/Debuff Chance +10%
Level 6: Damage +5%
Level 7: Damage +5%
Level 8: Buff/Debuff Chance +10%
Damage Multiplier: 1.3 ATK
Divine Blades (Cooldown: 3 turns)
Attacks all enemies. Has an extra 15% chance of inflicting a critical hit.
Level 2: Damage +5%
Level 3: Damage +5%
Level 4: Damage +5%
Level 5: Damage +10%
Damage Multiplier: 4.1 ATK
Higher Blessing (Cooldown: 5 turns)
Places a 25% [Increase ATK] buff on this champion for 2 turns. Places a 30% [Increase DEF] buff on this Champion for 2 turns if this Champion's current HP is less than 50%. Gains an Extra Turn.
Level 2: Cooldown -1
Aura
Increases Ally HP in all Battles by 15%.
Athel Equipment Guide
Arena, Campaign, Clan Boss, Dungeons, Doom Tower, Faction Wars

Recommended Artifacts

PvE: Lifesteal, Bloodthirst
PvP: Savage, Lethal
Shareable: Speed, Accuracy, Perception, Cruel, Critical Damage, Offense

Stats Allocation

Weapon (ATK)
Helmet (HP)
Shield (DEF)
Gauntlets (C.RATE / C.DMG)
Chestplate (ATK%)
Boots (SPD)
Ring (ATK)
Amulet (C.DMG)
Banner (ACC / ATK)

Stats Priority

PvE: ATK%, C.RATE, C.DMG, SPD, ACC
PvP: ATK%, C.RATE, C.DMG, SPD
Athel Mastery Guide
Arena, Campaign, Clan Boss, Dungeons, Doom Tower, Faction Wars
Pre-Requisite: Athel to be equipped with Lifesteal Set and equipment that provides decent Accuracy, Speed and Critical Rate. The mastery setup suggested below helps you to build Athel as a more rounded character where she can be utilized in all areas efficiently. Lifesteal Set increases Athel's survivability substantially as she can heal herself without requiring a dedicated healer when leveling fodder in Campaign Brutal 12-3 as well as sustaining in Arena and Clan Boss battle.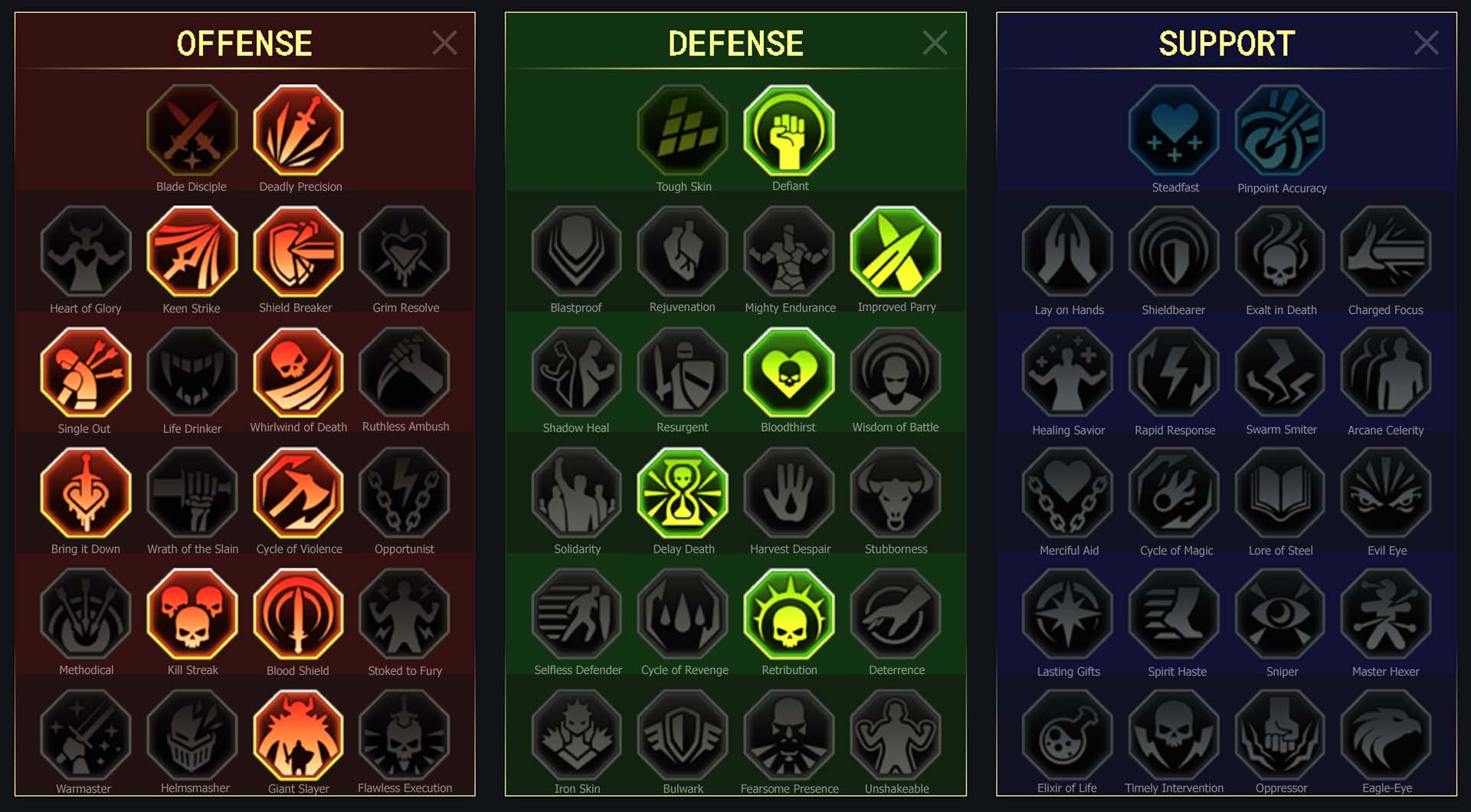 Offense

Deadly Precision
Keen Strike
Shield Breaker
Whirlwind of Death
Single Out
Cycle of Violence
Bring it Down
Kill Streak
Blood Shield
Giant Slayer

Defense

Defiant
Improved Parry
Bloodthirst
Delay Death
Retribution
Arena
Pre-requisite: Athel to be equipped with high Attack, Critical Rate, Critical Damage. Best Artifact Set for this mastery build is equipping her are Savage Set, Cruel Set or Offense Set. The mastery setup below is recommended for Arena to deal maximum amount of damage to the opposing team. The damage is amplified if paired with Decrease Defense and Increase Defense champion. If you do not have a dedicated champion to farm campaign, Clan Boss and Dungeons in early game, I would recommend picking the mastery "Arena, Campaign, Clan Boss, Dungeons, Doom Tower and Faction Wars".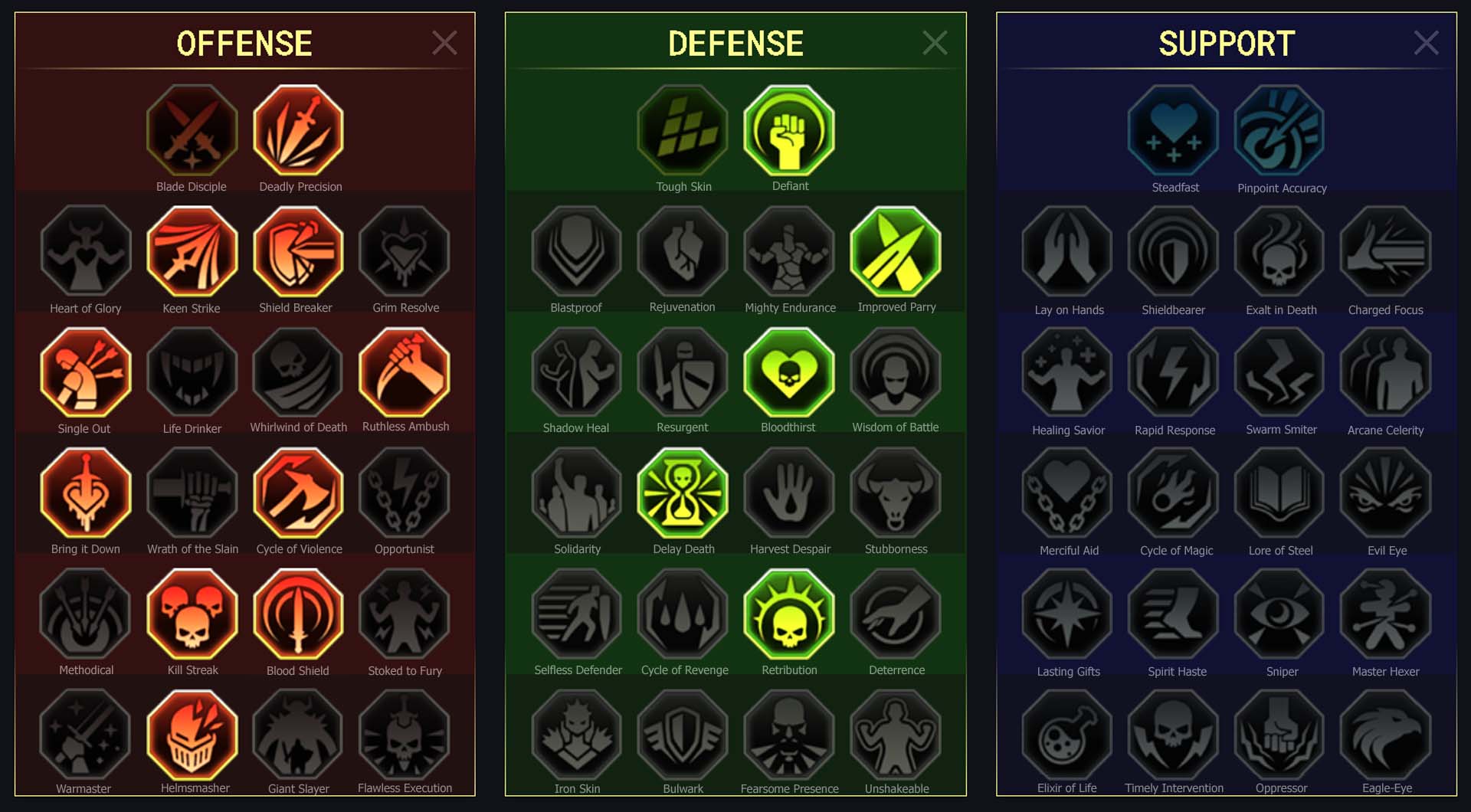 Offense

Deadly Precision
Keen Strike
Shield Breaker
Ruthless Ambush
Single Out
Cycle of Violence
Bring it Down
Kill Streak
Blood Shield
Helmsmasher

Defense

Defiant
Improved Parry
Bloodthirst
Delay Death
Retribution
Clan Boss
Pre-requisite: Athel to be equipped with Lifesteal Set with decent amount of Defense and Accuracy stats. The mastery setup below allows Athel to deal maximum amount of damage to the Clan Boss by surviving a longer period of time to trigger as many Giant Slayer attacks on the boss. Giant Slayer (Tier 6 Offense Mastery) inflicts damage based on ENEMY MAX HP. The more HP the enemy has, the more damage the enemy receive. In addition, have Athel with some Critical Rate and Attacks stats, so she can heal through her skill attacks if Giant Slayer did not proc in time to recover her health for the next upcoming attack.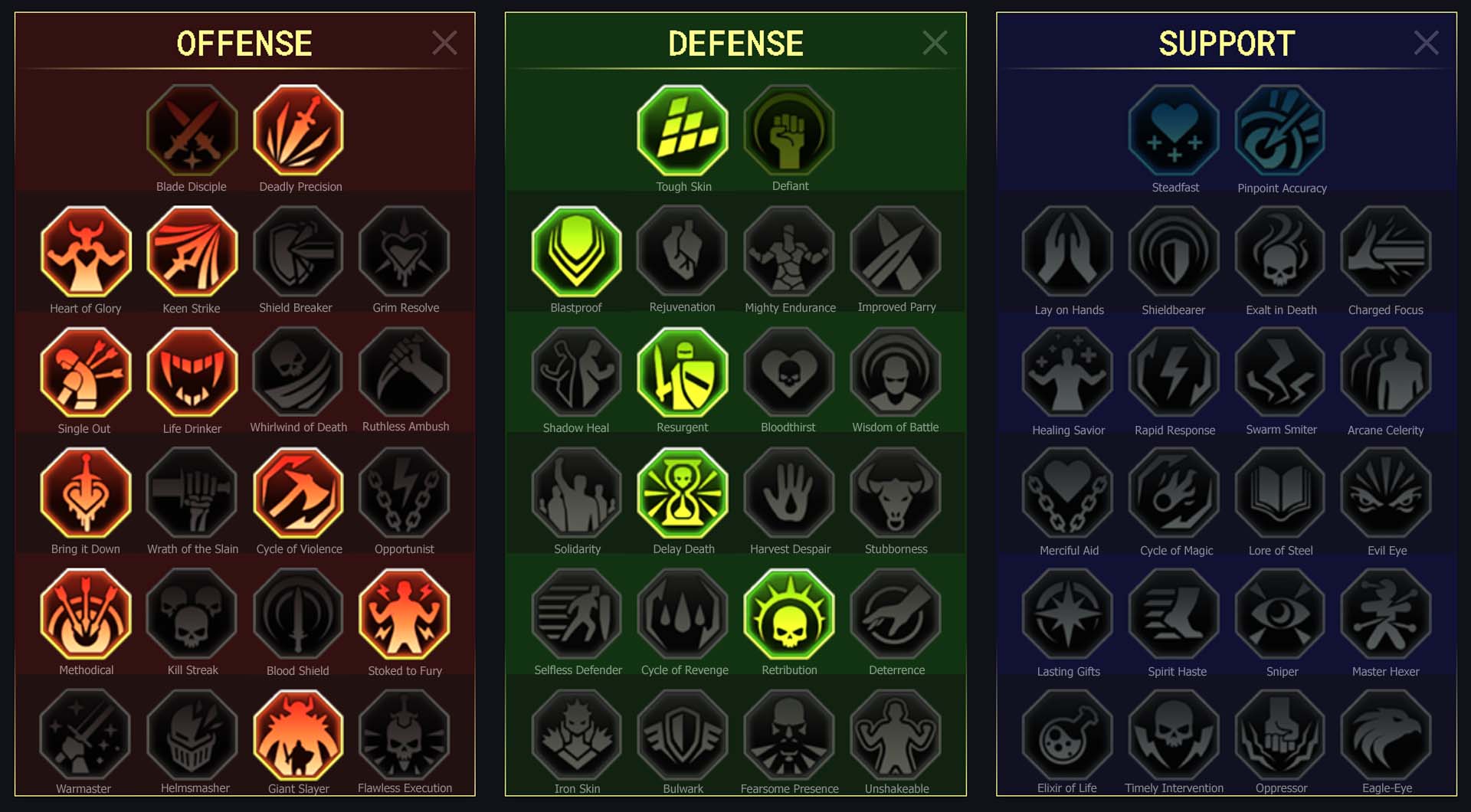 Offense

Deadly Precision
Keen Strike
Heart of Glory
Single Out
Life Drinker
Bring it Down
Cycle of Violence
Stoked to Fury
Methodical
Giant Slayer

Defense

Tough Skin
Blastproof
Resurgent
Delay Death
Retribution
Athel Full Review
Athel Purpose
Athel excels in all battles that includes solo campaign farming, raiding Dungeons and Clan Boss.
Her basic attack A1 "Strike Down" deals multiple attack to a single target, which gives her an edge in Fire Knight's Castle where she can reduce the boss shield quickly, so your allies can deal the maximum damage to the boss.
In addition, "Strike Down" inflicts Weaken debuff to allow her allies to deal extra damage to her target. Weaken also improves the damage output of Warmaster and Giant Slayer (Tier 6 Offense Mastery)
Athel's "Divine Blades" AoE (Area of Effect) skill grants additional chance of performing a critical hit to clear cluster of enemies with high damage, making it an easy work for both in Campaign and Arena.
Furthermore, she has "Higher Blessing" skill that increases her Attack and Defense simultaneously to inflict devastating damage against her enemies while protecting herself against imposing danger.
Athel Synergy
Athel is best suited in speed team setup especially Clan Boss (Easy, Normal and Hard). She is not great in team setup that heavily involves in speed tuning or Counter Attack. Reason being, her Higher Blessing skill grants an Extra Turn, which will remove both buff and debuff applied on her.
She is best paired with a champion who can inflict Decrease Defense debuff to the enemies and receives Increase Attack buff on herself before she nukes the enemies. This increases Athel's final damage output significantly as an Attack role champion.
Athel Limitation
Athel is an excellent starting champion for early-mid game unless you have a better Epic or Legendary champion to replace her.
For late game, you will be replacing Athel with Rhazin Scarhide (Legendary Force Lizardmen Champion) who is obtainable through Champion Fusion.
Rhazin Scarhide is a much more powerful version of Athel as he can also perform 3-hit on his A1 and remove enemy's buff simultaneously, applies both Weaken and Decrease Defense to allow your other champions to inflict more damage to the target and Decreases Turn Meter on multiple enemies. Furthermore, he is a Defense champion where the more tanky he is, the less damage he receive and more damage he can inflict to his opponents.
How to counter Athel?
Athel isn't a big threat in Arena as she does not have any Crowd Control skills nor skills that could decrease the your champions efficiency in battle. However, you will need to watch out how she deploys her skills.
If Athel casts her "Higher Blessing" during the pre-emptive attack in Arena, it means that she does not have sufficient damage output to wipe out your entire team with "Divine Blades" alone. This gives you an upperhand in the battle where she could not use "Higher Blessing" to gain extra Defense buff when her health drops below 50%.
To achieve this, you will need to avoid your team getting Decrease Defense debuff from the enemy and taking out their Increase Attack champion before they buff Athel. Otherwise, she could easily comes back with her "Higher Blessing" skill to go for a Round 2 battle.
Additional Information
If you are a first time player and you're here to find out who is the best starter champion for early-late game progression, I would highly recommend choosing Kael.
Kael helps you progress faster in terms of dealing high amount of damage against dungeon bosses especially Clan Boss. If you hit the damage threshold, you will be rewarded better daily Clan Boss rewards such as skill tomes, special equipment set and summoning shards.
The downside is you will have some difficult time working with Spider's Den and Fire Knight's Castle dungeon, which is crucial for farming late game equipment.
If you happen to get Athel from shards summoning, Athel can help tackle areas where Kael is having trouble with.
Athel References
Athel All-Rounder Build
Here is Athel artifacts and masteries by Ayumilove, optimized as an all-rounder champion to tackle Campaign, Clan Boss, Dungeons, Faction Wars and Normal Doom Tower content! Athel is equipped in Lifesteal Set to heal herself during battle, especially when speed farming campaign along with 3 fodders. This artifact set is recommended for early-mid game players for survivability, as you will be lacking in Health and Defense stats to tank the damage. The stats to prioritize on Athel are Attack, Critical Rate, Critical Damage, Speed and Accuracy.

Athel Champion Lore
Athel grew up an orphan – one of many in the worn-torn world of Teleria. But her orphanage was no ramshackle hut or crumbling temple, like in most of the cities of Kaerok. No, Athel was raised in the Eternal Citadel, the beating heart of the Sacred Order. She was a foundling, having been anonymously deposited on the step of a minor side gate as a baby. It was there that she was discovered by none other than Godseeker Aniri, the prelate in charge of inducting new recruits. It was a relationship that would come to define Athel's life.
Athel was an unusual acolyte for the Sacred Order. She was extremely adept at anything she put her mind to, and showed great promise in her religious studies, magical aptitudes, and combat training – some even called her a savant. Her skills earned her great praise, and when Aniri took on the title Godseeker and transferred to the Eternal Citadel — the Sacred Order's cathedral-city — Athel was allowed to join her. But it was in the Eternal Citadel that Athel found herself in trouble, for she proved to be both willful and curious — a dangerous combination in the Sacred Order.
Athel asked too many questions of w laimed were 'the wrong sort,' and she refused to take their answers at t r made a statement, Athel needed proof of its veracity. But while the Ord . ing mathematics, arcanistry, or science was welcome… doing the sa topmost m OK l rical narratives? Such an act was unspeakable, even dangerous. While the Godseeker cared for the girl, she often punished Athel harshly – if only to protect her from even greater censure that might be demanded by the temple's leadership.
Eventually, Athel found an unlikely ally in the form of Shamael, a fellow student — and the top of his class. She began working with him, training and drilling on a daily basis, quickly catapulting herself to the upper echelon of her own year. Athel's appetite for knowledge soon blossomed into an all-out obsession… but it brought her into contact with answers that none in the Sacred Order were ready to face.
Athel Videos
Raid Shadow Legends Athel Champion Guide by ASH
Raid Shadow Legends Athel Champion Guide by Chofly
Raid Shadow Legends Athel Champion Guide by FeedzTitan
Raid Shadow Legends Athel Champion Guide by Дядя О. (Russian)